Incremental games gained popularity in 2013 after the success of Cookie Clicker. They have continued to amaze the minds of users ever since. Idle games easily tolerate the temporary absence of the player. They keep running when you close the app. The gameplay is focused on improving things like unlocking or leveling up characters with the help of experience points and bonuses.
Nevertheless, the participation of the player in such games is still assumed, albeit quite minimal. The action is represented by a minimum amount of tapping on the screen. Well, if you want to have fun and play with your friends, you should pay attention to the article Best Blokus Game Apps. It contains a selection of the best apps for playing Blokus.
1. AFK Arena
The AFK Arena is a platform for fighting versatile heroes. This is where you can improve your hero and fight against other users. You will find a wonderful world full of epic stories, exciting adventures, and lots of great rewards. In AFK Arena character is boosted while the player is occupied with other things. All that remains is to enjoy the game.
The world of the game is detailed. A player has the opportunity to gather a collection of heroes and level them up. All of the key characters have their own stories. In addition to the main campaign, the player is offered to take part in short missions that have their own story.
You can compose your own squad, which you will send to battles in the campaign missions, adventures, or fight in the arena against other players. You can measure up against players from all over the world. Moreover, it is worth mentioning that the game is designed in perfect style, accompanied by excellent music and various sound effects.
This app is going to be a great solution for recreation. In fact, you will be able to dive into a wonderful world of battles. It is an application that keeps your attention by constant improvements, which are accumulated even in your absence.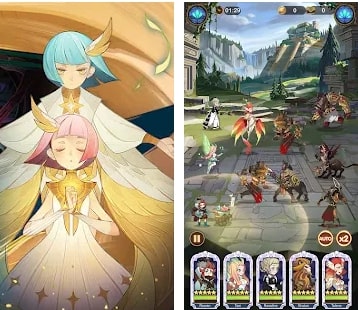 You may also like: 7 Best Clue Game Apps for Android & iOS
2. Bitcoin Billionaire – Fake Bitcoins, Real Fun
Bitcoin Billionaire is a free game that offers us to earn bitcoins by tapping on the screen of our device. So, what is the essence of the Bitcoin Billionaire game? As we all know there are two main ways of earning bitcoins: mining and investing. It is the same principle in the game Bitcoin Billionaire.
Firstly, you are mining by simply tapping with your fingers on the screen. In the beginning, for each tap, we get one coin. However, later, when you have enough of them, you can buy a new version of a kind of "mining pickaxe" and the number of coins per tap will double.
Secondly, the investment is characterized by the fact that it brings a constant income, regardless of the taps on the screen. Bitcoins can be invested in businesses ranging from lotteries and comic books to the gaming industry, portable electronics, flying skateboards, or even time travel.
In addition to investing fake cash in your virtual business, you can also buy your avatar, a virtual home, or even your own separate island. By entering the game you can even create your own character by choosing facial features and clothing. Besides, you will certainly be impressed by the cute pixel art that resembles the games from the 90s.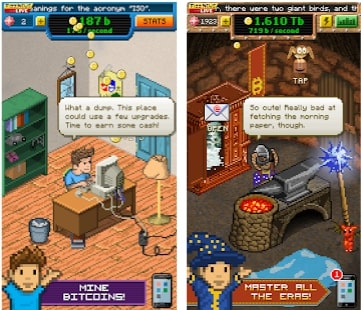 3. AdVenture Capitalist
AdVenture Capitalist is a fun investor simulator. You simply invest in businesses and multiply capital, speeding up the process with each upgrade and restart. So you can get stuck in the process without noticing the hours you have spent playing the game. After mastering the rules of the game will discover that it is incredibly easy to earn bonuses.
The rate of earning is constantly growing. You will go to the game several times a day just to get the profits, probably for a long time soon. However, the real highlight of the clicker is special game events. There are goals, for which you will be rewarded with useful loot, gold, and megabucks. Overall, this is an arcade game that will help you build your own money career.
All you have to do is complete missions that will take you from poor man to millionaire. Here you will be able to hire staff who will perform the tasks for you. On the other hand, you are the strategist who invests his capital in a particular product, which gives a profit.
Surprisingly, the entire gameplay is made only by clicking. In some missions, you can do it until you get bored, while in others you have to wait a bit to receive a special bonus.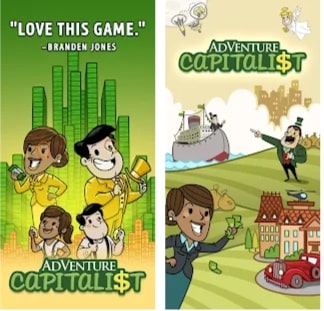 4. Fallout Shelter
Fallout Shelter came out right after the demonstration of Fallout 4, which is a familiar computer game. It is an interesting game that attracts the audience with its familiar style. Maybe that is why it is one of the top free downloadable applications. If you are a fan of the Fallout series, you will be glad to find familiar characters and locations in the mobile application.
So, according to the plot of the game, you become the keeper of the shelter. Here you have to build rooms, populate them with tenants and make them work together. There are only three resources, which make people happy: water, energy, and food. You need to accumulate them by simply tapping on the screen.
All of the residents of the shelter have characteristics. Depending on their talents you decide who will work in the canteen and who will become a great engineer. In consequence, the workers get new levels, for which the user receives local currency in the form of bottle caps.
It is worth mentioning that in spite of the fact that the application is absolutely free, it also does not require a connection to the Internet. In short, the application is a kind of post-apocalyptic farm. It is good with its unique style, which you will not see in any other application.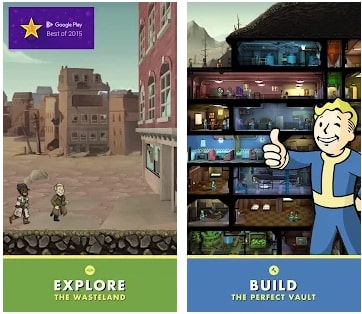 5. Tap Titans
Tap Titans, in its name, describes the essence of the game. You have to tap the screen as much as possible to pass the game. Like other idle games, Tap Titans involves many locations, characters, and missions. This game is easy enough to get through. Your characters are constantly improving.
Therefore, you will discover something new every time you play this game. This application is a fighting game. It allows you to join the different clans created by users to fight against the main bosses. The game is based on the principle of prestige. Making prestige you reset the progress and get relics, for which you can buy and improve the artifacts.
All artifacts give you different abilities to improve your character. Tap Titans is a delightful game that just gives you a few minutes of mindless tapping with your finger on the phone.
This app is rich with a variety of different characters, which you can buy for diamonds. For example, there can be cute forest cats, predatory plants, smart trunks, and sometimes even funny demons. With this game, you can feel like a real warrior, who can defeat any enemy. The main thing is not to get tired of tapping the screen.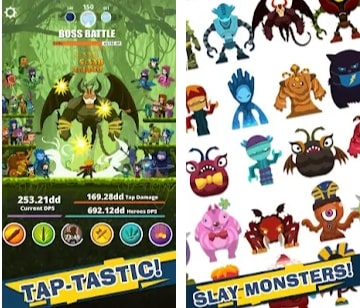 You may also like: 15 Best Match and Merge Games for Android & iOS
6. AdVenture Communist
AdVenture Communist is an analog and a kind of sequel to the game AdVenture Capitalist. However, the new application is more colorful and interesting. This game is suitable for those who do not know what to do in their spare time. This is where you use taps on the screen to try to build real communism.
Of course, in the beginning, you collect various resources, such as potatoes. Later on, when the crops grow you can hire workers, who will bring even more profit. As time passes the user opens up a variety of businesses that can be improved by increasing the amount and speed of production.
It is natural that as in all games you will need to pass various missions, for which you will receive bonuses and raise your level. This game gives you a chance to build your society. By opening more and more resources you will discover the different spheres of society, such as medicine, military affairs, science, and the rest.
Interestingly, almost every day in the game there are events for which you get different rare bonuses. By the way, we can please those who are interested in this game that, the application has a version for the PC.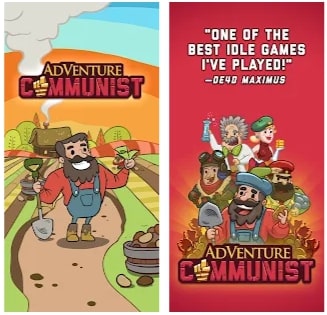 7. Idle Empires
A game called Idle Empires is bound to draw you in for much longer than five minutes. The gameplay immediately shows how different the product is from the games we have already mentioned above. According to the story, we are presented with a king and his faithful knight, who have escaped from their castle.
Consequently, they must rebuild the entire kingdom from the beginning. Also, you will have a small hut, clicks on which bring one gold coin each. However, you can improve the hut and hire an employee, who will bring in profits themselves. Since this is an idle game, the amount of gold will depend on the taps on the display.
After you have enough gold, you can gradually build buildings in another territory and move on, expanding your possessions and earning more money per second. Also, new territory's buildings need to be improved. Later on, It will bring you more money.
So try to move forward as quickly as possible, leaving behind already improved buildings. In general, the gameplay is very addictive, so you will never be bored.

8. Idle Armies
Idle Armies is a military-themed arcade simulator where you will train soldiers at your own military base. All events take place in the Middle Ages. In addition, it is worth mentioning the amusing pixel graphics in which the game is made. It means that you get funny pixel characters that will defend your territory.
It is interesting that with the passage of missions and increasing levels you will be given more and more new locations. Also, you can pump and buy new characters that will stand in defense of your army. By the way, there are a lot of them. There you will meet a variety of magical creatures, as well as funny forest animals.
It is also interesting that you can play online with your friends. Alternatively, you can join your favorite magic clan to overpower the other players. However, the beauty of the clicker is in other things. The character and location evolution process are super fast, and the locations change from one to the other.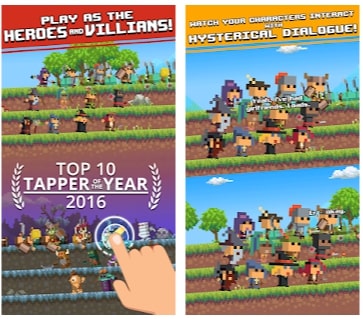 9. Idle Trading Empire
You will become an industrial magnate in this idle game, creating settlements and medieval production plants. Also, you will manage, optimize and improve your production and sales. It is interesting that as you travel through new lands you will discover new production technologies and goods.
Also, you will explore the world in order to find more islands, expand your transportation routes, improve your trading posts to earn more money. This is a game is an incremental game with clicker elements and an exploratory world map. In addition, you can play online with friends or offline alone.
Since this is an idle game you can either participate in the gameplay or let the game collect your income whenever you start the game. By going through challenges, collecting achievements, and improving all your business centers, you can become the richest trading magnate in this simulation game.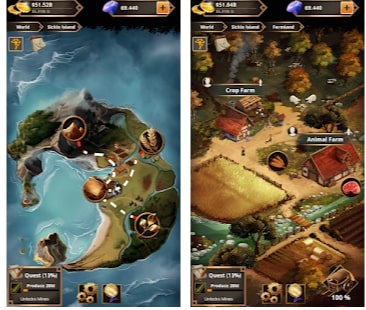 10. Idle Supermarket Tycoon-Shop
If you always have dreamed of opening your own supermarket then Idle Supermarket Tycoon – Shop is what you need. Here you will act as the head, who develops a chain of stores. You will be able to open a bakery for your visitors, run the sale of fruits and vegetables, offer the best fish and meat, establish departments of electronics and clothing.
As more stores, you will have, as higher profit will be. You only have to click on the screen to collect bonuses. The main advantage of this game is, obviously, its storyline and different missions. However, it is also worth mentioning the nice 3D graphics in which the game is made.
By the way, the whole process of the game will be accompanied by bright animation that will pop up from the various taps on the screen.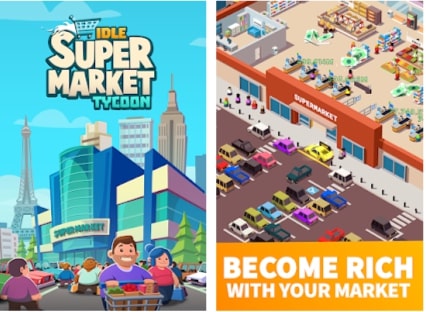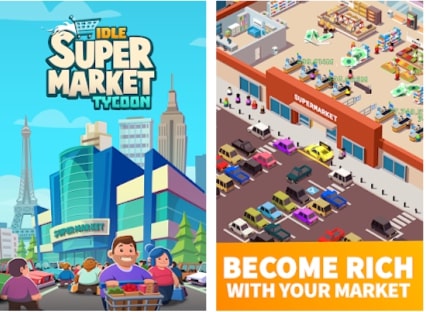 You may also like: 7 Best Cribbage Game Apps for Android & iOS
11. Idle Success
In the last game in our review, you will become a so-called successful man. You have a character that you will need to pump up in this game. Moreover, all users will need to pump up various human factors, such as family, pets, house, garden, and car. All very similar to real life.
In the beginning, your character will be a regular pot-bellied man, from which you will have to make a real successful gentleman. And all this happens through clicks on the screen. So, for example, you can spend the game money to develop the physical component of the character, do squats and give him various healthy drinks.
As soon as you earn more, you get the opportunity to open up new areas of life. For example, you can build a career, create a family, and make interesting and creative friends. This game will suit those who like to develop a characters and control their destiny.