People play board games for so many reasons. All of them are great for playing in a company. Now, we are going to talk about phone apps for playing Blokus. What is it? It is a board game with simple rules for 2 to 4 people.
Each player gets a set of particular colored figures, which must be placed on the board according to certain rules. The playing field itself is divided into 400 cells. The game goal is to get rid of as many figures as possible and earn the most points. Want to know what else to play with friends? Check out these mafia apps.
1. Blokus by LaForce
Log in to play the online Blokus board game right in this app. Challenge yourself with players from all over the world.
Moreover, people have a great opportunity to play the game offline with friends. Just pass the phone around the circle and the winner will be revealed. All you have to do is to start placing your figures on the playing field. You should start from the corner.
Firstly, the game design is as simple as possible. There is nothing superfluous in it. Secondly, the figures themselves are performed in bright and classic colors.
Finally, navigation through the application is really simple. To select a figure you should only scroll through the line of figures. If you want to go back to the main menu, just double-click the screen.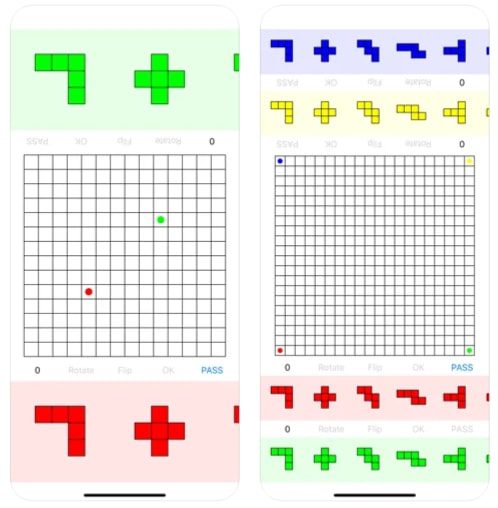 You may also like: 6 Best Offline Scrabble Games for Android & iOS
2. Blokus
This app is great to play Blokus on Android. After all, you can choose the number of players in it by yourself. Besides, the lack of players can be eliminated by artificial intelligence, which will battle against you and your friends.
Also, the app interface is colorful and bright. You will see a set of vivid figures on a black screen. Such an application does not distract the players from the party and focuses their attention on the most important things.
Moreover, the control is intuitive. You will see only two buttons such as "exit" and "play" when you enter the app. It should be noted that at the end of the game you will receive a mini-report, which will be the number of points earned by each player.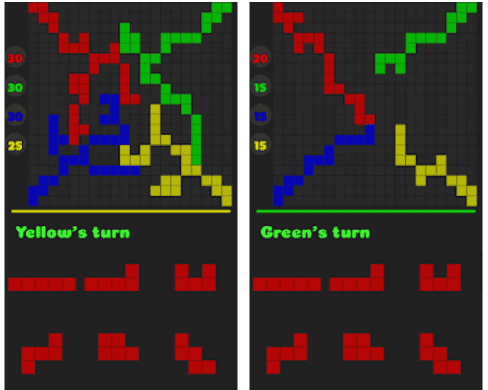 3. FourthPlayer
The FourthPlayer is Blokus, designed for a single game. This way, you can practice your skills right here. All users of this app play against artificial intelligence. This is just an app where it is convenient to play a quick game.
The developers noted that the wallpaper for the game can be set in the main menu, where you can choose a picture even from your library. FourthPlayer is for those who like when the app is personalized.
You have to buy the game in order to play it. It costs about a dollar, which is not that much for a favorite board game. You can try your strengths here. A significant disadvantage of the app is that you can not play it with your friends. It is possible only against a computer.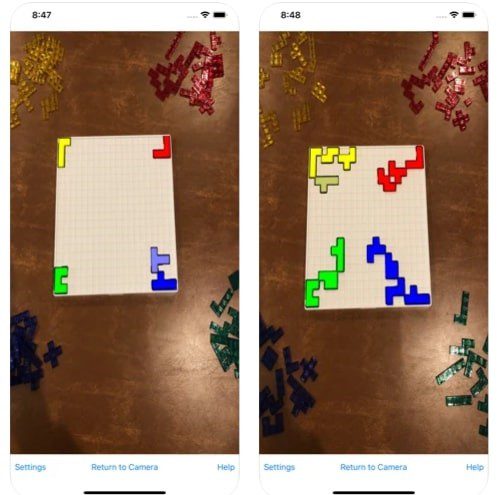 You may also like: 10 Best 5 Second Rule Game Apps for Android & iOS
4. Pentobi
The users of Pentobi call it the best version of the board game Blokus. Indeed, it offers significantly more features than similar apps do. For example, you can play online and offline games. In other words, you can fight against real users as well as against artificial intelligence.
Additionally, there are different types of maps and figures. In the beginning, you will be able to play a simple classic game. Later on, you will test your skills on more advanced levels.
The interface of the application is pleasant. Moreover, there are many interesting features here. The best thing is that the application is available for free.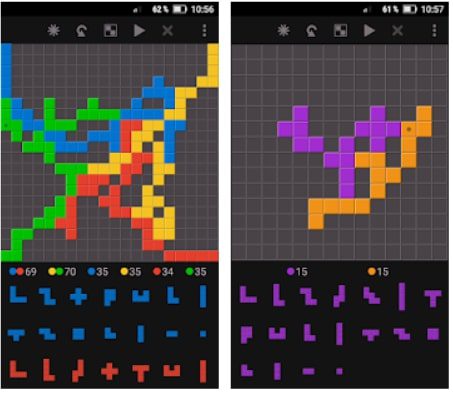 You may also like: 11 Best strategy board game apps 2020
5. Blokee
Blokus can now be played online. Would you like to compete with the strongest opponents? Then download the app from Google Play and test your strategic thinking. Blokus is good because it can be played with your friends. This is the most convenient place to do it. So let us explain why.
So, check out the playrooms you like or create them by yourself. Here you will be able to set all the parameters of the play. After that, just wait for the other users.
In order to make the users strive to compete and win there is a statistic that shows the best players. In addition, you will even see a personal analysis of the last games and the report for the month in your profile. Another great thing about this app is that you can chat with other users while you play Blokus.