Have you ever dreamed of trying yourself in animation? With the help of cutting-edge technologies, it is available to do right now. What is more, there is no need to purchase advanced software to try yourself in this matter. Installing an animation app will be enough to find out if it is your cup of tea or not.
Though these tools are not so innovative, they are still powerful enough to make awesome animations. Such an app will be perfect for a beginner. At the same time, some professionals also make use of these tools.
Here is the list of the best animation apps available on the App Store as well as Google Play. It remains to choose the tools that suit you most and start creating masterpieces.
1. Flipaclip: Cartoon Animation Creator & Art Studio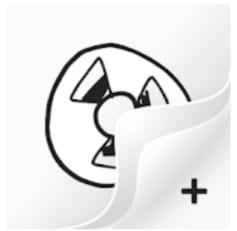 Undeniably, one of the coolest animation apps is called Flipaclip. Millions of users across the world already enjoy this tool. Here is your turn!
The app will provide you with a large kit of tools to make animations (brushes, erasers, lasso, ruler shapes, fill, overlay grids, etc.). Apart from this, you will be able to add text with various font options.
Talking about other multimedia aspects, adding up to 6 audio files to animation will be possible. There is a great choice of them in the app, including sound fx audio packages. However, if you need to upload your own track, it will be available to do after paying (though the prices are low). Also, the app supports uploading voice recordings. It will be especially appropriate when voicing the characters of your animation.
Now let's consider the process of drawing. First of all, you will be able to make the canvas size meet your requirements. The app supports sizes up to 1920×1920. Secondly, you will be able to make art on up to 3 layers. In case you need to increase their quantity up to 10, purchasing a subscription is required.
Third, the animating frame-by-frame has never been so easy. We mean that with the help of the app's intuitive system, you won't waste much time and effort to make an animation. In addition, you will benefit from various animating tools such as Onion skin.
Also, the app supports drawing with the use of styluses (Samsung S Pen/ SonarPen/ Apple Pencil). Due to this feature, your animations will become even more eye-catching.
By the way, you will be able to start from scratch as well as animate uploaded videos and photos. As a result, after all the necessary manipulations, the app will offer you to save animations as MP4 or GIF files. Besides, PNG sequences with transparency are also supported.
Finally, after making animation, it will remain to share it on social media and platforms. If you want to get some inspiration, the app's account on Instagram will welcome you.
P.S. One more amazing thing is that the app's team holds numerous video-making contests. It is a great chance to make yourself known across the globe.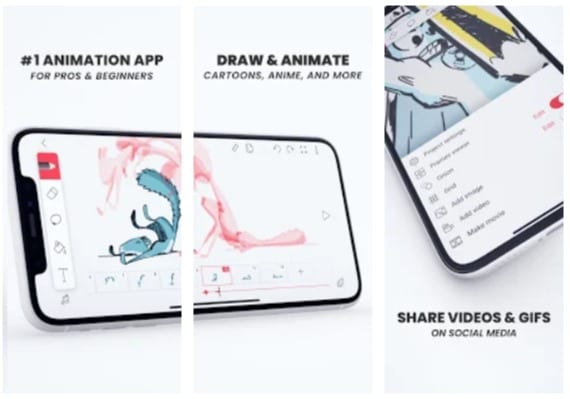 2. Pixel Studio – Pixel art editor, GIF animation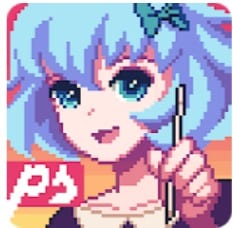 If you are fond of pixel graphics, we highly recommend you install the tool called Pixel Studio. With it, you will be able to create nice pixel art and make it move.
Despite the pixels' size, you won't face any difficulties while drawing. What is more, for your convenience, the app includes a tool for Symmetry drawing (X, Y, X+Y) and a Dot Pen tool. And of course, the resizing and rotation of the canvas will be possible. Apart from this, Mini-map and Pixel Perfect preview will always be at your fingertips. That's why you will definitely enjoy the process of animation here.
As you know, while creating pixel art, it will be more convenient to use particular color palettes. In this case, you will be able to create custom ones, pick colors from ready-to-use ones, or download them from Lospec. Also, you can upload an image and grab color palettes from there.
Apart from this, you will be able to make use of such tools as Gradient Tool, Tile tool, both built-in and custom brushes, Text tool, Dithering Pen. Besides, the app supports customizing background color and grid.
When it comes to animating (frame-by-frame too), Onion Skin will be the thing to help you a lot. Also, the app provides its users with access to multiple layers. One more advantageous thing is the app's compatibility with S-Pen and Apple Pencil.
It happens that animation takes several days. Due to the Autosave and backup features, your efforts will never be lost. Moreover, the app can be used on several gadgets and even on a desktop computer.
When you finish creating, you will be able to choose one of the formats to save a file (PNG, JPG, GIF, PSP (Pixel Studio Project), ASE (Aseprite)), and share it via social media or Pixel Network™ community.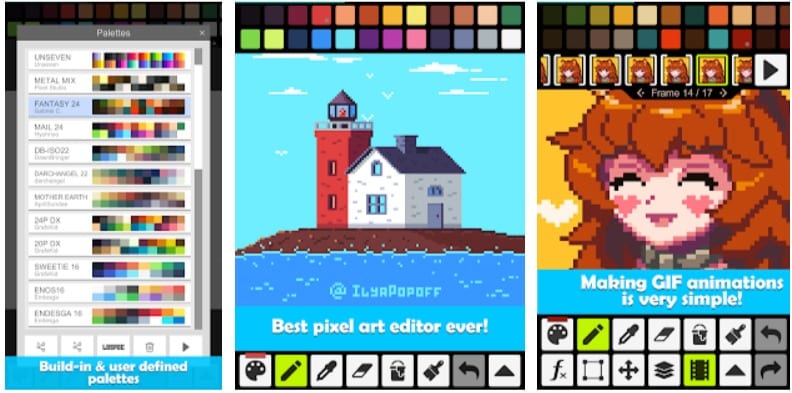 3. RoughAnimator – animation app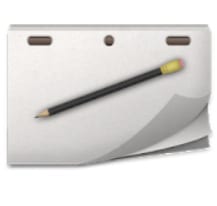 The next tool to be explored is RoughAnimator. What is it famous for?
Again, the app will be so powerful in making frame-by-frame animations. As usual, you will be provided with all the necessary tools for it.
To make an animation, you can use styluses. As for other types of multimedia, you will be able to upload videos (for rotoscoping animation), and audio files (for lip-syncing).
Talking about tech details, we can't help mentioning timeline with unlimited layers, adjustable exposure length of individual drawings, Onion skinning, control framerate and resolution.
As you finish the animation, the app will ask you to choose the most suitable format (Quicktime video, GIF, or image sequence). Besides, if you also work with Adobe Flash/Animate, After Effects, or Toon Boom Harmony, you will be able to send animation made within several taps.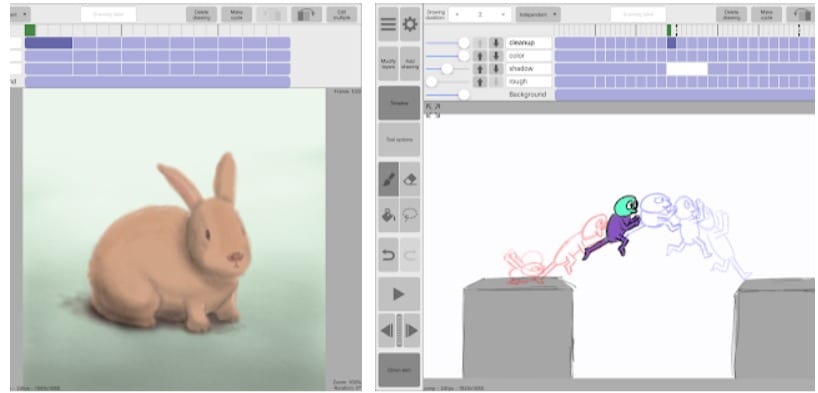 4. Textro: Animated Text Video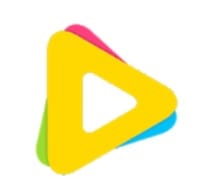 If your aim is just to make a moving text on a photo, here is the app that you've been searching for. Its name is Textro.
This very app will make your content even more unique. Whether it will be an Instagram post or story, YouTube video, or content for your website, the app will do its best to make it amazing.
Well, you will be able to add an animated text to your publication. The app includes dozens of fonts to make it suit your post. Apart from this, you will be able to complete it with music by uploading your own one or choosing from the app's gallery.
5. Toontastic 3D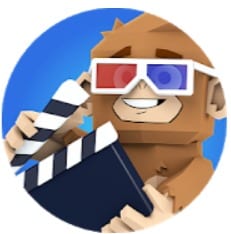 Toontastic 3D is the next animation tool that worth your attention. By the way, it has been designed for kids mostly. So if you are in search of a tool for your child, that's what you need. However, so many adults also find this app so fun.
Well, the app will offer you to create a unique 3D character at first. With the help of the built-in advanced tools, even the youngest user will cope with this task. By the way, adding people on photos as characters will also be available.
Then, you will be able to choose the setting. The variety of them is so wide here! Also, you will need to select the type of storytelling – Short Story, Classic, or Science Report. Next, to make your characters speak, you will be able to record voices and apply them to your cast. The last step will be adding nice music and sound effects that can be found in the app's gallery of tracks.
Finally, within several taps, a user will be able to save the animated cartoon and share it with friends or family members. You can't imagine how great the result will be!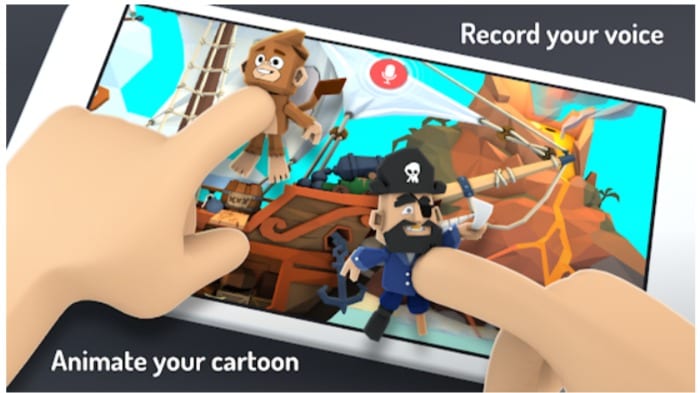 6. Stick Nodes: Stickman Animator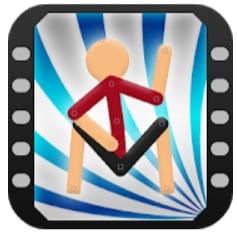 Do you like stick-figure animations? How do you feel about making it by yourself? If your attitude is positive, here is an app for that!
Stick Nodes will allow you to create stick figures or use the ready ones. By the way, on the official website, there are more than 30,000 of them to download. What is more, the content is regularly updated.
To make the stick figures alive, start an animation. Use dozens of tools and colors to create animation objects and reuse them in other frames; create bright backgrounds; add text. Also, you will be able to apply filters (transparency, blur, glow) and upload sound effects. But keep in mind that it will be available for Premium users only.
On the whole, owing to the app's friendly user interface, making animation will be so easy. At the same time, it will be so smooth due to the automatic customizable frame-tweening.
When it comes to saving your project, the app will offer you only GIF-file format. To save it as an MP4 file, purchasing a subscription is required.
As a bonus, the Stick Nodes community is one more thing that you will like for sure. To view works of other users, show your animations, or ask for advice, please follow the official website. One more option to view the animations made in the app is to search for "stick nodes" on YouTube.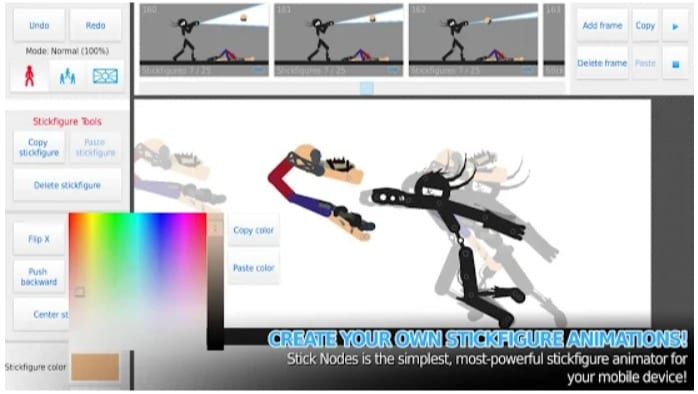 Here is one more idea to enliven your content on social media. Just install one of the best cinemagraph apps for Android & iOS.
7. GIFMob – Stop Motion to GIF, MP4 Animation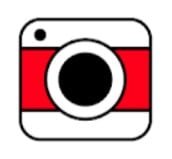 Do you want to animate not drawings but objects on a photo? If you do, the GIFMob app will be an excellent choice for you.
Before creating stop-motion animation, you will need to take all the necessary photos. As you launch the app, it will remain to upload them. Alternatively, you will be able to take instant shots with the app's built-in camera. By the way, the app supports an unlimited number of photos.
The app's intuitive user interface will simplify your work a lot. Thus, you will be able to preview stop motion animation live. Apart from this, you will have access to the slide bar to adjust the speed, select play direction, or toggle the stop-motion animation loop. That's not half of the story.
One more thing that makes the app so convenient is the auto-save feature. It will protect your projects from undeliberate deleting. By the way, the final saving of your animations will be available in both GIF and MP4 formats.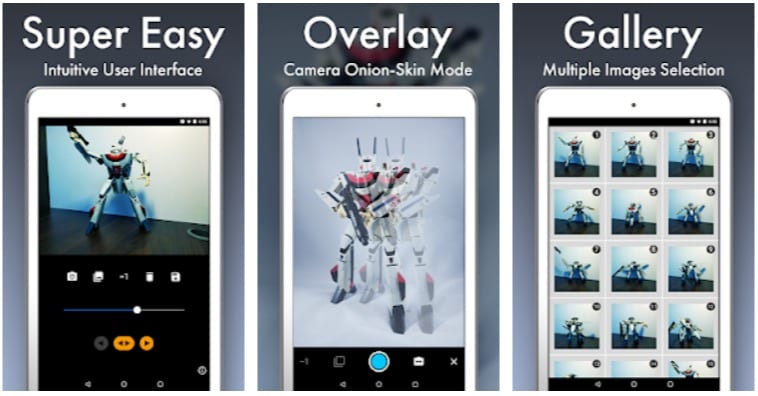 8. Animation Desk–Cartoon & GIF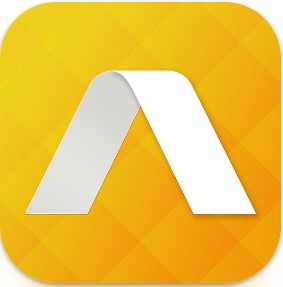 If you prefer hand-drawn animation, the Animation Desk is also a good alternative for you. Why do users like this app?
By using this tool, you will be able to create nice sketches with no difficulty at all. In this case, the kit of an animator includes a Pencil, crayon, fountain pen, three types of brush, and an Eraser. By the way, adjusting size and opacity will be possible.
As a background, you will be able to upload any photo from your phone gallery. Of course, if you want to draw it by yourself, you are welcome.
Talking about animation in detail, you will be provided with a tool that will make your project as smooth as possible. Besides, four sets of frame rates will become available as well. It will be so easy to edit, copy, move, and delete frames with this app.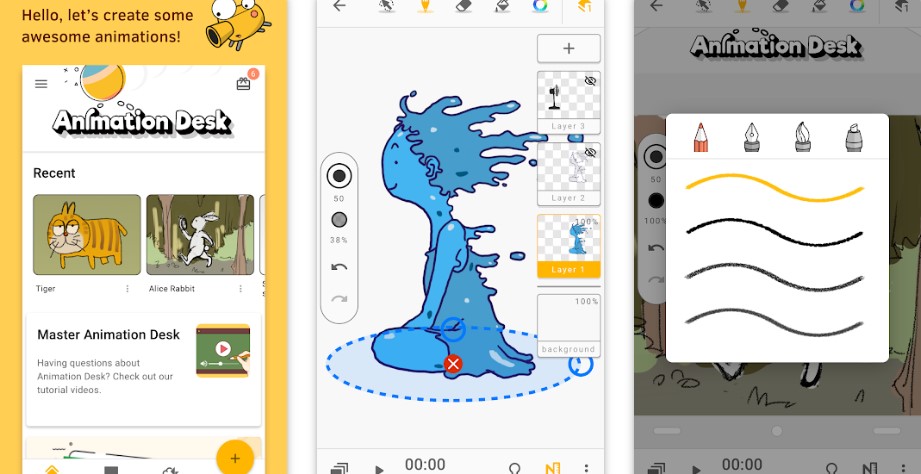 9. Animatic by Inkboard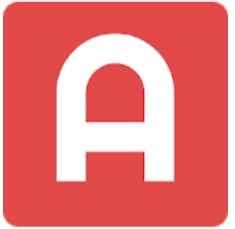 Animatic is a similar animation app. We consider it also to be a quite handy tool that meets your needs.
To begin with, the range of tools here is not bad. However, they are not so advanced. That's why the app will be appropriate for beginners mostly. Kids are also welcomed.
It will take you several minutes to create a nice frame by frame animation. After completing a project, saving it as a GIF or MP4 file will be possible.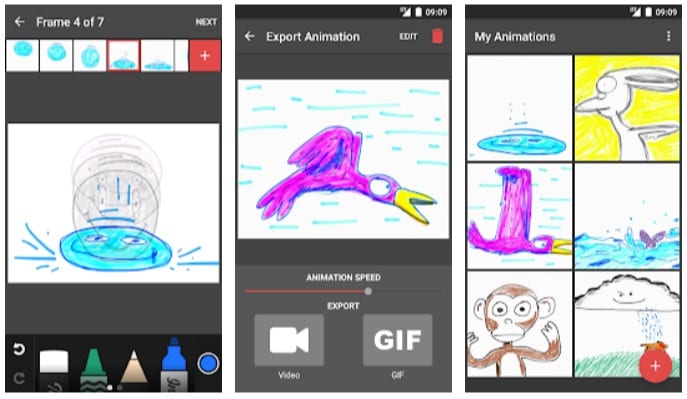 10. Stop Motion Studio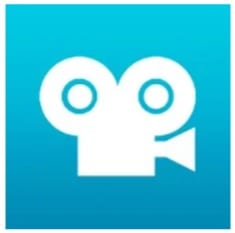 Going back to the tools to create animation with photos, we can't help reviewing the app called Stop Motion Studio. Just make sure how cool it is.
By taking photos and uploading them to the app, you will have an opportunity to make awesome animation. We highly recommend you to make use of the app's capture capabilities. Here are the reasons for this. Firstly, the app's camera will help you to take photos with an adjustable time interval feature. Then, due to the camera control, you will gain the perfect white balance, focus and exposure, ISO, and shutter speed. Also, the app will allow you to use a second device as a remote camera or headphones as a remote shutter release. It seems that you will feel yourself a professional animator.
While operating with frames, a user can copy, paste, cut, and insert them at any position. Apart from this, the app supports overlay mode that shows the difference between frames. One more useful thing is an intuitive timeline. No matter how many frames your project include. These features will help you for sure.
Apart from this, you will be able to add text to the frames (bubbles or titles), apply video filters to them, use rotoscoping tools, change backgrounds and foregrounds, etc. As for music, you can use both built-in and uploaded and tracks and sounds. Plus, the app also supports uploading voice recordings.
Besides, the app functions great when you will need to share a project across devices to continue it on another gadget. Google Drive or Dropbox will become your assistants in this matter.
Finally, when you finish the animation, it will be high time to save a project as a video (up to 4K) or GIF file. After that, you will be able to share the animation with the world via social media or such platforms like YouTube. Moreover, if you want to view the works of the app's other users, follow the Stop Motion TV official website.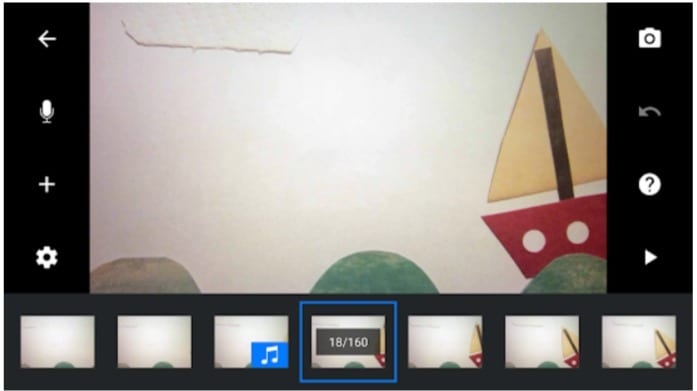 11. PicsArt Animator: GIF & Video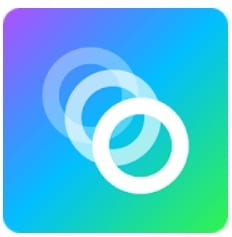 The next tool that worth your attention is PicsArt Animator. Are there any distinguishing features?
Forst of all, like any other animation app, this one will provide you with cool tools. They will let you both create a cool sketch and make flawless animation.
Let's review work with frames in detail. While making frame by frame animation, you can duplicate, insert, and delete frames as you wish. In this case, the animation timeline to scroll through frames will help you for sure.
Apart from this, the app will allow you to use multiple layers. As usual, controlling animation length and speed will be available as well. Also, the app supports uploading sounds and voice recordings.
As for distinguishing features, the app includes the Emoji Me feature. It means that you will have an opportunity to create your own animated emojis and add them to your photos or videos. That's what makes the app priceless. Saving animations as GIF or video file will also be available with this app.
Regardless of the content type, your publication will become unique with the animations made in collaboration with the app.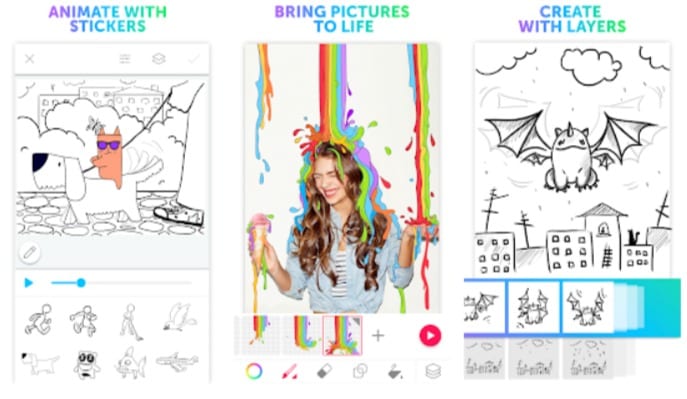 12. Draw Your Game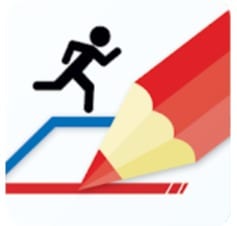 Our post ends with an amazing app that is connected with animation as well. Its name is Draw Your Game. 
As it is clear from the app's name, in this case, you will be able to make an animation and turn it into a game! First of all, you will need to take a piece of paper and draw game elements using various colors:
black for moveless objects like ground or platform; 

blue for movable objects for making a character interact with them;

green for bouncing elements;

red for life-threatening elements for your character and destroying for blue objects.
Then take a photo of a paper with the app's camera. In a few seconds, the app will turn it into a game! There will be two game modes available. First and traditional one, your character must finish the level by going round obstacles. Second, your character must push blue objects into red ones to destroy them. As you can see, the concept is extremely fantastic. 
As a bonus, you will also have access to the levels created by other users from all over the world. Trust us that the choice will be so great. As for an alternative, you will have a chance to go through 100 levels picked by the team of developers. Each of the levels is really unique. What is more, it will let you unlock many more characters. 
The app also offers to purchase a subscription. It will be so useful in case you will become addicted to the game levels. But we guess you will because the gaming process is quite exciting!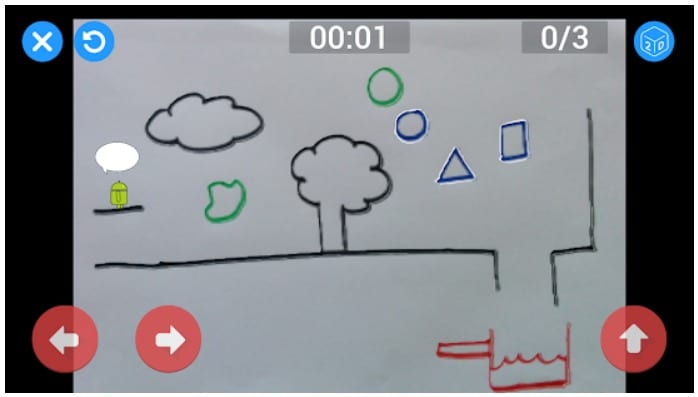 You may also like: 11 Best stop motion apps for Android & iOS