Everybody who is dealing quite often with video production, reporting on particular events, or blogging is struggling with the content production task. To prevent unnecessary distress and you are better at writing than at improvising in front of the camera, a teleprompter is just what you need. This device is a godsend for anyone who forgets their text and stumbles.
These devices display text visible to the speaker, but invisible to the audience. The key feature is that they are placed on the operator's camera so that the speaker is not forced to take his or her gaze away from it. We have tried to collect the best teleprompter apps in 2023.
You may also want to take a look at the article Best Video Lyrics Maker Apps for creating enjoyable content in the musical sphere.
1. Elegant Teleprompter Pro
This is an option of a classic piece of equipment used to present a text to your audience. In addition, it is also an extended package of similar programs. It is equipped with a wide range of functions that can be customized. First of all, it has absolutely no pesky ads. Secondly, it supports all possible Bluetooth devices, such as a special remote control, keyboard, and mouse.
By the way, you can assign buttons on the keyboard to perform some specific tasks for you. Thirdly, the program is pleased with its ability to import text from storage. So, you will be able to edit text not only in this program. Also, there is a floating window, which may be modified. For example, you can zoom in and out, change the line spacing, and adjust the font and the color of the text.
In addition, this software can be operated with a rather definite teleprompter. It has a mirror function for this purpose. Also, it supports TXT and DOC-type files. In addition, the script can be placed so that it plays on a loop.

You may also like: 11 Best Photo Booth Apps
2. Elegant Teleprompter – Scripts
This is the simplest program that allows you to turn your iPhone into a powerful assistant during public speeches. It can display the selected text as crawling words on the screen, which you can read even when you are considerably distant from the display. All you have to do is to type the text you want in the appropriate field and adjust the text size.
It is also possible to change some of the display parameters, such as the color of the background and text. And then click on the start button. The teleprompter window will immediately appear on the screen. This one is remarkable for the ability to store several texts at once. They are all neatly arranged in a unique tab. Also, you can add a title and edit the text itself.
In addition, this program is suitable for shooting videos directly from your phone. No one will notice that you are reading from a mobile gadget, since your eyes will not be frequently moving. You can also import your speeches from the cloud. It supports doc, Docx, txt, and RTF formats.

3. Teleprompter for Video-Script
This is one of the most impressive applications in this review. In addition to its primary function of displaying and scrolling text, it contains several additional features, including showing the time of your speech, text position, and others. Once you have added text, the program allows you to adjust the font size, and scrolling speed, enable text display mode, or mirror it.
In addition, there are buttons on top of the screen to control playback, speed, and size. Besides, this program is the most suitable for capturing video. All the tools allow you to shoot and read a script. First of all, you can connect Bluetooth devices. So it is possible to work smoothly with the application using the remote control.
Secondly, you can connect a microphone to record sound better. In addition, the program supports landscape and portrait modes of video recording. Also, you can capture video with selfies and rear cameras.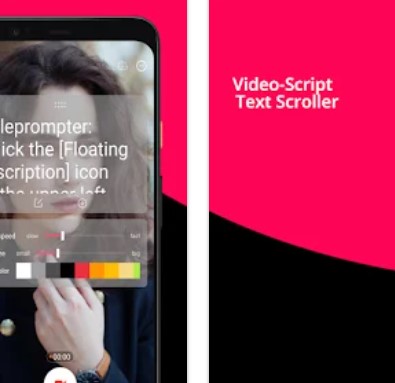 4. Teleprompter: The Autocue App
This is another feature-packed program that lets you peek at the text. On the one hand, it is a teleprompter that offers several typical features, but on the other hand, it is an assistant in video editing. First of all, you can create closed captions for your videos. And secondly, there is a text mirroring function for a real teleprompter.
In addition, all text can be edited by changing the size, choosing from the offered fonts, and picking up any possible text. For writing text, you can use your voice. Also, the voice may be used to search for the desired fragment in the script. The program is denoted by its video capabilities. So, you can use the green or blue screen to change the background.
In addition, you can connect the Bluetooth device in order not to stop eye contact with the viewers. This program is also available on the Apple Watch. Therefore, you will be able to start recording with it as well. Moreover, this program allows you to overlay the logo wherever you want.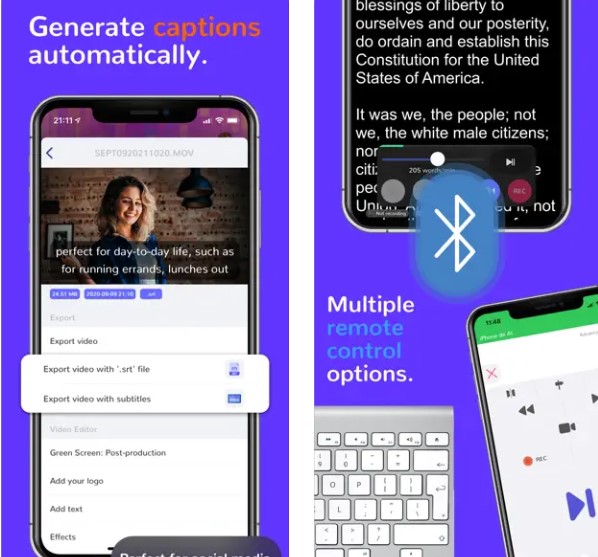 5. Professional Teleprompter, Audio & Video Recording
From its name, it is clear that this teleprompter is for pros. It is certainly true, but it can also be handled by the average person. It contains all the practical features a blogger or musician needs. First, you can type your text straight in the program and see the number of words. In addition, you can record a long text with voice input, which immensely simplifies the task.
Also, you can change the font, background color, and location of the text. You can make it easier to read the text by zooming in and out on your text on the screen. Moreover, it is possible to save the final voice recordings in the memory of the device to share later.
And all your scripts are also permanently stored in the app. Video and audio are divided into sections for easy navigation. Another distinctive feature is the recording of video using the front or back camera.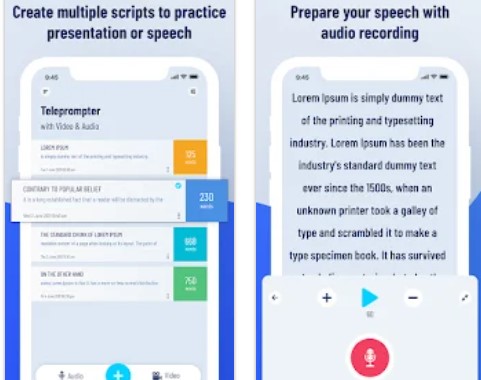 6. Teleprompter+
This teleprompter allows you to create floating windows on your screen that display text just the way you want. In addition, these windows will function even when you leave the app. Besides, the program allows you to edit the script. Here you will see a text input field, start and stop buttons, as well as font size and text demonstration speed settings.
Moreover, you can shoot a video right in this program by pressing the record button. Prepared text will appear on the phone screen. The camera supports portrait and landscape modes. Another bonus is the ability to record video in HD.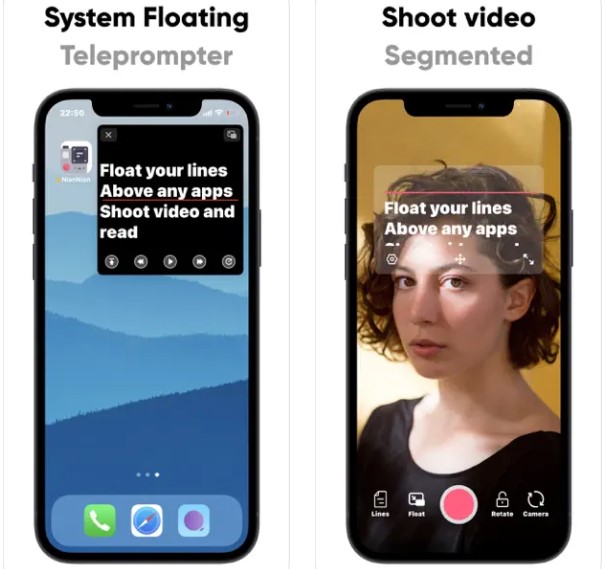 You may also like: 9 Best Photo Grid Apps
7. Teletoto – teleprompter for smartphone with camera
This program will free you from unnecessary anxiety in front of the camera and prevent worry about forgotten words. You can merely add the text you want to read and start recording the video. Alternatively, feel free to express your prepared text while recording only audio or video. You can also make the font size larger or smaller.
In addition, its location can be adjusted automatically, for example, to make the window with the text float next to the camera. A grid is also available. In addition, you have the choice to adjust the shade of the writing and control the scrolling speed. There are particular tag markers for better navigation through the material.
The resulting content can be imported to your devices into a gallery or shared with friends. In addition, the developers of this program claim that it is suitable for different purposes, involving reading the script in front of the camera. In addition, it is possible to use both the front and back cameras of the device. Another feature is that the back one can be used with a flash.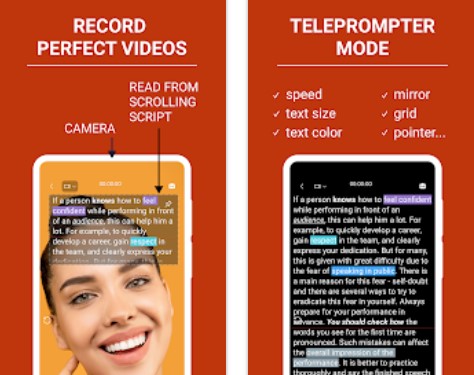 8. Teleprompter
No need to spend unnecessary time setting up this app. It helps you speak professionally and requires no special effort to customize your speech. The app is rather easy to set up and performs several standard functions. This teleprompter knows how to adjust the speed of scrolling words according to the nature of the required text to express.
In addition, you can place the smartphone both in your hand and on a table away from you. Well, the program allows you to make the text larger or smaller. Besides, there is a countdown function that will provide you with a moment to prepare. And the text itself can be scrolled both at high and low speed. In the menu of pace settings, you will see a turtle and a rabbit, which symbolize the pace.
Even for all scripts, you can set the auto settings, applying a specific font, background, size, and speed. In addition, this application is marked by its ability to create an unlimited number of speeches. You can also rotate the screen as you want, it supports both vertical and horizontal modes.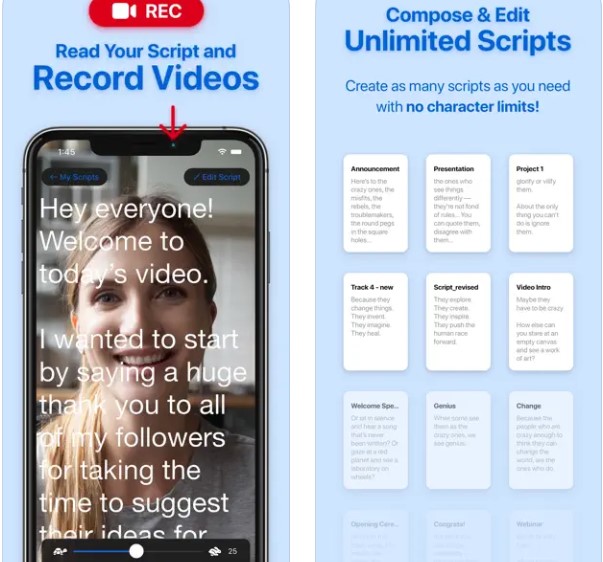 9. Teleprompter, Video Captions
This program allows you to make quick and high-quality video clips. You can place a script and edit it by all means, for instance altering its color. You can also create a script or import it from a device. As well, you can change the scrolling speed and the size of the text. Additionally, it is possible to put markers to make it more comfortable to navigate via the text.
In addition, all scripts are kept in the program's memory. Final recordings can be the first cut and then sent by mail. Beyond that, the app offers other basic settings. For example, the focus mode will allow you to highlight specific lines so that you can better navigate through the material. There is another beneficial green screen feature that makes it possible to add colorful backgrounds.
In addition, the script can be mirrored horizontally if you use a physical prompter. Also, you can add a logo and music. In addition, the program can automatically create subtitles for all your content. And there is the ability to control the teleprompter remotely.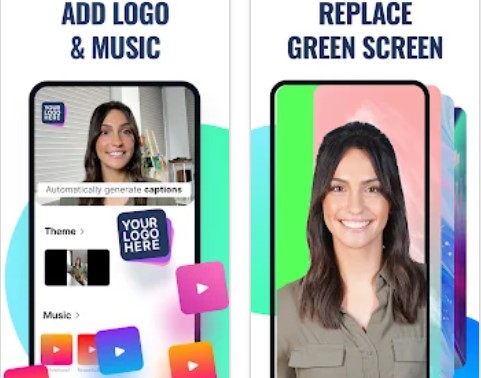 10. Teleprompter
This software has several notable features. First, it is chiefly convenient for bloggers because it saves, edits, and shares your scripts and notes. You can also create your script scrolling and then merely click play. There are several proper features for this, such as the size, speed, and location of the script.
It is possible to control the program using your Apple device. In addition to your phone, the app is available on your watch, laptop, and tablet. So, one of the devices can be acted as a remote, which will determine the beginning and end of the recording.
You can get by without a remote control to start playing, and in return, you can use a timer, which could be set for any time. Also, this program is suitable for working with a physical prompter, as there is a text mirroring function.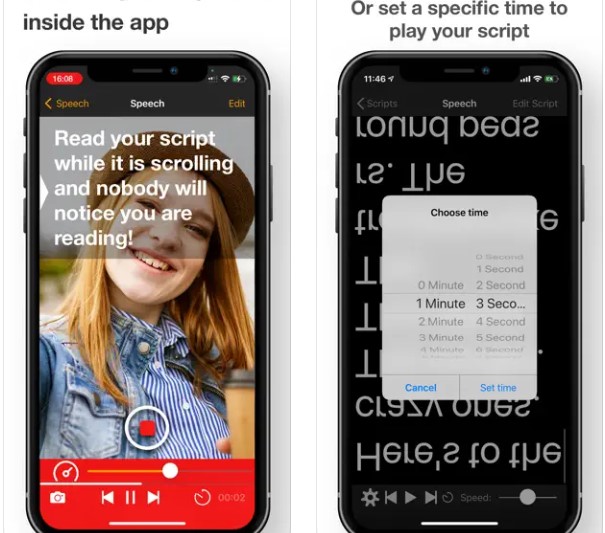 You may also like: 11 Best Free Photo Storage Apps
11. Teleprompter with Video Record
With a good teleprompter, you can record a video or audio and compose a text. This is exactly what is possible with this program. It is distinguished by its ease of navigation and organization. After all, you can create scripts and categorize them into separate folders. In addition, each script has the exact number of words in the speech and the date of the recording.
Accordingly, you can adjust the font and size of each text. Besides, you can set the color and transparency of the floating window. There are two colors available: black and white. And for video recording, there are back and selfies cameras in portrait and landscape modes.