Adolescence is one of the most important stages in a person's life. It is a great time to enjoy the first achievements and face the first challenges. Also, this period is often associated with self-identification, which is a difficulty for some teenagers.
To make adolescence as smooth as possible, we have made a selection of the best apps for teenagers. To be more precise, the applications represent tools that will be helpful for girls. We are sure that you will definitely find something to your taste.
For your convenience, we have divided the selected apps into categories: education, free time & hobby, physical & mental health, social media, fashion & makeup. Now it's high time to discover the sections and choose some assistants to accompany you in this period.
1. TED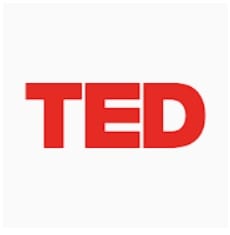 TED is an educational platform famous worldwide. Here is an app designed by this organization.
Probably, you know that the company's slogan is "ideas worth spreading". There is no doubt that each video contains priceless information on numerous themes. Most of them are so advantageous for students. But the main thing is that the app will provide you with more than 3000 videos with such content. Apart from videos, the app has numerous podcasts that will also be beneficial for you.
The thing that makes exploring the content more enjoyable is a powerful filter. With it, you can sort videos and podcasts on the topic, mood, timeframe, speaker, and so on.
By the way, this service will be so great for those who want to master foreign languages. The thing is that the TED videos are completed by subtitles in more than 100 languages. Apart from this, some lecturers deliver a speech in their native languages.
As for tech details, each type of content can be downloaded for offline playback. Moreover, bookmarking videos and podcasts for later viewing will be possible as well. To have access to them on all your devices, log in to your TED profile is required.
Finally, the app is compatible with Chromecast or with Android TV/ Apple TV. It will be a great opportunity for exploring the content on a full scale.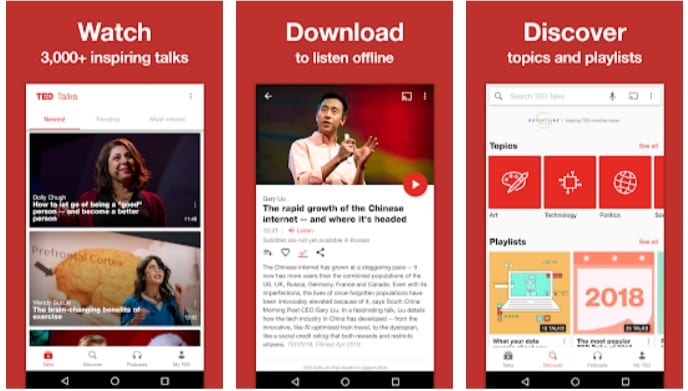 2. Khan Academy: Free Learning App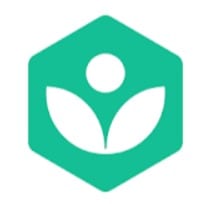 One more cool educational app is called Khan Academy. In this case, the content will be completely dedicated to math, science, humanitarian studies, and so on.
Well, in case you get stuck with the material at school or university, the app will become your digital tutor. With it, you will have access to more than 10 000 videos on various subjects. It will be math (arithmetic, pre-algebra, algebra, geometry, trigonometry, statistics, calculus, linear algebra), science (biology, chemistry, physics), economics, and so on. As you can see, the range of themes is really so wide.
One more awesome thing about the app is that it includes materials on CAT, GMAT, IIT-JEE, and other exams. That's one of the reasons for the app's popularity. So let's talk about this feature in detail. While preparing for the exams with this tool, you will have thousands of interactive tasks at your fingertips. By practicing quizzes and tests (completed by multimedia), you will study the materials from A to Z. What is more, the app will adapt the content to your knowledge level. As a result, you will be offered additional tasks on themes where you need to fill in the blanks.
Regardless of the type of content, you will be able to bookmark the materials to study them without an internet connection. It remains to open the "Your List" section and study whenever and wherever you are.
Besides, some teachers use this platform for giving homework for the whole class as well as for specific students. Students, in their turn, can complete the assignments right there with no difficulty. So if your teacher makes use of this platform, the app is a must-have for you.
To keep your motivated, Khan Academy includes in-app awards – energy points and badges. By the way, your progress will be synchronized across several devices and even the official website.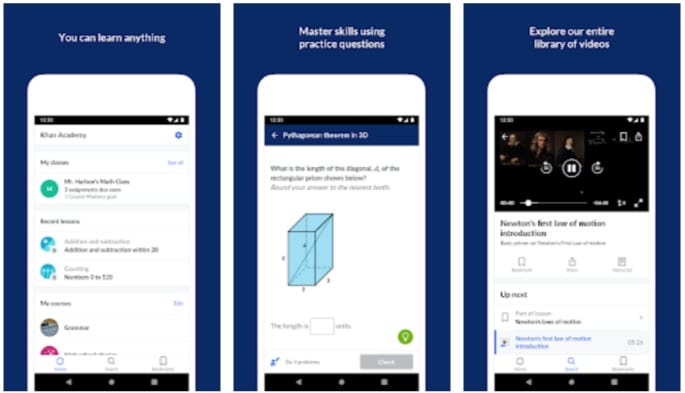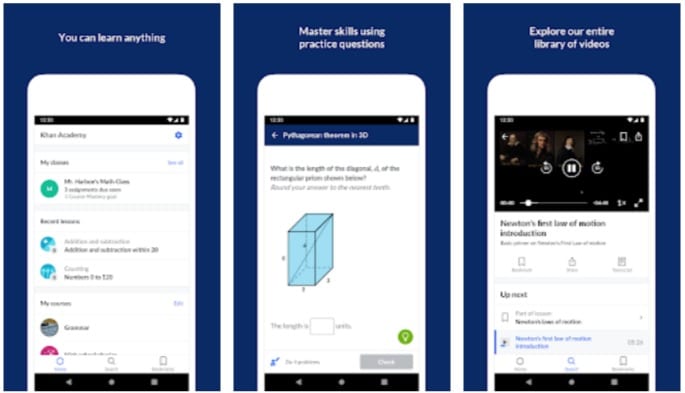 3. Duolingo: Learn Languages Free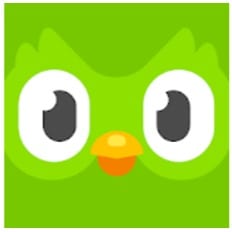 We guess that you've definitely heard about Duolingo as well. As this service is so appreciated by users across the globe, we can't help adding it to the list.
The app represents a coach that can teach you more than 35 languages (Spanish, French, Chinese, Italian, German, English, etc.). You will be able to study all the language aspects, including speaking, reading, listening, and writing.
The tasks for improving languages represent mini-games. However, the material is taken seriously. The reason for this is that the app has been designed in collaboration with linguists. That's why the app is considered to be an effective one from the scientific point of view as well.
As you can see, the app itself is so powerful. However, if you want to enjoy the process of learning with no ads and get access to additional quizzes, the pro version is what you need. You will have a chance to test it for 1 week free.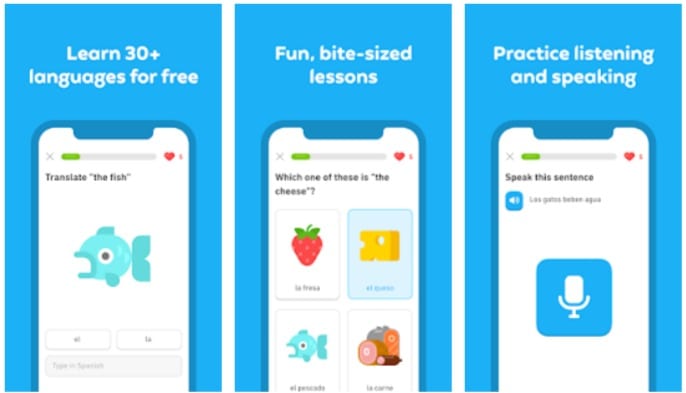 4. WEBTOON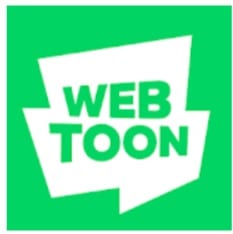 When it comes to reviewing the apps for free time and hobby, WEBTOON is the one that should be tried. It will be appropriate for those who are fond of reading short stories, sagas, mangas, comics of various genres, etc.
This platform connects both readers and writers, allowing them to get inspiration and share it. The app's community is more than 64 million people who enjoy the content daily. Apart from texts, every user can view illustrative materials to the stories.
What is more, the app's team chooses the best comics every week. It is the content that is worth being explored for sure.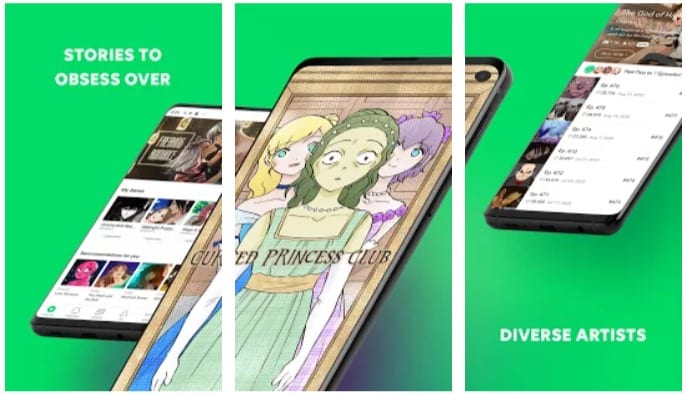 5. Netflix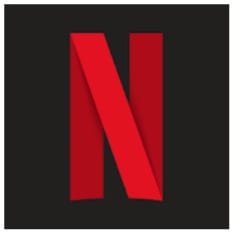 Of course, legendary Netflix is one more app that is especially popular among teenagers. What are its main features?
In this app, you will be able to view tons of awesome series, TV shows, movies, documentaries, and so on. When choosing content, you will be able to preview quick videos to decide whether you want to see it or not.
As for other nice features, every user can adjust receiving notifications on new episodes as well as releases. Besides, most videos have subtitles. And the main thing is that they can be downloaded, which will be so useful when the internet connection is lost.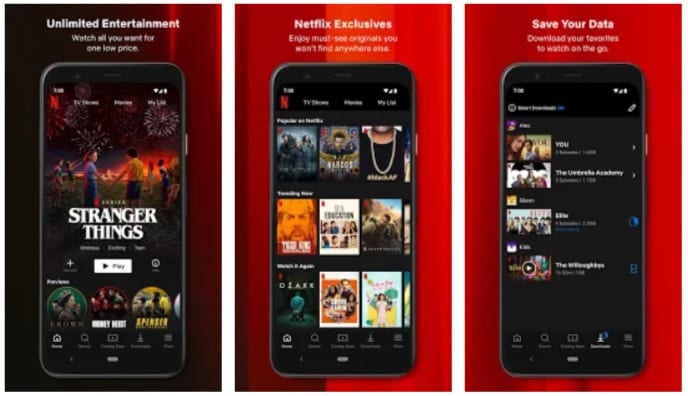 6. SketchBook – draw and paint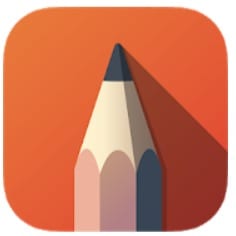 Is drawing sketches your cup of tea? If you agree, the SketchBook app will be so suitable for you.
The app will provide you with a set of cutting-edge tools to sketch and draw. The choice of brushes, grids, rulers, and rubbers will surely surprise you. Talking about the colors, you will be able to choose any color from the pallet. After that, use your imagination to create a masterpiece. Keep in mind that everything is possible with this app.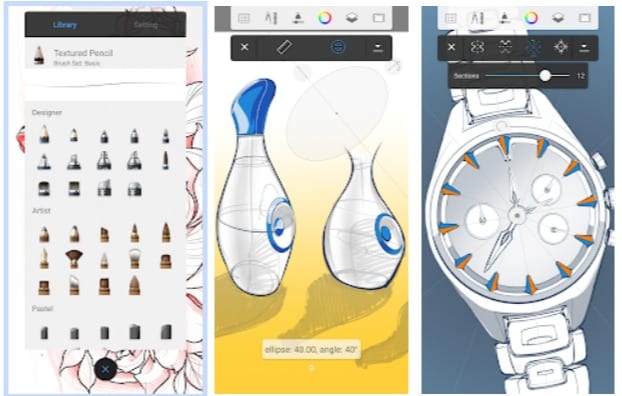 7. Paint By Number – Coloring Book & Color by Number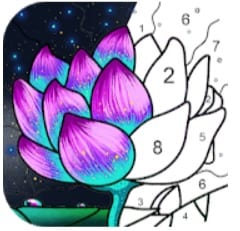 One more app connected with painting is called Paint By Number. What are its features?
First of all, in this app, you will find hundreds of sketches to be painted. Your task will be to choose the necessary color and apply it to zones where needed. It will develop fine motor skills, alertness, and other helpful skills. At the same time, you can't imagine how relaxing the process will be.
One more advantage is a great choice of sketches divided into categories. That's why you will definitely find something to your taste.
When completing a painting, you will be able to save it as a jpg file. Then you can share it with your friends via social media.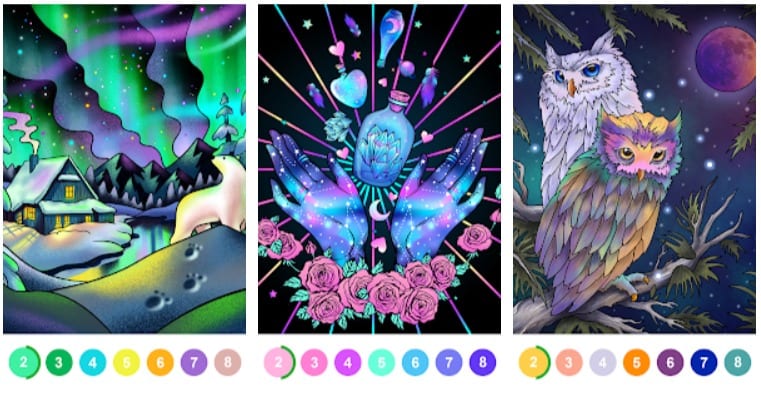 In case you are especially interested in art, you may wonder what art pictures do you look like. To get hold of a secret, here is an app for you.
8. Spotify: Listen to new music and play podcasts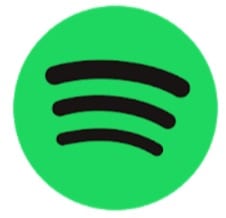 Spotify is a music streaming platform that will be useful among teenagers as well. Why did we include it on our list?
The app contains millions of soundtracks of various genres, artists, epochs, and so on. Just search for any track/artist/album and enjoy the sounds. Apart from this, the app will make you familiar with new music, albums, and podcasts. That's why you will always go with the times.
Besides, you will have an opportunity to study the top songs of different genres, periods, countries.
One more cool thing about this tool is that it is capable of creating playlists for you personally, considering your tastes. What is more, a new list will be formed daily. Also, you will be able to listen to playlists generated for a particular mood or activity. That's one more thing that makes the app so awesome.
In case you want to create your own playlist, it will be available to do with the app. Besides, you can share it with your family members or friends.
The app is a cross-platform one. It means that s user can use it on multiple devices, including even desktop, PlayStation, Chromecast, TV, and speakers.
As for Premium features, they worth being tried for sure. They include ad-blocking, downloading music to listen to offline, better sound quality, and so on. As you can see, they make the app use more enjoyable.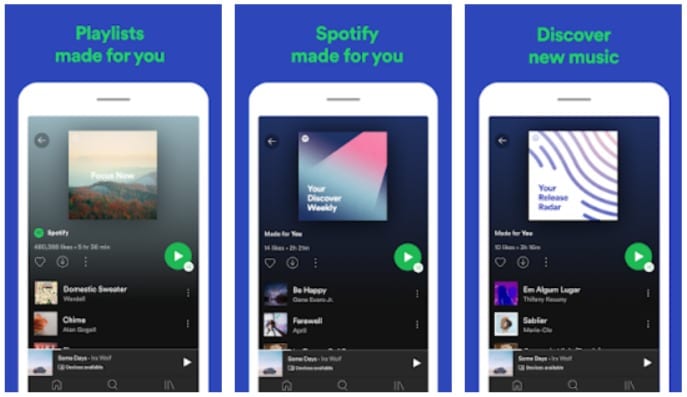 9. 7 Minute Workout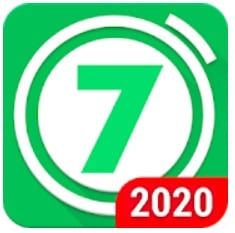 As for our health, most of us find excuses to miss workouts. But here is an app that will take you 7 minutes only to complete the exercises. At the same time, they will be so efficient.
It is a scientifically proven fact that the 7 Minute Workout app can replace long workouts. Each session consists of 12 exercises to be done for 30 seconds, with 10-second breaks. As for the equipment, you will need a chair only. However, the effect will be as if you visited a gym.
At the same time, the workouts will be quite adjustable. Thus, you will be able to choose the circuit/rest time, skip exercises to the next or previous one, and so on.
By the way, one of the app's distinguishing features is that it supports voice guidance during the workouts. Also, you will be able to adjust the notifications to stay aware of the upcoming training session. Exercising has never been so stressless before.
In addition, the app is integrated with Google Fit support as well as Apple Health. However, all your results will also be recorded in the app's digital log.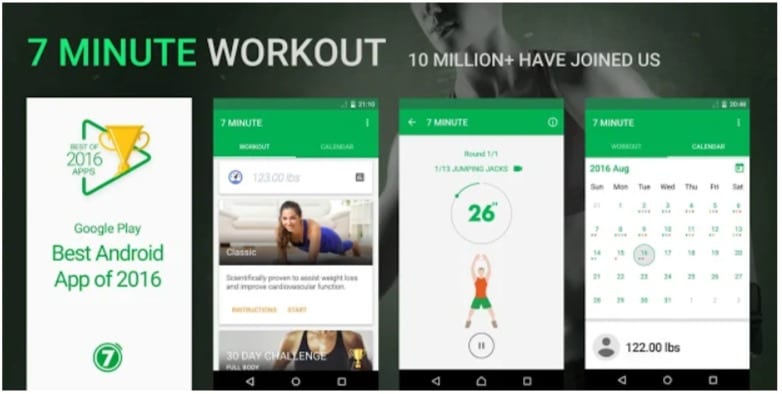 10. Clue: Period Tracker, Ovulation, Cycle & Pregnancy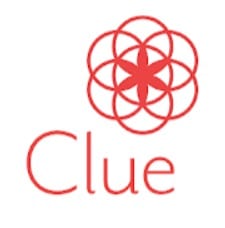 Here is the next health app that should be installed by all teenage girls. It is called Clue.
The app represents a highly powerful tracker of periods, ovulation, symptoms, moods, and so on. As a result, you will have 24/7 access to a digital calendar to track all the parameters mentioned above. But the main thing is that you will be able to view your period lengths and cycle variations. So let's talk about this in detail.
As a woman's body has its own algorithms, knowing the exact patterns is essential. This very app will help you to do this. You will be offered to record your mood and symptoms to define the exact time when ovulation, fertility, or periods start. You will be surprised how accurate the generated predictions will be.
Apart from this, the app will be so useful for tracking ovulation and BBT tests. Moreover, it is capable of reminding you to take medicine, including birth control pills.
Besides, the app includes many other additional features like a pregnancy tracker. But here is the one that will be especially appropriate for teens. By it, we mean the unique menstrual health tips. The fact is that they contain a special section for teens who just face these transformations in their bodies. It is a real gold-mine of information.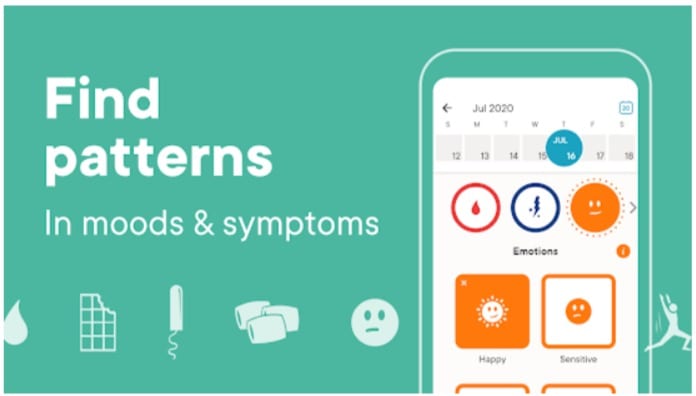 11. Motivation – Daily quotes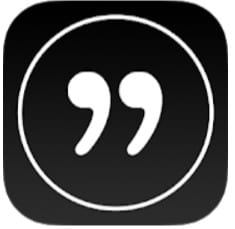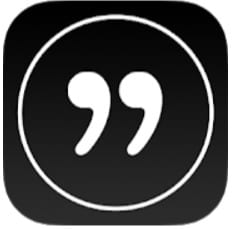 Teenagers often suffer from low self-esteem and a lack of confidence. To change your mind, here is an inspirational app.
In Motivation, you will be provided with hundreds of inspirational quotes to discover. What is more, the content is updated regularly. For your convenience, you will be able to filter quotes on various parameters or browse the particular categories. Then it remains to read them and even set reminders to make the app send it to you during the day.
In addition, you will be able to save quotes as images and share them via social media. Moreover, it will be a good idea to set this image as a wallpaper. To make them fit your taste, the app will suggest you choose the font and color by yourself. That sounds awesome.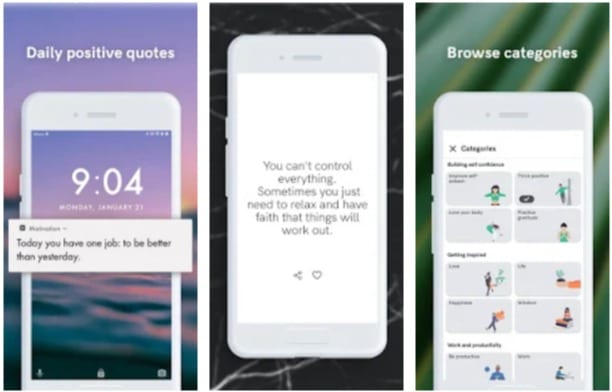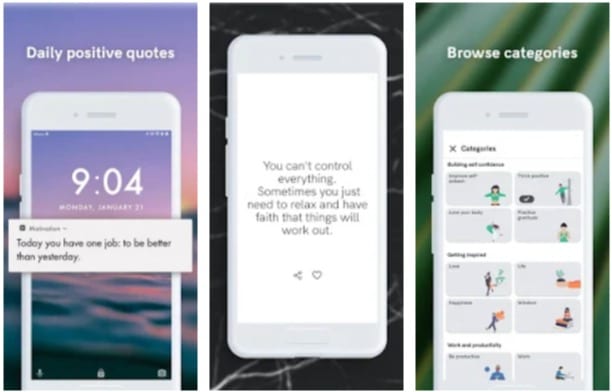 12. Calm – Meditate, Sleep, Relax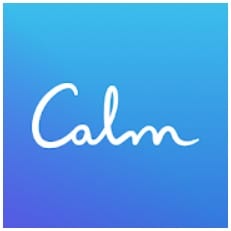 One more app that will be advantageous for your mental health is called Calm. It will allow you to get rid of anxiety as well as insomnia.
The app's secret is a wide range of programs for meditation and good sleep. Also, it includes breathing exercises, masterclasses on calm, a collection of nice music for focus or sleep, etc. You can't imagine how priceless the app for mental health is.
At the same time, this very tool is so universal. Thus, it will suit people of all skills in meditation. Also, it will be up to you to choose the time you want to spend on meditation (from 3 to 25 minutes). Keep in mind that the application will track your progress and daily streaks.
Apart from this, you will have a Daily Calm program at your fingertips. Designed for listening before sleep, it will help you to unwind after all the deep emotions. Moreover, it will take you 10 minutes only to complete the program.
One more feature suitable for bedtime is more than 100 sleep stories and soothing nature sounds. We highly recommend you to benefit from them as well.
As for calm masterclasses, they are considered to be life-changing. By the way, you will be taught by experts from all over the world. That's one more reason for installing the app.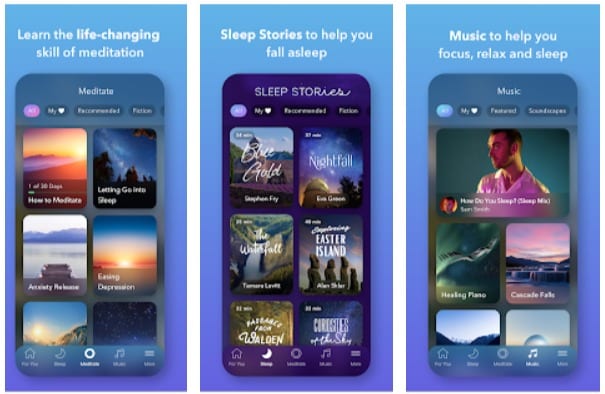 13. Instagram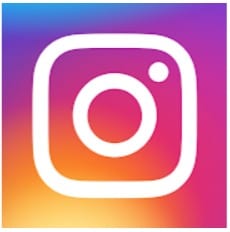 Now let's review the selection of social media apps popular among teenage girls. The first one is Instagram.
It is one of the best platforms for sharing photos and videos with the world. You will be able to post your daily events in your profile as well as share it as a Story that disappears after 24 hours. However, you can pin them by adding to the Highlights section.
When it comes to creating content, you can upload photos or videos from your camera roll and apply some filters to them if you wish. As for an alternative, taking instant photos or videos will also be possible.
Going back to the Stories, it must be mentioned that the app will provide you with hundreds of filters and masks to be used. Also, you will be offered to apply GIFs, text, and some other interactive items to your publications. As you can see, there will be dozens of possibilities to get followers.
Apart from sharing, you can also view the materials shared by other people. At the moment, Instagram has more than 1 billion users. That's why you will surely find amazing people to follow. Also, it will be a great opportunity to come closer to your idols by viewing the moments they post.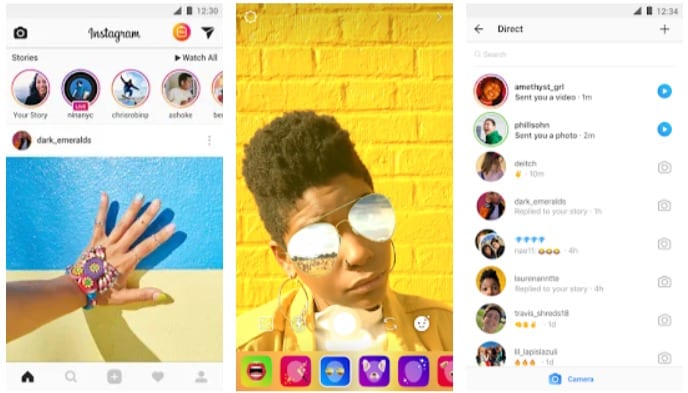 14. WhatsApp Messenger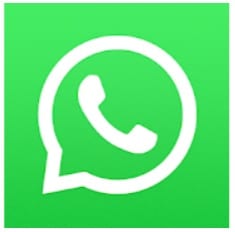 Are you searching for an app for chatting? If you are, here is an excellent option for you called WhatsApp Messenger.
It will be your tool for chatting with friends or family members. Thus, you will be provided with access to messages and calls for free. It will be relevant even for international communication. The fact is that the app uses your internet connection only.
While chatting, you can also share any files from voice messages to photos, videos, and documents. Apart from this, sharing your location and even contact cards will be possible as well. The last feature will be especially useful because the app works with users from your phone contact list.
One more advantage of this app is an opportunity to create group chats. It will be so cool to keep in touch with all your family members or friends anytime.
The cherry on the cake is that the app can be used even on your computer. To do this, you will need to log in by using your web browser.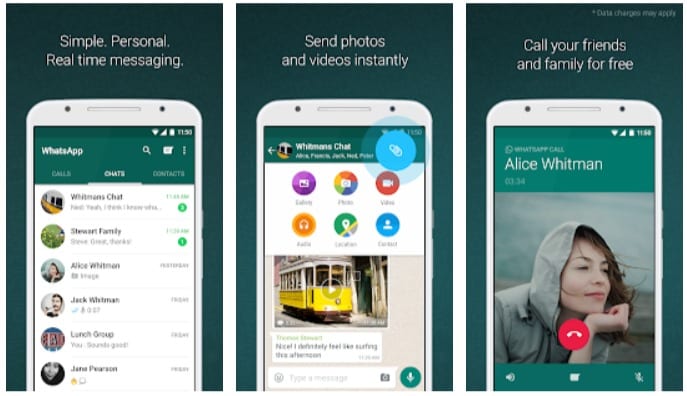 15. TikTok
Here is an analog to Instagram called TikTok. Nowadays, this very app is at the height of its fame worldwide. What are the reasons for that?
In this case, the content represents short videos mostly. You will be able to share your content as well as to view other users' materials. There are two options to do this.
First of all, you can search for something particular by entering a user's nickname or exploring one of the categories. The second way is to rely on the app and view the selections chosen according to your taste. Its algorithms will offer you this or that content by considering your watches, likes, and shares. As a result, you will very likely enjoy it.
As for creating your own videos, you will have access to quite a lot of stuff, including playlists with hits, filters, masks, AR objects, and so on. What is more, you can make use of the built-in editing tools to trim, cut, merge, and duplicate video. That's what makes the app even more appealing for install.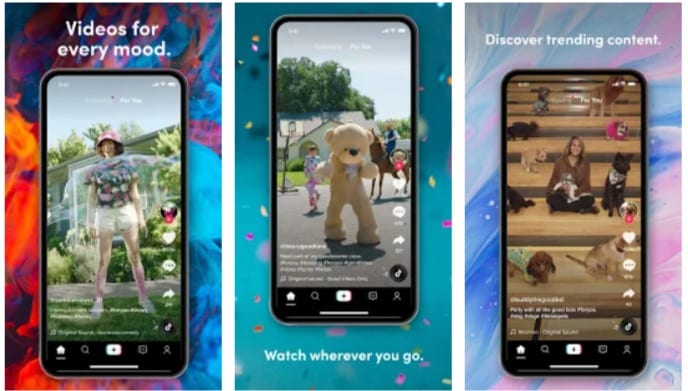 16. Snapchat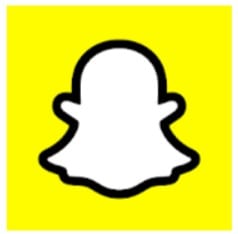 One more way to express yourself is to create a blog on Snapchat. If you haven't installed it yet, we assure you that it worth being tried.
The app is perfect for making vivid photos and sharing them instantly with friends or family. Moreover, the content can be completed by awesome stickers, filters, lenses, 3D bitmojis, AR objects, and so on. That's what will make your photo or video unforgettable.
As for sharing, you can do that directly in the app! You got it right, the app supports messaging and even Video Chats with up to 16 people at once. By the way, using various filters will be possible even during a call.
Just like Instagram, the app has a Stories section. There you can publish your moments as well as view your friends' ones. But there is more to come. The thing is that the app will save all the stories shared between friends by creating unique friendship profiles. Apart from this, it will tell you which things you have in common, are you compatible astrologically, how long you've been friends, etc. Finally, you can create your own Friendmojis that will become so special for you both. That's what we especially like!
At the same time, the app will provide you with access to other publishers' content. Just open the Feed section to discover other people's posts and make friends. Again, the content will be chosen depending on your tastes.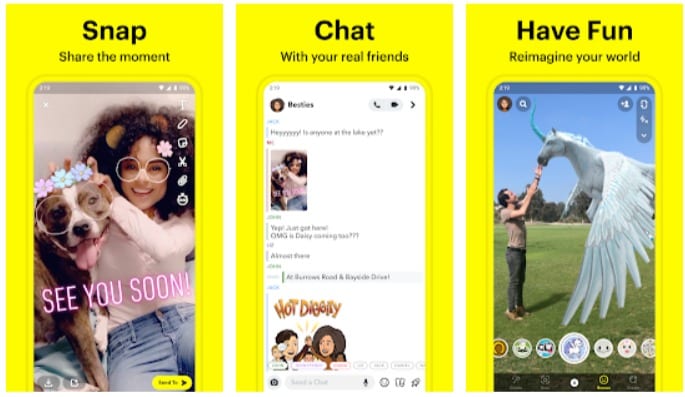 17. YouCam Makeup-Magic Selfie Cam & Virtual Makeovers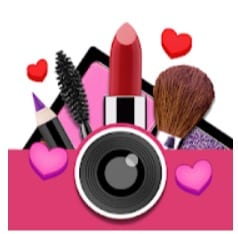 Last but not least section is dedicated to makeup and fashion. YouCam Makeup is a must-have in this case.
The app comes with a bunch of advanced tools for applying makeup directly to a photo. As a result, you will have a chance to try various items of cosmetic (foundation, lipstick, eyeliner, mascara, etc.) by famous brands. Meanwhile, it will be a great option for editing your selfie. Due to the app's built-in AI dace detection, the result will be stunning. Plus, applying photo filters will also be possible with this application.
Also, you will have a chance to explore the special makeup section. Thus, the app will offer you to try dozens of holiday, national, festival, horoscope makeup. This feature is one more thing that you will like for sure.
Besides, the app will let you change your hair color (any from a palette) or hairstyle. By doing this, you can kill two birds with one stone: change your style virtually as well as check if this hair suit you or not.
As a bonus, you can try on various accessories from the app's collection. There will be tons of sunglasses, masks, hats, hairbands, earrings, and so on.
In addition, the app will be powerful enough for correcting your facial characteristic without plastic surgery. Also, within several taps, you will be able to remove all blemishes from pimples and acne to dark circles.
As many teens have problems with skin, here is one more priceless feature for you. The thing is that the app includes skincare analysis. Just take a photo and allow the tool to scan it. After that, you will get personalized recommendations and regimens. Alternatively, you can get a skincare test that will also tell you about your skin condition. Lastly, if you wish, the app will offer you consultations with dermatologists. That's great, isn't it?
Finally, the app's community is the thing that all users appreciate as well. There you will get familiar with the latest trends in fashion and makeup, find new friends, take part in challenges, and so on. The app's users are really so friendly.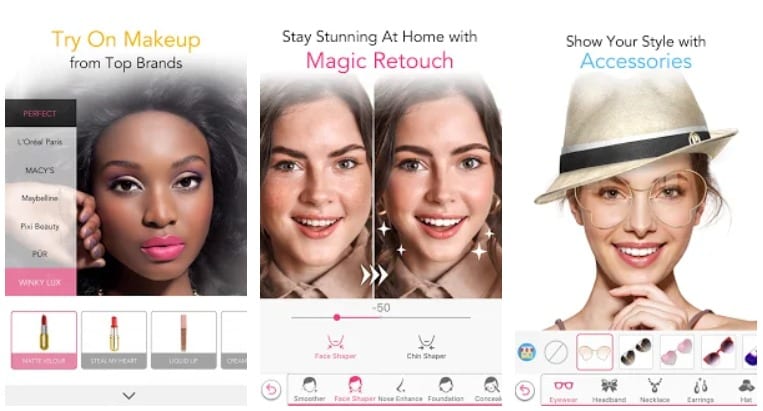 18. combyne – Outfit ideas 👗👖 & outfit creation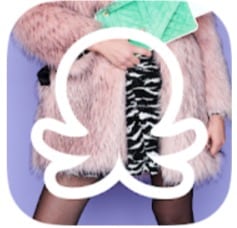 The last top app for teenage girls is about outfits. Its name is combyne.
In the application, you will be able to scroll hundreds of pages with tops, dresses, shoes, jeans, skirts, accessories, and other stuff to create your own outfits. For your convenience, you can filter them on such parameters as a brand, designer, sale, and so on. As you create an outfit, you will be able to share it with your friends or the app's auditory to receive instant feedback.
If you want to buy this or that clothes, the app will provide you with this ability. The thing is that it supports online shopping. That's it will take you several minutes to purchase all the items of your outfit.
Also, the app is about communication. Thus, you will be able to follow various users, including fashion bloggers and style icons. The app will notify you about any updates, letting you be the first who comment on an outfit.
Moreover, the app is powerful enough for finding people who dress like you. By analyzing your outfits created, it will choose the perfect matches with other users.
Are you dreaming of taking part in a fashion competition? make your dream come true by participating in digital events held by the app's users. At the same time, it is you who also can create your own challenge. That's why using this app is always an exciting experience.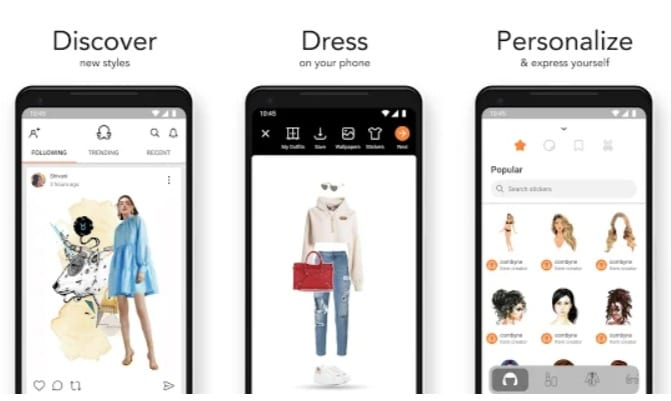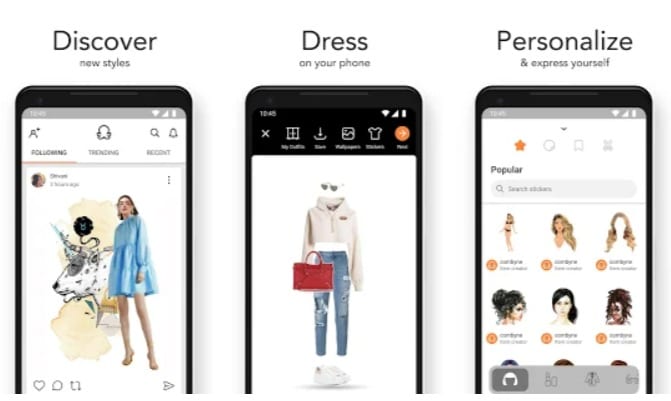 You may also like: 11 Best apps to help you with homework (Android & iOS)