Almost every amateur firstly starts with karaoke versions of songs to learn how to sing correctly. They help you both improve your knowledge of the lyrics of a particular song and its rhythm. Adjusting the words and the melody, getting used to combining both of them enables a person to develop his or her singing skills.
Precisely these reasons turned into the main force of spreading the lyrics video. That itself enhanced the essence of using various apps or software to construct the videos and share them with people easily. It would also be an excellent opportunity for some people to gain followers and popularity with its unique, attractive designs.
1. LightMV
A rich library of various appealing templates and unique designs for creating an outstanding video is provided to anyone logged into the software or downloaded an app to their devices.
You don't need to find them by yourself, hourly searching and contemplating what would be the best source to get stuck on.
Download the app, create a video in a short frame of time, save it and share with anyone you have a will to through social media or face-to-face. You can also send them the draft versions of your videos to get feedback to learn more about parts to be improved. It will make your videos more decent and creative for watching and memorizing.
Adding text to your videos is one of the chief features of this particular app. You are customizing it to the video to make it balanced and more complex than it was before. If you want to transform the text into an animated version, there is an option you should click on. You can highlight the text by any other effects existing in the application and enjoy the process.
Suppose you're building a karaoke version of your favorite song. In this case, not only the described features will enormously help you and make your work easier, but also an opportunity to choose by yourself the appropriate and fitting format of the videos (the size). It could be 16:9, 9:16, or 1:1.
By the way, the animations offered by the app are not only 2D as in most of the similar apps; the 3D effects are also provided, making your particular video thrive throughout any type of people within your audience.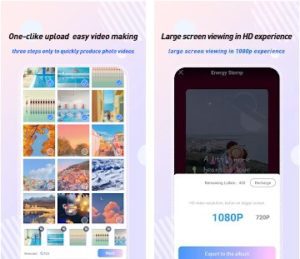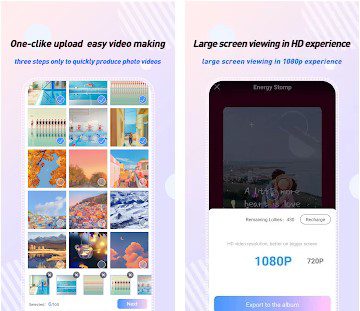 You may also like: 9 Best Apps to Combine Videos and Pictures Together on Android & iOS
2. InShot
A video editor contains separate programs with diverse features only in one application. You are allowed to add music, photos, texts, filters, stickers, and other amusing stuff to your videos to make them unforgettable for your audience.
Furthermore, you can use this app like a Photo Editor to improve the quality and eliminate the shortcomings of the pics you're going to use or just store them in your device's memory. Create collages and add some cute stickers to the photos to boost the uniqueness and creativeness of your works.
The videos themselves can be split into shorter ones by this app. Cutting out the unwanted parts of the videos is also one of the advantages of it. You have no need to worry about little things like careful shooting, not including inappropriate parts, or the necessity of reshooting it.
You can also add several video or photo layers to your video to create a 3D effect and include more data in every minute of the video to make it more informational and valuable. Or, in another case, you can just add a background to your video or just an animated text to appear more attractive and uncommon within plenty of similar ones.
By the way, while adding a text to your work, turning it into a video with subtitles or a karaoke version of your favorite music, you can simply use any font offered (a wide range of choice), any color, and animation given to you. Try yourself, experiment, and enlarge your capabilities of creating amazing videos.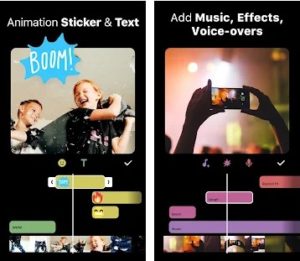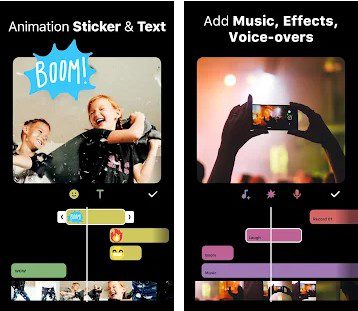 3. LyrCut
Following the algorithm provided by this application ought to help its users not be distracted or be stuck in the position of the unknown, where you don't exactly know which step should be taken next to succeed. The unique automatic editing algorithm will be a great assistant in your field of work.
More than 50 video effects are given to you. You can choose whatever you want and turn your video into something people on the globe have never seen before. Advanced filters will also help you enhance its quality, make it flawless, and open up to any category of viewers.
The text parts are easily created by the guidelines and instructions you can follow to avoid getting mistaken. Any font, color, or animation may be used to create an uncommon and extraordinary video appealing to many people worldwide. You can also create various options like choosing a font or shifting the language.
Moreover, the app has its premium version, which gives you more possibilities and side features, replenishing the diversity of effects, fonts, music, stickers, and other categories of advantages. Also, the existing watermarks and ads appear and distract you from being utterly concentrated on the video-creating activity.
You can choose your individual plan of payments (whether it is monthly, weekly, or yearly) and be sure that the subscription process is totally safe; no other person could be hacking the system to get your money.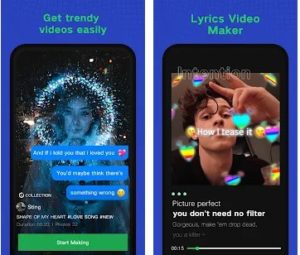 4. Lyrical.ly
This app is straightforward to use. The only things you should do are to download the free app, choose the music, select the video or photos (based on your personal preferences), and finally add the text part and save it. After the saving process, you can share it with whoever your soul wants.
If you have no time for creating a video but must have already downloaded it to your blog or personal channel, don't worry. With this app, you can create it only in a 1-minute interval of time. No distractions from your work or studying process, no loss in the number of your followers tend to be because of your inactivity.
The program itself supports any android device. That way, you can download this app to any of your gadgets and work on your videos whenever, wherever, and with whoever you want to.
You can show them to your friends, relatives or any other close people to get a side opinion about your work and required changes to the video to be improved.
There is a wide variety of music choices and characteristics of the text you need to be added to your clip. Diverse fonts, colors, animation, size of your text, and any genre of the music starting with the classical ones and finishing with daily side sounds like rain or baby crying audios. That will complement your work and make it unforgettable.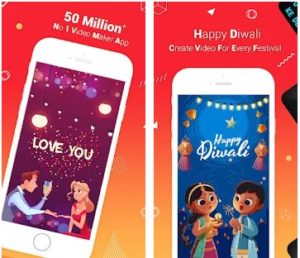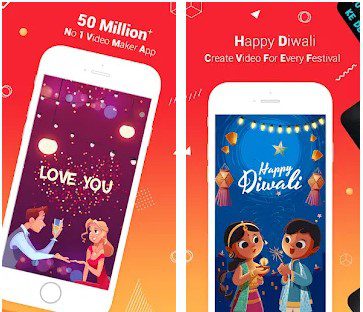 You may also like: Top 10 vintage video apps for Android & iOS
5. VSDC Video Editor
Perfect for creating daily videos for diverse contexts like social media clips or video-diary of your ordinary or extraordinary life.
However, it also offers some professional and complicated tools for specific purposes, not for daily routine videos but special occasions like weddings, birthdays, and many others.
You can play with whatever you want: speeding up your video, splitting it into particles, or merging them into one whole. Reverse the video if you need a backward story of how things happened initially, beginning with the result and then approaching the starting point.
Apply background and photos to your videos to make them more vivid and eye-catchy to your viewers. Use several filters to diversify your clip, not to leave it in the ordinary position but to gain uniqueness and popularity among the audience.
Adding music and furtherly setting up the volume is a great possibility for you to create not only a visual product but also a musical, which means the number of people watching it and hence following you on your social media will increase. That means more individuals will be interested in the content you're creating and spending time on.
The titles and text inserts have a wide range of options to choose from. The significant number of fonts provided, colors of the text, animation, and the sizes of them will definitely not only improve the quality of the videos but also bring you more joy during the process.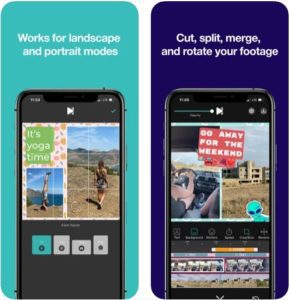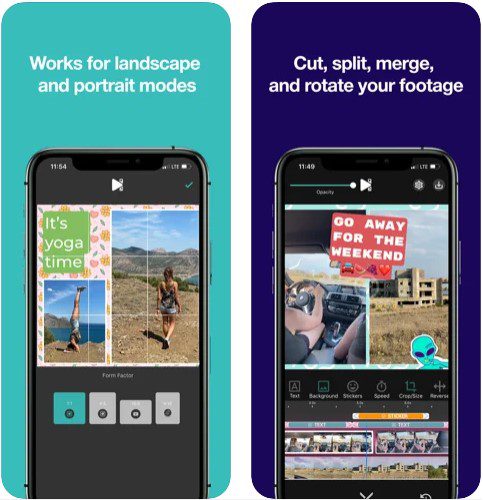 6. iMovie
The app enables the users to utilize 14 various templates with stunning graphics and select the best videos and photos with the help of animated drop zones; it offers many advantages both for beginners and professionals in the sphere of creating and editing a countless number of videos.
An opportunity to select from over 80 soundtracks and adjust the music to the photos and videos of your clip is provided. You can also easily either add the sounds from the app's music library or upload your favorite songs, which you find more appropriate from any device to the app to furtherly use in the video.
Given 11 animated title styles, fonts, and sizes for the text being modified by you, it is an undeniable fact that this characteristic will help any video creator to diversify his or her work and bring more ideas and emphasis to the written part of the clip. It makes more sense in the case of the complexity and diversity of the content.
The ability to transfer the data and all the information saved and the opportunity to share it with whoever you desire is a massive step towards downloading this app.
Suppose you've created a great video but consider it to be missing one crucial part to be correctly perceived and accepted by the audience. In this case, you are allowed to share the draft with any of your close people to get proper feedback from the other side. This way, you will have a chance to modify it to become more professional.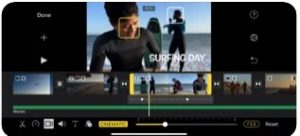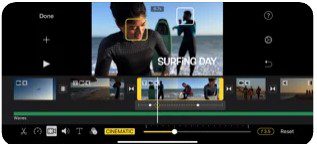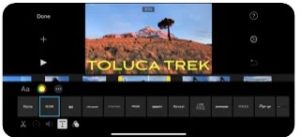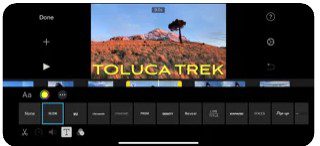 7. Video Lyrics
Do you want to create a stylish video full of outstanding and informative text inscribes or gorgeous photos or video fragments? If the answer is yes, download this app and enjoy.
Create videos with your own photos, videos, and music, adding text to it manually or automatically (they are both provided). If you were at a birthday party and took a lot of photos and now think about merging all of them into one with a beautiful song in the background, then just open "Video lyrics" and follow the sequential steps.
Adjust the lyrics and the video's sound, making the lyrics or subtitles appear once they are pronounced in the video. That means voice recognition is one of the app's functions that make the program unique and worth using. This application offers you to do it manually not to get a partly wrong matched video.
The lyrics can be either in 2D format or in 3D to create a feeling of engagement in the video. The fonts, colors, sizes provided are gathered into one large cluster of text-related options. That means it's easy to be navigated in this app by the titles of the options and not to miss vital details of your video.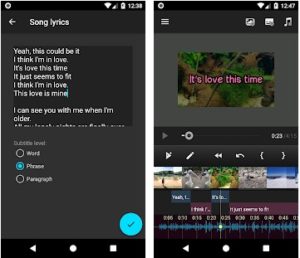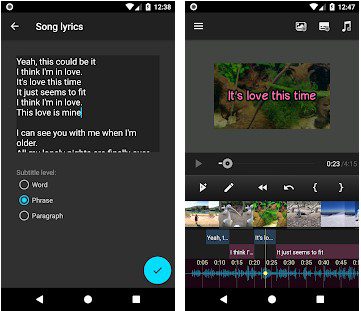 You may also like: 21 Free music download apps for Android & iOS 2020
8. Video Maker Music Video Editor
A perfect app for professional editing and creating a particular video on any specific topic is full of necessary tools to make a unique and extraordinary video found attractive to your audience. You can easily rotate, reverse, split and merge the videos in a preferable way personally for you.
Using soundtracks from a library full of a wide range of trendy music and daily sounds like ocean waves or wind streams gives one more opportunity to improve their videos. Supporting them with sounds will make them more attractive to various types of individuals, making your work more popular and outstanding, among others.
A variety of text styles and fonts is provided to help you simplify your work and reduce the number of efforts and endeavors you put into it. Write a text and fully select it to more quickly modify it as a whole, not the separate portions. Add doodles and draw on the screen to diversify the content you're offering to your viewers.
With this app creating and working on a video became funnier and more joyful.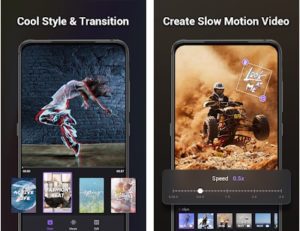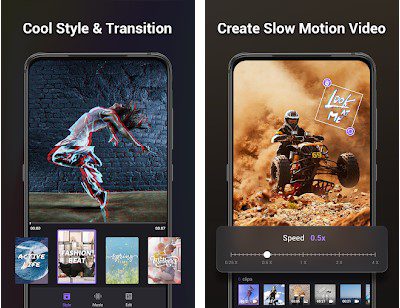 9. Vlogit
"Vlogit" is a powerful application full of tools making your video creative and eye-catchy.
Combine photos and videos in one, merge them, or split regarding your preferences. Unique designs to decorate your video and customizable animated intro and outro parts, attracting the audience from first sight until the very end, are provided.
Post the video to your YouTube channel or other social media directly from the app. That means you don't need to spend time shifting between various programs to create the clip, then save it; after all of it, go to a browser or another app to download it. All of these steps are very effort and time-consuming.
Export your videos with the same quality level as in the creating process (1080P): no pixelated images and quality losses. Quickly share the exported version with whoever you find appropriate. It could be transferred via any social media, Youtube, or mail account.
Add music or voice parts to diversify your work. Record yourself or someone else and then insert it into your video, matching the timespans and the images. "Vlogit" also offers you an extended version of its music library, which is frequently being updated to fit the preferences of the newer generations.
Put the texts and emojis directly in your video, using the specifically designed tools for these purposes. Customize the fonts, colors, size of your text, and even the animation part to the topic of your video, making it worthy for watching and spending time on.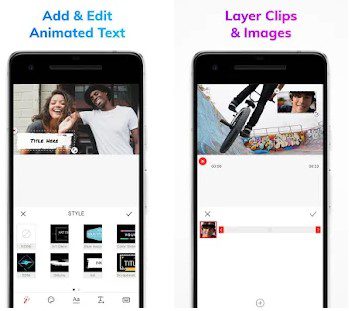 10. VideoShow
"VideoShow" is a practical video editing and creating app for professionals, amateurs, and beginners in this field.
It would be a great starting point for them to use this application as a trampoline to get and improve their montage and video creation skills. Make your own creative and extraordinary vlog now!
You're provided with a variety of vital tools and ready-made templates if you don't know precisely how your video should be designed and decorated. All you need to do is choose and click on the template to be chosen and download the videos, photos, and music, adding the text part afterward. Just follow the simple steps.
Splice and merge the videos or split them dividing into two or more parts. Zoom in or out the image or the videos to fit in the frames or emphasize a specific detail of it. Themes, filters, and amazing stickers with fantastic effects are included in the app to help you broaden the range of your followers' interests and attract them to watch it.
Insert the text to support the images in your video and its overall idea. Choose the large size of the letters to grab the attention of your viewers. Or make it green to highlight the idea of using recycled materials that are helpful and not damaging for nature. Make it move and pulse to interact with your followers or other audience.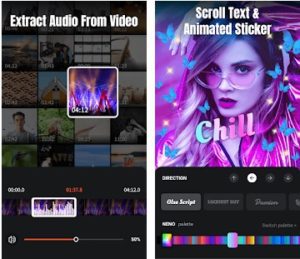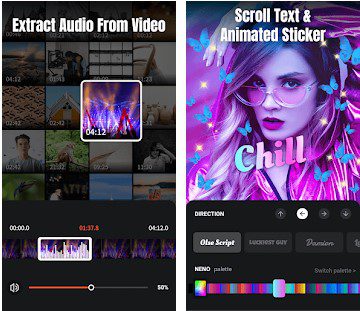 You may also like: 7 Best Photo Frame Apps for Android & iOS
11. MV Lyrics -Lyrical Video Maker
Create any lyric video with several photos and music chosen personally by you. Turn it into a slideshow and add text to your video to decorate it and support the message you want to convey.
Amazing lyrical templates and themes are provided, making it more straightforward for users to create their videos with enthusiasm and joy.
It is an open-access program, meaning you don't have to spend money to purchase it and pay weekly or monthly for using it, a highly convenient app. Just download it and enjoy all the advantages and benefits it offers.
Put the text into your videos, add the music and effects, and use other exciting tools to diversify it and make it more creative and unique. People will definitely memorize it, and furtherly subscribe to your channel or social media to watch them and personal vlogs to get something brand new and unexplored before.
This app will definitely bring you simplicity and impressive designs and tools to help you in many ways while creating your own extraordinary video.