Wanna make your days more productive and fulfilling? Or maybe you just need a little extra motivation to stay on top of your daily tasks? Well, we're right here to help.
We've scoured the web for the top daily goal-tracking apps (Android and iOS) you could try. These apps not only help you set achievable plans but also hold you liable.
Most of the apps come with built-in journals to help boost your productivity. From simple to highly customizable and even gamified, we have something for everyone. Let's get into it!
1. Goal Setting Tracker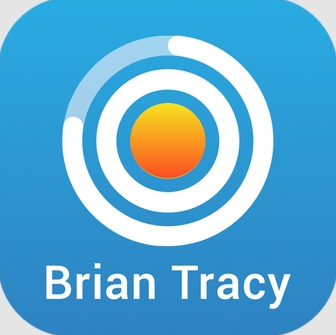 This app is here to help you stay concentrated and organized while working on your plans. From the moment you download it, this app helps you identify your most significant plans.
By bearing these key points in mind, you can elevate productivity and engagement. The cool thing is, the app will assess your life reality and help you identify areas that you want to toil on. By breaking down your plans into smaller ones, the app helps you stay concentrated on your most important priorities.
You'll also get to schedule your morning practice as it's one of the most significant factors in setting up motivation for the day. There's also a notepad for jotting down quick notes, the app empowers you to take charge of your routine. You'll also get encouraged to reflect on your gain and stay aware of your habits and routines.
With daily inquiries and reflections, you'll always know where you stand and what you need to work on. And if you need a little extra support, feel free to share your dreams with a support team. It syncs across devices, so you'll reach it at any time needed.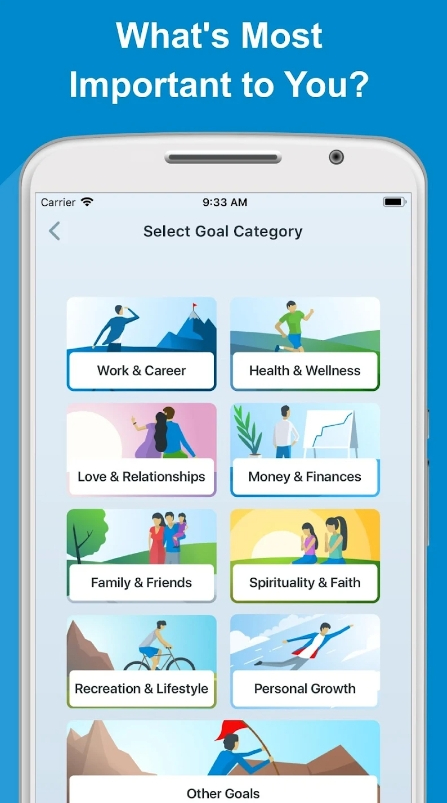 You may also like: 11 Best Gamification Apps to Gamify Learning / Job
2. Dreamfora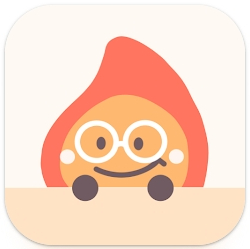 It's a cute little app that will transform your life. No more procrastination, no more stress planning. This one makes setting long-term plans and reaching them easy-peasy! And the best thing is, you'll get to discover passions with it. It is like having a personal coach, walking you through the process of identifying your dreams, and turning them into achievable plans with just a tap.
The app covers achievement plans, tips, guidelines, and resources brought to you by experts. It's also great for busy individuals that can easily lose track of their workload. That's why the app covers daily alerts to keep you on your toes.
You'll also get to monitor your improvement daily, weekly, and monthly. It also operates as a community, that is really fun to be a part of. You'll get both encouraged and challenged by other users that share your dreams and aspirations.
The app lets you share your advancement, and plans and give tips according to your exp. You'll also get a daily motivation boost via inspirational quotes and affirmations.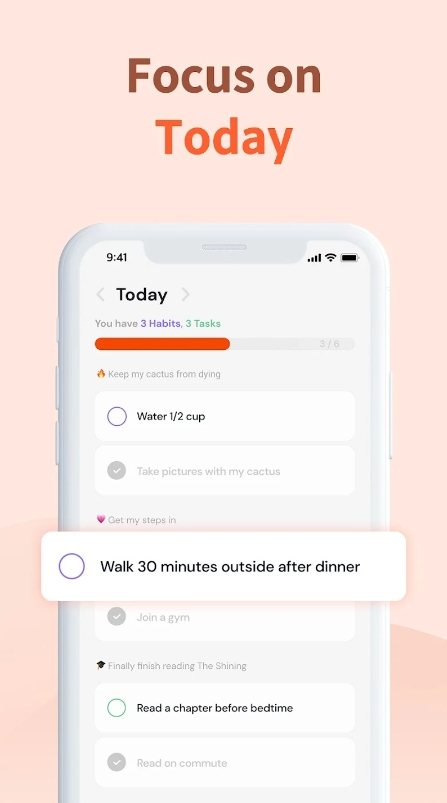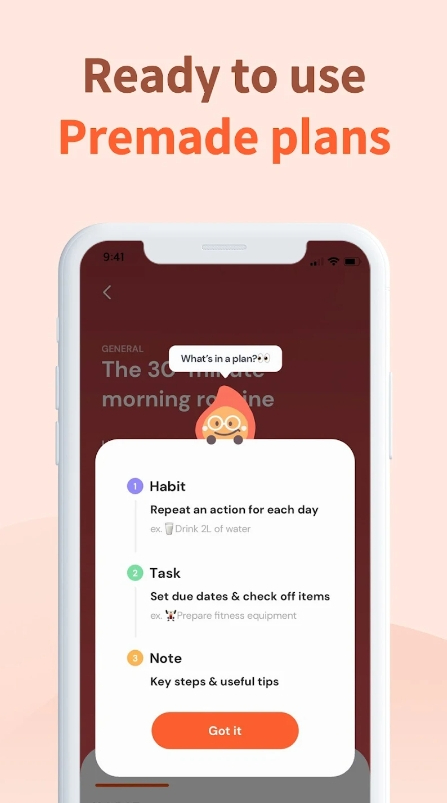 3. Avocation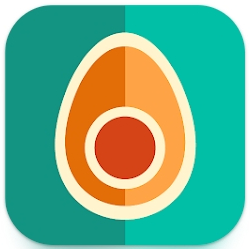 Tired of setting lofty goals for yourself and then falling short? This app is here to help. This little gem will accompany you on your journey to a better version of yourself by showing you that it's all about small, consistent steps throughout the day.
The app's tracker simplifies the task of creating and following your plans. It lets you arrange and plan your daily routine seamlessly. Each habit is visually represented by a circle, providing a clear view of plans. Plus, you get to personalize the colors, icons, and routines, making each habit uniquely yours.
No more worrying about forgetting some goals, or beating yourself up for missing a task. You'll get to set individual notifications for each habit, ensuring you never miss a beat. Just don't forget to mark the chores you're finished with. It's the little achievements that keep us motivated, and Avocation knows that.
It's also quite user-friendly and straightforward. The customization options make the app tailored to your needs, and the reminders keep you accountable.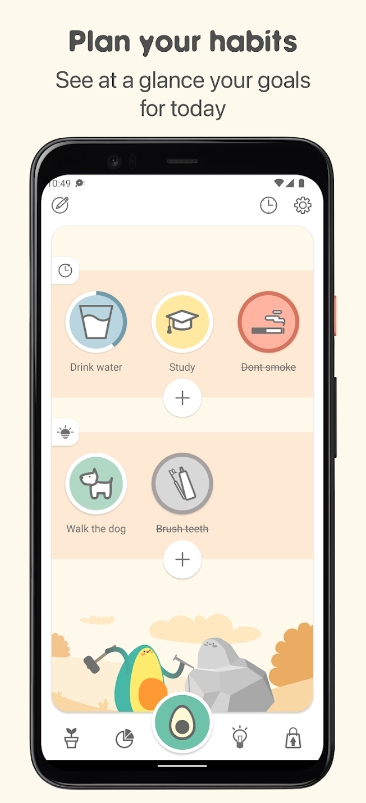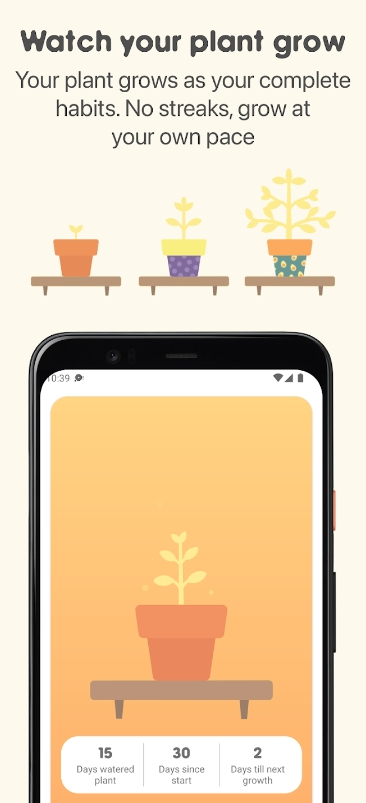 4. Goalify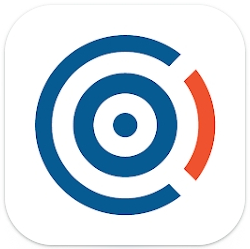 That's a great tool for everyone struggling to reach their goals. It's not just your ordinary goal-tracking app. It goes beyond handling your plans and to-dos. You can also monitor your routines, which is a crucial factor in achieving long-term success.
This app assists in maintaining accountability by providing clearer progress indicators. One of the coolest things is, you'll be able to start challenges along with your mates. Who doesn't love a bit of friendly competition, right? You can check your progress compared to others, hold each other accountable, and motivate each other to keep going.
And if you need some extra support, you can set up groups to encourage one another. But wait, there's more! The app also has an integrated chat, which makes it easy to engage and motivate your pals as you work towards your goals together.
But let's get down to the nitty-gritty. The app is user-friendly, and there are interactive charts and reports to help you stay on top of all your plans.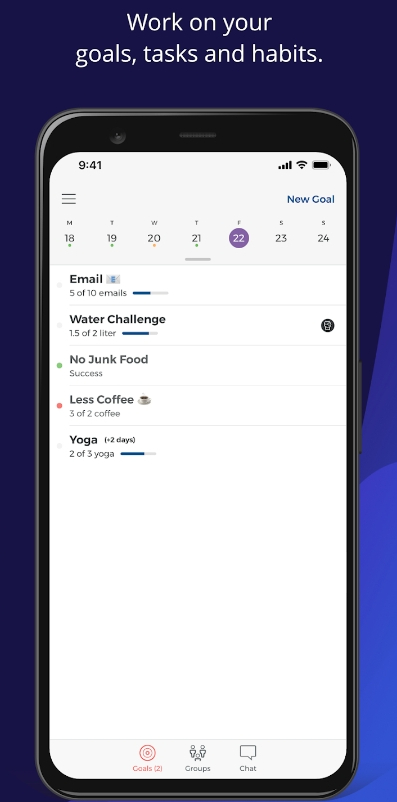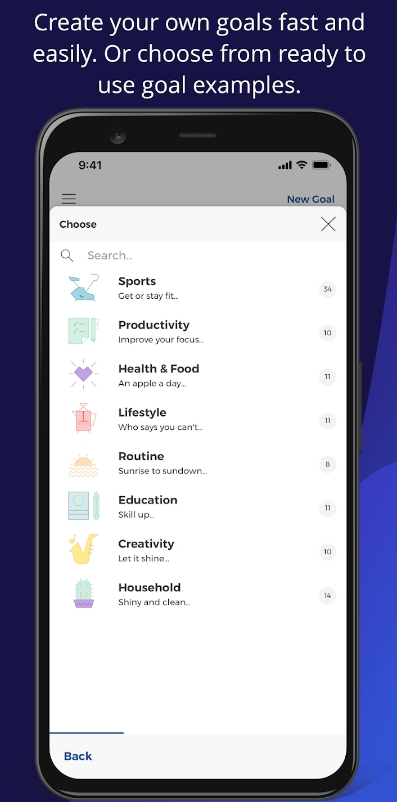 5. HabitYou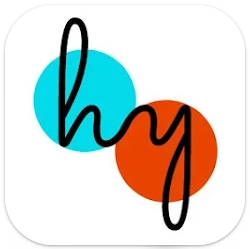 This one is here to aid in cultivating positive habits while eliminating negative ones. Firstly, it has a tracking system that lets you monitor unlimited habits for free! How cool is that? You can personalize your tracker and set your own objectives. The graphs give you a clear sight of your progress.
You'll surely appreciate the reminders, too. You'll get to set alerts for all your plans, so you don't forget about them. The daily count and time tracker will help you see how far you've come and keeps you motivated.
Plus, there's a journal you can use to express your thoughts and plans. It's a nice tool for productivity and self-care in general. You'll get to add images and notes to end up with a beautiful journal with bullet points. It's like an auto-created journal that keeps track of all your habits and tasks.
And the dashboard provides a unified view of habits and objectives, giving you a clear overview of progress and areas for improvement. It also keeps a record of your current and longest streak for your self-care habits.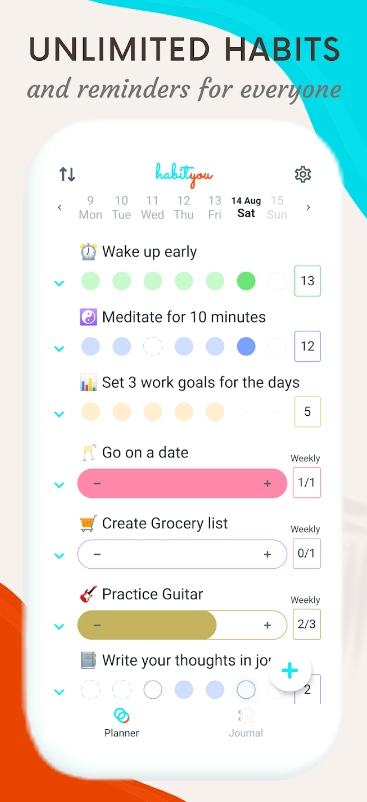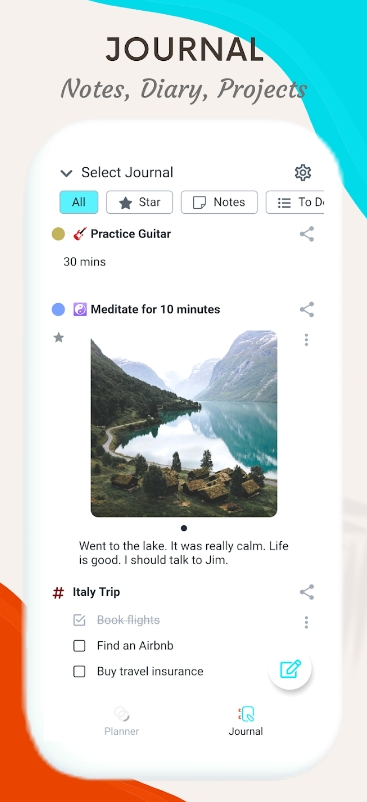 Check also: 11 Best Planner Apps
6. Reach it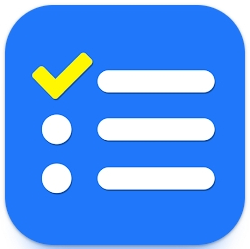 Are you someone who always has big goals but struggles to commit to them? Don't get past this app, then. It is a game-changer for anyone trying to make positive changes in their life. First off, the smart templates are amazing With these, you can create an objective with just one tap.
You'll get to link your habits with your objectives, so you're always on track with achieving desired outcomes. The app lets you set up subgoals, making it easy to break your objectives down into effortless steps. You can also keep your lists organized, pick icons you enjoy visually, and monitor your advancement toward your goals.
The app not only fosters good habits but also keeps you on track with regular alerts. And if you need that extra push, the morning motivation alert is here to help you start a day off right. The stats and calendar let you view the objectives right away, which is incredibly helpful. The app works offline, so you can use it on the go as needed.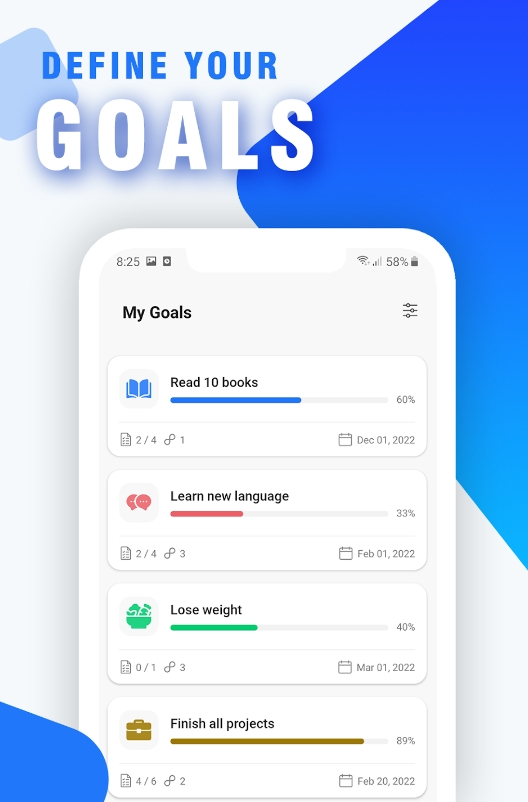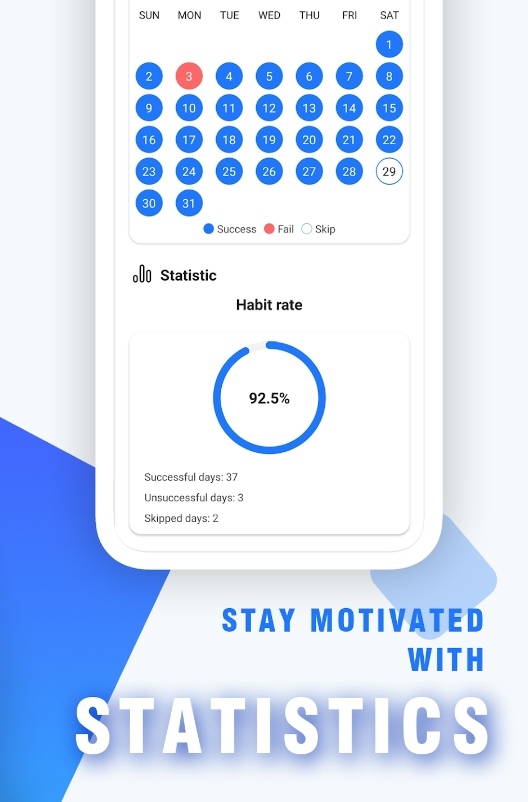 7. Way of Life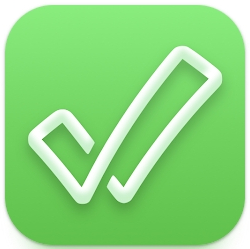 This app will be your companion in monitoring all kinds of habits. Let's start with the UI. It's so simple that anyone can use it without any trouble. Not only that but the app is also loaded with tools that make it one of the most comprehensive habit trackers in the market.
The customization options are impressive, too. You can tailor your goals and categories to fit your unique lifestyle. And the notes are a great bonus for jotting down thoughts and insights. There are multiple themes to pick from, so you can personalize the app to your liking.
And if you're someone who loves a good visual representation of advancement, the charts are here to meet your needs. These provide motivation to continue with good habits and gradually drop the bad ones.
On the downside, the free plan lets you track up to three objectives, but this is still a pretty good deal as you can upgrade anytime if you need more. However, there's no option to track OKRs, which could limit some users who prefer to track that type of goal.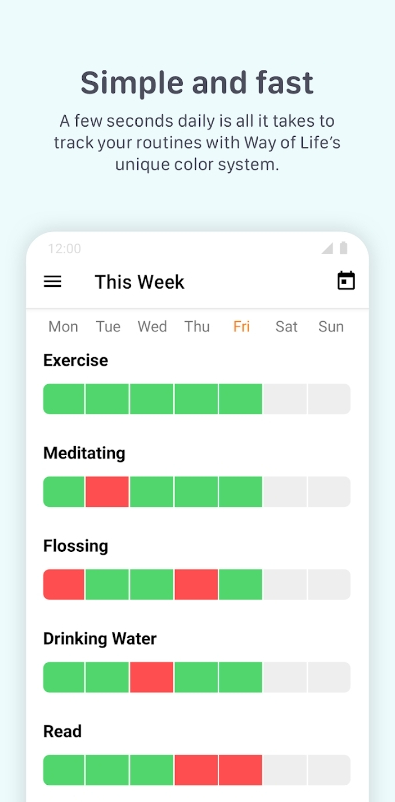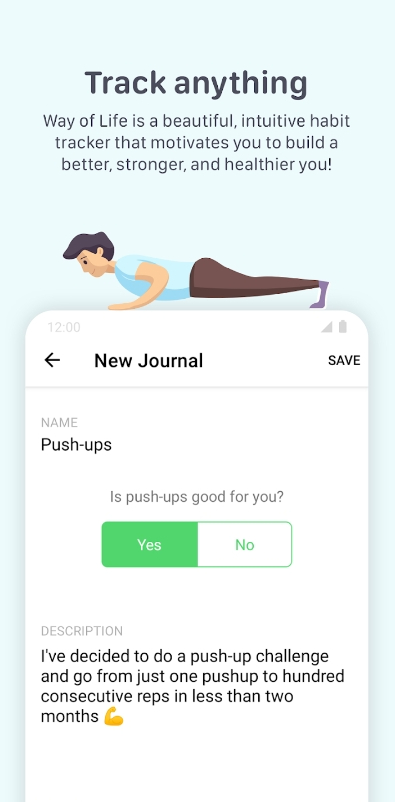 8. ATracker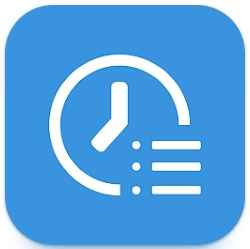 Have you been struggling with keeping up with your objectives? Fret no more because this app is here to save the day. This app is ideal for anyone looking to break down their objectives into smaller, more manageable tasks. With its simple UI and fully adjustable tools, you can categorize your tasks with tags and set reminders.
The deep customization level makes it easy to tailor the app to your needs. You'll get to segment your tasks into custom categories for better organization. Do you have work-related objectives? Check! School-related plans? Check! Personal ones? Check! The app has got you covered!
You'll also get to monitor and track the exact time you spend on each one. Thus, you'll be kept accountable and learn to identify patterns to elevate your productivity. Cool, huh? Moreover, you will be able to meticulously analyze your performance with comprehensive statistics and charts. You get a free trial at first, but the one-time cost is affordable, so you don't have to worry about burning through your savings.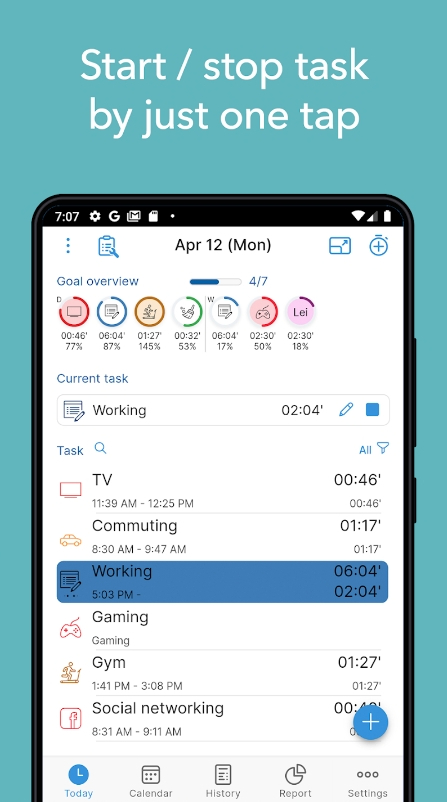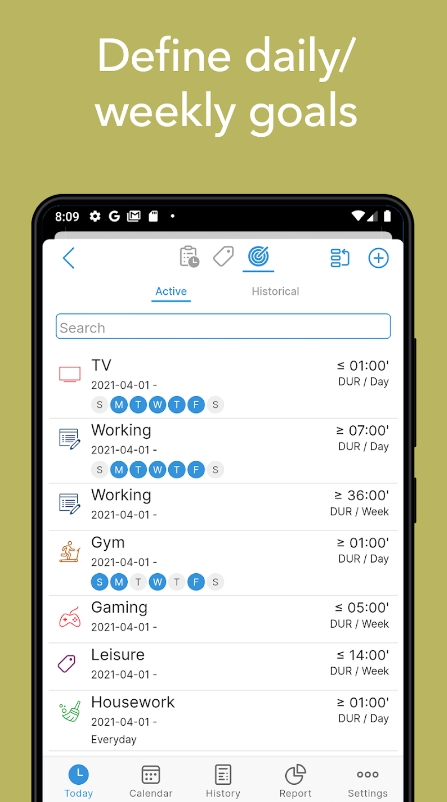 You may also check: 11 Best Anti-Procrastination Apps
9. Habitica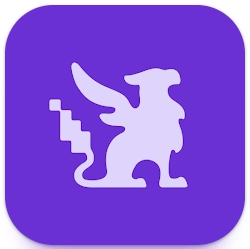 This app is the perfect blend of productivity and fun. If you like classic RPG games, you'll get drawn to the retro elements within the app right away. Creating an avatar is a blast, and inclusive personalization makes it easy to portray yourself accurately. Adding tasks, chores, and goals is simple and fast, so no worries.
Plus, the app automatically schedules repeating tasks to make your life easier. What really sets this one apart is its ability to gamify mundane things. By checking off items on your to-do list, you'll receive gold, exp, and items that can be used within the game.
The level-up system visualizes your progress and keeps track of your current streaks. All these get done with color-coded objectives and streak counters are incredibly helpful. And let's talk about the gear and pets! With so many collectible options, you can truly make the avatar your own and show off your personal style. Plus, seasonal events and regular content releases keep the game feeling fresh and exciting.
You can also connect to your mates via parties, guilds, and challenges. These will hold you responsible and help to work on your dreams together.