Everyone at least once in their lives had a situation when the remote controller from the TV suddenly stopped working and even the change of batteries couldn't fix the situation. In previous decades, our parents (and grandparents) would have to go to a large tech fair and try to find a budget substitution for the broken controller.
That's why it is so great that nowadays our smartphones can easily replace all kinds of remote controllers, for TV, DVD, audio systems and many more. All you have to do is to install the right app and to have a special infrared sensor built-in.
And then you will be able always to switch on programs, channels, chapters, music, etc., even when you got a working controller around. But who needs it when you got your multi-functional gadget?
1. Amazon Fire TV
Of course, apps from the leading corporations in the world's economy would come first, since there are so many devices they are compatible with.
The free Amazon Fire TV mobile app for iOS enhances your Fire TV experience with simple navigation, a keyboard for easy text entry (no more hunting and pecking), and quick access to your favorite apps and games.
Basically, it is a next-generation controller. It can affect the voice search, when you just tell your controller what to do, it is simple in usage at the same time (there are only 4 sections for manipulations in the app), it includes a keyboard for entering the text and it gives the quick access to your apps and games.
The latter is useful if you have a Smart TV. By the way, keep in mind that for this remote controller app a multicast-enabled router is required.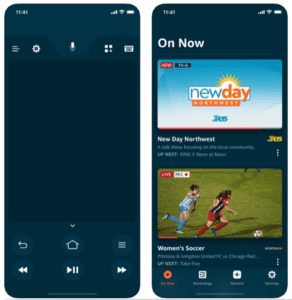 You may also like: Top 10 vintage video apps for Android & iOS
2. Peel TV Guide
A good and useful universal remote app that contains a long list of supporting devices. You can use the app to control your TV, cable or satellite box, DVD player, and streaming boxes. Apple TV is supported, meaning the app is one of the best ways to control Apple TV from an Android device.
And it supports not only TVs. It is compatible with many of your home appliances,  even with air conditioning and central heating units, not speaking about music players and kitchen stuff.
Another cool feature of the app is that it has a smart lock screen (that displays breaking news, the weather, horoscopes, and so on), a list of recently watched channels for easy browsing, and reminders for upcoming shows that you want to watch.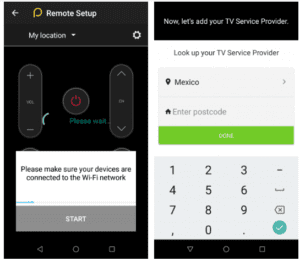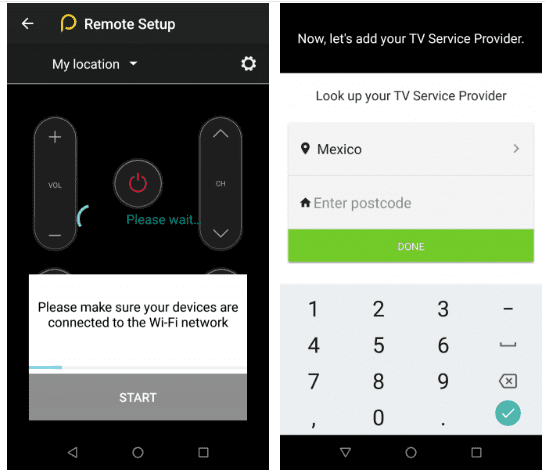 3. Android TV
One of the best apps on the market that is available not only for Android but for iOS as well. It contains a giant list of matching devices so you can always rely on it in terms of universal remote controllers substitution.
Just like in a classic remote controller, the main page of the app has a d-pad that allows you easily to switch between the channels and programs. Android TV also includes the voice search so if you want you can just say the necessary demand and the app will take action.
The app also has a keyboard that you can use for the search. Just launch the app, open the list of devices and choose the one you want to connect to.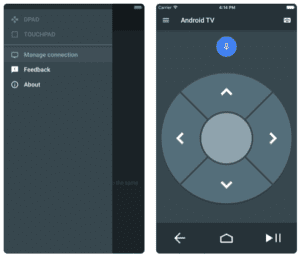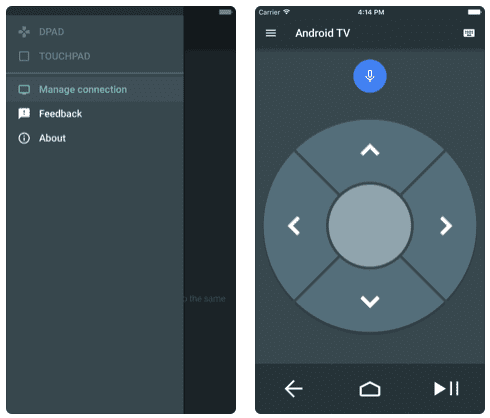 4. Smart IR Remote
Another really powerful and useful app. And the range of devices that it is compatible with is truly impressive: more than 900000! TV remote, Set Top Box remote, DVD remote, BluRay remote, VCR remote, Amplifier remote – and this is by far not the complete list of things that this app can work with.
It is better to combine your remotes into a smart remote so that on your custom remote you'll have the volume buttons to your surround system, the channel buttons to control your set-top box and the display buttons to control your TV.
And by the way, this is the only app for Android that is capable of doing that while controlling another device as well. And even if your phone doesn't have an infrared sensor, Smart IR Remote still gives you a chance to control devices like smart TVs with the usage of WiFi only.
An important notice here: the app isn't compatible with Huawei, Vizio or Sony phones.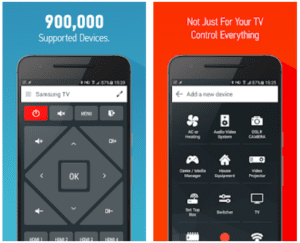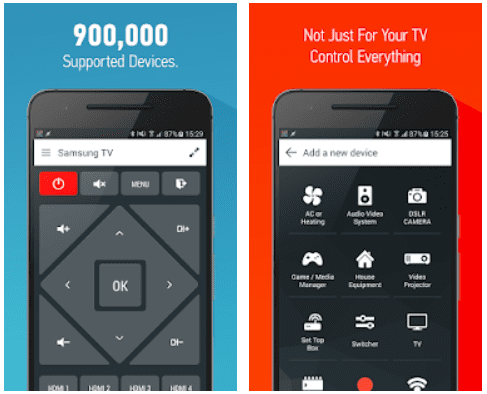 5. Unified Remote
This is a little bit different kind of app that allows to remotely control your Windows PC, Mac or Linux system. Working via WiFi or Bluetooth, the app gives you the chance to manipulate the mouse, keyboard and affect other operations on your PC even if you are not in front of it.
The app is easy to set up. Just go to the list of devices and choose your computer (but you will need to install special software on it in advance as well), and you will be able to set the remote control. Automatic server detection easily finds servers on your network.
What is more, the Unified Remote supports single and multi-touch mouse control. The server you are connected to will be protected with a password and encryption for better security. Another interesting feature, that the app allows to control some rare devices such as Raspberry Pi and Arduino Yún.
YouTube, Netflix, PowerPoint, Spotify, Google Presentations remote – this is not even a full list of programs that you will be able to manipulate from your gadget with this app.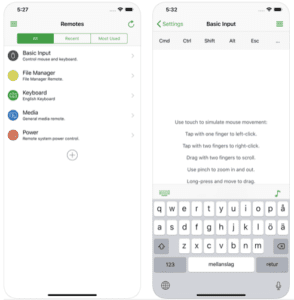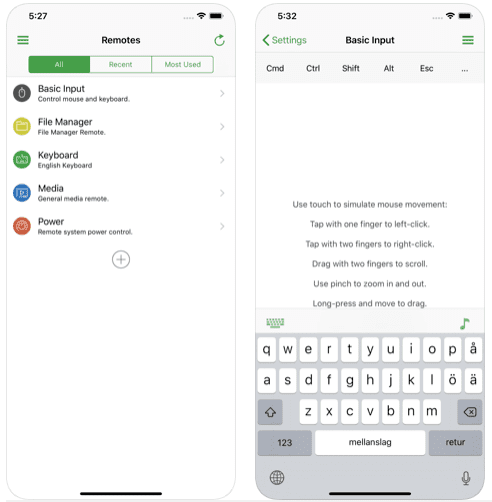 6. iRule
Just like the name of this app is telling you, with this software you will be able to control every single device around your house (and maybe not only yours). iRule is easy to set up and fun to customize and it is a 2014 CES award-winning app.
Along with those standard devices like audio and video gear that iRule can control, it is also able to control such things as lighting, shades and blinds, network cameras, security systems, and more.
The app also includes drag-and-drop modules for rich interactive control of Sonos systems, Onkyo-Integra and Denon receivers, Insteon, Lutron, and many other appliances.
You can customize the app using the iRule Builder on your computer. That way, you will be able to drag-and-drop your images and commands, upload your own custom graphics, and share content with other users.
The only dubious part of the app is that it doesn't always work with the latest versions of iOS.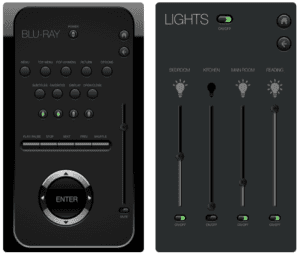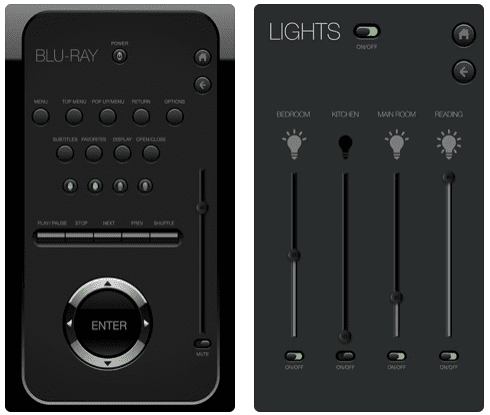 7. RedEye
Another great multi-functional app that serves as a remote controller which also supports older versions of iOS systems, like iOS3. The interface of it looks a little bit obsolete but it is still easy to use, and, what is more, it includes a bunch of useful features.
For example, you can go to a section "watch a movie" and the app will provide you will all the necessary commanders which can be useful for movies play. The same principle works for the audio section.
In the watch TV section, you will discover not only the standard set of buttons allowing to switch channels but also television program guides which will quickly inform you what is coming next on a certain channel.
Just a small notice: in case you would like to control your home theater you will need to acquire a separate RedEye hardware. It sends out the infrared signals necessary to control your home theater and other equipment.
TV, stereo, cable box, DVD player and many more devices can be manipulated with the help of RedEye.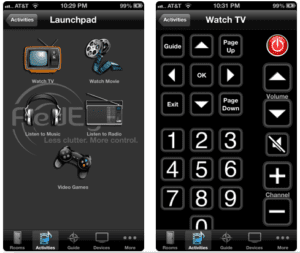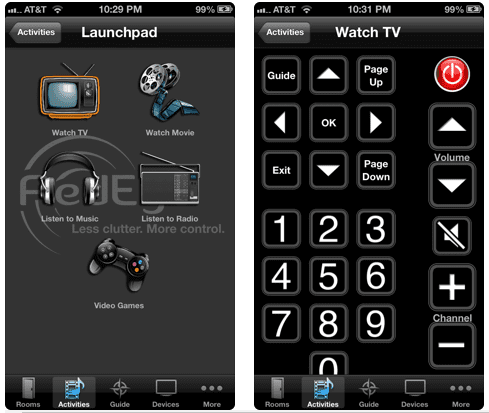 8. VLC Remote Lite
A universal remote app from a popular brand of software. Interesting fact: it was awarded by T3's "Best iPhone Apps". If you have used the VLC apps before, working with the interface of this app will probably be easy for you.
First, you will need to open the section of compatible devices and find the one that belongs to you. After you connect with it, you will be able to open a controller, where all the basic buttons are shown.
It may be a little difficult to handle it for the first time (especially for those who are dealing with the app for the first time) since there are so many buttons and it's not really clear what some of them mean.
The app also allows controlling operating systems of your PC such as Windows, Mac or Linux. Unfortunately, the free version of an app includes lots of ads. If you would like to remove it then you will have to go for a paid one.
A cool feature of VLC Remote Lite that it is presented in 22 languages. Moreover, it is recommended by many media sources as the best universal remote app.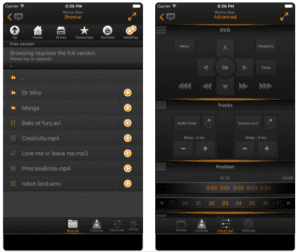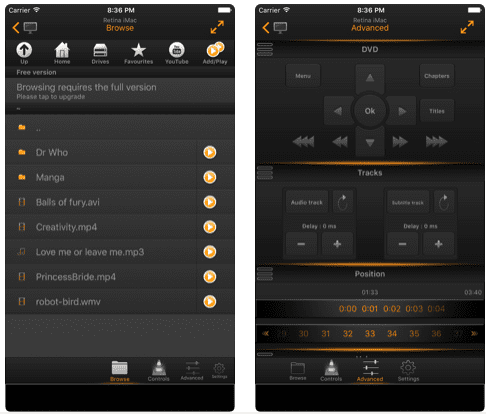 9. iTunes Remote
Maybe not so universal, but a useful app for iOS users. iTunes Remote is the best way to control Apple Music, iTunes, or the Apple TV app from anywhere in your home.
For example. if you have a party and you have to quickly switch the music from the distance, then this app will be your help. You can create and edit playlists remotely, send music to AirPlay speakers, group speakers together to play music in multiple rooms at the same time, set the volume on each speaker independently and so on.
The app doesn't require your device to have an infrared sensor – all you need is a WiFi connection and you will be able to manipulate all your iOS devices across the house.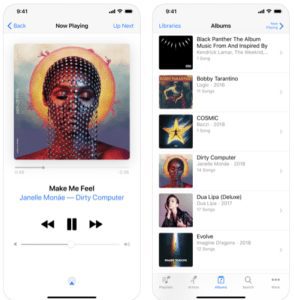 10. SURE Universal Remote
A classic universal remote that makes it possible to replace all the controllers for all your home devices and appliances. Sure requires your device to have an infrared sensor and so you can manipulate everything – from TVs to air conditioners.
With this app, you will also be able to play your photos and videos on the Smart TV. But the brands of those compatible with this app are only LG and Samsung.
AV-receivers, CD and DVD players, projectors, home appliances like iRobot, Roku and Apple TV players – this is not even by far the full list that this app allows you to control. Overall, the database of compatible devices counts around 1 million things!
The interface may be not the easiest in usage, but developers surely put an effort into its design and, what is more, it is extremely multi-functional. So enjoy the user experience of this app!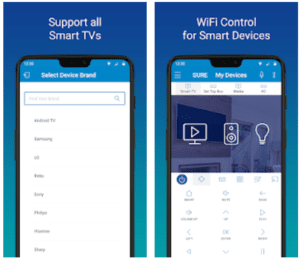 11. Universal Remote for All TV
The range of brands that this app can work with is rather limited, but the range of devices that belong to these brands is really impressive and it really works. Basically, this universal remote app is compatible with Samsung and HTC devices.
Among the devices and players that you can control with this app, you can find a TV, set-top box, air conditioner, DSLR Camera, DVD/Bluray player, projector, streaming box, power control and many more. Using an infrared blaster, TV Universal can control more than a million different infrared appliances.
Moreover, with support for Wi-Fi and DLNA networking, the app will allow you to browse audio and video files on your smartphone, computer or network-attached storage device and stream the content to your smart TV or other connected media devices.
The interface imitates the external look of a remote controller that may be liked not by everyone but it is definitely a statement. So if you got a gadget that is compatible with this app you can try it out.
You may also like: 6 Best body swap apps for Android & iOS