There are millions of people in the world who want to achieve something, but those, who know how to set their goals and achieve them probably consist around 5 percent of this amount. And this is not even the joke – most people simply don't possess the skill of goal setting and planning – and this is where all their failures come from.
You may also like: 11 Best Anti-Procrastination Apps (Android & iOS)
Goalist is that kind of an app "if everyone had it, then many people would be able to achieve all their goals much faster". And even though there are lots of goals-achievement, planning, motivating, time management apps nowadays on the market, the main challenge for the developers remains how to make users not to feel bored after a while.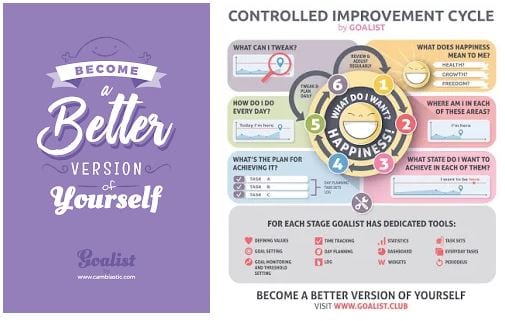 With Goalist you will never get bored because it includes so many cool features and such a beautiful interface design. The planning will feel more like a game,
What is more, this app doesn't work in the way where you just need to write something down every day – in this case the app wouldn't be different from many other apps. No, Goalist provides numerous tools for tracking your statistics each day and these statistics include your emotional state, goals achievement, planning, physical state, and so on.
Goalist App is the perfect way on how to create detailed daily plans and if something changes, it will adjust a new plan for you. Monitor the proposed statistics, graphs, and notifications. It will help you realize better your values, habits, personal state of mind, time usage, and task setting.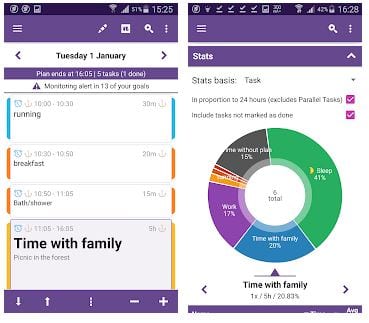 The tasks can be divided into subcategories, where you can also add different notes and attachments for them. Moreover, you can group the tasks into categories. One task can be divided into several sections, containing the sub-tasks that you need to get done. As long as you're progressing, you will see how the diagram displays the number of efforts that you put into it.
For the most urgent tasks you can also set up the notifications, so you remember about everything.
Goalist app is more than just time and goals management – it offers calendars, reminders, scheduling, to-do-list, checklists, sophisticated alarms, widgets, and data statistics. There is no tedious formality – you can monitor your personal state of mind and enjoy the lovely interface as well.
You will see how your time management will get 10 times more effective because this app provides so many features for planning. You can create schedules, make shopping lists, once again, set up reminders, and so on. In the end, you will be surprised by how many things you're capable to do in only 24 hours!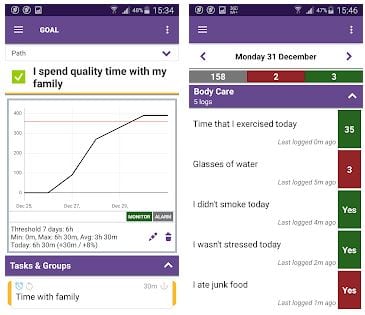 The manufacturer stands firmly behind the app quality and strives to satisfy all user's wishes. You can ask questions, suggest improvements, and report bugs on Goalist's forum (https://forum.goalist.club).
You may also like: 13 Best Eye Exercise Apps (Android & iOS)
All in all, Goalist is highly recommended by our website for everybody who wants to achieve any goal they set. This tool helps you to get your life more organized and track the progress that you are making daily towards your dreams – that's really inspiring!