Aren't you satisfied with the content of your messages in popular social media? Diversify boring text messages with awesome colorful stickers then!
Our post includes the best apps with cutest stickers ever! By installing these apps from the App Store or Google Play, you will get access to dozens of heartwarming sticker packs.
1. Lovely Duckling – Animated Stickers And Emoticons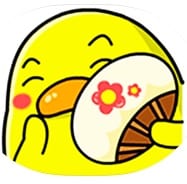 The first app in our review has a great collection of stickers with a cute duckling. It is called Lovely Duckling – Animated Stickers And Emoticons.
Well, you've probably seen this character before. Nevertheless, it's almost impossible to find a full pack with dozens of stickers where this duckling is pictured. However, there is no need to waste your time on searching anymore. With this great app, you will get so many stickers with the duckling at once.
What is more, the stickers with the duckling are capable of expressing almost every emotion or action. That's why they will be so useful while chatting with friends and relatives.
But there is more to come. These stickers will be animated. It will make your virtual communication to be like a real one.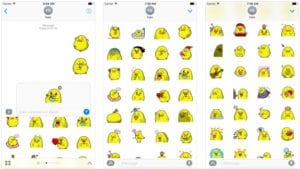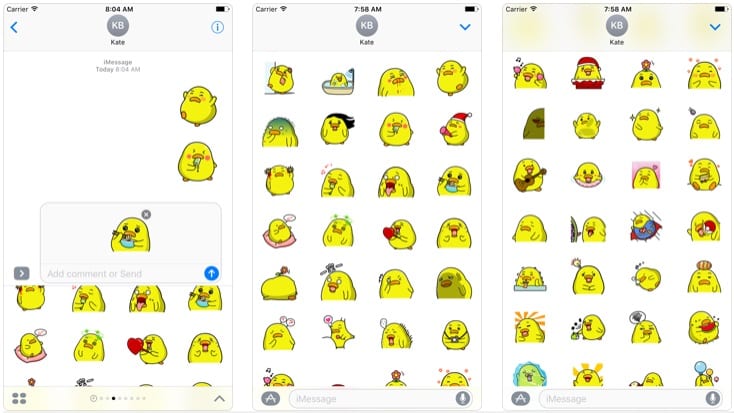 2. Pusheen: Cat Cute Stickers WAStickerApps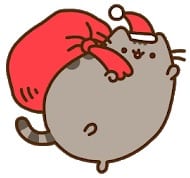 Are you a cat-lover? Do you want to prove that to your friends? If your answer is affirmative, in this case, Pusheen will be the most suitable app for you.
The app will provide you with more than 400 stickers with a cute furry friend. It will take just a few minutes to make you fall in love with this charming cat.
The stickers will be available to use in WhatsApp only. Also, you will be able to share this pack with your friends by sending it via WhatsApp. Be sure that this feature will be quite helpful because all your friends will be touched by this sweet cat.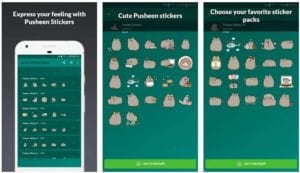 3. Sushi Land Stickers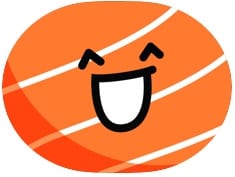 It is a well-known fact that most cute things originate in Asian countries. Our next app is great proof of it.
As you can see from the app's name, Sushi Land Stickers has a nice collection of more than 40 stickers with Sushi characters. Each of them will be unique, expressing particular action or emotion. Whatever your mood will be, you will definitely find something that reflects your spirits.
Besides, 4 stickers will be animated. We do hope that the developer will add more live stickers before too long.
As for the messengers that support this pack, the choice is not wide. It can be used in iMessage only.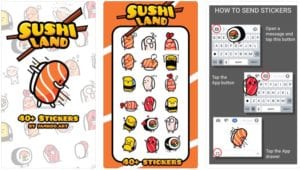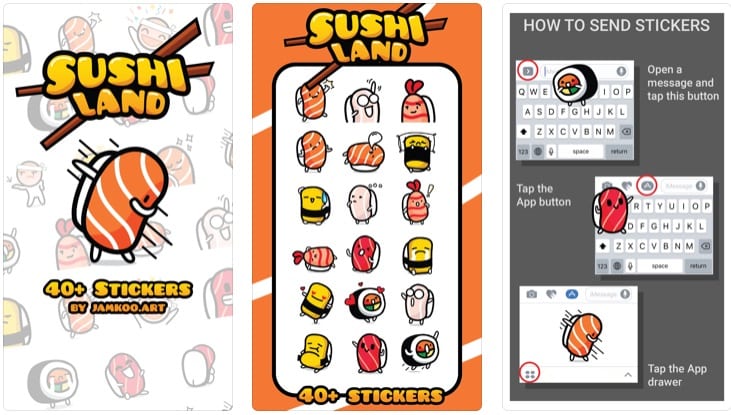 4. anime.chat – WAStickerApps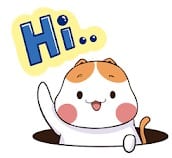 As for an alternative app with Asian stickers, we are ready to present the anime.chat – WAStickerApps app. In this case, it will be available for Android gadget users only.
With the help of this app, you will be able to add sticker packs to WhatsApp and use them while chatting. These exclusive packs include dozens of colorful stickers of anime style. So if you are a fan of anime, the app is something that you've been searching for.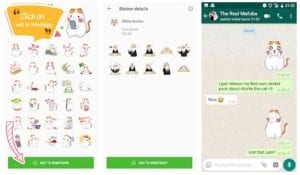 5. White Cat Animated Stickers
Cats are considered to be one of the cutest animals in the world. If you agree with this statement, here is one more sticker app with cats. So let's find out which features White Cat Animated Stickers has.
The app's character is a cutie white cat that will become your assistant in expressing this or that emotion. Furthermore, the stickers are animated. Due to this feature, your chats will become even more exciting.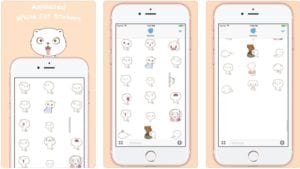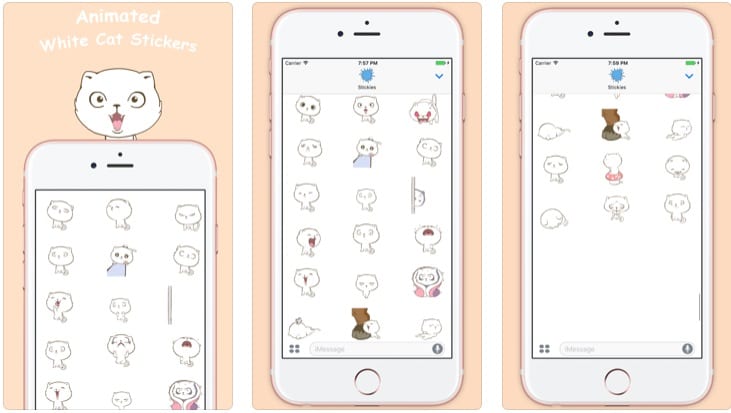 6. Cute & Funny Cat Sticker for WhatsApp WAStickerApp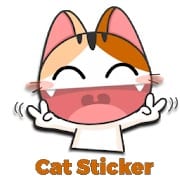 If you need as many stickers as possible, here is the app that can easily meet your requirements. Install Cute & Funny Cat Sticker to make yourself sure of it.
Believe it or not, this very app contains more than 300 stickers. For your convenience, they are grouped into packs that can be instantly added to WhatsApp.
Every sticker pack 'belongs' to its own cat. Study the packs with cats of unique character and add ones you like the most.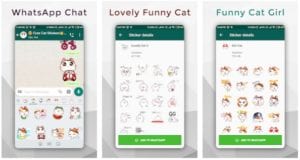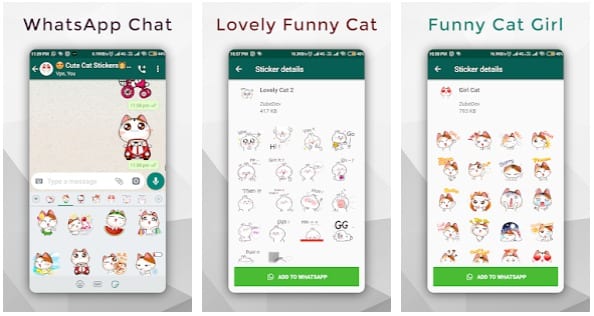 7. Aminal Stickers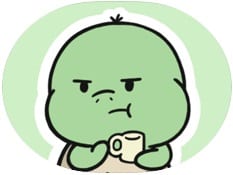 Do you want to make your sticker packs diverse? Install Aminal Stickers then.
With this brilliant app, you will have sticker packs with various animals at your fingertips. Believe us that the choice will be surprisingly wide. Thus, totally, the app has more than 400 stickers with dogs, koalas, hedgehogs, unicorns, and so on. The variety of animals is really great.
At the same time, we want you to pay attention to the fact that only 250 stickers will be available for free. Nevertheless, will always have a chance to purchase even more stickers. To be honest, they are worth being bought.
What about social media that support the app's stickers? Well, you will be able to add them to iMessage as well as WhatsApp.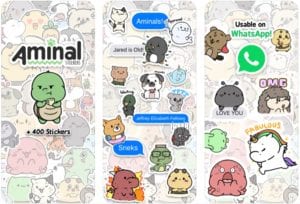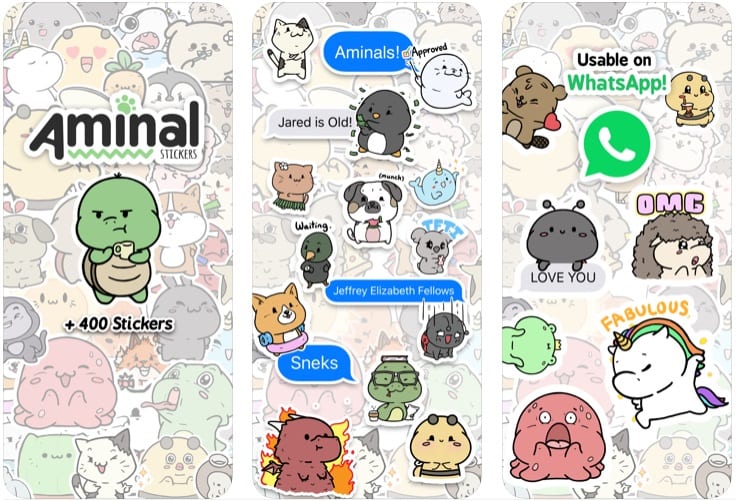 8. FaLala Stickers for WhatsApp
What about cute stickers with two characters at once? If you are interested in this category of apps, here is FaLala Stickers for WhatsApp that we highly recommend to you.
With this app, you will become familiar with two true friends – Dog and Lion. The app will provide you with access to several packs. First of all, you will come across some packs with one of the characters only.
Apart from this, the app has a great collection of stickers with both characters at once. You can't imagine how cute they will be. Whatever the case is, you will find something suitable for sure.
Also, these packs will be so appropriate while chatting with your friends. The stickers with these two friends are capable of substituting thousands of words.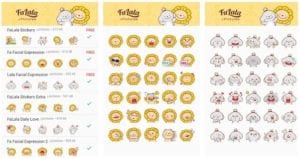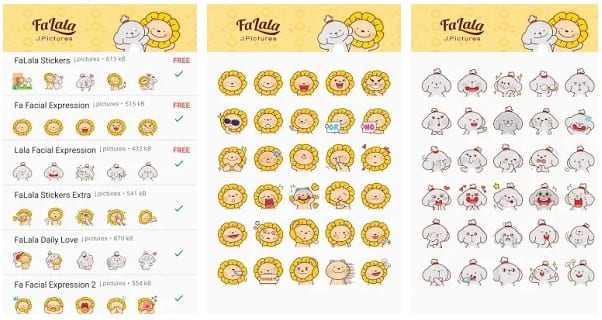 9. Animated Cute Reindeer Sticker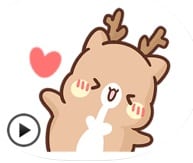 Is Christmas coming? For this occasion, we have found a sticker pack with a cute reindeer.
In the Animated Cute Reindeer Sticker app, you will find touching stickers with a lovely reindeer fawn. Besides, all stickers are animated. That's why they will be able to express your emotions for 100%.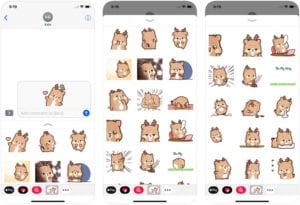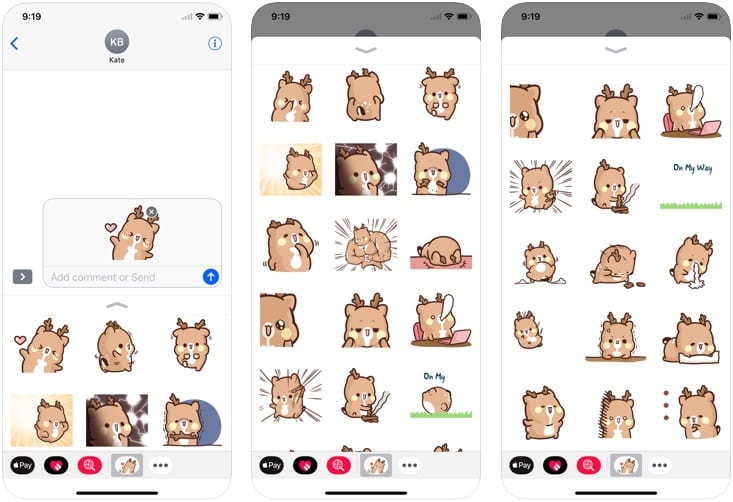 Have no time to answer a message? We offer you to install one of the SMS auto-reply apps.
10. Cute Fluffy Stickers – Fluffy WAStickerApps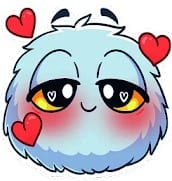 Still not satisfied? Here is one more app with cute stickers – Fluffy WAStickerApps.
The app has a good choice of sticker packs with various characters. In our opinion, each of them is soo cute. That's why it will be quite difficult to choose which stickers send while chatting in WhatsApp with your friends.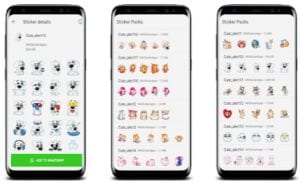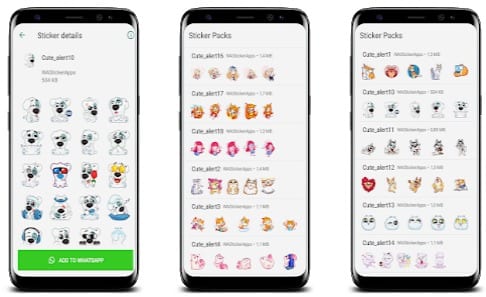 11. Cookie Monster Stickers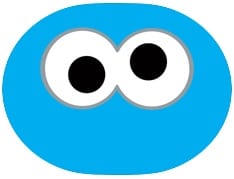 Well, can you recognize this character? It is a friendly creature living on the world-known Sesame street. If you want to have a sticker pack with this cute character, install Cookie Monster Stickers at once.
The app's pack includes more than 40 stickers with Cookie Monster. They encompass a wide range of emotions, that's why stickers will be in great demand. Moreover, some of them are devoted to particular holidays like Christmas or Halloween.
The app's main distinguishing feature is that stickers can be sent as a usual sticker, inside bubbles, and even on top of photos. That's really fantastic!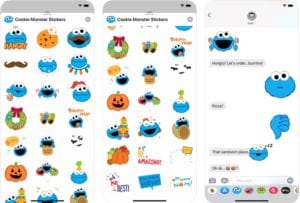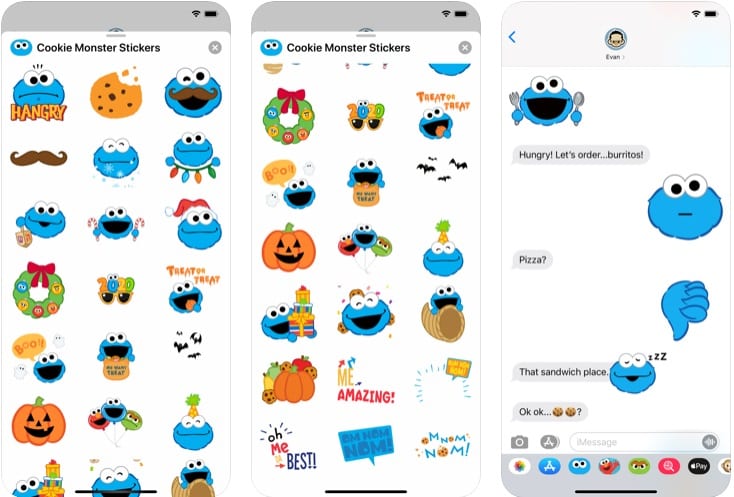 12. WAStickerApps – Cute Bunny Stickers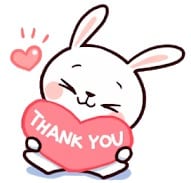 How about rabbits? These animals are also cute, so they can be pictured on stickers as well. If you also think so, here is one more app on our list – WAStickerApps – Cute Bunny Stickers.
As you can see from the app's name, the app contains many cute stickers with a darling rabbit. It is able to express any emotion you wish. As a bonus, some of the stickers are completed by words reflecting the emotion.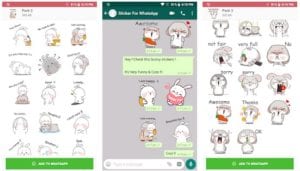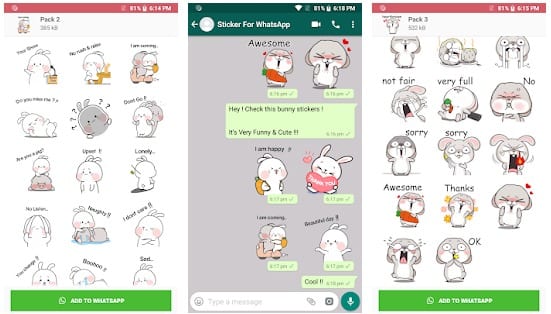 13. Echo the Cat Stickers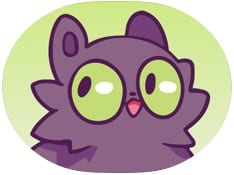 One more great app that we can't help adding to this list is called Echo the Cat Stickers. It includes a pack of stickers with prankish but so lovely cat Echo.
We guess you will like this cat at first sight. The app includes 30 colorful animated stickers to use them while chatting. But that's not half of the story.
When opening this lovely app, you will be able to play with Echo the cat by using six additional toys. Isn't that cute as well?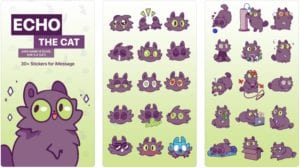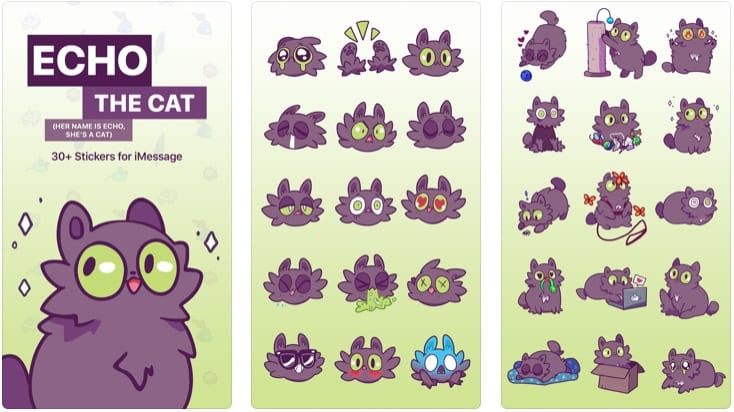 14. Love Story Stickers – WAStickerApps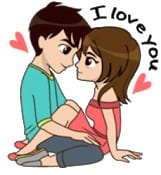 The last app that will allow you to accompany your messages with cute stickers is called Love Story Stickers – WAStickerApps. One more essential thing is that these stickers are devoted to relations between lovers.
The app contains several packs with ridiculously cute stickers showing moments of a couple's life. They will be a perfect choice for sending them to your that special one.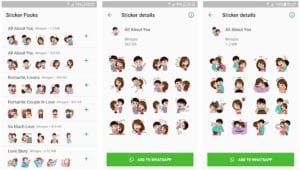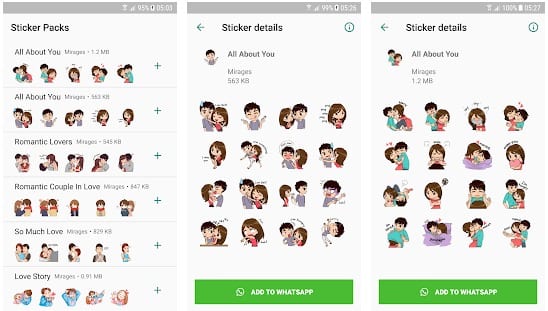 You may also like: 9 Best sticker maker apps for Android & iOS