Augmented reality is one of the coolest things available due to modern technologies. There is no doubt that the collaboration of the real world and the digital one is something outstanding. What is more, there is no need to own a cutting edge machine to feel the advantages of augmented reality. All you need is your device with a camera and one of the apps below installed.
In this post, we have reviewed the best AR-powered apps. Though they have the same concept, they differ in their purposes. Some of them will be extremely helpful for studying, some of them will entertain you a lot, some of them will become your assistants in home design. One way or another, augmented reality will become a nice addition to paper-based sources of information.
The only advice is to install these great apps from the App Store or Google Play to let the 3D digital world appear in front of you.
1. Assemblr – Make 3D, Images & Text, Show in AR!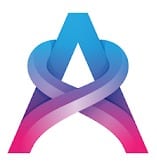 The first AR-powered app on our list is Assemblr. Let's find out why it is a priceless thing.
Well, this tool will allow you to create interactive 3D objects right on your phone. These objects will help you in designing AR brochures, flyers, guides, greeting cards, books, invitations, and so on. Moreover, they will be especially effective in education, making students understand and learn the material better. How to create a 3D model?
Well, you will have 2 options available. The first one is to use the app's pre-loaded objects and edit them as you wish. They represent people, characters, animals, nature, buildings, etc. We are sure that everyone can find there something to his or her taste because the choice is surprisingly great. What is more, you will be able to add various videos and photos/pictures from different sources, type text, and do many other things. The capabilities will be almost endless.
As for the alternative, you will have a great opportunity to create a project with scratch. Add the items of different colors and textures to your project and create something awesome. Moreover, with the app's built-in editor, it will be so easy to design a 3D model meeting all your requirements.
In both cases, you will be always able to view the 3D model in the real world with AR technology. Apart from this, the app supports sharing 3D design via email and social media or export the models as FBX/GLB/STL files.
The main advantage of this app is that the models created there are compatible with 3D printers. So in a few minutes, your digital 3D model can become a real one.
One more feature the app contains is a large gallery of digital books with AR illustrations. You will be able to download them on your device and view hundreds of colorful interactive 3D models. It will be fun both for children and adults. Nevertheless, it must be mentioned that these books are paid.
Finally, in case you try to create a 3D design, but your muse is mute, surf the app's community and get some inspiration from there. The thing is that every user will be able to share his or her 3D models with the world. In addition, if you want to make everyone to become familiar with your skills, just share the models created! Also, it is a great chance to receive feedback.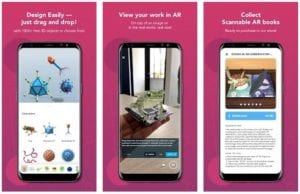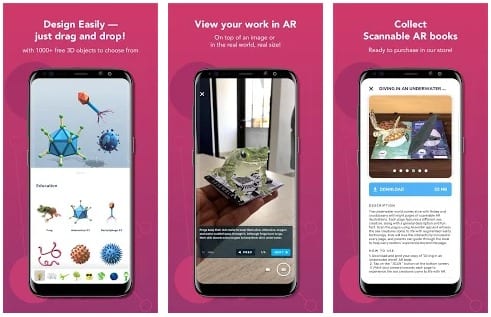 2. Augment – 3D Augmented Reality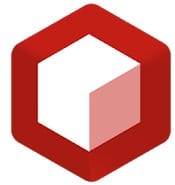 If you have a nice collection of 3D models and want to view them in AR, the Augment app is what you've been searching for.
As it was said, this very smooth app will let you view any 3D model in Augmented reality. Though the app doesn't support creating 3D objects, editing them will be available for you. To be more precise, you will be able to change the model's texture and color.
As for the AR-viewing, you will need to orient your device on a flat surface. In a moment, you will be able to enjoy a 3D model in augmented reality. By the way, if you need to use this "background" later, just capture it and save in the "Places" option.
One more distinguishing feature while viewing is that you will be able to view several 3D models in AR at once. It will be especially suitable when comparing them.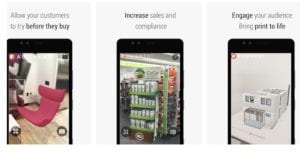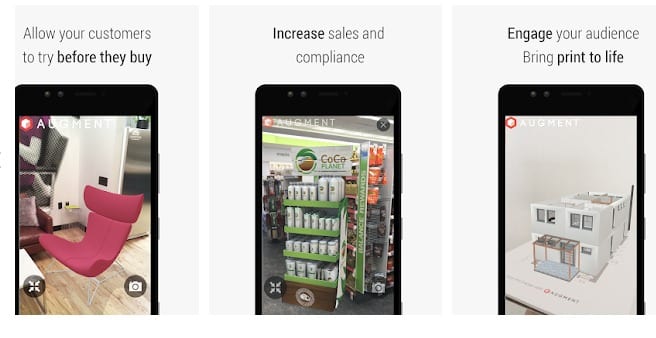 3. Star Walk 2 – Night Sky View and Stargazing Guide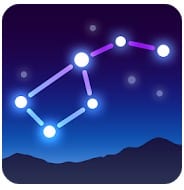 Don't you think that the Universe is the most marvelous thing? How do you feel about viewing it in AR? Star Walk 2 will help you in this matter.
With this amazing app, everyone can view hundreds of sky objects in AR. Thus, stars, constellations, planets, asteroids, meteors, satellites, and other 3D models appear in front of you. To do this, aim your gadget toward the sky and tap on the icon of the camera. After that, sky objects will look like if you are in the Space. Moreover, they will be interactive. Turn them upside down, zoom them in and out. Moreover, you will have a chance to read about objects' features and characteristics, learn interesting facts and history, etc. So it will be a great way to make yourself plunge into space and astronomy.
As for the other features not depending on AR, the app will be so great in learning astronomy. It will become your pocket planetarium, providing you with a great quantity of material on space. So you will have access to detailed information about every sky object. That's why there is no need to surf Net anymore, everything will be at one app.
Apart from this, the app is famous for its star finder. Thus, it will show you the real-time sky map in whatever direction you are orienting your phone. That's why you will learn about every star visible in the sky. Besides, you will be able to choose any date of the past or future and view the state of sky bodies on a particular day.
Finally, one more essential feature is that the app will notify you about all the astronomy news, discoveries, and other important events in the space. So the "What's new" option is a real well of information.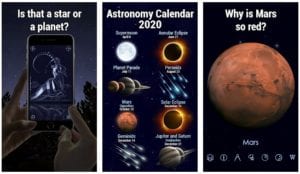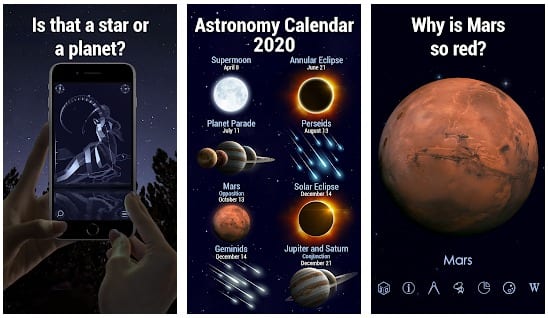 Do you want to domesticate space more thoroughly? If you do, install one of the stargazing apps suggested in our post.
4. Houzz – Home Design & Remodel

Pre-reviewing 3D models will be especially suitable while home designing. Are you wondering which furniture will suit your room the best? Install Houzz then!
Let's start with the app's concept. It suggests to its users online shopping of products and materials of various categories, from lighting and kitchen devices to upholstered and flat-packed furniture. By the way, there will be almost 10 million items. For your convenience, you will be able to filter them on various parameters.
Now let's talk about the feature you are interested in the most. You got it right. It will be possible to view every item in Augmented Reality so that you will clearly understand if it fits your room in style, size, and color. The 3D model of an item will look so realistic in real life!
In case you are puzzled over some issues, the app's great community will help you to cope with all difficulties. Moreover, it will become your source of daily inspiration. Because of the home designs of other users, you will be encouraged a lot.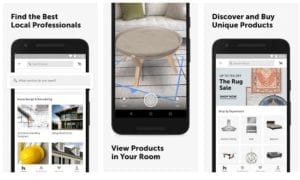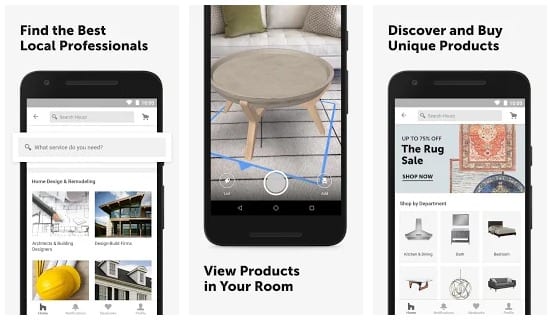 5. WWF Amazing Planet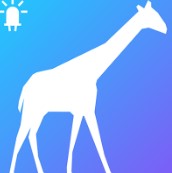 Our next app is called Animal Safari AR. And you can't imagine how children admire it.
The thing is that the app will provide you and your kids with the opportunity of viewing dozens of animals in AR. As usual, the 3D models will be interactive so that you can rotate and zoom on virtual animals.
So if that sounds appealing to you, get rid of boring books and install the app at once!
In addition, the app contains so many fun facts, videos, photos, and other interesting stuff about animals. One more app's claim to fame is the collection of animal noises. With them, the learning process will be even more unique.
By the way, the content is updated regularly, which is so important.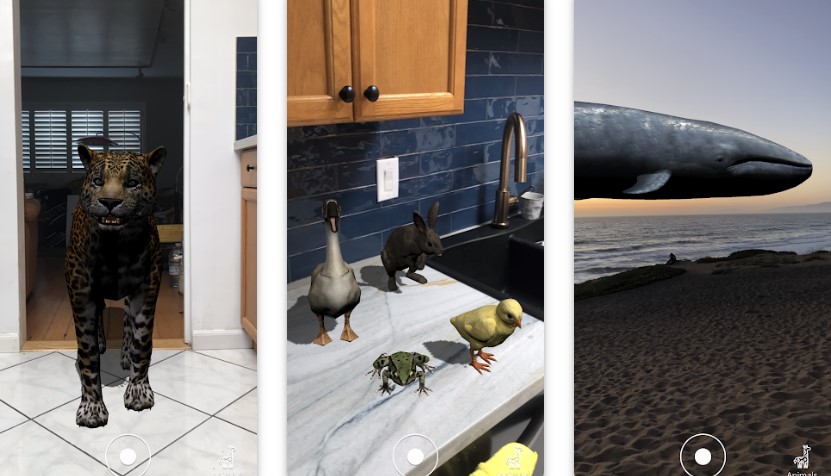 6. SketchAR: learn to draw step by step with AR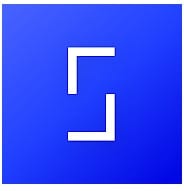 One more AR-powered app to benefit from is called SketchAR. As you can see from its name, now we will talk about drawings.
Well, due to the AR system, the app will teach you to draw. That sounds incredible, but that's the way it is.
All you need to do is to choose one of the 400 guided lessons. After that, orient your phone on a surface desired (paper, canvas, etc.) and you will see the drawing traces on a screen. The only difficulty is to keep your phone moveless. Complete your drawing on a surface, looking at its traces on a screen. As a result, your picture will be perfectly drawn.
The main advantage of the app is that it can become your tutor in art, making you improve your skills in this matter.
When it comes to considering other features, there is still a lot to tell about. The app contains drawing tutorials for different skill levels. The main thing is that in this case, you will draw not on a paper but on the screen of your gadget. So step-by-step, guided by the app, you will create a masterpiece. As for the tools, you will have pencils, markers, and a rubber at your fingertips. By the way, the time-lapse of the drawing will be saved automatically. So you can easily share it via social media.
What is more, the app is capable of turning photos into sketches. After that, you will be able to correct a sketch or redraw it in real life with AR technology. That sounds really amazing!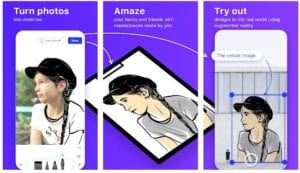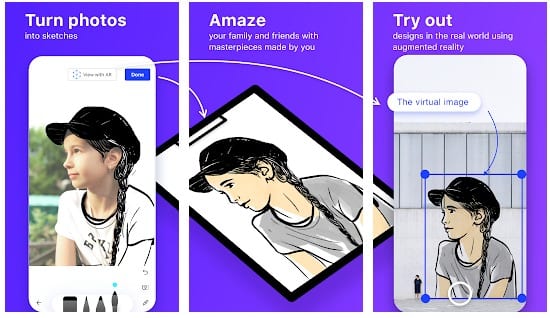 7. DEVAR – Augmented Reality App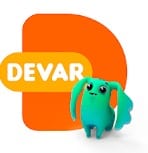 It's a real bind having to look after the children. If you are searching for a time-killer for them, the DEVAR app will be the best choice for you.
First of all, with this excellent app, you will be able to add digital 3D characters to the real world. The choice will be so wide – from dinosaurs (of different kinds) and space robots to historical figures. As usual, they will be interactive. So it will be a good idea to shoot some cool photos and videos with them.
What is more, some characters will be able to communicate with you. To do that, you will need just to choose a particular emoji. What is more, playing AR mini-games with them will be available too! For example, you and your kids will have a chance to try yourself in driving an AR car.
Also, the app will be appropriate for studying astronomy. Kids will become familiar with all the planets of the Solar System and test their knowledge. Again, everything will be in AR and as interactive as possible.
Finally, the app is compatible with AR-based printed books. Thus, you will be able to make the illustrations alive in front of you. The app's users can even draw and color AR pictures.
To put it shortly, with this awesome app, your child will believe in miracles for sure.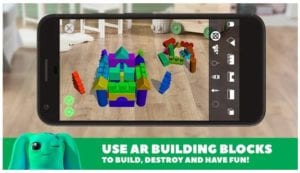 8. Civilisations AR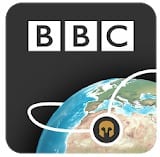 One more app that can provide you with AR-experience is Civilisations AR. So we highly recommend you to install this app to enjoy its amazing features.
In this case, you will have a chance to discover 30 AR models that will be the precise copies of world-known historic artifacts. As usual, feel free in studying them from every angle controlling the object with your fingers.
Moreover, you will also have access to the "X-Ray feature". It will let you interact with the models and unveil the mysteries of ancient times.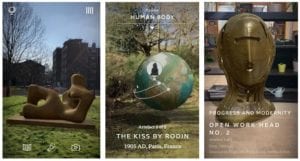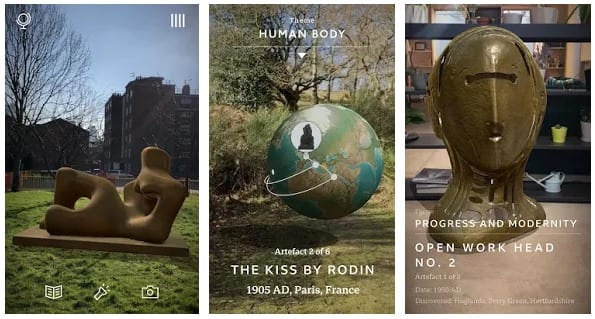 9. Monster Park AR – Jurassic Dinosaurs in Real World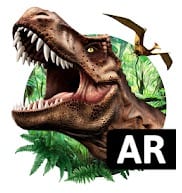 Do you need something more ancient? What about dinosaurs? If you find it appealing, the Monster Park AR app will suit you the best.
With this app, the dinosaurs will return to life. You will have a chance to see dozens of these creatures in your reality in a moment! As for the actions available, these extremely realistic 3D models will be able to move under your control. What is more, you will have a chance to hear their malicious growls. Everything will look like in real life.
What makes the 3D model more realistic is the ability to adjust the size and location of the monster. By the way, you will be able even to choose their skin color. That sounds really amazing.
Finally, it remains to trick your friends by taking stunning photos or videos and sharing them via social media. Trus us that this content will attract so many followers.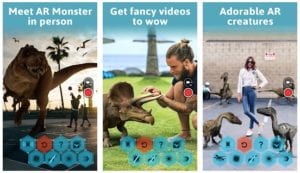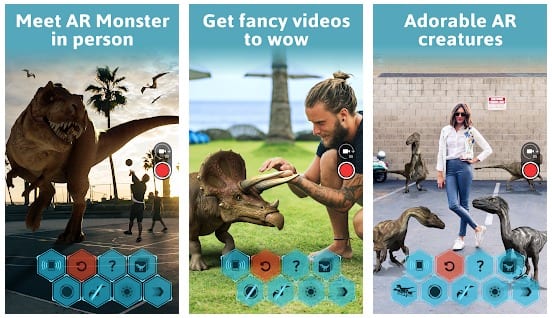 10. Wafty: Draw AR art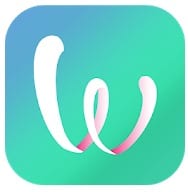 Do you want to brighten up your reality? Do it literally with Wafty.
You will have brushes with hundreds of colors at your fingertips. Draw or write something in the real world but use your phone screen for this purpose. Then explore your creations in Augmented reality.
As a bonus, recording a video of the drawing process will be available. After that, you can share it with your friend directly from the app.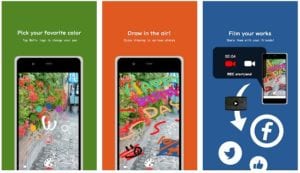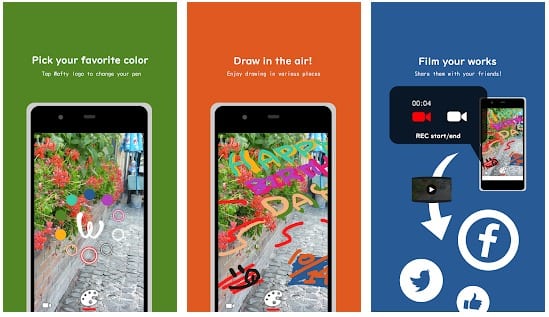 You may also like: 8 Best 3D design apps for Android & iOS