Nowadays, we are constantly interconnected with our phones, that is why we wish it to be as positive and comfortable as possible. This is the main reason why wallpapers are often displayed on our phones. However, over time, standard Android screen images sometimes get boring. After all, you view them every day and see the only flat picture.
If this sounds familiar, you can try installing an unusual changeable android background. Although many wallpaper apps exist, and so we have made a list of the best ones to try right now. For more information, you may likewise be interested in the article Best Live Wallpaper Apps for Android which has collected an incredible number of apps used when you want to improve the look of your phone.
1. Wallpapers
Wallpaper provides a quick and easy solution when you need to re-design the appearance of your device. Hence, it is an official Google app that has an interesting and comprehensive background gallery designed for android users. Also, it features a vibrant home screen image that, unlike a still image, has the option to move or change.
For example, when the user puts them on the lock screen, he or she will get colorful moving elements such as different shapes or colorful flashes. This app also lets you choose images from your gallery on your device. Moreover, there are handy sections where you can search for your favorite background, such as City, Nature, Circus, Textures, and Abstract Figures.
Once you have selected a category, you can pick and choose your preferred image. In addition, you can select a selection of images to automatically change to a new image every day. Furthermore, you will be able to find something new here almost every day, as the collection of the Google wallpaper app is constantly being updated.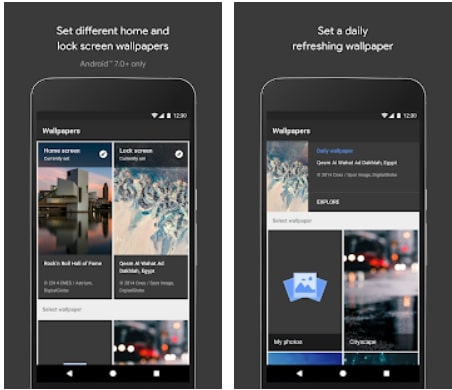 You may also like: 9 Best Background Wallpaper Maker Apps for Android & iOS
2. Bing Wallpapers
Bing Wallpapers works through the Bing and lets you get images and establish them on the Andriod smartphone. The app is very simple and gives changeable wallpapers. First of all, the app will present a collection of high-quality and pretty pics.
Secondly, every pic has a piece of brief information on the origin like the photographer and the place where a photo was made and so on. The app is updated daily with new photos that are how you will get the right image for the Android screen.
It is also possible to authorize the app to reset photos on your Android screen. The only thing you have to do is to pick any photo and determine a period for it to switch the picture to a different one.
Besides, it is possible to generate custom themes for your home screen by randomly selecting a category for your photos automatically. This means that every morning a new picture will appear on your screen. Apart from that, you can use the filter to select a shade and a category. As a result, it will be easier to find photos on your device. Moreover, the application supports portrait and landscape modes.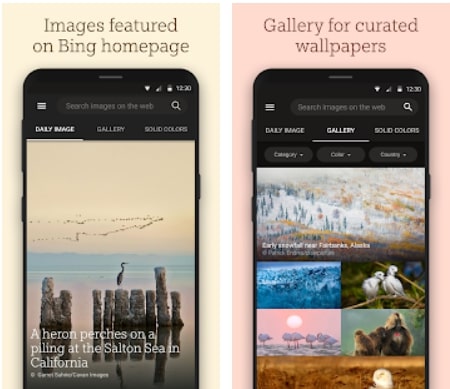 3. Tapet
Tapet is a great wallpaper app that claims as the first app of its kind. Feel free to select a random Android background or let Tapet automatically change it every hour or every day. The interesting part is that the Tapet app creates backgrounds to match the screen resolution of your device, which means that you always get great pics, no matter how old or new your phone is.
It is not an ordinary app, as the app offers not just static images, but colorful geometric shapes and vibrant ornaments. In addition, all backgrounds are created directly in the app, which means Tapet generates brand new wallpapers.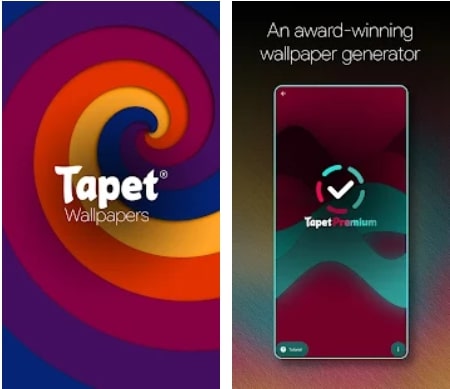 4. Muzei Live Wallpaper
Muzei is a unique wallpaper app for Android that has an incredible amount of wallpaper. The first feature of Muzei is that it applies a blur and fade effect to the background that it downloads and automatically applies it to your device. This effect is pretty cool because it makes the icons and text on the screen more visible.
You could change the blur and fade values in the options. In other words, you will be able to edit the image so that the use of your phone remains accessible. To change these values, you need to open the Muzei app on your device and tap the settings button that appears in the bottom right corner. The second interesting feature of Muzei is its support of sources.
It supports dozens of plugins that you can install separately and add Reddit, Flickr, Instagram, and a host of other sources from which you could choose the one you want to use. You can add whatever you like. Also, this application is simple to use the auto-swap screen function, which works at certain intervals such as 15 or 30 minutes.
You can change the screen update duration to the default or limit the update time to the time when the device is connected to Wi-Fi.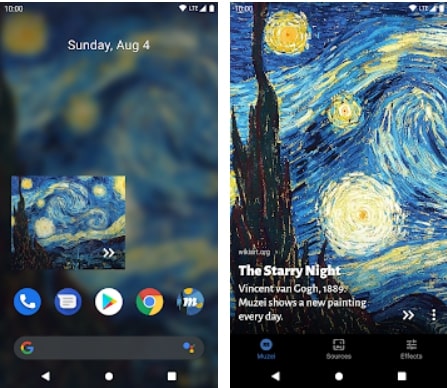 5. Walli – 4K Wallpapers
This is a unique app where wallpapers are created by a community of artists who can make money for their creations. This means that all backgrounds are hand-picked and all have an artistic and creative vibe rather than the common image that you could get from other wallpaper apps.
There is also a category feature that helps you find what you are looking for. There are images for every taste from nature to animals. Everyone will find something for them in this app.
If you want Android backgrounds that stand out and are as individual as you are, then Walli is the perfect app. After all, these are images that will change as often as you need. And also, there are a lot of interesting features.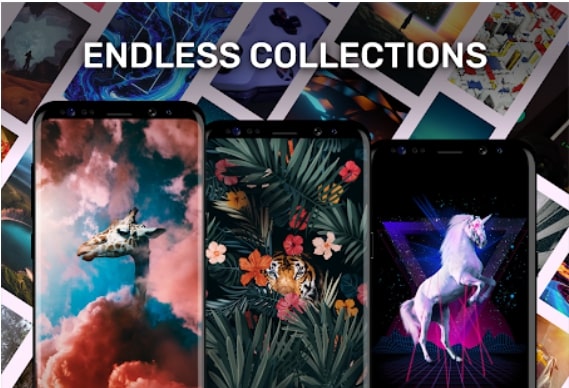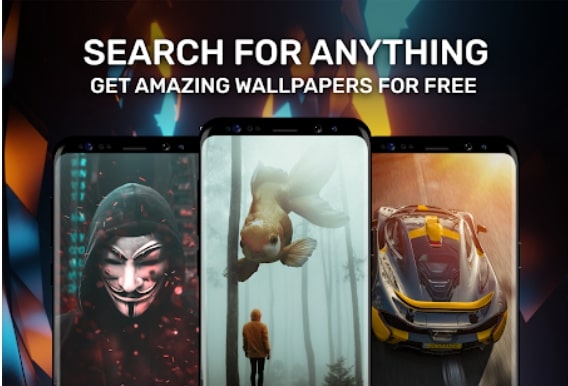 You may also like: 8 Best 3D Photo Apps (Android & iOS)
6. Amoled Pro Wallpapers
Smartphones with AMOLED displays are unique because they allow you to save some battery life. AMOLED not only saves energy but also has infinite contrast. If your phone does not have an AMOLED display, you can still use this background, but unfortunately, it will not improve battery life.
The AMOLED wallpapers for both the home screen and the lock screen look exceptionally cool, and there are plenty to choose from. This is a cool app that does not have a lot of ads and has a wide well-organized selection. When you open the app, you will see a random assortment of the latest images.
But if you click on the categories tab, you will see abstract shapes, space themes, animals, and more. The interesting thing is that it all comes with a deep black background. We think these are cool features for an app that will also change images automatically.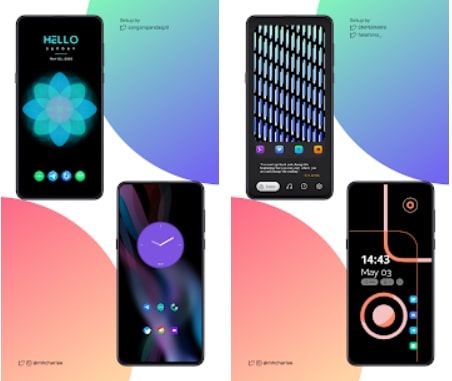 7. Wallpaper Changer
Most likely you are bored of looking at one picture on your smartphone desktop. If you would like to change your dull pictures to high-quality images that you would like and set an automatic wallpaper changer on your device. For the images not to seem too tedious and monotonous. This application will help you with that! The app will help you quickly change your wallpaper to a widget.
In addition to being easy to use, the application will allow you to save pictures that you find appealing to you. In addition, within the app, you can set a timer to change the background on your smartphone automatically at a set time. You can also upload your photos to the application through the gallery of your phone.
Besides, it is possible to put a random wallpaper from the list of the application, which will change after a specified time, also the photos you like to install on the wallpaper are in different resolutions. The application consumes very little memory and battery so that you can easily download and put the wallpaper on your device. Also, the app has almost no ads and everything here is for free.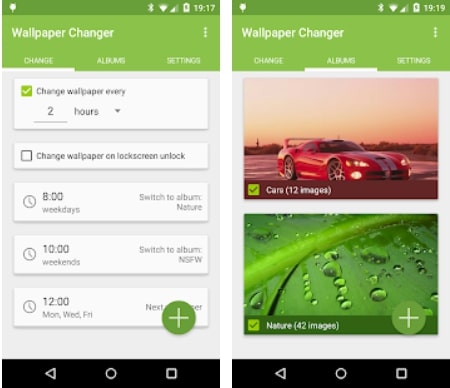 8. 7Fon: Wallpapers & Backgrounds
Do you want to have a wallpaper that not only swaps itself but also looks eye-catching, then 7Fon: Wallpapers & Backgrounds is a must-have app. Well, in fact, it is certainly the best wallpaper app with filters and a great range of different options. Moreover, you can authorize in 7Fon to access the app from other gadgets.
Likewise, with an account that you have created, you will be able to add and rate images as favorites. By doing so, the application ranks the most popular images among users. Once registered, you may also share the liked ones. Apart from the huge number of categories available, the app offers you to press the information button located on any picture to open the color palette of that picture.
Furthermore, you have the option to select images for the background by simply tapping on a particular color you like, and the app will show you other images with that palette. In addition, the app provides cool options for switching images by default, allowing you to control settings such as the frequency of wallpaper updates.
So, for example, you will see a new image every hour. The app also has the option to change the background when you unlock the screen or change it randomly. You can even choose a category of pictures.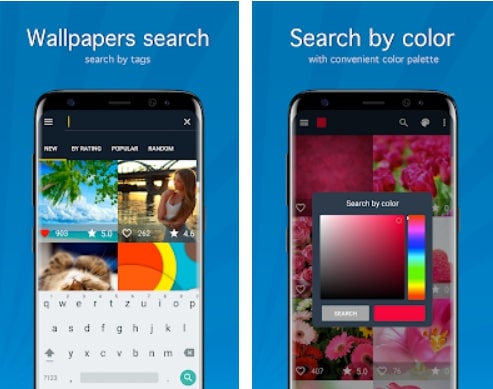 You may also like: 7 Best Don't Touch My Phone Apps for Android & iOS
9. Walldrobe – Wallpapers
In case you were looking for an app meant to switch pictures automatically and pick high-quality images for your Android, well, this is the app for you. This app will show you to get the best possible picture of the background of your smartphone. The app has more than 1.1 million free images to help you discover the right one just now.
The pictures are sorted according to groups, with which it is possible to search for a suitable background for the wallpaper. Besides, the app has an auto wallpaper changer function by which you can define a time to switch images by default out of your favorite picture selection.
You will be able to set a time limit for changing the wallpaper when your device is connected to the internet as well as when it is charging. In addition, it is possible to use a quick settings switch and a shortcut on your Android in order to have a new pic of the wallpaper on your mobile phone without even opening the app.
Also, you have the ability to edit pics right here. Images are easy to adjust, crop, add blur, and more. There is a daily updated database of available photos in the app, which allows users to find the right image for their smartphone desktop.
It is possible to download any image in RAW format. Furthermore, you are able to view pictures in EXIF format and check image status and placement. Other features of the app include a special theme to save battery power.