We all love occasionally plunge into a fantasy world where an entire universe can be created according to our rules. This is what Role Playing Chats are for. These apps give you a chance to write your own scenarios and even find new friends of interest. Topics of RPG Chats are for all. It is intriguing because each user can take on the role of a favorite character.
All the rules are set by the participants in the chat rooms themselves. Therefore, the development of events here is dependents on you. In this article, we have tried to collect the most popular applications for you in 2023. Meanwhile, for those who are crazy about communication and new acquaintances, the article Best Chatroulette apps will be interesting.
1. mRPG – Chat app to play RPGs
You can gather a group of friends and start playing an exciting role-playing chat game. This app will greatly help you fulfill all your fantasies. With mRPG – Chat app to play RPGs you can create your own account. There you will be able to describe all your qualities, for instance here you can become an evil dwarf from a great and noble guild.
You will be able to progress through the levels and earn a class. There also you can choose or come up with your own race, to which you belong. You will start with basic parameters such as strength dexterity, constitution, intelligence, and others at the beginning.
By playing RPG games you can pump your character and monitor its growth. In addition, it is worth mentioning that you can store a few different characters, which you can play on your account. Join the chat room to play online with strangers. Here you can find a game for every taste.
All you have to do is accept invitations from other players. Alternatively, you can adjust filters according to your interests and find a game room suitable for you. The games themselves can be played at any time of the day. It is enough just to offer to play a game in the chat.
The whole process of the game will be accompanied by dice rolls. This application is ideal for fans of role-playing games. It has a convenient chat and the ability to play with different companies in various groups. In addition, you can send private messages to other players and characters.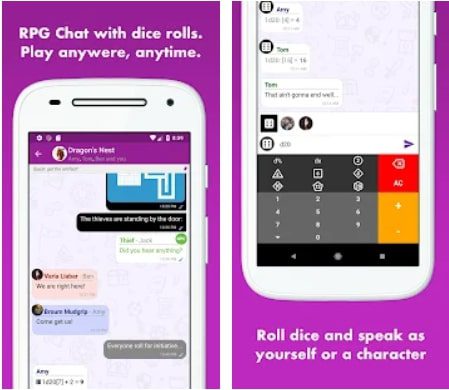 You may also like: 9 Best Latin Chat Apps for USA (Android & iOS)
2. Role Gate, Play RPGs by chat
Role Gate, Play RPGs by chat is a place where you can have a great time with the community and improve your strategy skills. Here you can experience all the pleasures of the RPG board game with dice. By the way, you will be able to take advantage of the great number of dice, as well as to create your own unique ones.
It is interesting that you choose your own game time. There may be different intervals for the game, ranging from ten minutes to several hours. Just pick up the filters to suit you. As we said at the beginning Role Gate gives an opportunity to improve your skills. Indeed, there is a huge amount of manuals on the methods of the game.
There will be something new for beginners, as well as for professionals. You should consider the fact that the application has nice work with your avatar. On your page, you will see basic information about the capabilities, affiliation, strength, and origin of the character. This is where you will track his or her progress.
In addition, you can not only play and learn but also look at how others do it. Just enter the room and watch the process of real experts playing. That way you can practice new strategies and find answers to all your questions.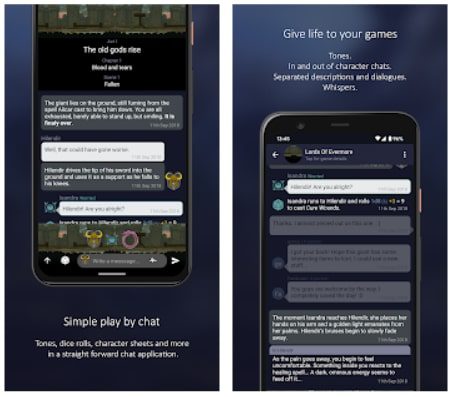 3. Chat Stories Role Play Texting Short Fiction Story
Chat Stories Role Play Texting Short Fiction Story helps you experience having a boyfriend or girlfriend. This application is a role-playing messenger with the favorite character. You will be able to get instant responses at any time of the day or night.
Characters can be in many different moods. They may be a little sad and depressed because you do not text them. Other times they are in a good mood, and you will see friendly and loving messages. Your girlfriend will tell you about her travels and even send geolocation. That way you will know where she has gone and what she has been up to.
Depending on your answers, the character will grow as a person and find new and interesting things for herself. The chat represents a dialogue with options for answers. Therefore you will not waste a lot of time and just choose what would be the most relevant to your answer. This application is a real chat simulator
. The amazing thing is that it is very interactive and engaging. The whole story will unfold right in front of your eyes. You will receive SMS messages just like from a real person. After all, the characters send their selfies and photos, realistic voice messages, show their emotions with emojis.
Spend more time with the character to let your girlfriend discover more about you. The amazing thing is that you can take screenshots of your dialogues and share them on social networks.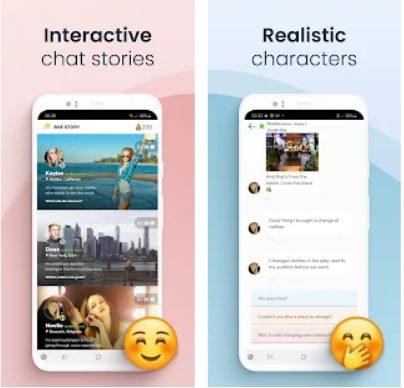 4. Amino: Communities and Chats
Amino is one of the fastest-growing platforms for you to meet all kinds of young people. This is the place where you can get acquainted with other fans, meet friends, and even establish new love relationships. This app is equipped with forum and chat features. It has a fun support community where you can get advice, share tips, and even learn something new.
You can create your own character, customize it, and even play video games in one app. Amino makes it simple and intuitive to create your own community on a wide variety of topics. The community can be customized according to all your desires. This way you can create an atmospheric chat room.
You can choose an avatar as you wish in order to attract more users. Amino is also interesting because it gathers fans just like you. You can try and communicate with users from all over the world. There are also very nice voice chats that you can use to have a great time playing or singing karaoke.
There are also very nice anime, music, and drawing fandoms. The application attracts with its bright design and eye-catching graphics. So it will be even more enjoyable to create role-playing chats. Also worth noting that the application has its own currency, which you can spend on blog development.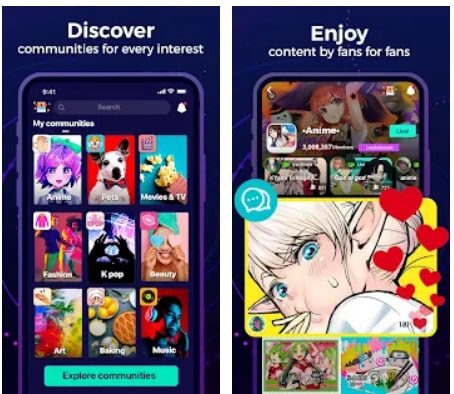 5. BTS Messenger! Chat Simulator
Are you passionate about Korean culture and artists? Then you have definitely dreamed of chatting with the members of the music group called BTS. The BTS Messenger app as it is clear from its name implies a chat with every member of the popular boy idol group.
Fans of BTS or aka ARMY can choose their favorite members such as RM, Jin, Suga, J-Hope, Jimin, Taehyung, and Jungkook. After that, you will immediately see messages from your beloved. You can feel as if one of the seven band members is your real friend. This app also has a romantic story function. Choose how you want to reply and see how the character responds.
You can also receive calls. The surprising thing is that the voices of BTS guys will sound in Korean, but do not worry you will see a translation at the top. You can also initiate conversations by sending texts and making calls. This application is designed as your phone, in which you see a list of messages and contacts.
Moreover, you will be able to select a ringtone to your phone app from the most popular BTS songs, such as Best of Me, DNA, Go-Go, Hold Me Tight, Mic Drop. BTS Messenger 2 is the most popular and exciting platform that you can use to chat, send stickers, videos, voice messages, and even photos.
It is also worth pointing out that the interface is cute in the best traditions of Asia. The users can also choose the background music and wallpaper.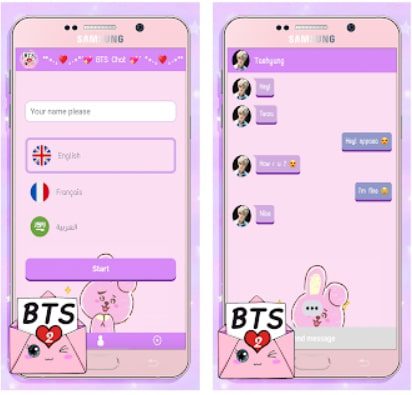 You may also like: 10 Best Bluetooth Chat Apps (Android & iOS)
6. RandoChat – Chat roulette
RandoChat – Chat roulette is a platform for anonymous dating. There are already more than 5 million users. This is a spot where you can pretend to be a character by simply creating a profile. You only need to fill in all your personal data like name, age, gender, and search preferences.
Then you just add a picture. The application will automatically look for potential contacts. You will also receive anonymous messages or become yourself anonymous. With this app, you do not have to worry about all sorts of insults in terms of racism, sexism, and orientation.
Such messages are blocked by a moderator. This is where you will not face any kind of violence. Besides, RandoChat allows you to delete all of your messages after you send them.
It also allows you to chat, find new friends, flirt, send and receive messages from all over the world. In addition, it lets you role-play, and create characters from costumes, clothing, and accessories of your choice.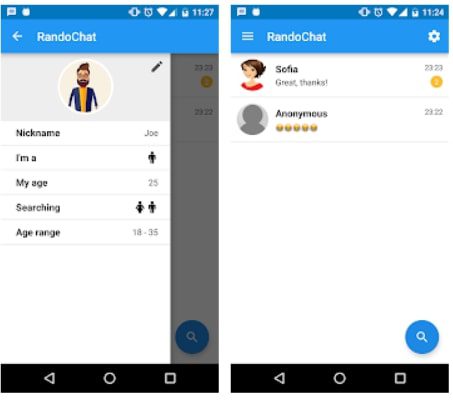 7. Project Z: Chats and Communities
Project Z: Chats and Communities is an attractive and brand-new analog of Amino. The app is a community for anime, video games, movies, and series fans. There you will find fandoms for your preferences. You can discover topics to discuss and keep up with the latest and greatest information in the public chats.
Project Z is a place where teenagers, as well as older readers, can find easy ways to socialize and make new friends from all over the world. The interesting thing is that the app is fairly new. Its developers have worked on Amino before. They took into account all of Amino's disadvantages and created an application that managed to get a lot of users.
So, when you go to the main screen, the app will offer you the to get acquainted with users according to their interests. Here you can choose a topic for discussion through a wide filter.
The app's algorithm will find the chat and show you the percentage of matching interests you typed into the search. Then you can write to that person or you can skip it and search for another chat room.
Also, on the home page, you will find user boards that the app has seen fit to show you. The boards introduce some fun posts filled with links to various apps and creative work. Not only can you create your role-playing chats in two clicks, but also develop for example your YouTube channel.
The community search is the easiest. It displays both recommendations and the most popular blogs. In the Chats section, you can see your private and public messages. Like and subscribe to communities to make your news feed show you interesting and colorful posts.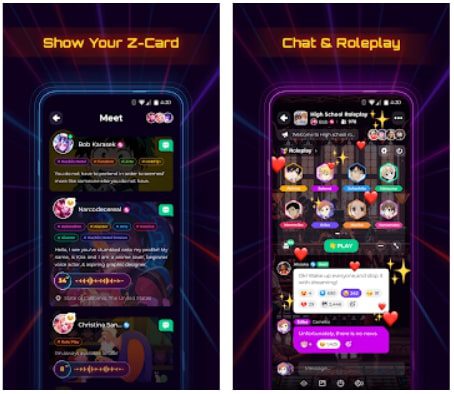 8. Rook: Roleplay Chat Rooms Meet
Now let us talk about an app designed for fans of anime, books, movies, television, history, and more. Rook: Roleplay Chat Rooms Meet allows you to meet people from all over the world and create your own story with them. All stories can be created via text and voice messages.
Get together with other creative people to create something unique. There are stories for every taste, like love letters, fantasy adventures, and messages from everyday life. The interesting thing is that you can not only create stories but also find new ones. Publish stories with certain hashtags to help people find your story more quickly.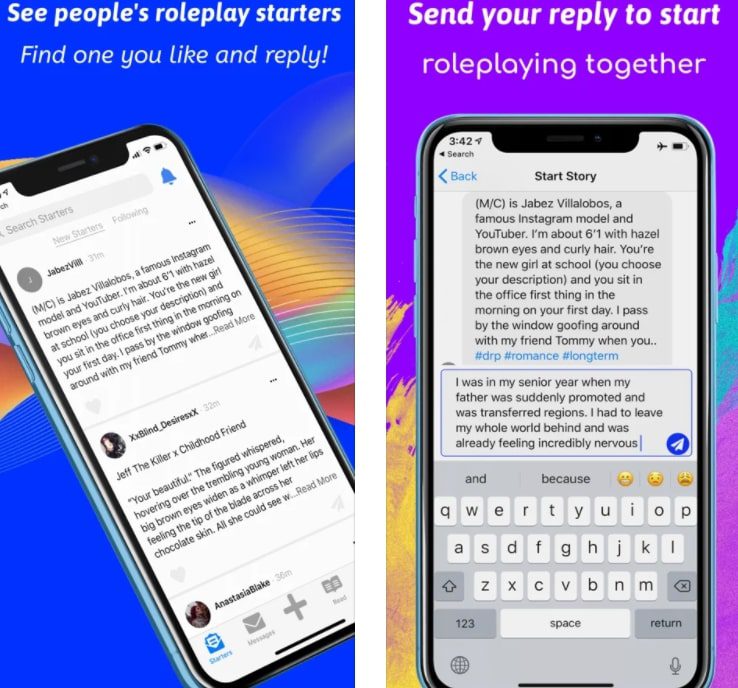 9. Comic Chat RPG
Comic Chat RPG is an application designed for all comic books, Japanese manga, and webtoon fans. With this app, you can immerse yourself in a comic book story. And most importantly, all the stories will be presented in the form of pictures from your favorite comics and manga.
The interesting part is that you will be able to type in the message line and it will pop up in the illustration itself. You can play your favorite character and talk to the protagonist of your favorite comic book. And you can choose your own story and create something of your own.
Each story contains different options for the development of the plot. It all depends on your answers. You can swipe in until you find a picture you like and paste your text there. So you can even create memes and post them later on social networks. You will not get bored with the application as it is updated frequently.
With each update, you will get a package of new exciting pages of comics and anime scenes. The app has already contained such stories as Que Sera Sera by Gonarija and Soojung, The Prince's Lollipop by Jong-min Nah and Hana Kwon, Honey Blood by Na-rae Lee. All you have to do is choose the right scene and start playing.


10. Mascot – Anime Roleplay Chats
Mascot – Anime Roleplay Chats allows you to create your own character and write on his behalf. All you need to do is create a profile for your character. To do this, you need to choose an avatar, add a biography, and if you want, you can post something in your profile. You can also create multiple characters and keep track of them.
Mascot is also a kind of social network, which allows multiple users to communicate with each other. You can select the type of communication, for example, to see what people write in general dialogs on a certain topic, or you can go to private messages and communicate one-on-one.
In addition, you can visit the pages of other users, leave comments, and rate posts. By clicking on one of the categories you can join a variety of group chats. It will not be difficult to find all of them.
You can navigate by tags or use filters to find relevant group chats. The app is exciting, and it attracts both beginners and advanced users alike. So you can read stories of different variations.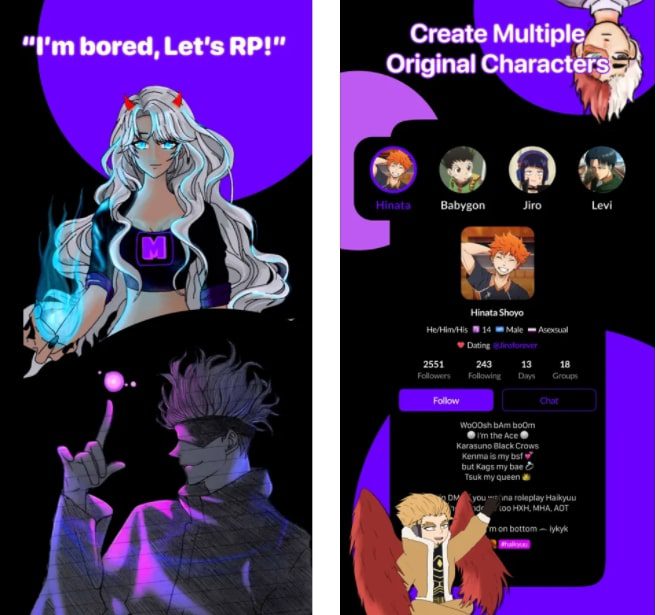 You may also like: 11 Best Messaging Apps Without Phone Number For Android & iOS
11. Zervo – Anime Roleplay Chat
Create your own character and play as one of your avatars. In addition, you can switch between avatars while playing the game. This app is a real cure for boredom. Zervo is an amazing role-playing space. Fans of anime and manga are sure to find friends of interest here.
This place is where you can spend an unbelievable amount of time. Application captivates by the fact that you can always find something that suits your taste. After all, users create their own stories to suit every taste. You can enter the group chats and start playing on behalf of the character of the manga.
First of all, it is possible to communicate in anonymous chats. So you will betray the mystery and keep the unknown. Secondly, the application offers a matching system with other users. This allows you to find a friend with whom you share the same interests. That means you will definitely find something to talk about.