Modern high-technical world swarms with various kinds of scammers, who can steal your personal information and turn it against you. To prevent this from happening, any person should think about his or her own security and safety and keep most of the information hidden.
To help individuals relieve their thoughts and clear minds from this kind of worry, many apps are enabling you to come up with your own logins and passwords to be used in various apps for chatting and messaging with each other. They are free of using phone numbers and any other personal data.
1. Wire – Secure Messenger
One of the most secure platforms to use is Wire. Share your files, photos, and documents with your team members, classmates, teachers, friends, or relatives.
Add reactions to your messages to fill them with colors and make you sound more interested and engaged in the process of communication or just reflect your genuine emotions.
Specifically designed guest rooms offer you an opportunity to invite your friends, partners, employees, and other people to these rooms to have private conversations and chat with each other. Communicate with your close people or professional fellows via secret and private chats to be totally secured.
There are special options that can be turned on to hide your chats and private rooms. You can increase privacy by switching ephemeral messages and fingerprinting to open the device.
Integrate this app with any of your applications downloaded on a device or other services to make them private and safe. The app doesn't need your phone number. You can log in using it if you want, but it has a second option: log in via mail or other social networks. The last one will help you to integrate data between them into one source quickly.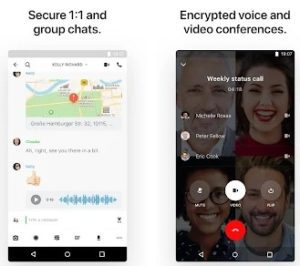 You may also like: 12 Best Funny Faces Apps (Android & iOS)
2. Telegram
Telegram offers instant messaging simultaneously with many people. Find friends, search for them or just add your old ones to communicate and chat at any time and place. No need to meet each other in person; just turn on the app and enjoy it from wherever you want to.
The data from any device is synced and accessible from any of the gadgets. No information lost, no messages and contacts lost. Stay in touch 24/7 with any electronic tool you have. You can also start writing the message on one device, be distracted with any additional work, and finish the message from another one.
Send photos, videos, files of any size and length without any concerns that they won't be delivered. The history of chats will be stored in Telegram's chat and never be lost. If you need any documents sent, for instance, two years ago, then just open the chat and scroll to any date you seek for. You'll see all the data from that time.
Create chats with more than 200 000 people in it, exchange messages, and call each other via your Telegram accounts—no need to provide your phone number. The registration can be done entirely by e-mail address or just by linking any social networks with your Telegram account.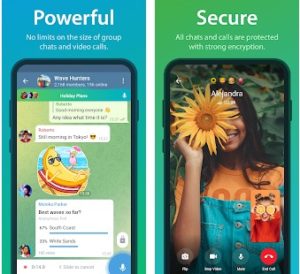 3. Discord
A unique place reminding you home is explicitly created for those individuals who want to chat and have fun during their communication with friends or relatives in an informal setting.
Send texts, messages, videos, documents, photos, voices, and many other forms of interaction to your close people.
Create personal spaces and rooms for familiar people, separating them and uniting by their interests, hobbies, viewpoints, languages, and many other categories to make communication easier. You can easily talk about playing the guitar in an intensionally created room or chat with people fond of guitar or any other musical instruments.
Turn any image into an emoji and make it your thing, which will help people recognize you in no time. Whether it would be just a "hello" emoji or a blue-colored hair girl contemplating her life, your friends will understand that it's you without even looking at your nickname.
Manage easily the moderators of any groups you've created, assign the people responsible for controlling the behavior of groups' members and organize the chats however you want. Put the cute image into the icon's place, come up with the chat title, or add and delete any preferable people.
This app doesn't need your phone number if you decide to leave it hidden. Just log in using any of your social networks or e-mail address.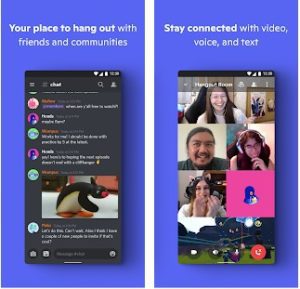 4. ProtonMail
Send encrypted messages using the ProtonMail app. They are fully secure and safe from any hacker's attempts.
Receive the texts or videos, voices, photos without having concerns about their privacy. It is virtually impossible for any person to steal and read any of the messages you've sent to anyone and vice versa.
Create multiple accounts for diverse purposes, starting with business dealings and finishing with cartoon chats for your younger relatives or yourself. Why not? Simple shifting between your accounts is one of the main features of this particular app: without wasting time with only one click necessary to complete the action.
Tidy your inbox and transform it into a highly organized space where nothing can be lost: all is quite visible from first sight. Create icons or special folders for similar docs or images and unite them to keep them in one interrelated place.
Turn on the notifications in order not to miss any important message from someone important to you. Stay in touch for 24 hours a day by downloading the app and saving it on all of your devices. Because of the synchronized data of this app, you can quickly turn from working on one device to another more convenient one.
ProtonMail is a fully free app without the mandatory use of your phone number to have an opportunity to communicate with people safely. Use any other social network, connect it with ProtonMail and enjoy a highly secure app for chatting and sending important private messages.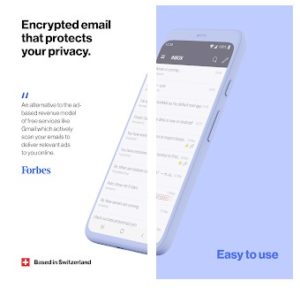 You may also like: 9 Best apps to watch Instagram stories anonymously
5. Skype
This app helps people to stay connected at any time and from any place.
No matter where you are located at the concrete moment, just turn on the app and start an audio or video call with your friends or relatives. Or else you can send an instant message to them even if you're not in the same country. No phone number is required.
Skype supports any device regardless their label or model. Download it to your computer and simultaneously talk with your friends by video call and message your mom using your phone. It will be delivered in no time if you have a stable internet connection.
If you want people to receive a notification even if they are by any chance turned off on that person's device, then just add @-reference to engage them in the process of you telling an amazing story. Send photos and videos to support your written messages and to boost the imagination of your readers and listeners.
Express yourself as nobody is watching. You are allowed to turn off the camera while talking by video call. Observe your interlocutors' genuine feelings and actual reactions to your words and receive positive emotions because you participated in their shifted mood.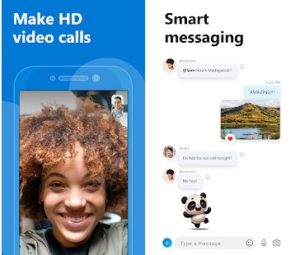 6. Instagram
Create unique photos and videos and share them via your personal stories, posts, or send them to your friends and relatives using various chats.
Use plenty of filters to adore your photos and add texts to your videos to make them more attractive to be watched by masses of people. Gain followers and consequently the popularity.
Watch other people's pieces of life, no matter whether it is a celebrity or your close friend. Remember that the stories are going to disappear 24 hours after you download them to your page. To make them last longer, simply add the preferable ones to the list of the relevant stories under your page's detailed or surface description.
Enjoy millions of entertaining videos which could be both practical and relaxing. Learn how to cook by following the renowned chef and watching his or her tutorials on correctly cooking pasta to make its taste unforgettable. Or merely turn on the list of movie's connected fragments to find out what to watch next on your upcoming weekends.
Add polls to your stories to make more interaction with your friends or other followers, to find out more about their preferences, or give them an opportunity to ask you questions to learn more about you instead. Or start funny conversations with your friends by adding them into various groups and discussing your hobbies.
This app doesn't need your phone number. Use your e-mail address or other social networks instead to be recognized by the app and use it without creating a single page.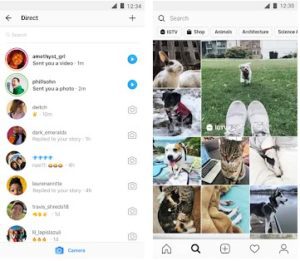 7. Line
An entertaining app with plenty of diverse emojis, stickers, images to enhance your closeness during the interaction offers you a wide variety of options. Chat with your friends, relatives, lovers, or any other people by using voice and text messages supported with photo, video, and audio materials.
Use Line stickers, unique and memorable emojis, and themes to diversify your communication with people. Customize the app in a preferable way for you: add Line's friends to your conversations and create the themes yourself if no one matches your interests.
Get access to the sticker's shop and be aware of your friend's birthdays using the Line's notifications or calendar. By the way, Line offers many other services and content to make your interaction via this app unforgettable and most enjoyable compared to other apps with similar lists of purposes.
Discover any accounts which match your interests and hobbies and start following them to learn something new or just enjoy your free time spent on this particular app. You don't need to fill in your phone number or register via it. The app provides many other ways of logging into your account or creating a new one.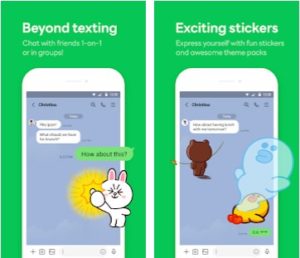 You may also like: 9 Best apps to know who viewed my profile (Android & iOS)
8. Kik
The most simple app used for communication with your friends offers you a wide variety of options and is still developing to include even more features.
This application is more than just a messaging app; it provides you with many valuable tools. Stay in touch with your friends all day and never miss their texts to you.
Turn on the notifications in case you forgot to use the app one day, but your friend was crying for your help. If you don't want to leave your close people in trouble, just make sure nothing will be lost and ignored.
Choose the individuals you want to chat with, create a group and come up with the title and icon image to make it noticeable among a variety of others. Allow other people to add their acquaintances and make new friends with them too. Enlarge your social circle and learn from new people something brand new.
Share any hilarious or cute videos, attractive photos, entertaining games, and incredible gifts. Log in to your account using your e-mail address or connect this app with any of your social networks. There is no need to use your personal data and phone number; you can stay anonymous without your authentic images and name.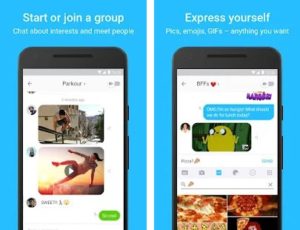 9. Messenger
This totally free app offers you a wide variety of functions.
All-in-one application provides you with an opportunity to send messages which last only for a fixed period. Then they disappear, which makes them private and secure from others' eyes. Once you exit the chat, the texts or images will soon fade away.
Search for your friends from both Instagram and Facebook to write them a message and start a chat. This seems possible because these two social networks are interconnected and have the same company creator. Switch your friends from one network to another and find them in all of them.
Turn on the Messenger Video Chat and Rooms to stay in touch with your friends even if you are far from each other. Watch movies, talk to each other, tell the stories, and laugh together as if you are now sitting face to face in one place and having fun in reality. There is almost no difference except for the physical connection.
The video calls are totally free, as well as the whole application. Turn on the accessible privacy settings to manage the people who asked for your admission to the list of your chats and control it by accepting or deleting inappropriate ones.
This app doesn't need your phone number. You can easily log in using either your Facebook or Instagram accounts.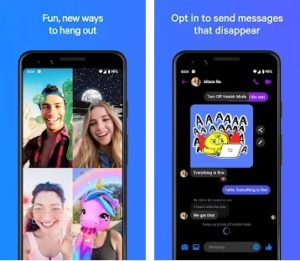 10. Hangouts
This app allows you to include all your contacts from your phone or any other device and combine them into only one chat with a capacity of a maximum of 150 people. Choose carefully who you are going to add and who is going to be left out.
Create chats and use emojis, images, reactions, and many other features to support your text or voice message. Write to anyone from your contacts regardless the fact whether they are online or offline. They will still receive the message, which may bring them back to the app and, more precisely, to the chat.
Turn any conversation into a video call. Use them instead of only messaging and typing insensitive words. Call up to 10 contacts simultaneously and create a group talk called private rooms. Connect your Google voice assistant, which will help you both type the messages and manage all the actions on your device only by your voice.
Due to the fact that the application doesn't need your phone number, you can write and call any person from all over the world without paying money for it. Just log in using any of your social networks or e-mail address and enjoy the freedom you are provided.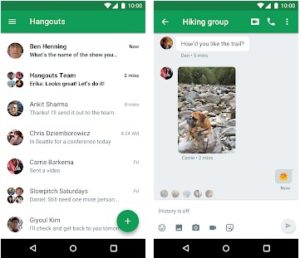 You may also like: 7 Best dating apps just to talk for Android & iOS
11. Moco
Chat and communicate with all the people who are online in this app at this particular moment.
Get acquainted with new individuals, make friends and friendships that may become long-lasting. This opportunity is given for free; all you need to do is just create a new account or log in using any existing social networks.
Create personal chats, groups, or rooms either to have a private conversation with a person or to have fun and enjoy large companies of diverse individuals with their own hobbies, viewpoints, appearances, etc. (public chats or rooms).
Search new people by their age, gender, location, nationality, and lots of other features, which will narrow the list down and stop on the most matching people to your criteria. Find them in the real world and have fun not only online but also face to face.
Recently, this application was updated and added a new option to its functions. You can either turn on your live stream with masses of viewers to gain coins, and furtherly turn them into real money or to watch somebody's stream and donate to help them become more popular and receive money for their actions.