It happens that a person needs to find that special someone, not for meets but just to talk. There can be various reasons for it. Anyway, at the moment, this type of relations is getting more popular. Nowadays the virtual world is highly developed. That's why while chatting, people can feel almost everything, like if they'd meet in real life. 
Certainly, you will be able to find people with the same intentions by using particular apps only. There are plenty of them, but we have chosen only the best dating apps just to talk.
The way these apps work doesn't depend on GPS aimed at finding people around you. So you can boldly install the apps to your iOS or Android device, and start chatting with people who prefer virtual dates as well.
1. Badoo – Free Chat & Dating App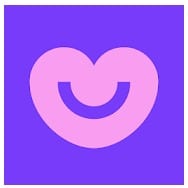 To begin with, we highly recommend you to use Badoo. It is quite an appropriate app for your purposes.
So if your aim is just to talk, you will have to mention it in your profile information. After that, use the "Encounters" feature to find people with the same intentions.
The functioning principle is not complicated at all. You will receive a daily list of possible matches according to your needs. Scroll through the users' profiles and photos (by the way, all the people are verified). After that, you will have to decide – Skip or Like. If a person likes you back, you will be notified with the following capability to start chatting. So the app will give you a great opportunity to find a boyfriend or girlfriend just to talk.
What makes the app stand out is 400 million users from all over the world. That's why with all these opportunities to find that special someone, be sure that you won't feel alone at all.
One more advantage is that the app supports almost 50 languages. Thus this valuable app is very easy-to-use.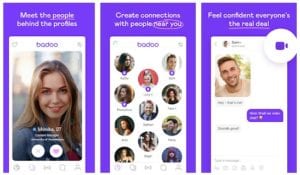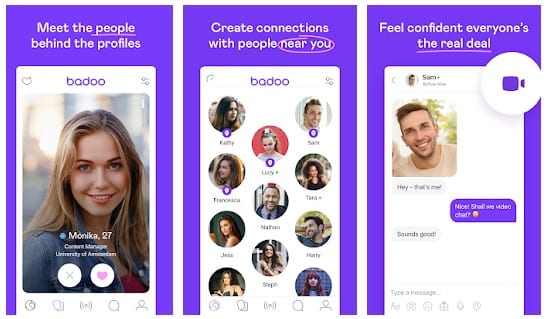 2. Coffee Meets Bagel Dating App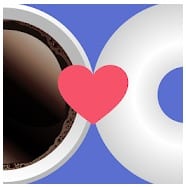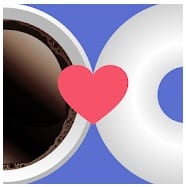 One more popular dating app is called Coffee Meets Bagel (CMB). It is also a multifunctional one with dozens of features. Now let's discuss how to find a person just to talk when using this very app.
All you will have to do is to open the Discover option. There you will see the list of people that meet your requirements. Check if they've already liked you. If they have, tap the icon of conversation and start chatting. If they haven't, like him or her and wait till it becomes mutual. 
As usual, there are some restrictions on the number of people that you "Take" a day. And you will benefit a lot when being a Premium user. For example, you will be able to "take" up to 8 users daily without spending special scores, so-called beans.
As an exclusive bonus, the developers offer you to use special Icebreakers. It is advice on how to help the conversation. So while chatting, you will see some tips letting you break the ice between you and a partner.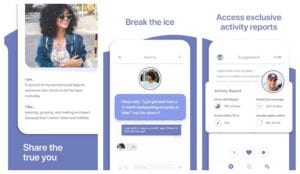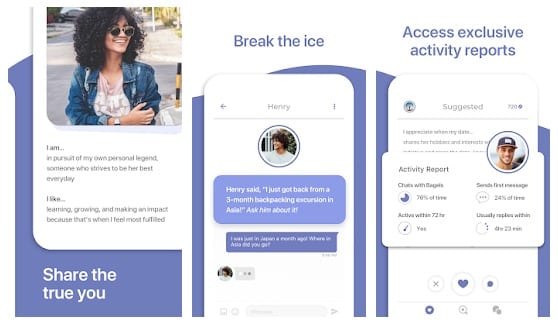 3. Clover Dating App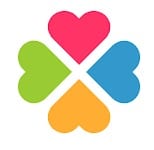 Are you still searching for an app for virtual dates? Install Clover Dating App that will definitely become your assistant in searching for a girlfriend or boyfriend just to talk.
Though the app works fantastic in setting up real dates, it is capable of solving your problem as well.
In this case, you will have to use the app's powerful search filters. Write down that you are not planning to meet in real life. It will let you find people with common intentions and interests.
One more idea to find a person just to talk is Matches. It is a usual way to make an acquaintance. But here the distinguishing feature is that you will be able to sort your matches by Intention. Not every app is capable of selecting Matches like this.
One more advantage is special groups existing in this app. You may search by keywords or set filters to find a group with users preferring virtual dates. You will be able to create your own group as well.
Moreover, it is one of the few apps that consider itself friendly to bisexual and homosexual relationships.
Nevertheless, we want you to pay special attention that many features won't be available without the Premium version.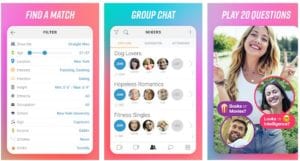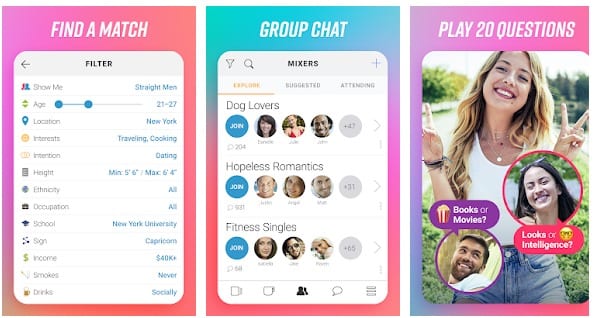 4. OkCupid – The #1 Online Dating App for Great Dates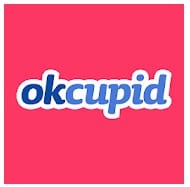 One more app that we can't help admiring is OkCupid. Apart from users with serious intentions, it is plenty of people who are fond of virtual dates.
The consecution of action is pretty simple. You will have to answer some questions to make the app understand your intentions. After that, the app will select users with the same aims. So it will be quite easy to find people that are not fans of meetings in real life.
One more thing that you will really like here is the user interface. Though it is very functional, you will be able to use the app with no difficulty.
Like any other dating platform, OkCupid supports the Premium version. The app offers its users two paid memberships depending on their needs. Anyway, the subscription here is something that worth being purchased. More filters, more statistics, more freedom of action. And, as the developers say, there won't be any ad at all.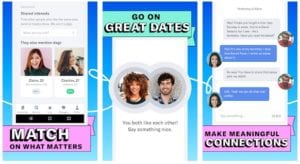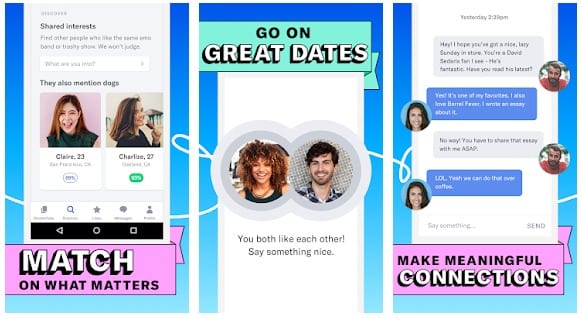 Are you afraid to forget about your online date? Read this post about Notification Reminder and get rid of this problem.
5. Tinder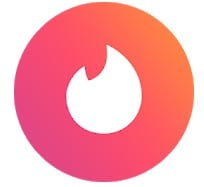 Tinder is a typical dating app with the Match feature. You will see photos of the app's users. Swipe left side to skip and right side to like. If somebody likes you back, you will be given a chance to write a message.
This app will be suitable for users searching for relations without meetings. How does it work? Well, you will have to write about your intentions and aims. The app will analyze this information and show you people with similar ideas only. That's why you will Skip or Like only this category of people.
For additional features, you will have to purchase Tinder Plus. But be sure that you won't regret it. Rewind, Personal Assistant, Unlimited likes… That's not half of the story.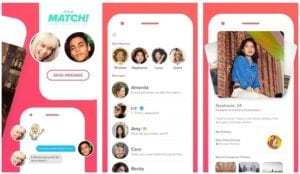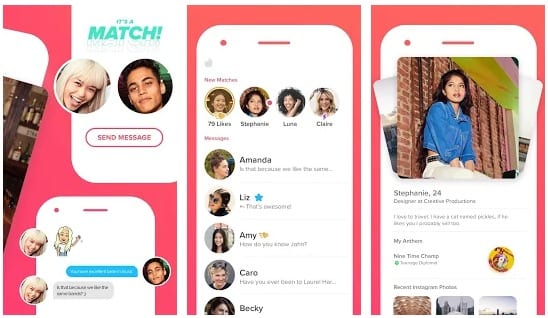 6. POF Free Dating App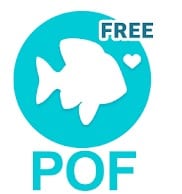 You've probably heard about this dating app. Plenty Of Fish is considered to be a pretty useful application that allows people to get rid of loneliness. Besides, you can't imagine how powerful the app when searching for people who like offline dates.
Set filters to make the app show you only people whose aim is just to talk. After seeing the results, choose some people, study their profile information, and send a message.
Here the developers also do their best to help users break the ices.
While chatting, you will be given a great opportunity to quote any part of a profile that belongs to a person you liked. It will be a very effective trick to compel somebody's attention. Install the app and make yourself sure how it will spark a conversation.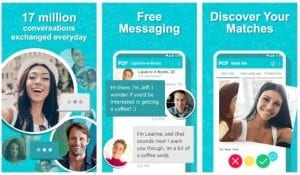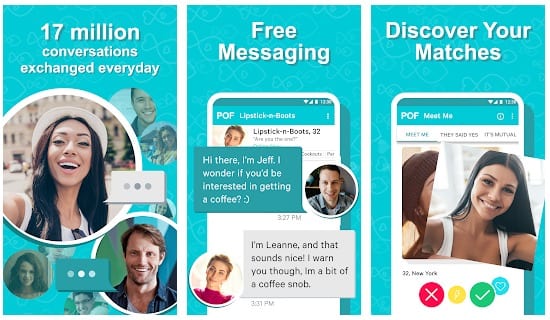 7. Zoosk: Match, Talk, Date, Love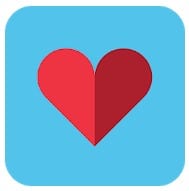 The last but not least app is called Zoosk. Owing to its features (like Carousel and SmartPick) it has become famous worldwide. So mostly the app is location-based. But how make it meet your special requirements?
As usual, you will have to use built-in filters. It will let you exclude people wanting to meet in real life. Then you will be able to study the list, choose some people, and start chatting.
What makes the app unique is that the app used in most countries of our world. How cool it will be if your partner is a foreigner. Moreover, because of the users, the app supports more than 25 languages.
The Premium subscription will be available for you as well. Feel absolute freedom when searching for your soulmate.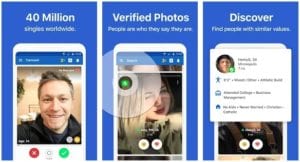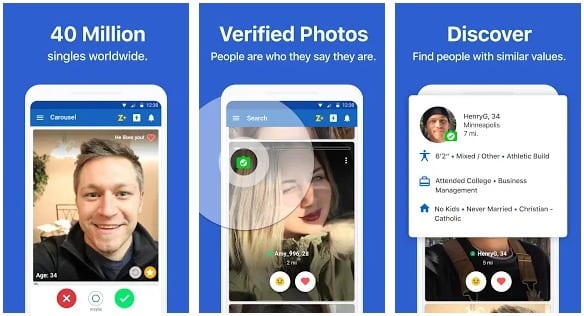 You may also like: 5 Best SMS auto-reply apps for Android & iOS