Drivers often have to deal with troubles in their daily life on the road. It is often noticed that a lot of money is wasted on a car. That is why it is necessary to keep track of your gasoline spending in order to save the proper amount of money in your budget. Well, it is impossible to keep it all in your head, so we have collected cool apps in this article.
Some of them can help you cut down gasoline consumption, while others are designed to keep a report to know your average expense. So, in case you are considering buying a new car, we recommend the Best Used Car Buying Apps article.
1. Drivvo – Car management
If you spend a lot on only gas stations, you probably do not record your spending on the car. Well, this application offers you to create an account to let you keep and view your records from other devices as well. Also, there is a very useful function of exporting and importing data. This can be done in a variety of formats.
More than that, this application can keep records not only for one car, which is very convenient for the family economy. After all, Drivvo is a leading comprehensive accounting of car expenses. It is easy to fix all car expenses in it. The application will prepare reports in the form of charts and graphs based on them.
You will have a clear idea of how much a trip to work or the weekend is costing. That way you can optimize your spending. Besides the fact that the app will help you spend less on gas, it will also help you keep an eye on the overall condition of your car. An obvious plus of this application is that it has a fuel calculator.
Based on the price of fuel you fill-up the car's average consumption, and it will help you quickly calculate the amount of gas you need to fill up the car to pass a particular distance. Otherwise, you can estimate the distance traveled for a certain amount of fuel.
Moreover, here you can record not only the type and amount of gasoline but also the additional expenses, such as car wash, taxes, parking fees, and so on. You can also add your sections.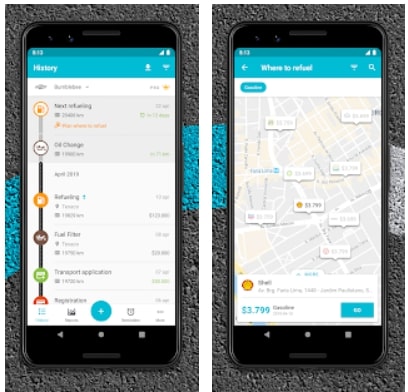 You may also like: 5 Best RTO Vehicle Information Apps for Android & iOS
2. aCar – Car Management, Mileage
This application is notable for the abundance of settings and preset templates when making entries. Moreover, you can add multiple vehicles. Some of the features include advanced graphs and support for dual fuel calculation in case you have petrol and gas. The app also allows you to archive records, has backups, and synchronizes with Dropbox and Google.
It is worth mentioning that you will be able to describe your car in great detail here. You can enter data on tire pressure, refill volumes of technical fluids, as well as use other functions. Keeping records on refueling is convenient because the application remembers both, the type of fuel and its cost.
One more advantage is an extended choice of options for the amount of fuel in the tank. It is very handy if you fill up with a fixed amount each time. Also, you can enter a known fuel balance. Moreover, the application displays the average consumption for the entire period, as well as between refuelings. Likewise, there is a calculator that will estimate the required amount of fuel.
The rest of the expenses can be put into one of the categories, offered by the application, for example, accessories and tuning, unplanned expenses, cleanliness, and comfort. Meanwhile, for each category, there are different templates.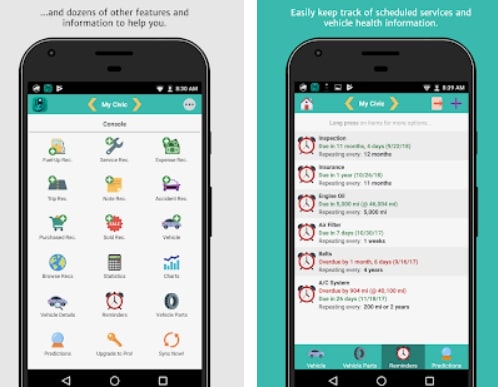 3. Fuelmeter: Fuel consumption
Fuelmeter: Fuel consumption is a universal fuel consumption meter with an intuitive interface. This application will help to keep track of the money spent on gasoline and to monitor its consumption. The application will build a variety of graphs for better visualization. In addition, it has a gasoline consumption calculator to estimate the upcoming expenses before the trip.
Also, the app stores information about gas stations, which allows you to choose the best possible prices. For those who are always busy, there is a voice search for data on fuel and gas stations. That way you can save a lot of money on fuel even more wisely.
In addition, you can customize the application by selecting the logo of your car. So you will see a miniature on the main screen which will represent your car.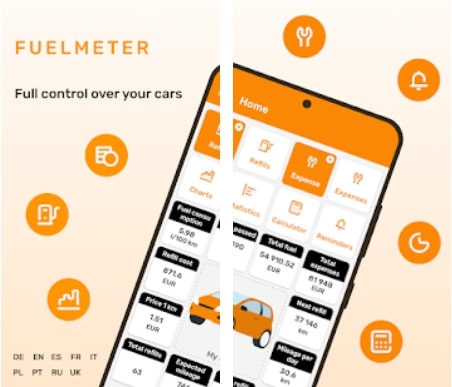 4. Fuel Consumptions
Fuel Consumptions is a simple app that helps you save more gas. This app is good for those who want to track their gas expenditures every month. It also allows you to calculate how much gas you are wasting per mile. In addition, you can customize the app by selecting the cost in dollars or euros.
Besides, you can select any type of fuel. Furthermore, you can use this app for different vehicles, such as a car or a motorcycle. Also, this application has a nice interface and is super easy to use, which everyone will be able to understand.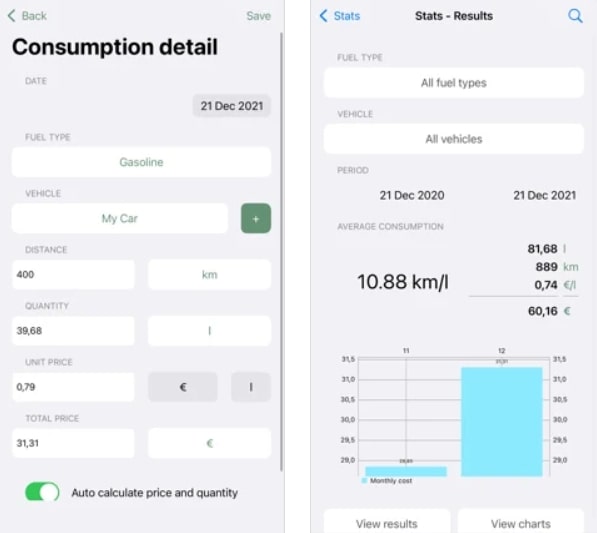 5. GasBuddy: Find and Pay for Cheap Gas and Fuel
This app is one of the most popular ones that will help you save a lot of money on gas. You definitely do not need to worry about gas prices. With this app, you can compare prices based on other users' reviews. Also, when you use this app at gas stations, you save a few cents.
In addition, you will spend less time than usual at the gas station because you will not have to go to the cash register and wait in line. Some users are saving as much as 25 cents a gallon. Although this is not much, you can save a lot over a year. That is about 300 dollars saved.
In addition, this app allows you to find not only cheap gas near you but also tells you which gas stations have better service, food, and facilities. This app will help you even if you are traveling by car. After all, there is a special calculator that can count your expenses and the amount of gas you need.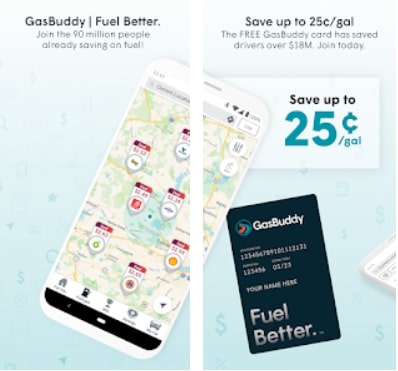 You may also like: 10 Best car maintenance apps for Android & iOS
6. Gas Guru: Cheap gas prices
Gas station apps can be useful to avoid searching for a gas station location and to collect special points in loyalty programs. You can download this gas station app to help you analyze your gas costs. This is where you can find gas at the most discounted prices. You can also find nearby banks and repair services here.
In addition, gas prices are updated daily here. You will be able to quickly see a list of all gas stations here, and the cheapest colors will be marked in green. In addition, you will be shown the distance to them. Also, there is a handy filter that will be able to sort all gas stations by price or remoteness.
Moreover, by clicking on the gas station icon you can find out more details about the gas station such as if it has Wi-Fi or if it has Gas Guru users. You can also help other users by reporting to the app if they have different prices from Gas Guru. Also, you will be able to check out current discounts, which can help you save a lot of money.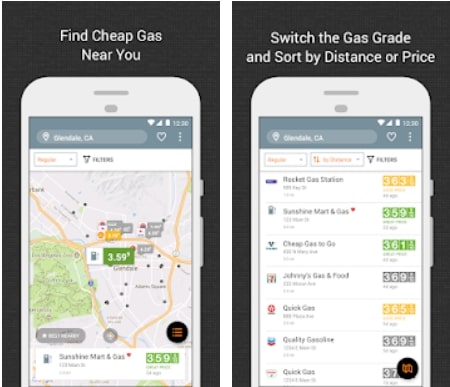 7. Fuelio: gas log & gas prices
This app allows you to record not only fuel but also other expenses. However, the interface is primarily aimed at recording refueling and fuel costs. You can also notice the possibility of backup to Dropbox and Google. Moreover, the application can be configured for two types of fuel petrol and gas. Also, there is an opportunity to keep records for several cars
Moreover, the way to enter fuel costs is standard and simple. Also, you can enter the type of fuel and its cost. In addition, the app gives you access not only to the average consumption but also to the cost per mile by sector, for example from one gas station to another. You can make notes on other expenses by categories, such as service, maintenance, parking, and so on.
Besides, it is possible to show the current traffic mileage and set the frequency of the payments. All information can be displayed in two variants. First, as statistics in tables. This allows you to separately view the data on fuel, as well as on all expenses. Secondly, with the help of a diagram. Besides, the diagrams can be configured according to periods.
So, Fuelio appears to be a full-featured application, in which it is quite easy to keep track of all expenses and get detailed statistics, which is available both in the form of tables and in the form of diagrams.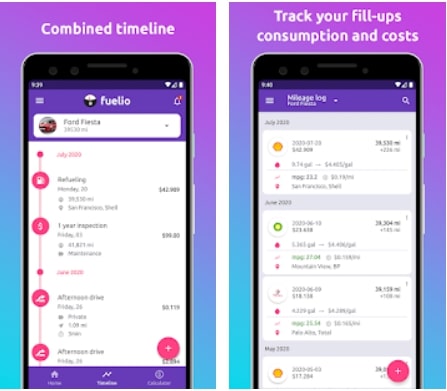 8. Waze Carpool
Waze is not just a handy application but a real community of fellow drivers who are willing to give you the information you need while you are on the road. That way if you witnessed an accident on the road, a traffic jam, or a new highway patrol post, you can tell other drivers about it. Here you will find maps created and edited by users.
You can find out about traffic jams, accidents, road repairs, or a traffic police post on the way in real-time. In addition, the service helps with the construction of the most successful route, based on these factors. In addition, the app has a voice search. There are so many voices to choose from, from all over the world.
There are some that can pronounce street names. It is a free app that works without a network connection. Not only can this app give you the shortest route, which will save you time on the road, but it can also tell you where to buy fuel at a low price. You can use a filter to find the gas station that suits you.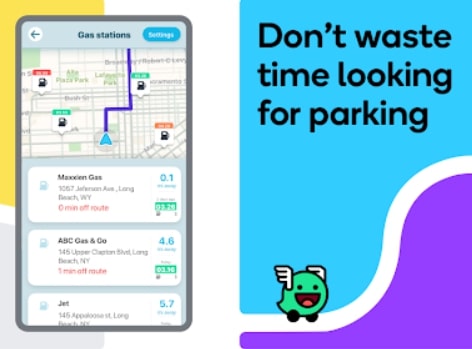 You may also like: 9 Best Car Dock Apps for Drivers (Android & iOS)
9. My Auto – The best auto organizer
The My Auto app is a kind of organizer diary for your car. You can use it to track and optimize your car expenses. In addition, the app will remind you to renew your insurance or license, have your car serviced, or make a loan payment. Also, there is a special section that will help you check the total mileage of your tires and remind you to replace them.
You can also leave a repair request here. This means you can choose and sign up for services right in the app. In addition, you will be able to add up to 5 cars to the app. More than that, you can store various documents related to the auto here. Also, you will be able to estimate the approximate cost of gasoline consumption per one mile.
You will also get monthly statistics. Thanks to this application, you will be able to find the right fuel for your car. In addition, you will be able to set special notifications, which will tell you about oil changes, tire service, or scheduled inspections.