If you are reading this article, we guess that you are planning to buy a used car. That's why you definitely know how tedious it is to browse numerous sources and scroll the pages endlessly. However, we have a solution to your problem.
To have all the ads with used cars available at your fingertips, installing an app will be enough. Because of the big number of tools of this category on the App Store and Google Play, here is a selection of only the best used car buying apps. So please get through the post, choose the most appropriate tools and find a car of your dream in a little while.
1. Cars.com – Shop New & Used Cars & Trucks For Sale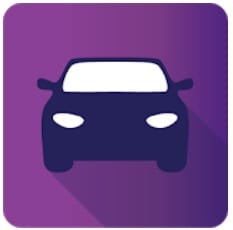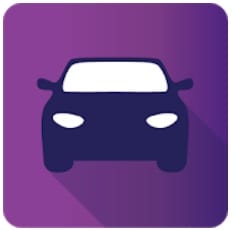 The first app we are going to review has been designed by the service of the same name. It is called Cars.com.
To begin with, the app will provide you with ads on not only used cars but also new ones. However, it will be so easy to filter the results to make the app show you only the cars that already had owners.
Totally, the application contains ads for almost 5 million cars. Again, there are no reasons to worry about. The thing is that the built-in powerful filters (by price, mileage, year, exterior and interior color, fuel type, transmission, body style, and so on) will help you to remove the cars you are not interested in.
If you are puzzled about which car to buy, the app will become your assistant in this matter as well. The thing is that here you will find millions of reviews on almost every car that exists. What is more, unbiased opinions will be provided by the experts in vehicles. As a result, you will make your best choice ever!
One more awesome feature here is the short questionnaire. After you answer the questions offered, the app will analyze your answers and offer the most suitable vehicle for you. It will remain to enable a filter to make it show you the used cars only.
As it often happens, one has several variants and can't decide what to choose. In his case, you will have a chance to make use of side-by-side car comparisons. The app supports simultaneous comparing of up to 4 vehicles at once. Apart from this, the app will tell you if this or that car is considered to be "hot". As a result, you will understand if you need to act fast in order not to miss the car of your dream.
One more cool thing about the app is that it will assess the deal by analyzing the average price of this car on the market. What is more, it will take into account such details as condition, ownership history, popular features (like Bluetooth and memory seats), etc. Also, the price of similar cars in your location will be considered as well. It will let you make the best deal ever.
The last feature about convenience while searching for a car is the Favorites section. There you will be able to add cars you liked, particular searches, and even dealerships. As for the last point, the app will help you to find five-star dealers in your area. Again, you will be provided with comprehensive reviews from experts and real buyers. That sounds great.
When it comes to planning a budget for payment, there are several built-in calculators available:
car loan payment calculator to figure out monthly loan payments;

affordability calculator to find out your maximum budget price;

cashback calculator and low-interest rate calculator to check how various

dealer incentives influence the overall cost of a vehicle.
If you already have a car and need to sell it, feel free to post an ad for your vehicle as well! Be sure that the app will do its best to allow you to benefit from any deal.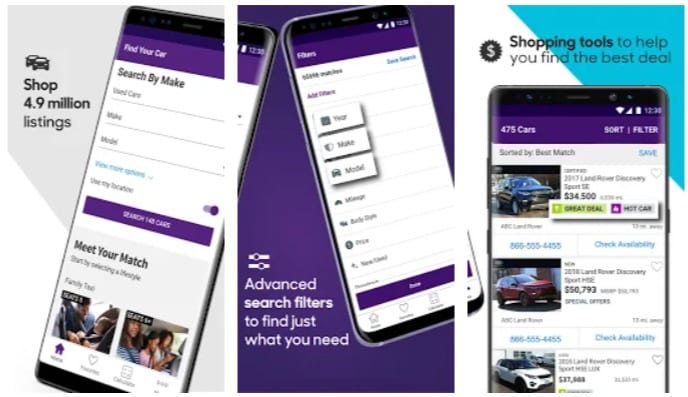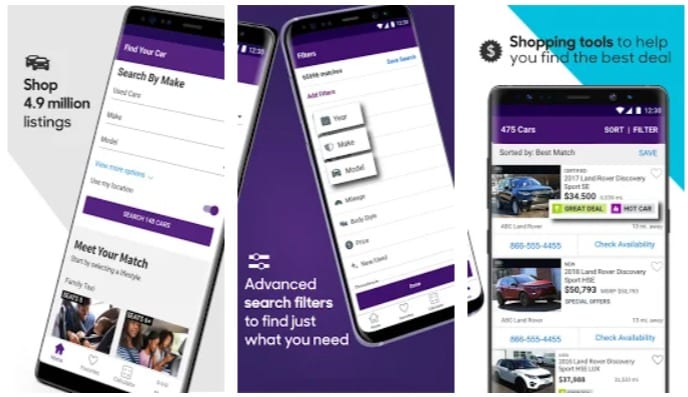 2. CarMax – Cars for Sale: Search Used Car Inventory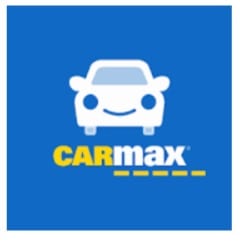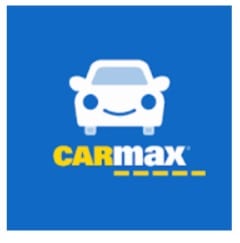 The second tool we are going to review is CarMax. What are the reasons for its overall popularity among millions of people?
This very service is considered to be one of the best used car retailers in the USA. That's why its catalog includes more than 55 000 vehicles. Every user will be able to adjust various parameters such as make, type, model, year, price, features, etc. This will let you find the most suitable cars.
If you like the set parameters of a search, you will be able to save the results generated to favorites. What is more, in case you enable the notifications, you will stay aware of all the changes connected with the vehicles you saved.
As for distinguishing features here, the application will provide you with free appraisals. Apart from this, you will also have an opportunity to receive vehicle history reports for free. There is no doubt that it is a great bonus.
Just like the previous app, this one includes some tools where you can calculate estimated monthly payments. It will let you adjust filters to show only cars that meet your budget.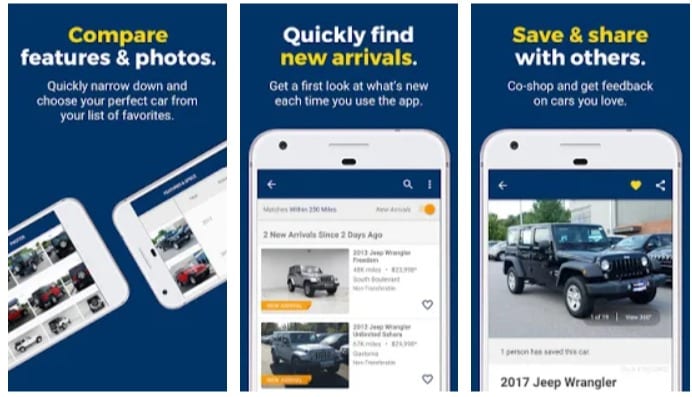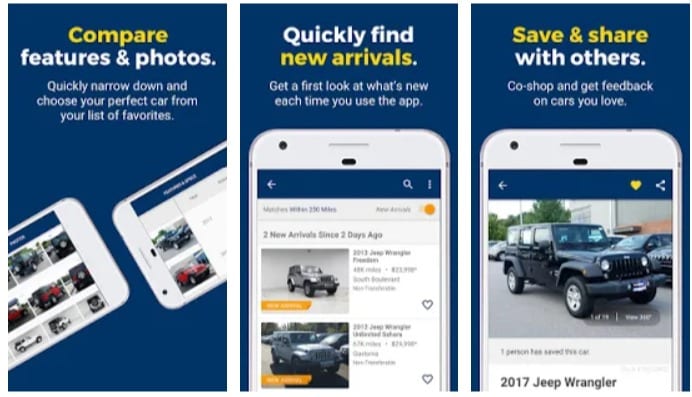 3. CarWale: Buy/Sell New & Used/Second Hand Car App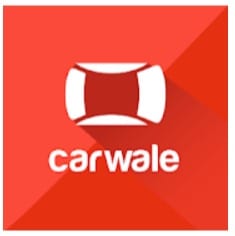 If you are an Android or iOS user from India, here is a tool for you. With CarWale, you will find a used car with no effort.
As usual, the app represents a selection of ads. The number of cars listed here is more than 50,000. That's quite a lot for one country.
When it comes to searching for a vehicle that suits you only, you will be able to use powerful filters to adjust the features and specifications (such as mileage, seating capacity, transmission type, etc.). One more thing that will help you to make the right choice is a collection of over 10 000 reviews on cars provided by experts in this sphere.
Apart from this, there will be more than 5 000 video reviews that will also be so informative. In addition, you will be provided with photos and videos of particular cars, including even 360-degree exterior and interior views. There is no need to surf the internet browsing this or that model. However, if you want to know your friend's opinion on a car, it will be so easy to share an ad of a car on social media or messenger.
Apart from this, the app is famous for its section with the latest news about cars. As a result, you will go with the times staying aware of the updates in the automobile industry in India.
In addition, the app will also tell you about the average market prices on used cars you are interested in. Also, here you will be able to locate the best dealers in your area.
At the same time, if you already have a used car, you can sell it with this app as well.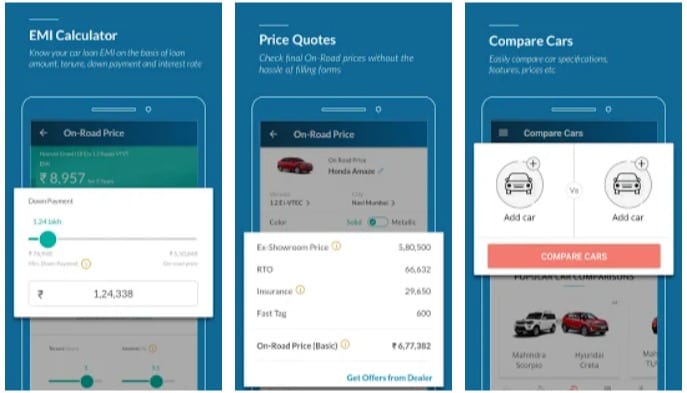 4. Used Car Search Pro – iSeeCars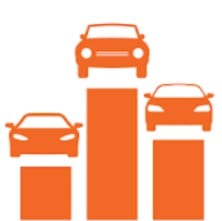 Have you ever heard about iSeeCars? This award-winning service also meets your requirements for sure.
With this app, you will have access to more than 4 million cars across the US. You will need to adjust search filters (there will be 59 of them) to stay focused on vehicles you are interested in only. Apart from this, you will be able to rely on the app and make it sort the results. Thus, its analytics engine will consider numerous factors and put the best deals on top.
Apart from this, the app also includes comprehensive analytics on car dealers. So if you are in search of a trustworthy one, installing the app to stay aware of the dealers' ratings will be a good idea.
When you create your base of potential cars, you will be able to save searches as well as the vehicles themselves. There is no log-in required in this case. However, if you create an account, you will have access to your vehicles tracked and previous searches across multiple devices.
Want to stay notified? You will be able to sign up for new listings of used cars and receive email notifications. Apart from this, the app will notify you every time a price on a saved vehicle drops.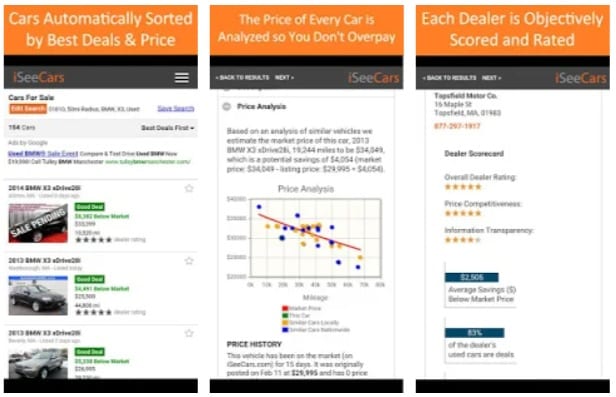 Are you planning to tune your future car? If your answer is affirmative, you can do it virtually right now! All you need is to install one of the best car customize apps for Android & iOS.
5. Carlist.my – New and Used Cars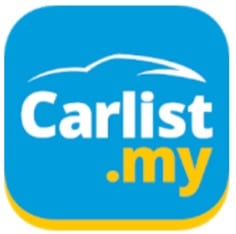 Are you from Malasia? Here is a used car buying app for you!
With Carlist.my, you will be able to view thousands of ads on selling used cars. You will need to adjust the parameters you need and find a vehicle that meets your needs. Once you find your ideal car, you will have an opportunity to chat or even call the seller using the app only. What is more, every person who sells a car is verified here. That's why you will cooperate only with genuine people.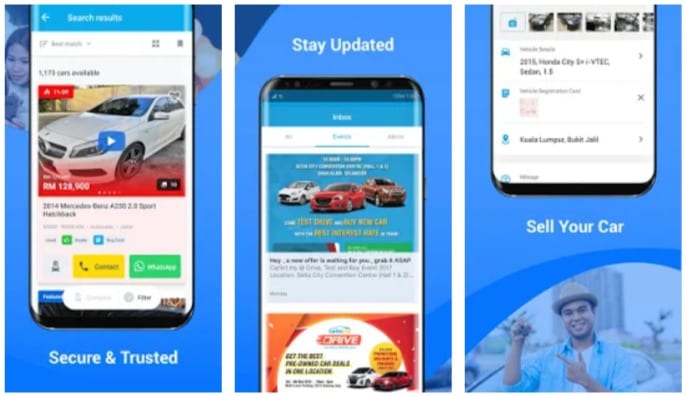 6. Edmunds – Shop Cars For Sale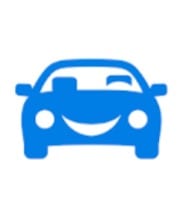 The next tool that worth your attention is Edmunds. Again, the app has been designed by a service that specializes in both new and used cars.
In this case, with the largest inventory to select from, you will find a perfect used car with no facing difficulties at all. Just choose the parameters you need and find the best offers in your location. If there are several dealers, the app will help you to compare their suggestions and make the right choice. Moreover, texting the dealers directly from the app will be possible as well.
One more useful thing letting you choose the best used car is in-app reviews and user ratings. Apart from this, the tool includes all the necessary information on the true market value and the average price paid in your area. Trust us that all these features will be so helpful for every car buyer.
As for the car pricing help, there is a built-in calculator as well. With it, you will be able to calculate your monthly payments before connecting with a dealer.
Lastly, the app also includes such cool features as Vehicle Trade-in appraisal tools and the new AR feature Can It Fit. There is no doubt that they worth being tried.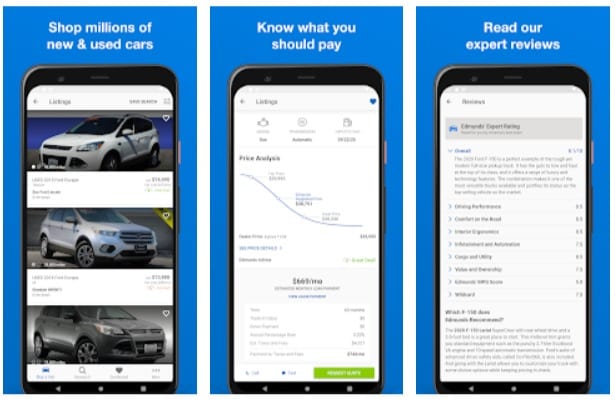 7. Autolist – Used Cars and Trucks for Sale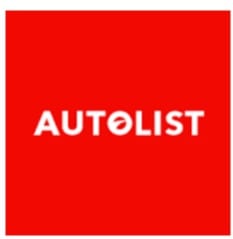 Autolist is one more tool that should be installed on your device. What are the reasons for it?
The app represents a great inventory of used cars. As usual, you will be able to use the built-in filters to narrow the search. Thus, there will be such parameters as area, make, model, price, color (interior and exterior), features installed, year, and so on.
Like some of the apps above, this one is capable of connecting a buyer with the dealers. That's a great advantage for sure.
As you view this or that car, you will have access to the detailed price history, accident and service history, and so on. Also, the app will provide you with Listimate value to stay aware of when to buy and negotiate a fair price
Lastly, here you will be able to save the searches and check updates within several taps only. However, you won't receive notifications about new inventories.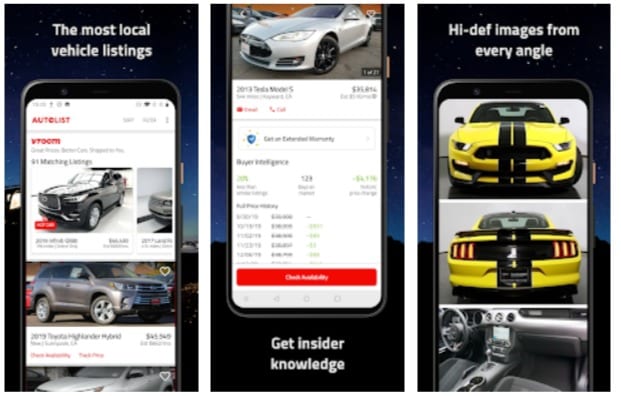 8. AutoScout24 – used car finder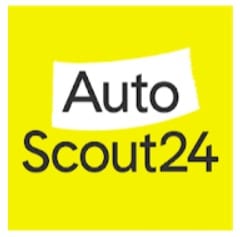 The last but not least used car buying app is called AutoScout24. This very tool and the whole service will be especially appropriate if you live in Europe.
As you can see, it specializes in selling used vehicles in such countries as Germany, France, Spain, Italy, Netherlands, Belgium, and so on. One more distinguishing feature here is that the app also includes ads on selling motorbikes. However, as you are interested in buying cars, let's talk about related features in detail.
When it comes to searching for your perfect car, you will be able to use dozens of filters by choosing the make, model, price, and so on. What is more, the results can be sorted by price, color, and other parameters. That's what makes the app so cool.
Every car you like will be available for adding to a Favorites section. Do you want to know your friend's or family's opinion? Share the ad on social media or messengers then. Alternatively, you will always have access to the vehicles you like due to the synchronization feature. If you already decide to buy it, the app will help you to connect with a dealer within several seconds only.
Finally, we highly recommend you to study the AutoScout24-magazine section. There you will find the current news on vehicles, car purchases, and sales.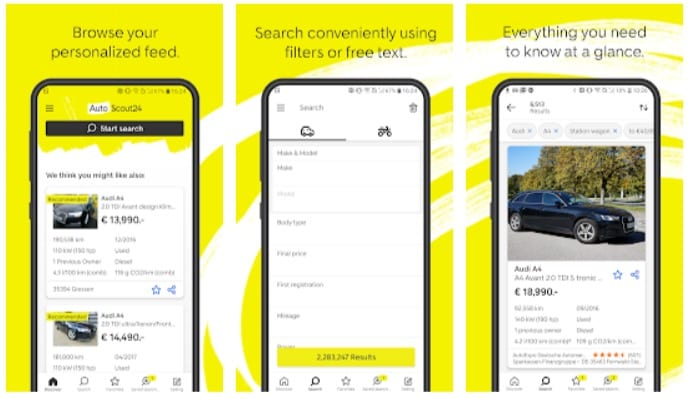 You may also like: 8 Best Car Customize Apps for Android & iOS