No less fun than drinking in a bar with friends can be an element of the game, involving all those present and alcoholic beverages in the process, making the pastime fun and memorable.
The most important thing about drinking game apps is that they are incredibly simple! They don't require any special training or special equipment. Everything is very simple and clear … even for a drunken company!
Picolo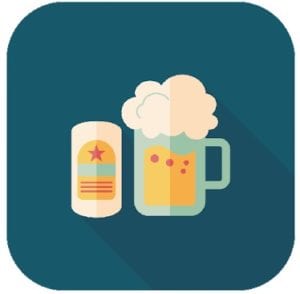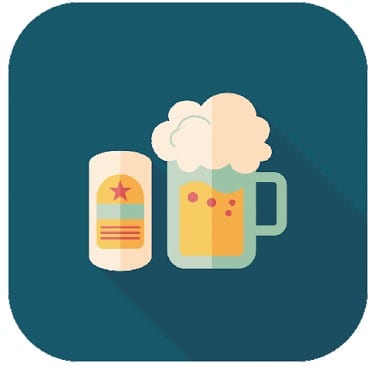 Picolo drinking game is a fun party game for Android and iPhone. If you like to have a fun weekend with friends, then this game is created for you.
Enter the names of all participants in the game, and the rest will be taken by Picolo. Alternately with friends, you must perform tasks and sometimes do crazy and funny things.
This application will diversify your party and allow you to have fun. The main condition for the game is to drink alcohol in different quantities.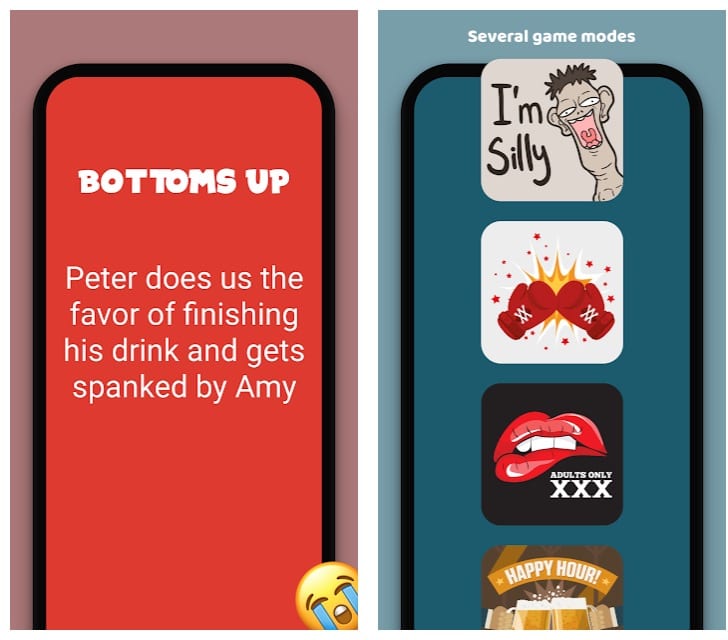 You may also like: 10 Best live streaming apps for events (Android & iOS)
Seven Drinking Game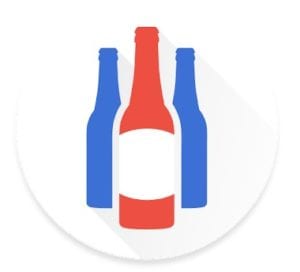 If you are planning a funny party be sure to try the Seven! A weekend evening, visiting friends dying of boredom, or an awkward acquaintance with a new company in a bar?
We have great news – the fun is not at all on the next street! Take your device and turn on the Seven! After all, all that is needed is already at hand:
3 or more positive and ready to have fun drinking people;
Of course, a drink to everyone's taste (and the more, the better!);
And of course, the general desire of the players to creatively play the game.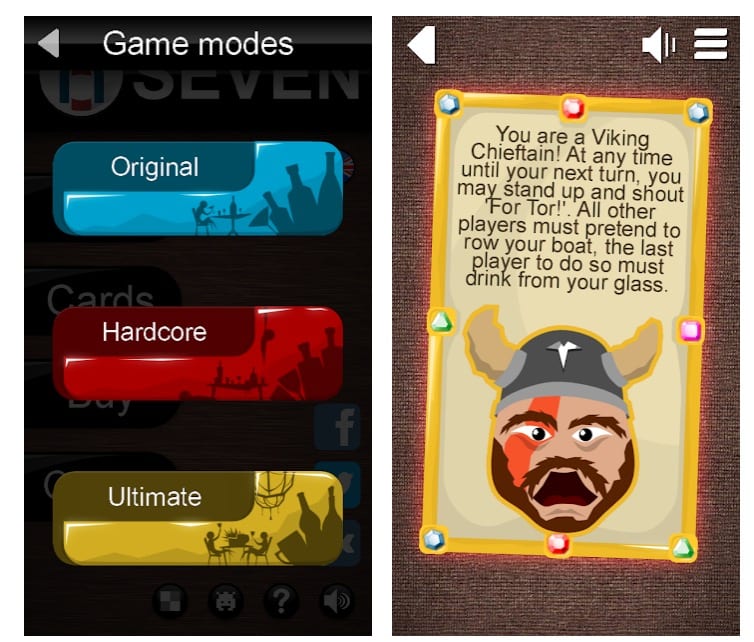 Seven Drinking Game is a game for a company that wants to diversify the process of drinking with fun assignments and interesting conversation topics. The principle of the game is simple: players choose cards and perform prescribed actions. Everything is elementary and simple, and most importantly terribly fun and no one has time to get bored!
Seven has the following features:
Simple rules of the gameplay;
265 diverse and unique cards with actions;
Pleasant and memorable game atmosphere;
Beautiful graphics and illustrated cards;
3 game modes for a variety of companies;
No ads.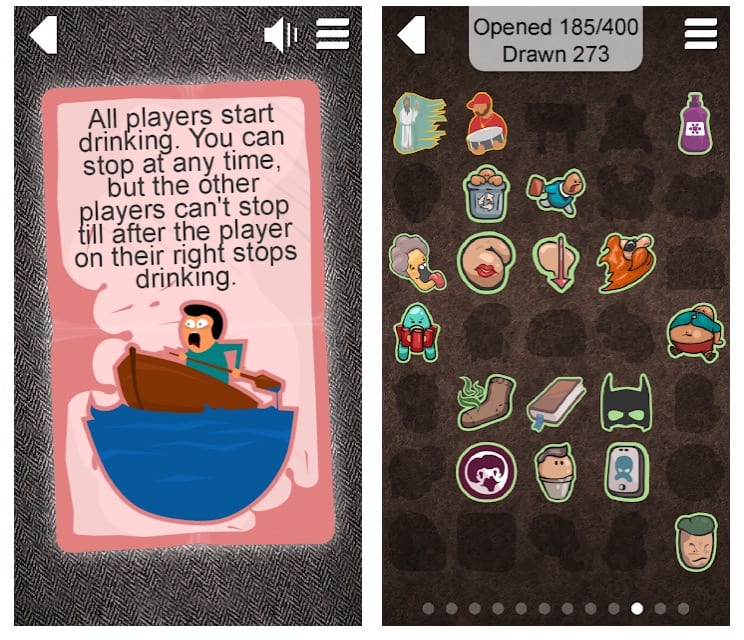 And be careful, drinking is an important part of the game, get ready for a headache in the morning.
Drinkie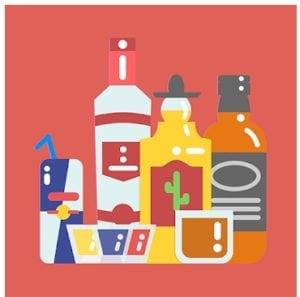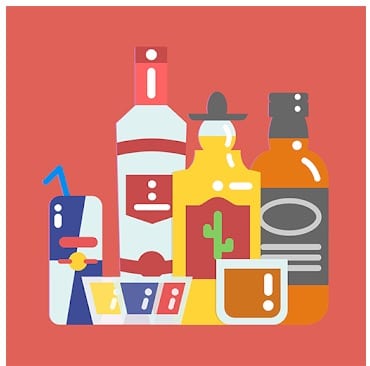 Drinking just like that, without a reason, is usually boring. And if the dances and toasts are over, a variety of alcohol games will come to the rescue. And Drinkie will provide you with a variety of such games.
All your favorite drinking games are included: Spin the bottle, Circle of Death, Never Have I Ever, Pyramid game, alcoholic roulette, Truth or Dare and others!
The game offers 4 modes:
Tipsy for pre-drinking and cozy house parties;
Ridiculous with crazy-fun rules and weird questions;
Sexy which break the ice with ladies or let to know some intimate and spicy details;
Macho just for men.
The unique feature is that you can add your own Rules!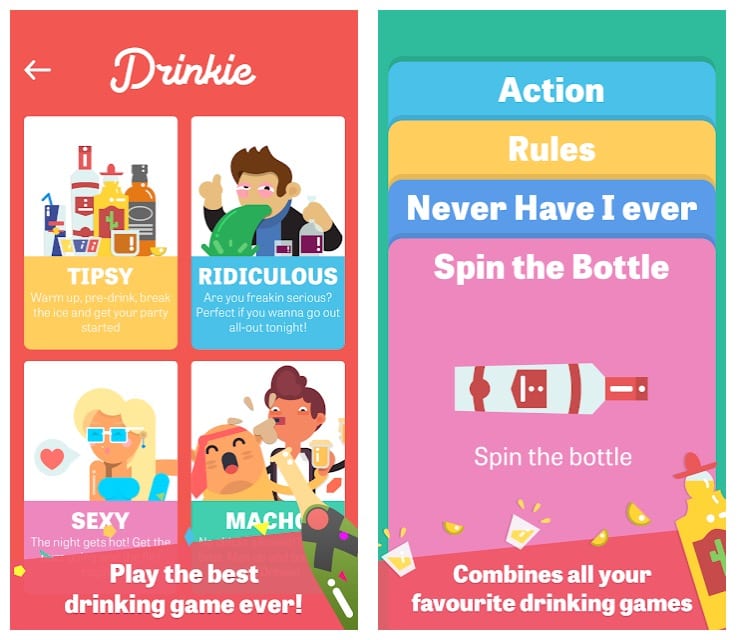 Most Likely To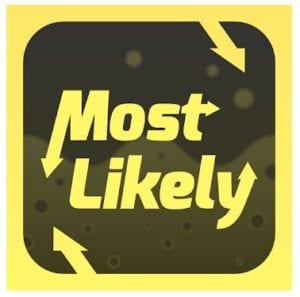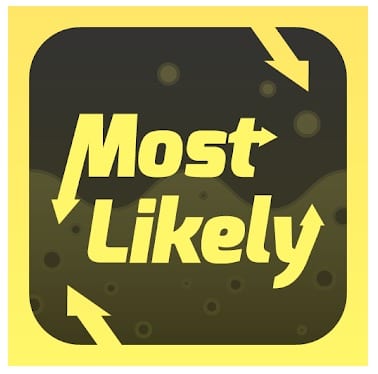 Most Likely To is an exciting drinking game for adults. Are you planning to organize a party at home? You will definitely enjoy this crazy game.
Gameplay. You should pass the phone around and read the statement to everyone. All of us should point to the person the statement suits best. The one who gains more votes should drink.
But you can change the rules a bit. For example, one drink for each finger pointed at you. Extreme right?
There are 10 decks with more than 900 challenges. Choose the one that suits you best right now depending on how much you and your company have drunk and the level of madness you have. Or you can create your own deck and add up to 500 cards with your own crazy ideas.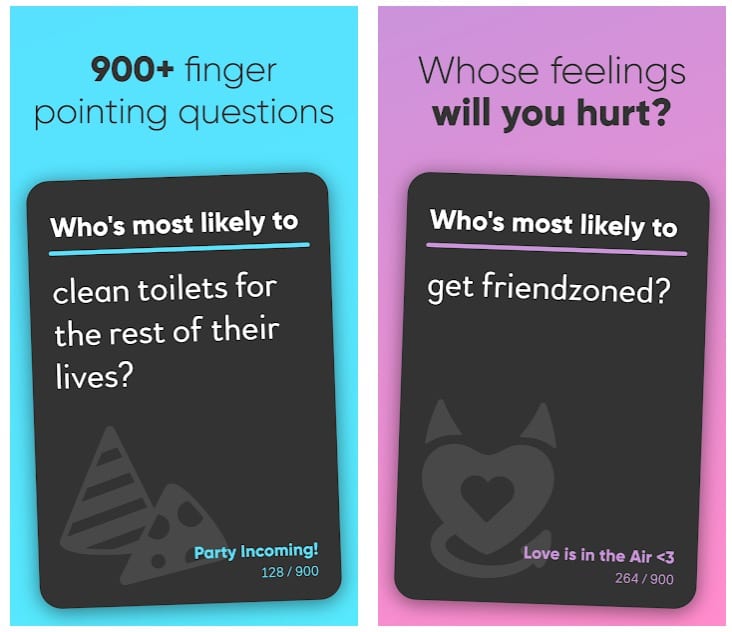 5 Second Rule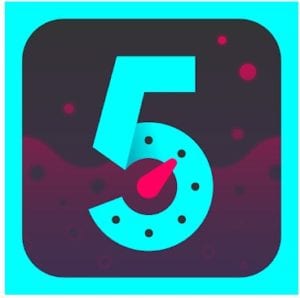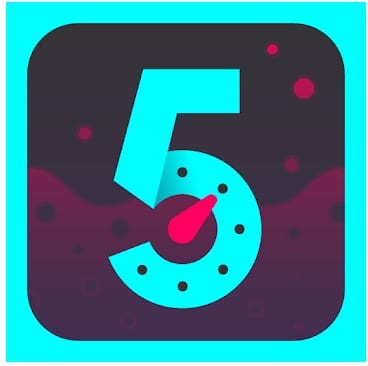 5 Second Rule is a fun game for a company of up to 12 players. The game will appeal to those who can act under pressure.
The rules are extremely simple. You will be asked a question. You have only 5 seconds to answer. You should give 3 answers before the buzzer rings. If you don't perform the task, you drink.
The game offers as normal pre-drinking cards as dirty cards. More than 900 questions are included. Or you can add your own cards.
Want to get drunk quickly? This game is for you!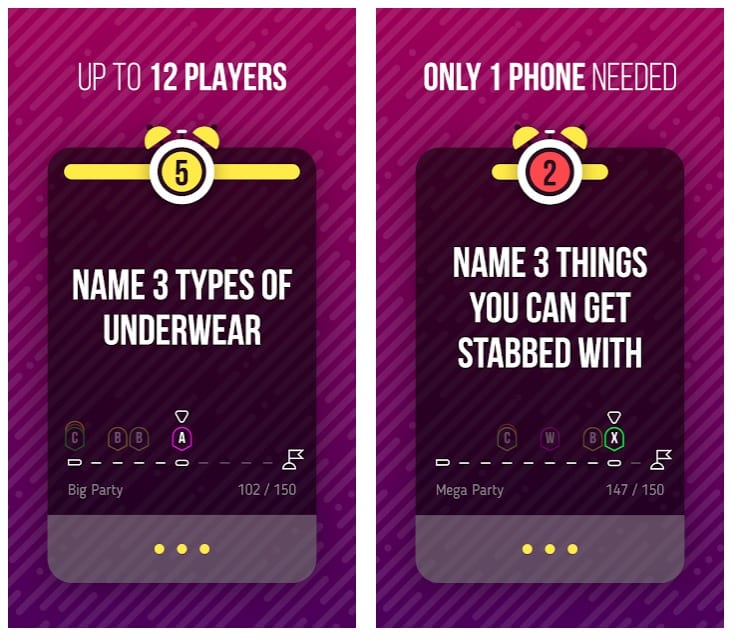 iPuke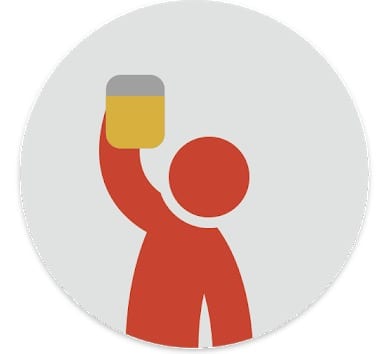 This is the craziest drinking game ever. All you need to play the game is your insane friends and no sense of self-respect!
Gameplay. Turn by turn you'll get a card with two challenges: a dare and a number of shots to drink. To stay in the game, you should do at least one task. For both, you'll get points. The player who reach the points target first will win.
The game offers more than 300 dares. For example, Let your friends redo your hair, Brush your teeth with someone's finger, Fill your mouth with ice and wait until it melts, Lay on the ground like a starfish for 30 seconds. Crazy? Yes!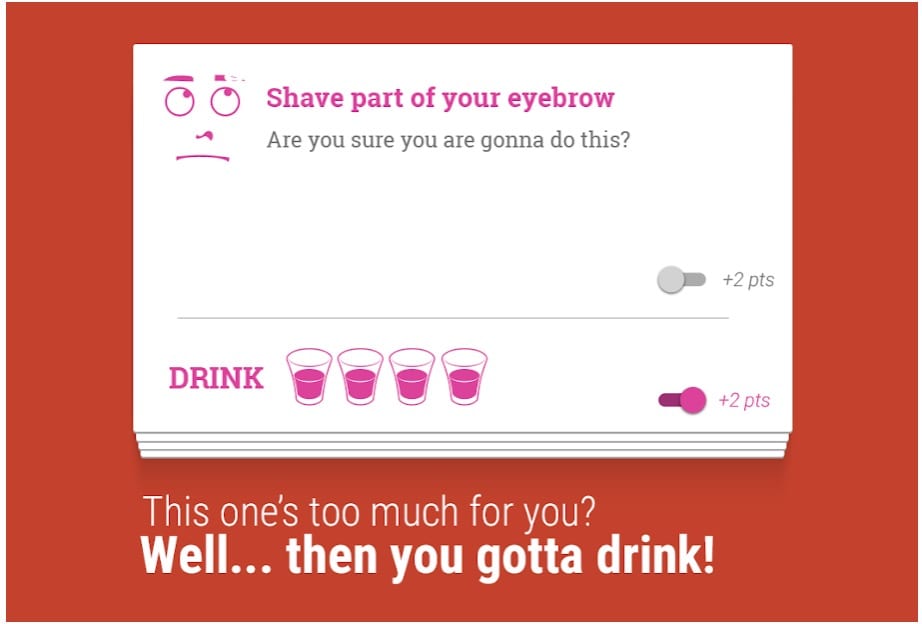 Game of Shots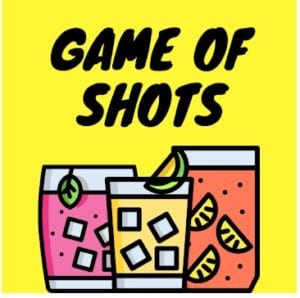 Game of Shots is an amazing collection of the best drinking games for parties and gatherings. Liven up your parties, download this fun application!
To play, of course, alcohol is required. Which one? Depends on what you usually drink and how much you can drink.
After installing the application, you can choose to play such games as I've Never, King's Cup, Impossible Mission, Most Likely, The Roulette, True or False, Blackout Duel, Slot Shot Machine, Express Hangover, and some others.
It includes games with dices, cards, and many other types, and you can play with up to 8 friends!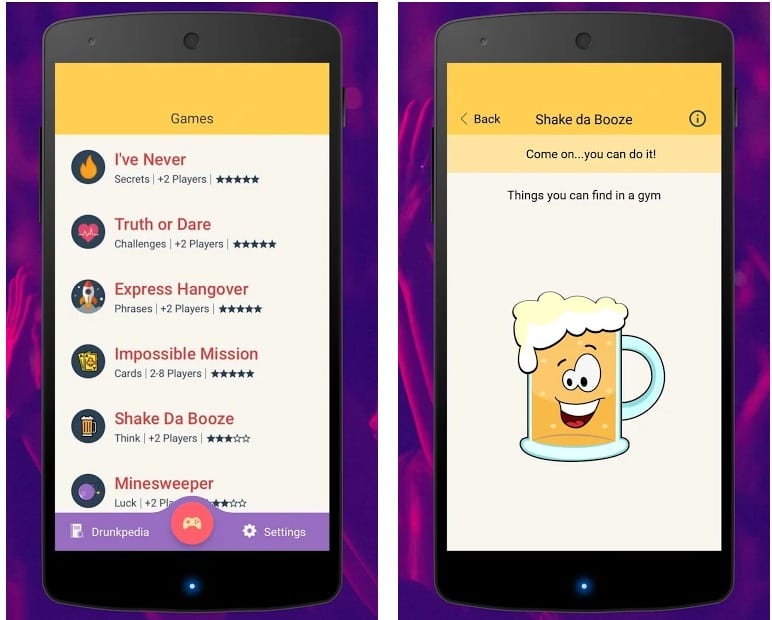 Drinkly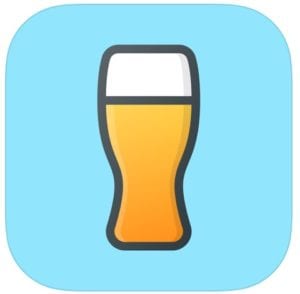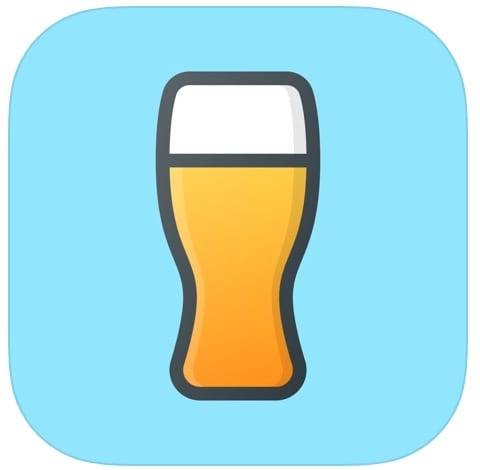 Looking for the Alcohol Game app to heat up your party? The one where there are no repetitions and you can play with any number of people, whether it be 2 or 12 players?
So Drinkly is the mobile alcohol game you were looking for! There are thousands of different playing cards. You will never get tired!
Gameplay. You see a playing card that doesn't open again until you complete all the remaining available cards. The game will be saved. So don't worry: you and your friends can continue the Drinkly game next weekend.
Another Drinkly feature that makes the game incredibly exciting is not only the carefully thought out order of the cards but also the variety. Paired cards, companion cards, or even interactive cards – a wide selection of card categories will definitely not make anyone bored! One more step and Drinkly will become your dream alcohol app!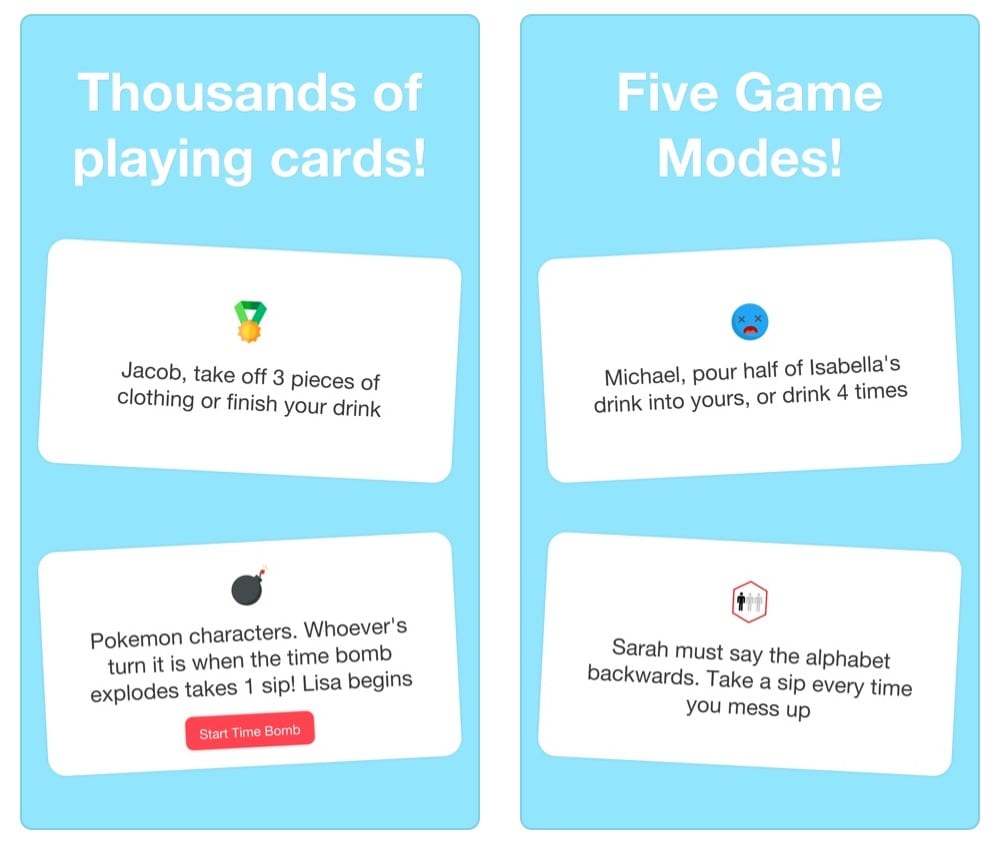 If you are interested in another old, boring game, you are not here. But if you want to experience the drinking game of a new generation, Drinkly is what you need! What are you waiting for? Download now!
Circle of Death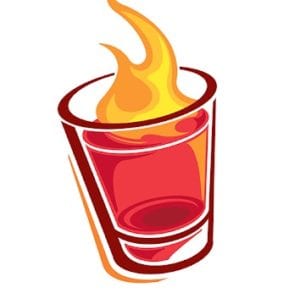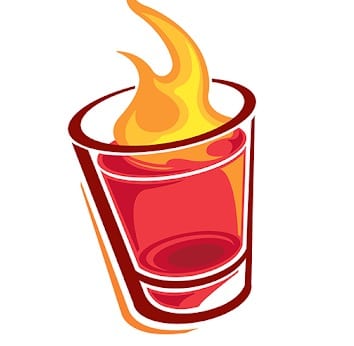 Circle of Death is a lively and fun drinking game. Gather your friends in a circle and start!
Gameplay. Decide who starts first. Then, in turn, draw any card. Depending on what kind of card it is, you need to take some action.
It should be noted that the whole game is built on a system of "punishments". That is, the player must drink for something. Agree in advance how this will happen. For example, a large mug is placed in the center of the table. Maybe it will be a sip from the glass.
Or you will need to add alcohol to a glass (of course, everyone will sip in the process) and drink to the bottom. It is possible that you just need to drink what is left. You can come up with your own version. Look at the strengths of the participants.
Each game lasts for 52 cards. There are bomb cards that can appear randomly during the game. It will present a challenge to the person who drew it. For example, pin your elbows to your sides and drink like a t-rex for the rest of the game.
The game has a standard set of rules based on the classic game, but you can easily edit them in the settings. Play the game until you get bored. There is no winner. Indeed, the main thing in drinking games is not victory, but participation!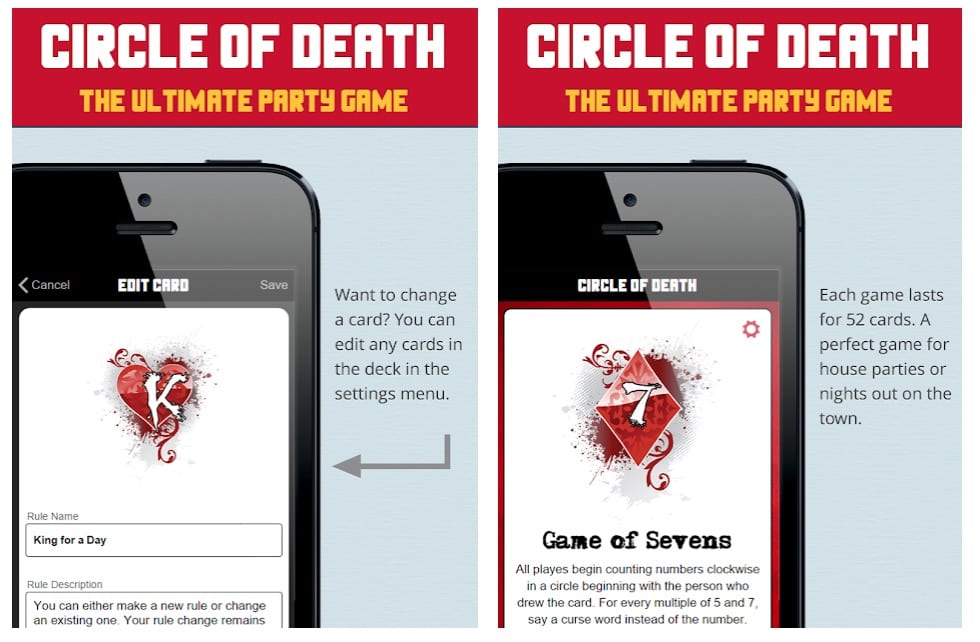 Drink and Tell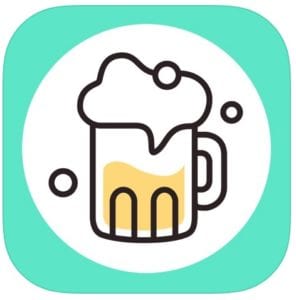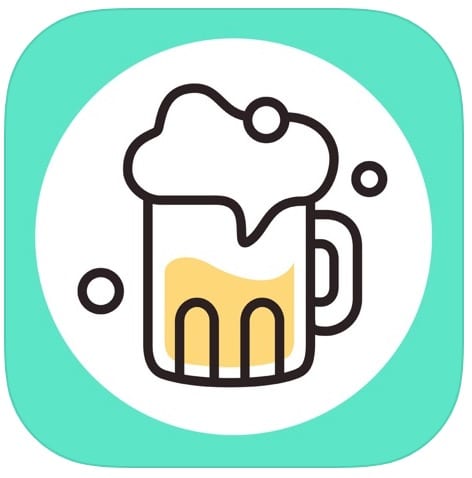 Drink and Tell is a fun game that you can play with friends during a party or when you don't know what to do, but don't want to play noisy games. When playing this game, you can sometimes feel very awkward, however, believe me, you will get a lot of pleasure.
How to play. Choose a category: Love, Adults Only, Life & Death, Personality, Ethics, User Generated. Then, press Start. You are to answer the questions. Read aloud a question and select an answer from the offered. The players should guess which answer you'd choose. Then, tap to reveal your answer. Those players who guessed wrong: drink!
A simple but still interesting game for a drunk company.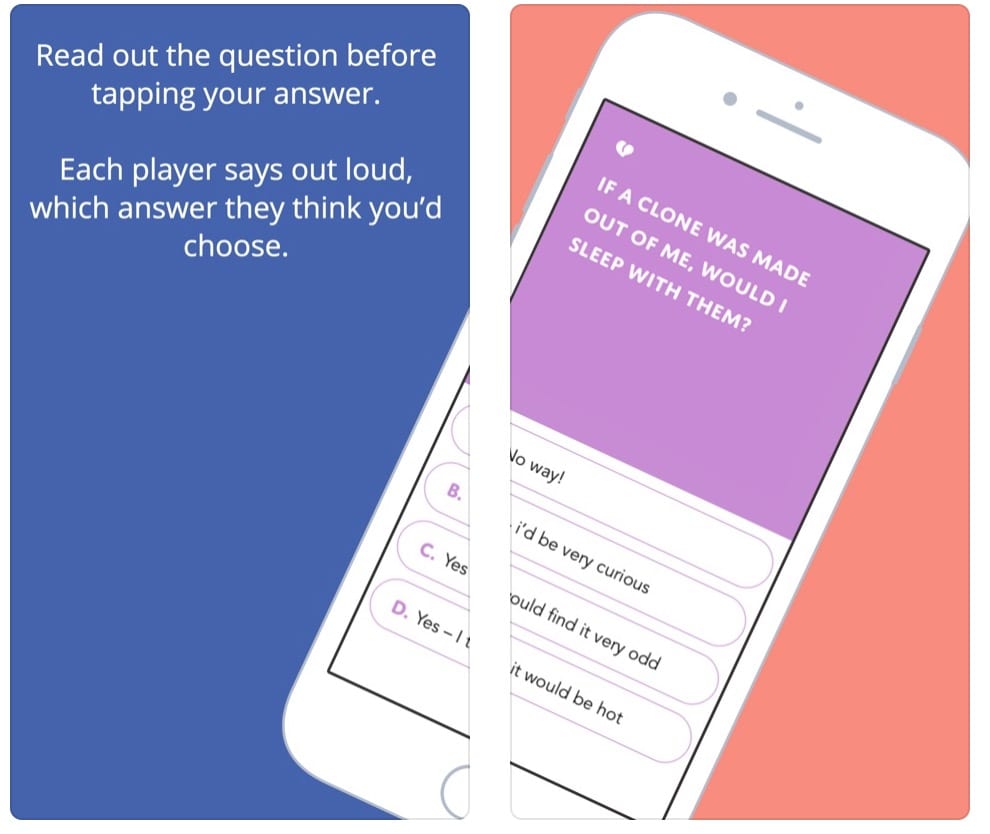 You may also like: 10 Best guessing game apps for Android & iOS
Shoot & Drink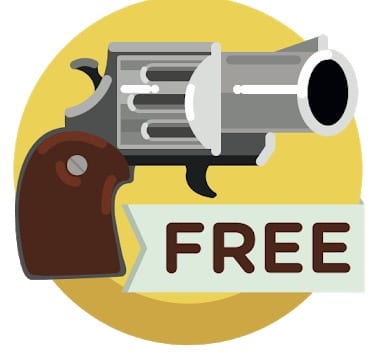 Game Shoot & Drink is a kind of roulette in the form of a bright, cartoony animation. The application was developed by Twisted Fingers.
You can buy the game Shoot & Drink – Premium Party Game, in the Play Store, or download another version for free: Shoot & Drink – Party Game. Unlike the premium version, there is advertising, and some characters are blocked. If necessary, you can buy different premium items that provide a variety of bonuses.
The application has good optimization, it doesn't slow down, it loads quickly. It features simple controls and an intuitive interface.
Gameplay. After downloading the application, you can select any character. Then pick up drinks for drinking and bullets that need to be loaded into the revolver. From two to twelve people can play at the same time. Each with its own unique characteristics and style. Once at the playing table with your friends, play Russian roulette and find out which of you is more fortunate than others.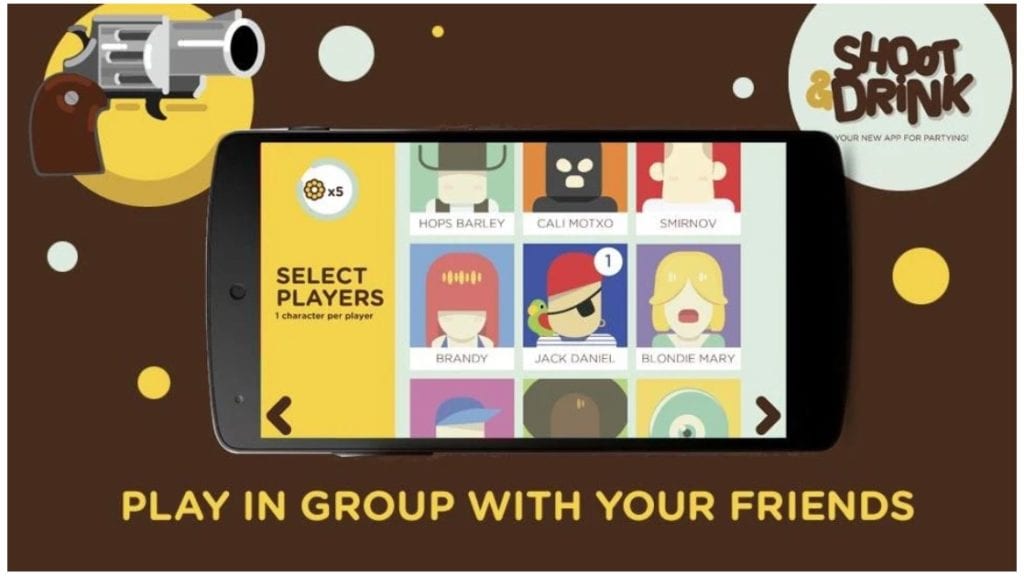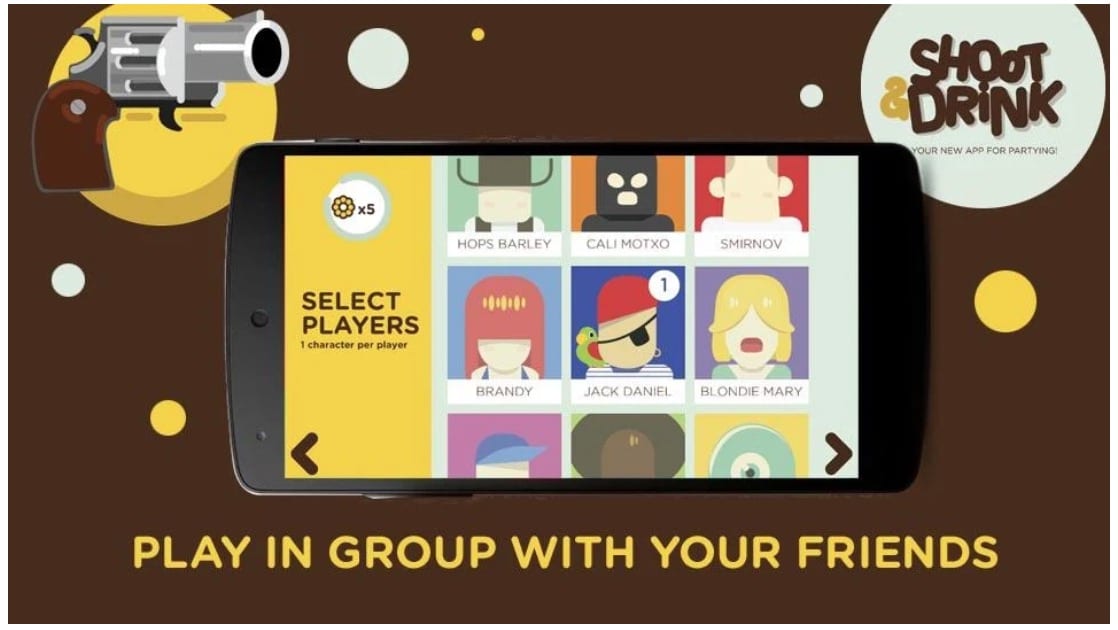 The application has an unusual atmosphere, it looks like you got into a real wild West becoming a cowboy. Excellent graphics, well-chosen music, and animated characters allow you to fully immerse yourself in an unusual world of thrills.
All this creates a real party, with good jokes and funny characters, which you can choose to your taste, choosing your own unique style. Gun and bullets will become guides in the world of fun. Ten types of bullets, in the form of lipstick, sharks or birds, will please the eye.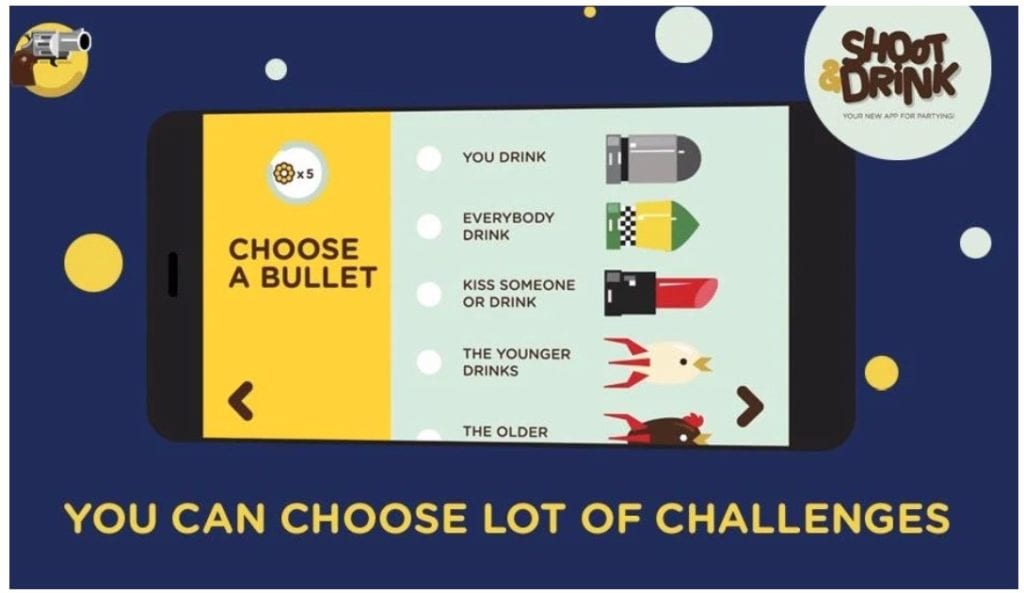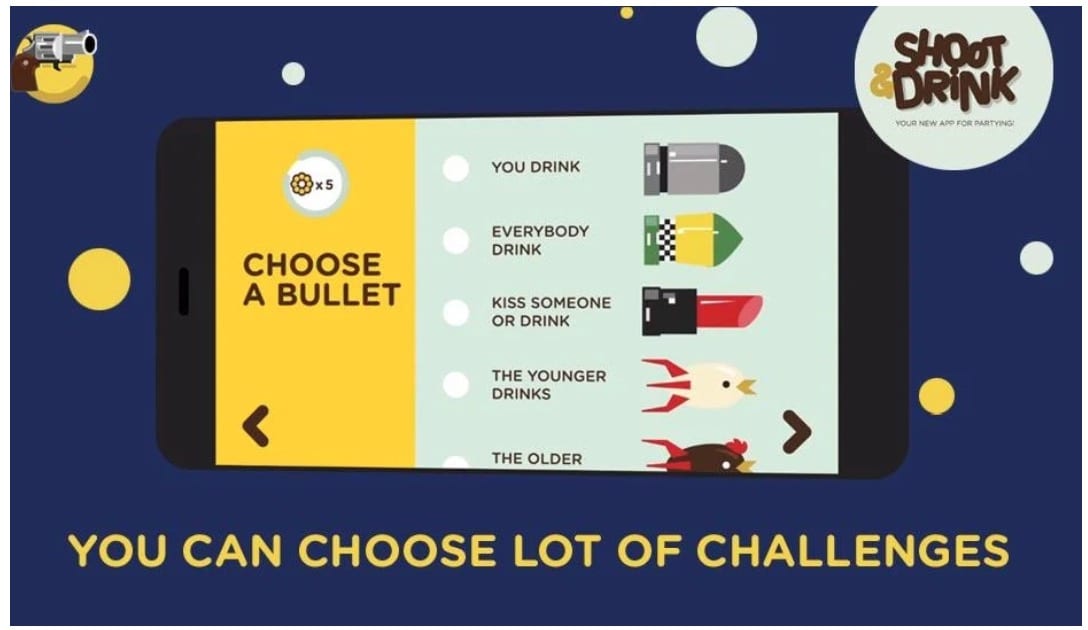 Shoot & Drink – Party Game will be a good solution for spending time when there is nothing to do.
Recently, drinking games for smartphones are extremely popular. What is their peculiarity and the secret of such popularity?
Firstly, alcohol games on a smartphone weigh very little and load in almost a couple of seconds. Secondly, you can play phone drinking games not only with a partner but also in a large company.