Do you have some spare time? Then, make good use of it!
There are many types of apps that will puzzle you with various questions. Your target is to give the right answers depending on tasks.
As a bonus, you will be able to answer questions not only solo but with your friends as well. Be sure these apps will delight everyone.
We have found best guess apps that are available on the App Store or Google Play. With the help of them, the hours will slip past almost unnoticed. But the important thing is that you will expand your horizons and learn many interesting facts. So read this post and have some fun!
1. GuessUp – Word Party Charades with Friends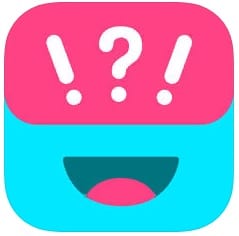 To begin with, let us review this great app. It will be very suitable if you are going to have a party. So this app will become an excellent tool for breaking the ice. Also, you can play it with your family and even kids.
The rules of GuessUp are quite simple. First, you have to choose any category suggested. After that, you must place the phone on your forehead and start guessing. Your friends will see various words on the screen. Their task is to explain things describing, dancing, singing, acting, impersonating, etc. So it is a great chance to spot somebody's talent. Nevertheless, the result depends on a person with a phone. The target is to guess as many words as possible before the timer runs out.
The thing that you will really like is the app's convenience. Move your phone according to answers: Down for true and Tilt up for false or to pass.
As for other advantages, there are many categories available (Animals, Sports, Movies, Famous People, Food, etc.) By the way, you can create your own category as well.
The main distinguishing thing is that the app will record a video of your friends while they are explaining words. After the game, you will be able to share videos via Instagram or Facebook.
Additionally, you will like Team mode for sure.


2. Psych! Outwit Your Friends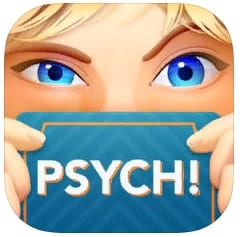 It is one more great game that you can play with your friends. Your task is not complicated at all: you have to write fake answers to real trivia. Keep in mind that they have to be as plausible as it is possible.
After that, you will be able to select answers among your friend's false ones. He or she will have the same task. You will get points in two ways: for guessing the right answer, and for choosing false answers by your friends. The person who gets more scores wins!
There are available dozens of decks to play. So everyone will be interested in Psych! and at the same time have some splendid hours.


3. Trivia only. Free quiz game: QuizzLand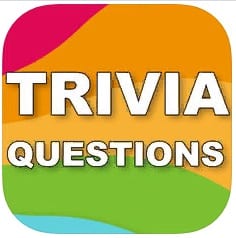 This app is so suitable for those who are focused on educational apps. It will accurately reflect your IQ and general knowledge level.
Your only task is to select the right answer. At first blush, it seems very easy. But these questions are really unique and can not be found anywhere else.
But don't worry, like any other game, Trivia only also has some hints. You can get them by spending coins given for correct answers.
This game has If you give the wrong answer, the app will show you an educational explanation of the right one.
Apart from this, there are available some fun short games and attention skill training. They will let you develop your skills by using only one app.
By the way, the app supports 5 languages: English, German, Spanish, Portuguese, and Russian. That is why it is popular worldwide, not only with English speakers.

4. Draw and Guess Online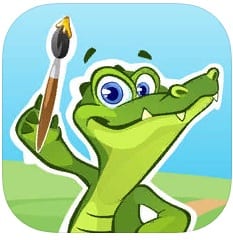 Do you want to manifest yourself not only as an expert but also as an artist? So that's exactly what you've been searching for.
If your task is to explain a word, you have to draw it in the app for other players. Of course, you will be able to choose among four variants suggested. Consequently, if you are among the general players, you have to be the first who guesses the drawn word.
What you will really like is the app's community of friendly players from all over the world. By the way, here it is possible not only to rate them but find new friends as well, that is priceless.
Draw and Guess Online supports hundreds of words in English, German and Russian. We guarantee that you will enjoy the gaming process for sure.


5. World Geography – Quiz Game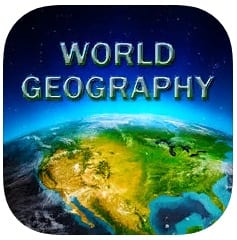 Are you good at Geography? Let's check it! This quiz game will test your knowledge of 400 different countries, their maps, flags, capitals, languages, religions, etc.
There are more than 6000 questions available in 4 levels of difficulty. Hundreds of colorful images will make your gaming process much more enjoyable.
One more advantage of World Geography is that you will be able to train your weaknesses after every game session.
What about game options, there are 26 of them (Find on Map, Area Size, Population, etc.). There is no doubt that it will diversify a quiz, so you won't be bored at all. Isn't it a secret of effective studying?
It must be mentioned that the app supports 8 languages. It's great when different languages' speakers can learn many interesting facts about each other.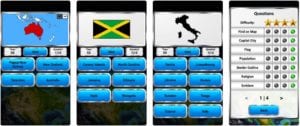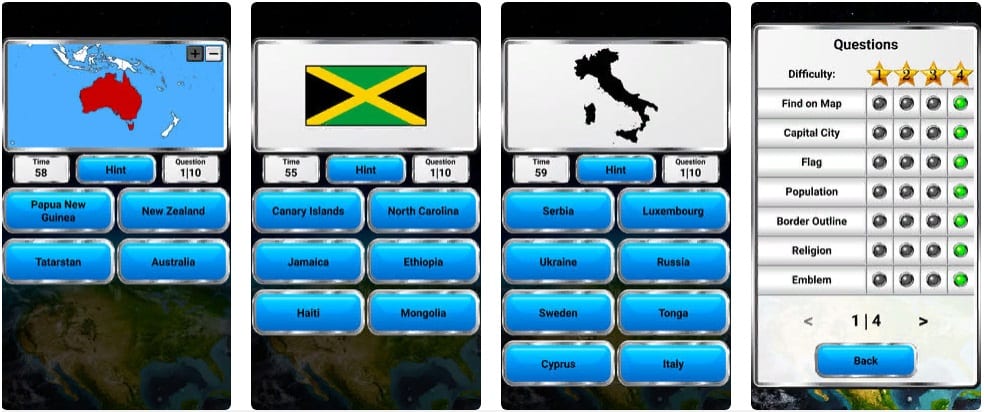 6. SongPop 2 – Guess The Song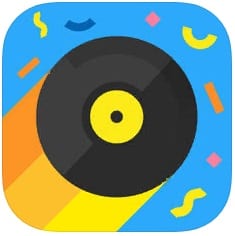 Do you consider yourself a music lover? If you give an affirmative answer, you will really like a mix of quiz and sound!
Here you will be able to check your knowledge of a singer or a title of a song. You will hear a melody; after that, you have to choose the correct answer as quick as it is possible.
What about rivals? You will have a chance to compete with your friends as well as with other players from all over the world.
The thing that you will really like in SongPop 2 is an enormous gallery of songs added every week. And it's really great that the developers use not only modern hits but old famous songs as well. Moreover, their genre varies from Latin or Pop music to Rock.
Owing to all these features, every user of this amazing app will be tickled pink.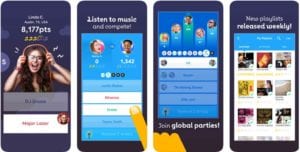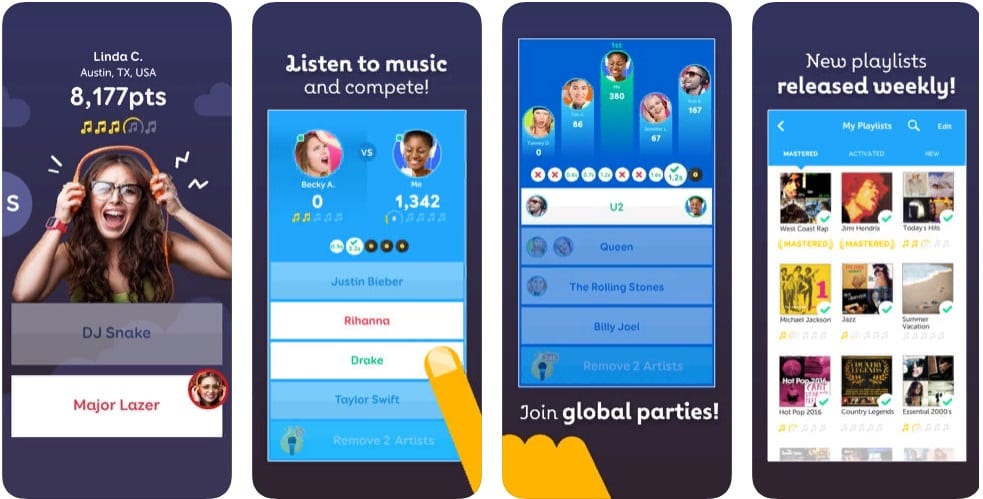 7. Pictoword: Fun Word Games, Offline Word Brain Game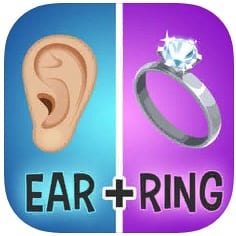 We can't help including this entertaining app in the list of best guessing games. It will let you train your brain without feeling boring at all.
The game is quite simple. You will see 2 images; then you have to combine them in order to create a new word.
If that seems easy, you can choose various levels of difficulty. We assure that this puzzle will thoroughly exercise your mind.
This game will give you freedom of action. For example, you will be able to choose among various modes, packs, and even categories.
Pictoword will definitely meet your expectations. It's because of its capability to suggest guessing not only ordinary words but also movies, TV shows, Celebrities, Logos, and even Superheroes.
Download the app and make fun of it with your friends and family.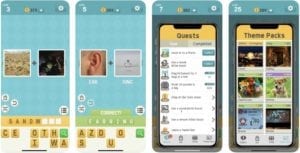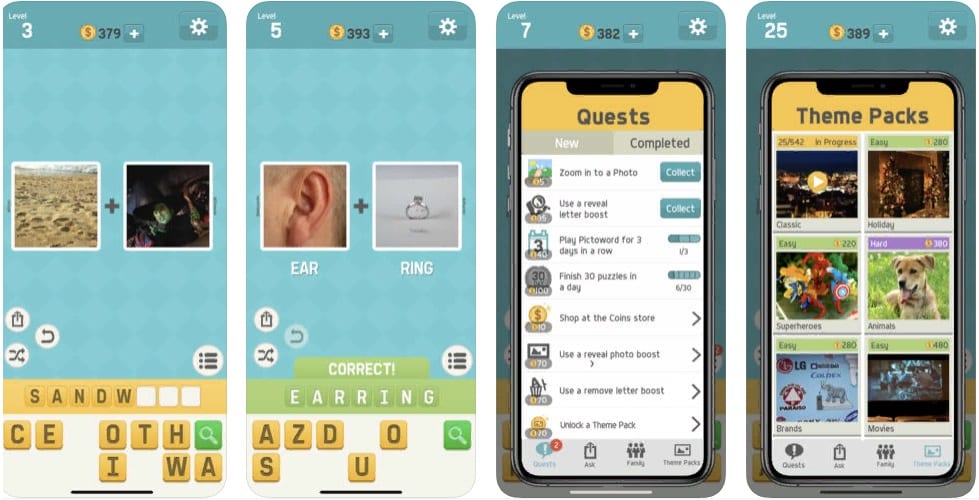 8. Wordie: Guess the Word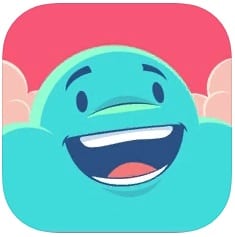 It is one more similar game to entertain yourself. By the way, Wordie is also called 4 pics 1 word.
The thing is that here your task is to guess the word that unites four pictures. Of course, if you got stuck, you can use hints or ask your friends via social media.
There are more than 600 puzzle cards of different levels available. By the way, you can create your own cards as well. After that, you can send them to your friends. Let's check how witty they are.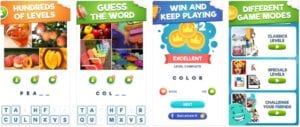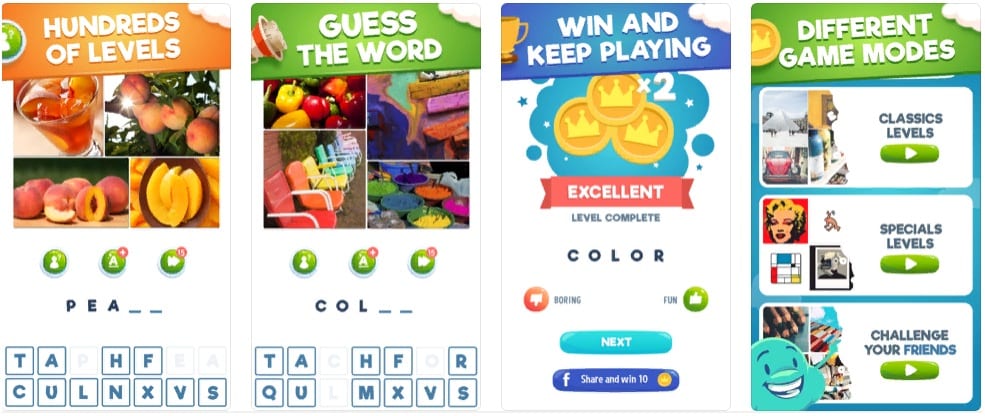 9. Guess The Emoji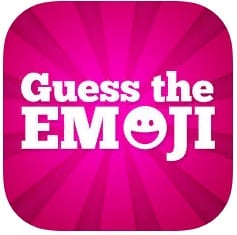 How often do you use emojis? Here you will have a chance to learn how accurately you can understand them.
In Guess The Emoji your aim is to guess various words coded by emojis. That sounds very interesting. And as always, you can use hints.
There are more than 1000 puzzle cards of different levels. Also, you will get access to words from different categories such as TV shows, Movies, Music, Person, Social media, etc. You can't imagine how cool it is to decode all these words.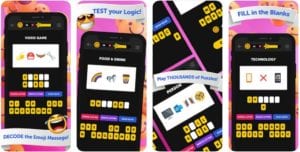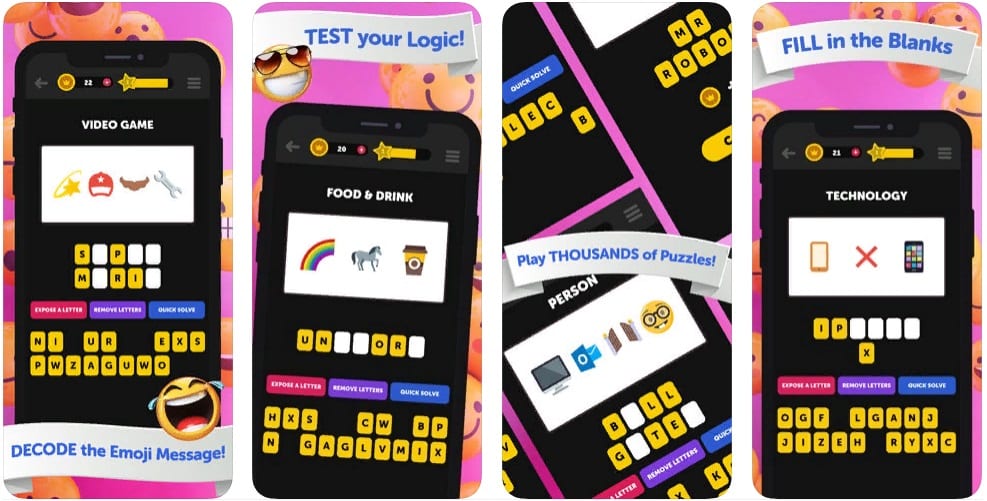 10. Food Quiz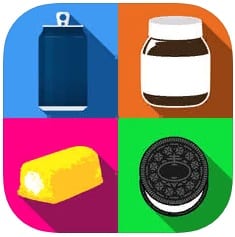 To sum up, we want to tell you about this tasty game.
Your aim is to guess words denoting various colorful pictures. The main thing is that all these words connected with worldwide popular food and drinks.
So there are 7000 food items grouped into 25 countries. But don't worry, you will recognize them all. As a last resort, you can use hints or ask your friends for help.
Food Quiz supports 8 languages. Install this fun game and check your knowledge of food, beverages, snacks, and candies.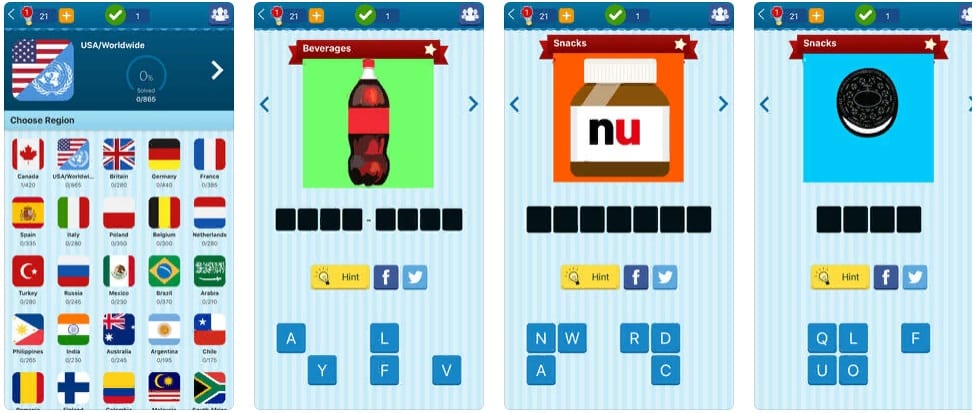 Check also: 8 Best caligraphy apps for Android & iOS