Memes, funny videos, hilarious apps for distorting your appearance or changing how you (or your friends) look in a funny way is a trendy thing nowadays. You probably remember that funny video with a Japanese guy singing about the pineapple and a pen.
And almost all viners are using the effects of cut and pasting their faces into funny scenes when they make their videos. Moreover, it is just a cool way to have a great time and chill. Or, maybe, you want to make an unusual birthday congratulation for your friends with something they don't expect.
With these apps, you can experiment as much as you want, be creative and surprise your friends and family. Check our list and you will easily create dancing videos like these with your own face pictured 🙂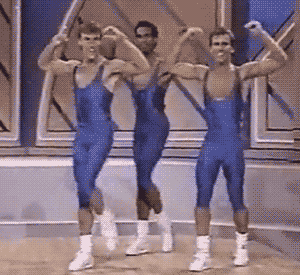 1.ElfYourself
Especially trendy at the holiday seasons. In this app, you can turn yourself into a Christmas elf and add this picture to a number of customized videos. You will see your face together with the dancing elves. Here you can upload up to five photos of your of other people and make a funny collage so you all would be dancing together.
The app also includes several dancing options. After you are done you can send it to your friends and family – there is a big chance that it is going to become popular among your circle (and maybe not only there), especially, if Christmas is around the corner.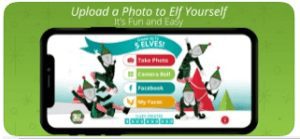 You may also like: 11 Free apps to cartoon yourself on Android & iOS
2. iFunFace
This app provides you significantly more possibilities than the previous one. Here you can layer your own audio recordings on the video and go all crazy with the editing. What is remarkable here, the app has its own speech recognition technology that allows it to create animation for you automatically.
It's a great option especially for those who don't like to make the meticulous editing of the amusing videos they make. So yes, everyone can create a video here and no special skills are required.
What you have to do here is to choose a picture from your phone's library, edit it in a funny way (if you want) and then layer it on a dancing video (that you also need to upload in the app) and then set up all the necessary animations.
After that, you can also record your own soundtrack for that video in order to make it even funnier. After you are done with the editing, you can share it with all your friends and family via messengers or social networks.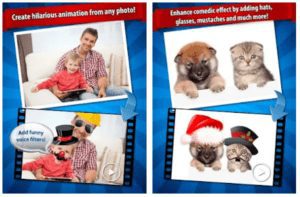 3. Your Dance Face – Collection
Another super fun app for you and your friends to laugh at each other. Your Dance Face is a very expressive and captivating dance on its own, moreover, it often becomes a subject of memes and jokes. But all these emotional and sensitive movements are going to look hilarious with your picture of the dancer.
Show your friends what a skilled dancer you are and how attractive you look in your frilly dress. Have fun together, and organize a competition of who will make the funniest video.
You can always upload pictures from your phone's library or take a snap right in the app and then use it in a video. Plus, you can dance with your friends. There is a tool here that allows you to create a two-head video.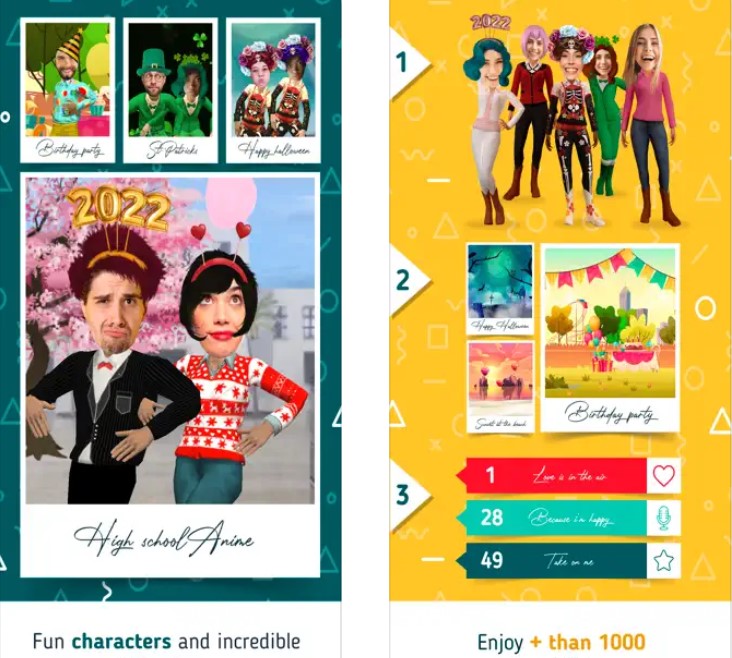 4. Your Face Dance – Happy Birthd
It seems like it is possible nowadays to find an app of any kind for special life occasions, holidays, birthdays, and so on. Well, this one is made specially to wish your friends and family happy birthdays in a very creative way.
Just like it used to be popular to make huge papers with faces cut and pasted into funny backgrounds, now all of that is possible to be done in the app, but here you can also enjoy the cool animation.
The app has a couple of templates with dancing people where you can paste the face of your or your friends, Add funny music to the background. And there you have it – a video where you are dancing in a ridiculous way, wishing your friends Happy Birthday! Here are many familiar videos from cartoons, movies, and comic books.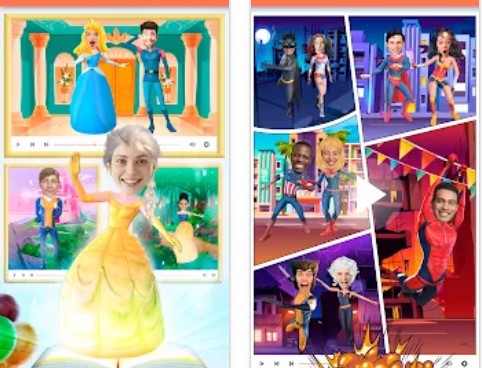 5. Add Face To Video – Video Status
One of the most popular apps on the market that gives you a chance to put your face on other dancers' bodies and create amazing video content.
Probably, the reason why this app is so demanded is that it is really simple in usage. Here you don't have to use any elaborate tricks and editing to create a video meme; you can do that in a couple of clicks. All you have to do is to upload the picture of anyone you want in the app and then place it on to one of the dancing video templates.
And being honest, considering the templates, the app has a decent choice. You can choose the one with a single break-dancer on the scene, you can choose a background of a rapper sitting together with half-naked girls, you can choose a woman belly dancer and many more. The best thing is that this app is absolutely free.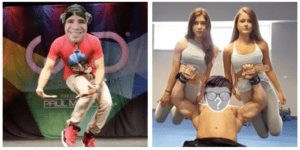 6. JibJab
One more app that is trending on the market right now. JibJab is more high-quality than the previous apps in this category and there is plenty of ways how you can use it. You can wish your friends "Happy Birthday", you can make a funny video meme for your marriage anniversary, for your friends' promotion, in other words – you can experiment as much as you like.
In fact, JibJab is considered to be the leader of the industry and the initial app that inspired other developers to produce something similar.
The app gives you a chance to create content for such roaring holidays as Christmas, Hannukah, New Year, Valentine's Day, Saint Patrick's Day, Easter, Mother's Day, Halloween, Thanksgiving – and this is not even a full list. All you need is to pick up a template that matches your occasion and upload your face (or the face of another person in there).
JibJab does provide a diversity of choices considering templates. Moreover, you are always free o customize it in a way that you can make it look more like a photo or a simple video. You can add titles to the vid and make color adjustments.
Moreover, you can save your content not only as a video but as a GIF image and make a meme for your friends that you are going to use in your circle. You'll find 1,000+ GIFs in the JibJab app that are free to view and share. Each video template has its own musical background matching the theme of it.
The only thing you should consider, the membership of JibJab is not free and there are some built-in purchases in the app.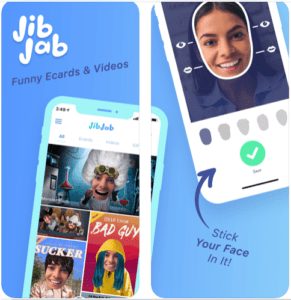 7. Xmas Dance – 3D Yourself
Apparently, Christmas is the most common occasion for people to perpetuate their faces on dancing videos because there are no other explanations, why the apps of this category consist of almost 50 percent of the whole market. On the other hand,
Christmas is always a special season for everybody and why not making it even more memorable by creating something that all your friends and family can laugh at.
The app contains truly cool and qualitative 3D templates of dancing characters with different backgrounds. In some ways, it reminds of those first iOS apps, where you had a Tom-cat or a dog to which you could talk, play with it and so on.
The advantage of this app is that it was released recently to the market and considers all the latest world trends in memes. elect the best dance theme and get ready to do the traditional Christmas dance. Dance alone, dance with your friends or dance with a lovely reindeer.
Bring joy and live the Christmas spirit. Humor and happiness are the best ways to start in 2020. As always, here you must upload the picture of your face, then place in onto a 3D character in one of the snowy templates, adjust the timeline, music and share your little "masterpiece" with the whole world.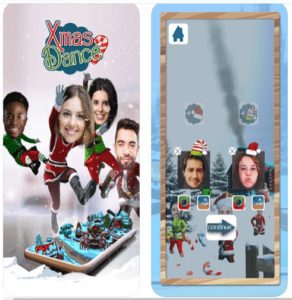 8. Dancing Trump Yourself – dance with politicians
Politicians have always been one of the main subjects of jokes and memes. It would be weird if there would be no funny dancing apps with them. The reason for that is that these people have to have a strong signature image in order to stand out and be remembered and the image is soo authentic that it is easy to mock it.
This app contains templates with 3D animated versions of dancing politicians where you can add your face to. For example, you can cut out the face of your best friends and paste it onto the dancing Trump. Of course, not all the politicians are represented here, only those who gained the most "memable" reputation.
9. Dancing Elf – Happy Moves & Christmas Celebrations
Another Christmas theme dancing app that is quite popular on the market. However, in comparison to other Christmas dancing apps, this one differs with its high quality of pictures and characters. All the templates are performed in 3D mode, include lots of detailing and look really cool.
So here you can turn your friends and yourself into the dancing elves. Just paste your face onto characters in the app. If you like the result that you got you can share it via social networks and messengers. The only aspect, sue to the higher technical requirements, the app can crash on some devices.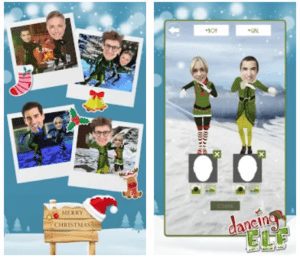 10. Reface: Funny face swap videos
Reface is a little bit different kind of app, but it is its advantage because it distinguishes it from other apps in this category and makes our list more diverse. It is a video creator where you can actually make people dance in the picture.
What you need to do here is to choose one picture, where the person that you would like to make dance is photographed, and then start editing.
It is really good that you don't need to waste your time on some technical adjustments and you can see instant results. Just choose an option and watch the position of the person that is on the pic, change. Create animation and make a video out of it.
Overall, the app includes different dancing combinations. You can also layer various filters on your GIF to enhance the effect.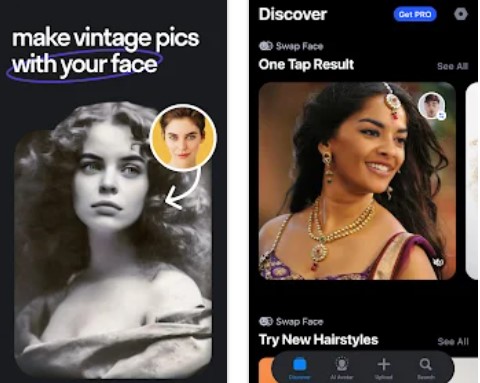 11. Anime Yourself
That kind of app should seem weird but in reality, it is hilarious. Actually, the anime theme is also one of the most fun in the world. So why don't you turn yourself and your friends into anime who dance hilariously?
As usual, the app contains several templates where you can paste your photos on the characters and make a funny dancing video. Anime Yourself has some really cool templates with different moods and backgrounds.
After you are done editing the video you can share it via social media and messengers.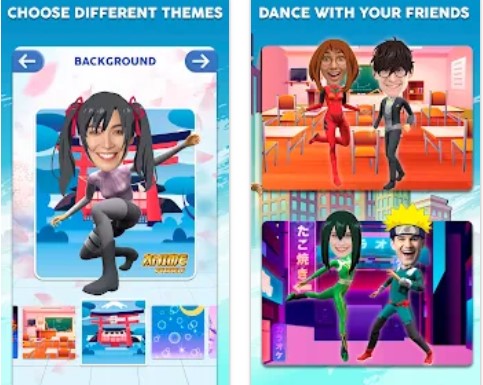 12. Santa Yourself – Your Face in a Christmas Video
Are you ready for the year 2020? Here is the cool app to break into it with a cool amusing video of yourself dancing in a Santa's body! Become a Santa for your friends and family and use this app to wish them all the best for the upcoming year!
Using this app is a lot of fun: it includes several templates with different backgrounds with ta dancing Santa on it.
You can choose either the classic scenario where Santa is dancing in the middle of frosty winter sceneries, or you can choose the one where he is dancing on a tropical beach in Hawaii. The latter variant would be applicable for those who prefer to get away to tropical climate during Christmas and New Year's Eve.
The distinctive feature of this app is that it doesn't just use a flat picture of your face but it converts it into a 3D format so you look more realistic and coherent on the video. What is more, different templates include different dancing scenarios and you can choose one which resonates more with you.
You can also record your facial expression in the real-time mode. Another cool thing is that here you will also find a Thanksgiving Turkey template that makes funny dance for the upcoming New Year.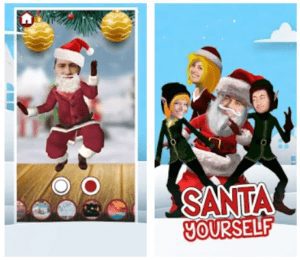 13. Add Face In Video – Funny Face Video Maker
Here you can add your face to a number of popular funny dancing videos. Do you want to dance Gangnam Style? Break Dance? Ballet? You will find all those options in this app where you can easily stick your face to others' bodies and laugh at yourself and friends.
The first thing that you need to do is to study all the options of dancing videos that this app provides and choose one that you like. Then you need to select the image that you want to paste on the video from your gallery. After that, you are cropping the image with the free finger rotation and set your face into Face Mask.
Then, to see the preview, tap on the right click. If you like the ultimate result you can save this video to your smartphone to the Creation folder and then share it via social network with your friends and followers. The app is easy in usage and doesn't require much effort to put your face on dancing characters. Enjoy!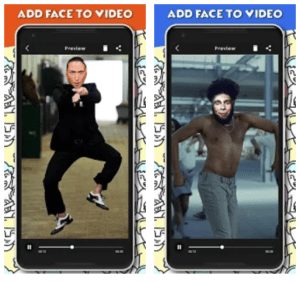 14. Face Changer Video Clip
One more app to create videos with dancing you, but this one, in particular, is not only for dancing video creation. It contains various templates with different scenarios where you can stick your picture to.
Besides, here you can paste your face onto a celebrity. There are templates, where characters are dancing in the superhero costumes. The app doesn't take you long to create one of those funny dancing videos – all you have to do is to choose the picture from your phone's gallery and choose a template from the app and it will take care of the rest.
The app is completely free. However, some templates provided here look way too simple and even not interesting.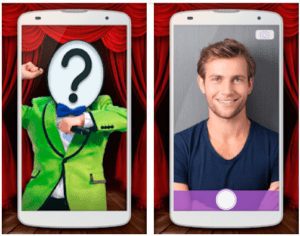 15.  Add Face To Video – Funny Video Maker
This app allows you to add faces to videos with more possibilities to actually make the editing and giving you more control over the whole process.
First, you need to cut out your face for one of the 3D templates presented in the app. While cutting, you will be able to make it in a shape specifically required by the angle of this video and this way the ending result will look more coherent.
After you are done with cutting, you need to choose a 3D dancing character on which you want to stick it. Then, choose a background. By the way, here goes probably the main disadvantage of this app – the choice of them is really lean and they all look pretty plane (brick wall, black screen and so on).
After you have chosen a character and background you can add the soundtrack to the video and see the whole result.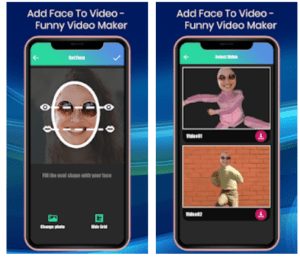 16. Faces: funny face changer
Faces is an app that makes your face look funny through GIF animations. Do you want to create a cool entertaining video clip, but you have no ideas? Then you will definitely like this program. You can use GIFs for the holidays and just make music videos and cheer up your family and friends.
The app also has a lot of songs that you can shoot to and then add your face and different images. There are lots of special effects and masks. Get creative on changing your face, try on hats, coats, and other items of clothing.
GIFs of faces, animals, robots, everything can be made and superimposed on your face. It's really cool! Everyone can create an image to suit their tastes. Be sure to send GIFs to your friends, put them on social networks. In the app itself, you can find your friends, send them your GIFs, and just chat.
This app is available in all countries. There are tons of features here. You can create selfies with a clip, make up captions for videos, make greeting cards electronically.
Make a nice personalized greeting and send it to the birthday person. Try out all the benefits of Faces and invite your friends to get creative together.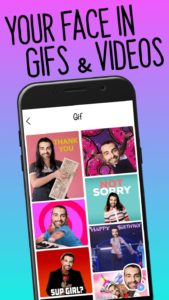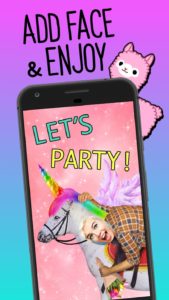 17. Dance Yourself 3D Face Videos
The Dance Yourself 3D app allows you to choose any location you like and place yourself on it. All this is possible thanks to modern technology. Here you can turn yourself into a dancing star. Conquer and surprise your friends and followers on social networks.
The finished image can also be turned into a GIF animation. Such short video clips will definitely become the most eye-catching content in your profile. There are also ready-made templates here that simplify the whole process. All the tools here are completely free, which is its clear advantage.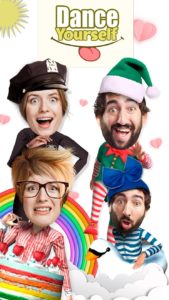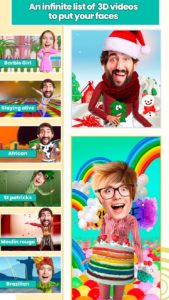 You may also like: 6 Best body swap apps for Android & iOS