For the past few years, the popularity of multiplication films has increased dramatically. Owing to computer graphics, children, as well as adults, are entranced by cartoons. And of course, most of us try to imagine ourselves as characters of this or that cartoon. Unfortunately, it always seemed unreal to learn how you would look if you were a sketch for a cartoon. 
Believe it or not, but now you don't have to be an employee of The Walt Disney Company or DreamWorks Pictures to see yourself animated-cartoon. The thing is that there are many mobile apps that can make your dream come true.
Here are the best apps to cartoon yourself, available on the App Store or Google Play. Though some apps offer in-app purchases, you will really enjoy free features. 
1. Prisma Photo Editor
The first unique app is called Prisma Photo Editor. By using it, you will cartoon yourself by one tap only. 
The app has more than amazing 300 art styles that you can apply to any photo you wish. Moreover, a new filter is added daily. That's why the choice is really great.
After applying filters, you will be able to edit your photo with the built-in powerful tools. 
The main distinguishing feature is that the developers have created dozens of filters capable of making your photo to be drawn by famous artists such as Picasso, Munch, Salvador Dali, and so on. There's no other app with this feature.
One more thing that you will like here is the app's community. In the Feed section, you will be able to share your masterpieces as well as get inspiration from the works of other users. The app also supports chats, so it's suitable to make new friends as well.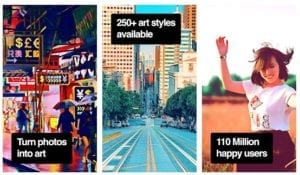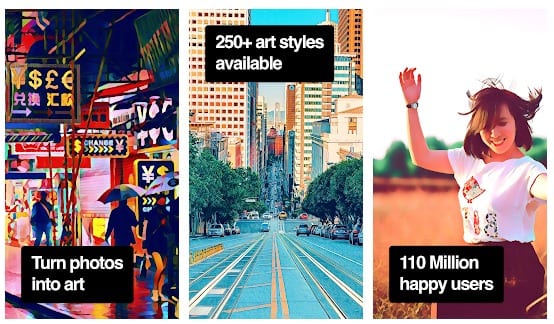 2. Painnt – Pro Art Filters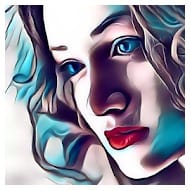 The next great app where you can cartoon yourself is called Painnt – Pro Art Filters. We guarantee that you will definitely enjoy the result.
Like the previous app, this one will turn you into a cartoon character by applying filters. There are above 1 000 of them, including a classical, comic book, modern, abstract, mosaics, etc. Your selfie will surely look like created by an animated cartoon designer. 
Additionally, you will get access to the images of other users. Comment on their works, get feedback on your photos and chat with like-minded people. 
Moreover, the app will let you share your photos with friends via social media directly from the app.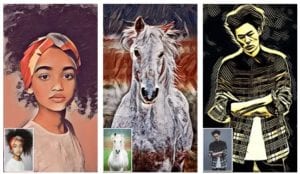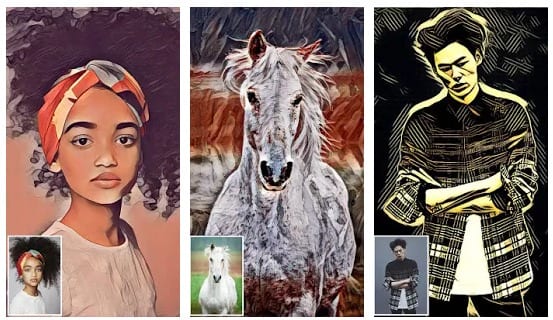 3. MomentCam Cartoons & Stickers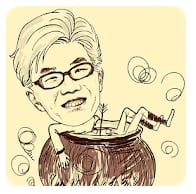 MomentCam is the app we can't help admiring as well. It will be so suitable for those who want something more than just photos.
First of all, your task will be to upload a photo and apply it to any animated-cartoon background available. After that, you will be able to fully customize your creation by choosing clothes, accessories, and many other items. By the way, it will be available to cartoon yourself with your friend, kin, or lover. The photos created are really wonderful.
Apart from this, the app is capable of creating funny personal stickers as well. As you can see, you will look like the character of a cartoon. You will need to upload your selfie, and the app will instantly create the emoticons. It will be available to use them in your favorite social media.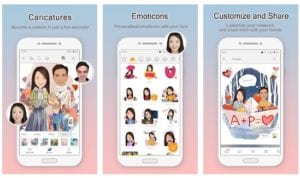 Would you like to apply facial hair on a photo? If your answer is affirmative, read our post to learn how to do this.
4. Bobble Keyboard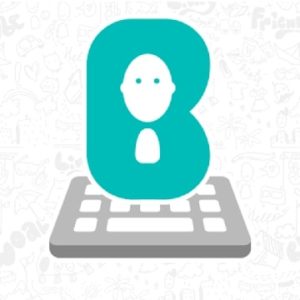 As for an alternative, we strongly recommend you one more app. The Bobble Keyboard app will let you cartoon yourself as well as create funny stickers with your portrait.
The apps support the creation of unique stickers where you will look like a cartoon character. The actions are very simple. You will need to take a selfie, apply it to any template you want, and it will be ready. By the way, there is a wide range of templates grouped into various categories. That will make the working process much more convenient.
After creating, it will be quite easy to add your personal stickers to WhatsApp and use them while chatting. 
As a bonus, you will get many other features such as Emojis, Memes, Stickers, GIFs, Keyboard Themes, etc. Moreover, those who are from India can try the Voice typing feature and Regional Language Keyboards as well.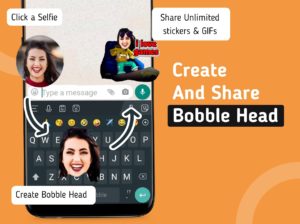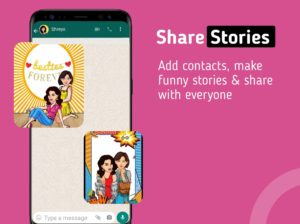 5. Bemoji | Your 3D Avatar Emoji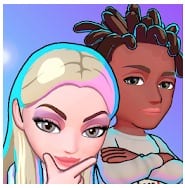 Bemoji is one more amazing app capable of creating some things cooler than photos. This very app is powerful enough to create your own 3D Avatar that will look like a cartoon character. 
By scanning your face only, the app will create a virtual copy of you. To make it more similar, you will get access to skin tones, eye colors, hairstyles, hair colors, and more. Moreover, you will have hundreds of kinds of clothes, shoes, and accessories at your fingertips. By the way, it will be available to change an Avatar's appearance every day to make it match you. 
After creating your Avatar, you will have dozens of possibilities to use it. 
First of all, it will be available to create Emoji GIFs and simply Emojis with your Avatar. Virtual you will express various emotions so they will be suitable whatever the occasion. Use them in your messengers to make the chats unique. 
Then, you will have a chance to take photos and even videos with your 3D Avatar. Be sure that they will look outstanding. Also, it will be a good idea to create your friends' avatars and use them for photos or videos with you. Anyway, it will be available to share the content via social media with your friends.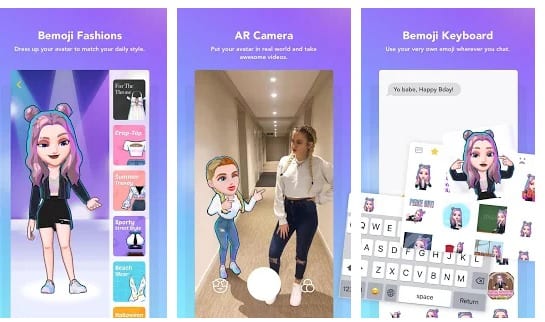 6. ToonArt: Cartoon Yourself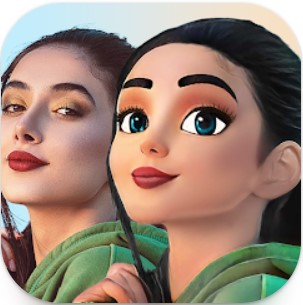 Now let's go back to the apps that will turn your photo into an image drawn by a cartoonist. ToonArt is one of them as well.
In this case, the app suggests dozens of excellent filters that will let you imagine yourself as a character in a cartoon. Also, it will be available to apply colorful masks as well. With all these features, you will easily cartoon yourself.
You can also create your own mini avatar that looks like you. In addition, there are various photo effects that will enhance your selfies. Anyway, the result will be marvelous.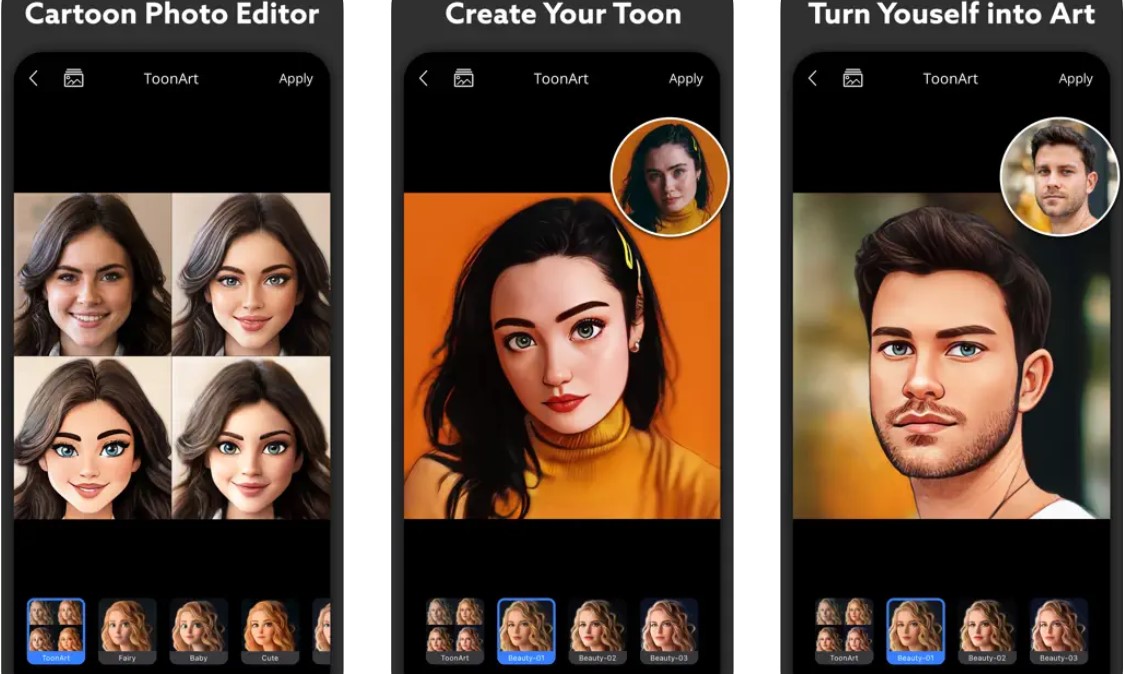 7. Clip2Comic & Caricature Maker
Clip2Comic & Caricature Maker is a must-have app for iOS device users. Being a leader among this kind of apps, it will surprise you for sure. 
Like in previous apps, with the help of built-in powerful filters and tools, you will be able to turn your photos as well as videos into a cartoon. Comic, poster, sketch, and caricature effects will let you achieve the desired result.
Apart from basic features, there are several distinguishing ones. For example, the app supports live preview camera, so you will be able to take shots and upload them into the app instantly.
Besides, it will be available to cartoon only a certain part of a photo. This feature will make your images highly original. 
After finishing the creation, you will be able to save your masterpiece in high-resolution and share it with friends via social media.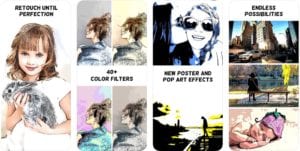 8. comics and cartoon maker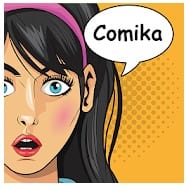 If you are a fan of DC or Marvel, probably you are in search of the app capable of turning your photo into a comic-strip image. The comics and cartoon maker app will absolutely gain your requirements.
You will have to upload a photo from your phone gallery or take an instant photo. After that, there will be many effects available for your image. Apply one of them and become an animated-cartoon superhero. 
By the way, the app also supports speech balloons where you can type any text you wish.
Finally, you will be able to share your work via social media or even create your own comic strip.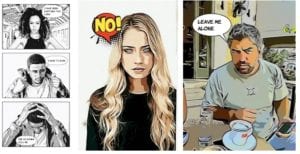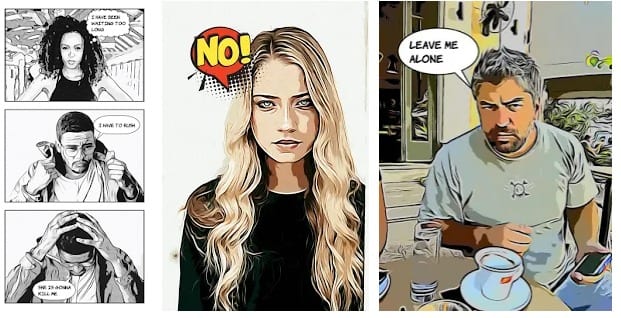 9. Art Filters & Effects – Cool Art Photo Editor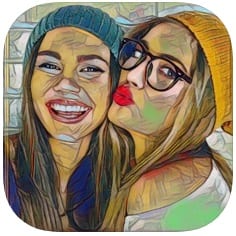 One more app where you cartoon yourself is called Art Filters & Effects. Just like previous apps, this one will let you turn yourself into a cartoon character with several taps. 
Its functioning principle is the same. Owing to dozens of photo filters, you will easily achieve the result. There are plenty of effects such as Sketch, Coloring, Glamour, Mosaic, Anime, Painting, Impressionism, Abstract, and so on. 
After that, you can use various tools to adjust your photo and make it more similar to an animated-cartoon image.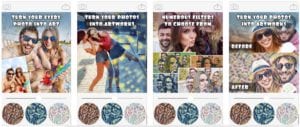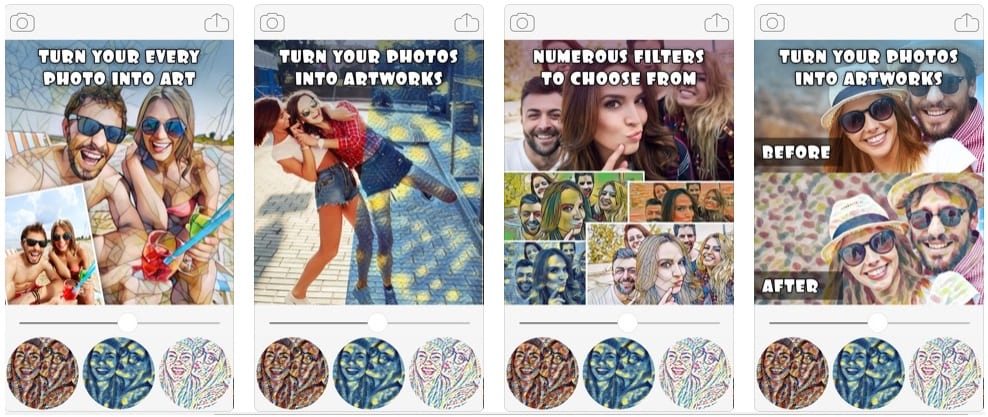 10. Cartoon Photo Editor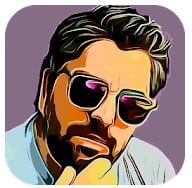 The next app to cartoon yourself is Cartoon Photo Editor. As usual, its powerful filters will make you admire the result.
The app is with no-frills. But the photo effects (cartoon, sketch, oil painting, pencil, thermal vision, crosshatch, etc.) are worth being used. They will be great tools to turn you into a cartoon character. Also, the app is highly appreciated by its users.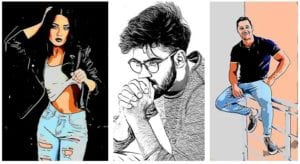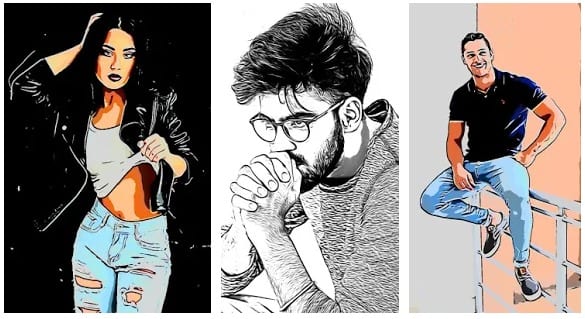 11. Photo To Cartoon Yourself Edit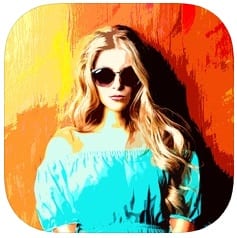 The last but not least app is called Photo To Cartoon Yourself Edit. It seems to us that it also must be listed here.
It has all the basic features of this kind of apps. At the same time, the developers should be praised because of the results achieved by the apps' users.  The thing is that its powerful tools will let you cartoon yourself by using photo effects only. So you will look absolutely like a character of a cartoon.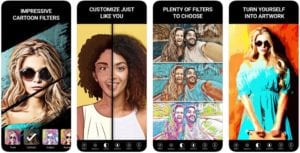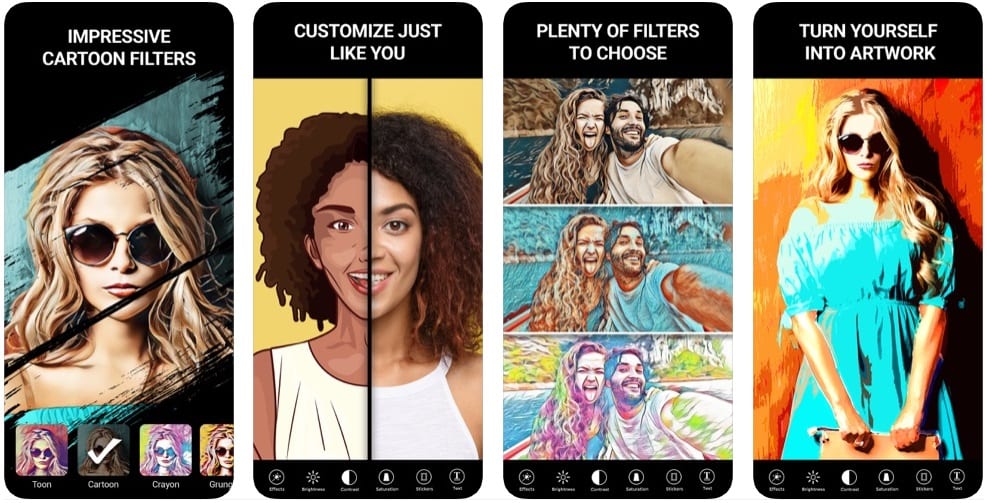 You may also like: 9 Best apps to change eye color (Android & iOS)