Are you dreaming about a bushy beard? Or maybe you want to grow a mustache and a beard wondering how it will look like? Perhaps, you are planning to change the style of your facial hair? If these questions are true for you, this post is exactly what you need.
Apps' developers have done their best to help you in this matter. They suggest various facial hair apps available on the App Store or Google Play. But how to download a really worthy app?
No stress, in this post we have reviewed only the newest hits, that will let you see yourself with a beard and a mustache. Read it, install several of them, and make yourself more brutal.
1. Beard Booth Studio – Edit Photos and Get Beard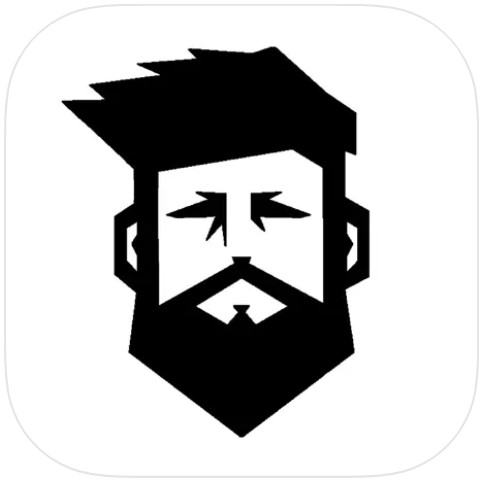 The first app that we can't help admiring is called Beard Booth Studio.
To begin with, you will have to load an image from your photo gallery or add it by taking a photo directly from the app. After that, you will get access to dozens of fashionable or funny beards and mustaches. For your convenience, all of them are grouped into theme packs. Of course, you will be able to resize and rotate facial hair items to make them fit perfectly.
Finally, you can easily share your masterpiece via Instagram, Facebook, or Twitter. As for Facebook, the app has the Add-a-caption feature for posting.
By the way, Beard Booth Studio supports its own hashtag – #beardbooth. Follow it and make yourself sure how realistic the app's facial hair looks.
As a bonus for iOS device users, the app's developers suggest free iMessage Sticker Pack. Such a helpful feature.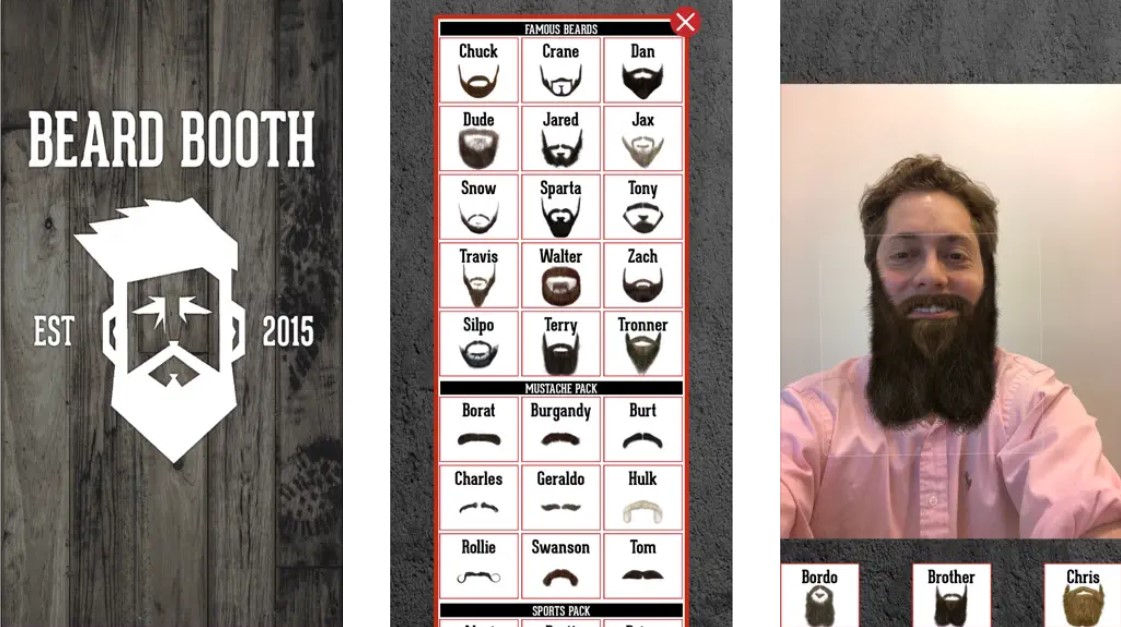 2. Beardify – Beard Photo Booth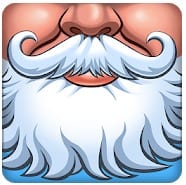 This app is for those who are searching for a great collection of beards and mustaches in only one app. Be sure that you will be surprised by the wide choice here.
Only here you will find really unusual styles of beards. For example, Verdi, Hulihee, Chin Strap, Mutton Chops, etc. You've hardly even heard about these styles. Now you can try it at once.
One more distinguishing feature is that the app is capable of matching the facial hair color to your hair color. You can't imagine how realistic it will look.
What else? Beardify has a special system that can make you being animated. By using this feature, you will cause your image to sigh, blink, sneeze, etc. After that, you can create a short video with this animation. Of course, you will have a rough beard and mustache on it.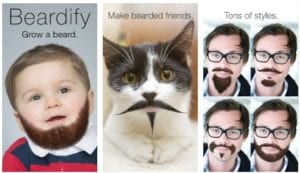 3. Beard Photo Editor – Beard Cam Live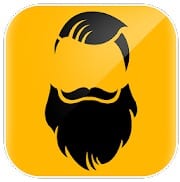 If you want to become more handsome on the photo, try Beard Photo Editor and drive everyone mad.
It is so easy to do this. Load an image from your phone gallery or take a selfie with the app. Then find the most suitable beard and apply it to photo. It will be very hard to choose because of a great variety of facial hair items. The next step is adjusting a beard's saturation, size, brightness, etc. to make it seem real.
What makes Beard Photo Editor unique? A built-in AI system that will automatically apply the beard when detecting a face. Apart from this, here it is available to use a beard on Live Camera, without taking a photo.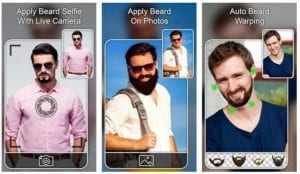 4. Beard Man – Beard Styles & Beard Maker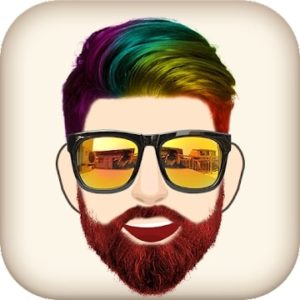 Beard Man is an app for adding beards, hairstyles, and other parts to photos. A great look always lifts your mood, so it's really important. Try on different kinds of beards that will really suit your face.
The app will turn you into a different person altogether. You will be able to experiment with your appearance as much as possible without actually doing anything to it. Also, change the hairstyles on your head, choose the length, color, and other options.
There are many styles to choose. Pick and see which one suits you best. What's more, this app can play the role of an editor. Try to change the quality of your body, here you can do a visual press and in general, make your body more beautiful.
Try out tattoos on your body. Before you go to the salon and get your design done, you can try everything on here. Cut out the tattoo and apply it to your body. There are various accessories available, you can try them on without rushing, and then choose in the app to buy them in life.
Beard Man is high rated by users with an accessible interface. This is a great opportunity not to waste your time going to the store and the salon, everything can be done much faster at home!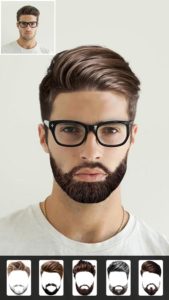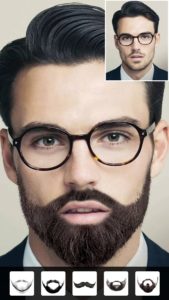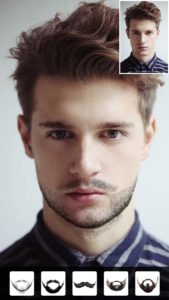 5. BoothStache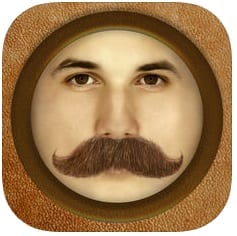 One more app with an excellent choice of mustaches is called BoothStache.
The consecution of action is the same: load photo in two ways, then chose any style of facial hair, and the app will apply it to photo. Then you can save an image to your photo gallery or share it with friends.
As for advantages, the app is so convenient. First, look how both elegant and simple the user interface is. Secondly, the app is capable of automatical adjusting the color of the mustache to your hair color. Thirdly, the app works perfectly in offline mode. Then, you will be able to choose a certain face among many on the same photo. And finally, here it is available to shake the phone to see before and after images. That sounds really great!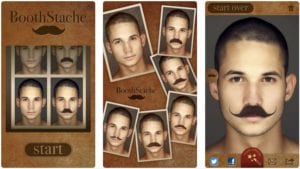 6. Beard & Abs Photo Editor for Bodybuilding – Macho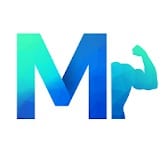 Macho is one more super-functional app that will let you grow a mustache or a beard directly on the photo. By following certain actions mentioned in previous reviews, you will quickly become a person with bushy facial hair. By the way, you will be agreeably surprised by the choice of beards and mustaches.
What makes the app unusual is that here you will be able to apply not only facial hair but also dozens of tattoos, hairstyles that will look as natural as it is possible. Additionally, the app has a feature to perfect your face skin, enlarge your body muscles, make you slimmer and taller, etc. Besides, you will get access to the photo editor and various filters that the app has as well.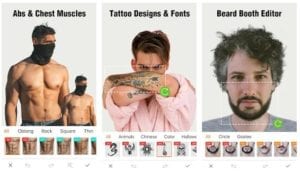 Do you want to be fully satisfied with your figure on a photo? Read this article
7. Retouch Men: Abs & Body Editor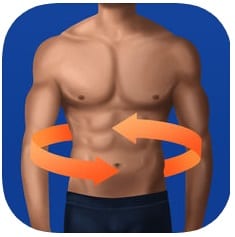 One more similar app is called Retouch Men. It will be appropriate for those who are searching for an all-in-one app, like the previous one. In this case, the app has been developed for iOS device users.
To begin with, here you will be able to make yourself bearded on the photo. Almost all beards are completed by thick mustaches. It will look so realistic!
The app's capabilities are really endless. The thing is that here it will be available to remove facial skin flaws, make yourself muscular and slimmer, change your hair color or even hairstyle, add a tattoo. Additionally, you will be able to replace your photo background with templates suggested. That's so appealing!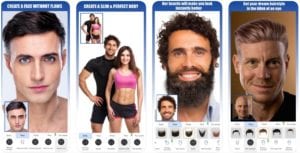 8. Beard Photo Editor
Beard Photo Editor is an app for creating hairstyles and beards. Would you like to experiment with your appearance, or add something new? Then this program is definitely for you. Also, you will be able to look at other people and try on their hair.
The app will give you the opportunity to see how people will look with different beards. There is a huge amount of beards for different tastes, everyone will be able to pick what they like. There is a built-in function to crop photos or ad text.
You can do everything virtually in the app and if you like your work then make the haircut a reality! The program has a lot of features. You can choose hairstyles without changing the way you look in real life. Choose the color and shape of the haircut.
By the way, the app is absolutely free. Beard Photo Editor users love the user-friendly interface and good graphics.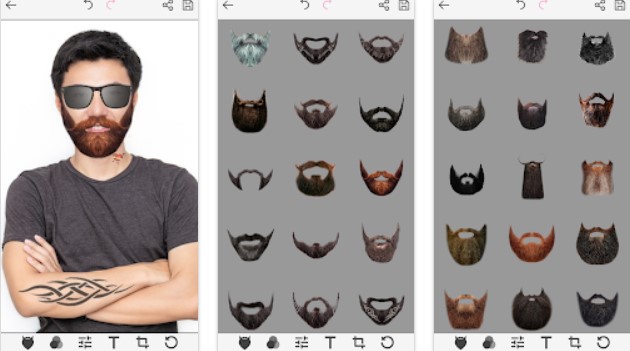 9. Beard Booth – Photo Editor App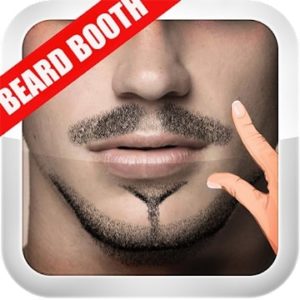 Beard Booth is an app for creating facial hair. This program is suitable for you if you have long wanted to change something in your appearance, but did not dare to do it. You will be able to pick up different beards of different shapes and colors.
Here you can easily choose your favorites and immediately try them on your photos or pictures of your friends. It's easy to try on hair here and it looks great. The app picks everything up intelligently and pays attention to your face shape and features.
Try the beard right away on the finished photos, or take a picture and start trying it on as well. Save the photos and share them with friends, relatives, you can put them on social networks.
The program has many features. There are huge variations of beards for every taste. For a better effect, you can easily rotate the image, zoom in or out. What's more, the app is completely free. You will be able to use the settings and adjust the thickness, color of the beard.
Beard Booth is high rated by users with its accessible interface. This program is designed to change your appearance. So, you will be able to go to the salon with confidence and make a new look after you try out and choose yours virtually.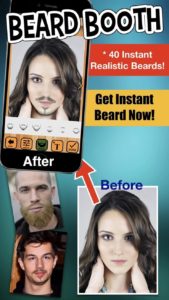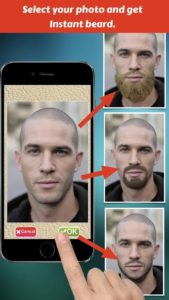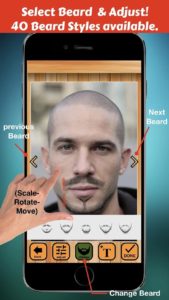 Check also: 11 Face off editing apps for Android & iOS