Asian TV shows are becoming increasingly popular for a reason. Indeed, Korean TV shows are amazing in terms of their compelling storylines. As soon as you discover the world of Korean dramas, you have a great desire to watch them subtitled in HD. There are many platforms created to watch Korean dramas. In this article, we have compiled the best of them.
Also, all lovers of Asian culture will probably find the article the Best Webtoon Apps to Read Manhwa incredibly attractive. After all, there are cool Korean comic book reading apps in this selection.
1. Viki: Asian Dramas & Movies
Nowadays, this is an incredibly functional and convenient app for watching Korean series. Indeed, this is where you will find many Korean as well as Chinese, Japanese, and other Asian dramas. In addition, the app works in English.
Moreover, this app is unique because every Korean TV show has subtitles in Korean and other languages. This way many users even practice the Korean language. It is also important to note that shows can be watched in HD, while series are released on time.
Moreover, you will find a huge choice of genres here. Besides, it has a Watch Party feature, which lets you share a movie with your friends by sending them a link. The Viki has free content as well as a paid subscription. A nice bonus of the Viki is that each drama includes a cast list, plot description, trailers, and additional content.
In addition, this platform broadcasts shows from all of the major TV stations. Furthermore, you will find an unlimited number of Asian movies, TV shows, reality shows, and other programs. There is of course a Favorites button that allows you to save content for watching later. On top of that, there is a lot of content for the fans of KPOP.
So it has everything from songs to detailed artist information. Also, this app is distinguished by the fact that there are official pages of Asian celebrities, who post a lot of new and interesting information ahead of the rest.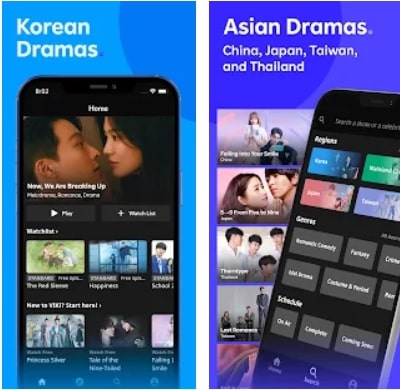 You may also like: 21 Free movie apps for Android & iOS
2. iQIYI-Drama, Anime, Show
iQIYI is the leading and huge video service in Asia. In Korea, this app is just like Netflix. Therefore, we cannot help but put it on our list of apps. Indeed, this is the place for all popular Asian dramas. Over one thousand unique classics, Korean and Chinese dramas, as well as Korean movies are presented here.
In addition, by using the app, you can get access to content that you enjoy before anyone else. It is obviously possible to view films here and use the language switcher. A number of shows are subtitled in both Korean and English. In addition to Korean content, iQIYI offers also many films and anime. The app also delights its users with regular updates and some special videos.
Besides, the developers have taken care of сonvenient subtitling options so you can customize them. Another thing to note is the cool search options. So you can find any particular video material without knowing the title.
Also, you will have a comfortable viewing history here. That way, you certainly will not be able to forget a minute where you stopped. And more interestingly, alongside the South Korean TV shows, you will have some Netflix series because iQiyi has a licensing agreement on it.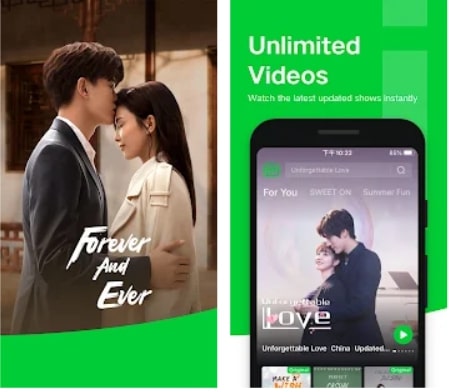 3. SBS – On Air, VOD, Event
SBS is a South Korean broadcasting and radio network. When it was created, SBS was the second private broadcaster in South Korea. This app is suitable for a loyal fan of Korean dramas. After all, this channel mainly produces dramas.
You can check out popular dramas like The Heirs, Man From the Script, The Master's Sun, and others. If these titles are familiar to you, you will surely like the application by the SBS channel as well. First of all, here you will find all the high-quality video content, which is so pleasant to watch.
In addition, you will get not only SBS channel programs but also such widely watched channels as KBS and MBC. So you can find almost all doramas with this app.
The main plus of this app is that TV show episodes appear on it extremely fast, as soon as they premiere. The main advantage of this app is that shows can be watched 24 hours a day despite the time difference between the US and Korea.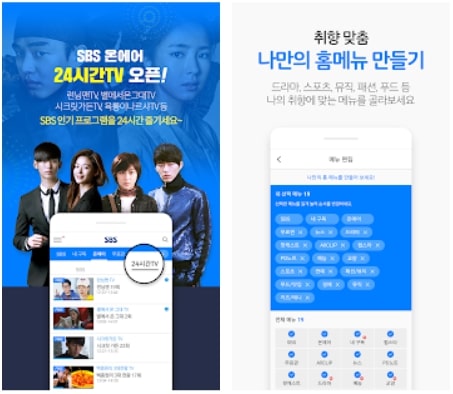 4. KORTV – Korean Entertainment 24/7
KORTV is a free-to-view top app that mostly gives you the ability to watch live channels. This is where you can view in real-time your most preferred TV shows. So, KORTV provides you with a way to access the most-watched channels in Korea, which you may find on the home page or find in the search bar of the app.
In fact, it has more than 50 channels. In addition, the app is designed so that it has a convenient and pleasant interface. During the viewing of content, you can tap the replay button to replay the scene. It is safe to say that it is a cool platform in order to legally enjoy Korean and, in fact, all Asian TV series.
Also, everything in the app is conveniently arranged that allowing you to find out what other users like as well as check out the content made especially for you. The great advantage of KORTV is the extensive range of dramas, films, and live shows.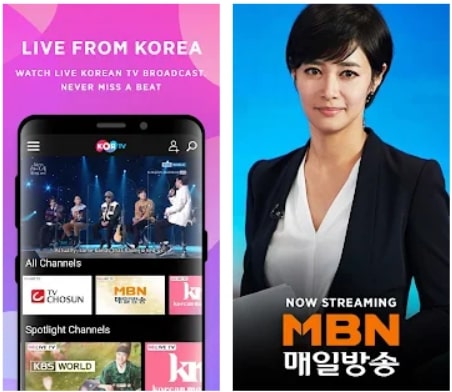 5. Viu
In order to catch some Asian dramas, you can also try out the Viu app. The Viu offers you not only access to Korean dramas, but also all content made in other Asian countries, for example, Thai or Japanese dramas. Thus, you may come across the hottest TV dramas and TV shows using this app. In addition, it is a total cost-free app.
Moreover, it has super easy-to-use navigation with a search bar that is quite helpful. It allows you to just filter the TV programs by title, artist name, and year of release. In addition, this app enables you to load its content straight from the app. You can download all files with subtitles in English.
You will find a watchlist and favorites for convenient use. These features allow you to mark your favorite content for watching later. In addition, you can easily sync this app with your other devices, for example, to watch your favorite TV show on the big screen. You can also enjoy thousands of live streams on Viu.
For ease of use, you will find a viewing list and a favorite one. These functions let you tag up your preferred viewing content for later watching. In addition, the app can be quickly and easily synced with other devices, for example, to enjoy your beloved programs on a larger screen.
You can also experience literally thousands of live streams on Viu. All kinds of shows, from horror to comedies are available. In addition, it also has a place for anime fans. On top of that, you can even catch episodes and shows produced by your most-loved celebrities and K-pop artists.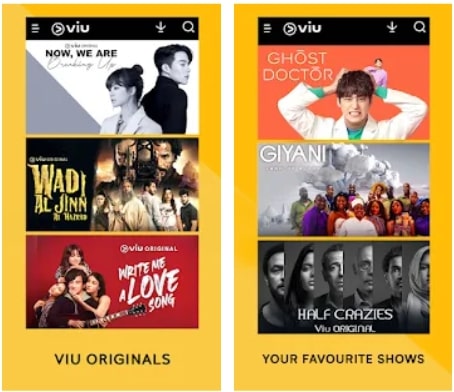 6. KBS World TV
KBS is the top-rated channel for news, education, sports, culture, and entertainment. Moreover, it provides you with a chronicle of various news, including economic, local, and other information. More importantly, you can enjoy live TV shows here. You also get a schedule with which you can check out various shows.
This app also has a feature that helps you not to skip shows, regardless of the time zone difference. Needless to mention, it has a clever search bar where the content you want can be found. You also get a lot of interesting related to K-pop material. The handy thing is that you are able to catch the programs as soon as they are shown on the air. Moreover, it has English subtitles.
In addition, this application allows you to watch not only news Furthermore, not only does this app allows you to check out Asian news and entertainment, but also your favorite dramas and movies from Korea. This app has many favorite Korean dramas and dramatic shows such as The Day After We Broke Up, We K-Pop, Play Seoul.
In these shows, K-Pop stars participate and interact with fans all over the world in real-time. If you want to watch shows created for the Korean audience and broadcast on the popular KBS1 and KBS2 TV channels in Korea, this app is suitable for you.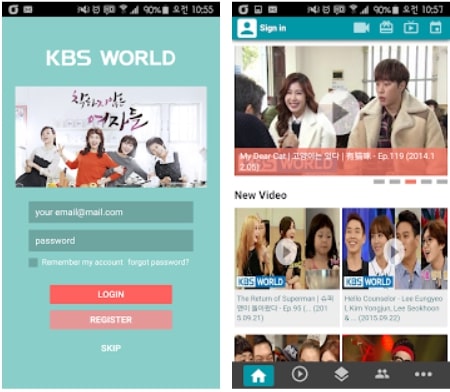 You may also like: 10 Best apps to watch TV shows for free (Android & iOS)
7. OnDemandKorea
This is a wonderful app that is full of content from Korea. Any video with all the preferred subtitles can be watched here. Besides, whenever you want to watch old dramas and TV series popular in Korea, you can easily get them here. Likewise, there are live K-pop or news broadcasts available.
In addition, you can often spot passionate discussions relating to things happening on the screen in the comments. In addition, all TV series updates come as soon as they are officially released. Moreover, it is possible to use this app on all devices. The majority of the content here is free. Channels such as MBC, SBS, KBS, and others are provided.
In addition, there is also available a menu and a searching field in the app where you can browse for shows with advanced search capabilities. The great thing about this app is the fact that a user account can be created. After logging in, you can watch videos from where you previously had stopped. In addition, the entire app is divided into sections such as Drama, Variety, News, and Documentary for ease of use.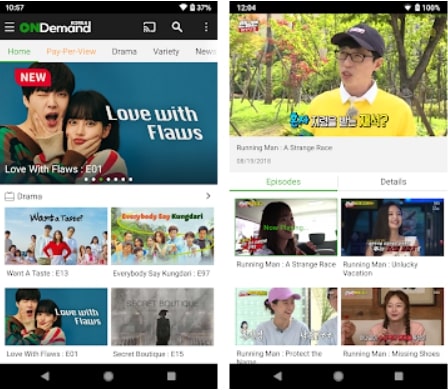 8. Tencent Video
Tencent is a great app with many features. Firstly, it is the best place to watch various Korean TV series from TV shows to dramas. In fact, here you can see not only trending dramas, but also non-aging classic ones. The impressive thing about it is the advanced video player with cool customization options such as additional information, movie speed, and some more.
It also has an interesting feature called Picture-in-Picture. In other words, you can search for one drama while watching another drama. Also, you will notice that the app is rich in genres and categories of Asian content. For example, you can find tv shows, movies, and interviews. In addition, you can watch all episodes from the place where you have paused.
Another thing worth mentioning is the quality of Korean content. You can watch shows in an absolutely different quality up to Full HD. Also, almost all of the videos support many different languages, so you can choose and switch them as you wish. Tencent Video's interface will delight you with easy control of brightness and volume by swiping up and down on the screen.
Besides that, it has fast navigation through the episodes by swiping to the right or left. Also, you can add all your favorite Asian TV series to various lists which will help you quickly find what you need among such a huge variety.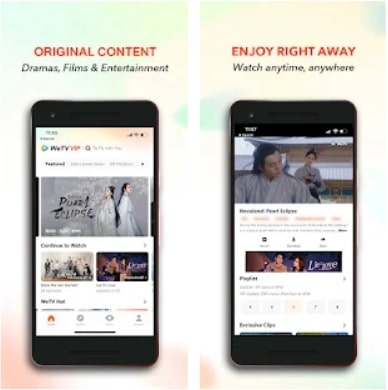 You may also like: 9 Best apps to watch Indian movies on Android & iOS
9. Netflix
This platform needs no introduction. It is by no means cool because of K-dramas, but more of them are appearing on this app every month. Even last year, Netflix invested half a billion in South Korean production. Well, now for those who do not know what is convenient about this application.
First of all, it has convenient subtitles in all major languages. You can watch all TV series and movies here with subtitles and in high-quality dubbing. Secondly, you can watch not only K-dramas but all Asian shows. Moreover, navigation through the app is incredibly simple, some new content will pop up in your recommendations, and through the search, you will find everything you want.
You can search not only for series but also for movies and TV shows mare in Korea on this platform. Besides, this application can be downloaded on various devices, such as consoles or smart TV, to make it possible to watch Korean dramas on any big screen. This means that this app is an excellent choice for everyone who is interested in watching movies legally.