We gathered a list of top webtoon apps to read Manhwa on your gadget! Enjoy:
1. WEBTOON
Extraordinary stories about the lives of princes', animals' and many others are introduced in a specific colorful way. It makes you engaged in a particular story and feel like you are facing all things, standing in front of the characters.
The app includes all types of comics from different countries. That means Manhwas, Manhuas, Mangas, and many other diversified types are introduced in only one app, making it one of the largest sources for reading and spending your time on.
International blockbusters, global phenomenons, and widely popular works are available for anyone, no matter who the person is. Everyone will definitely find the most suitable and appropriate comics that fit their field of interest, whether it is a thriller, action, romance, or any other story genre.
WEBTOON itself provides you with marvelous opportunities to win in its weekly or monthly challenges and get access to a list of costly comics to read free without purchasing.
Also, the app and the website allow new publishers to spread their unique stories and gain popularity among badly interested auditoriums, valuing new creators and artists. This way, publishers can achieve fame and furtherly monetize their works, turning their hobbies into a work field.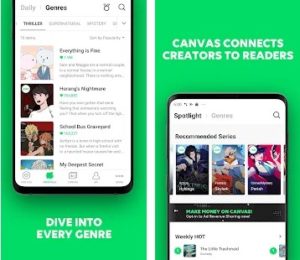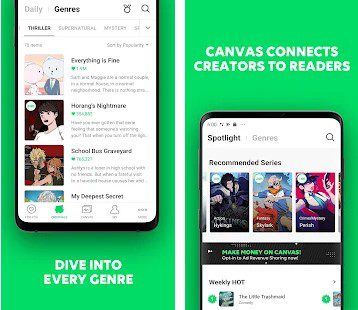 You may also like: 13 Best apps and games for Harry Potter fans
2. Tapas
Discover new stories every day. Exactly this app provides you with the opportunity to read free stories full of action, development of characters, and many other details like colorful interface and vivid design catching your view.
It makes you decide quicker to join the Tapas community and become a constant user.
You can explore a wide range of various genres and styles you prefer the most. If you're keen on adventure stories, you can quickly type it in the search block and find all the suitable comics to choose from. That means you have a great choice of works of any taste to decide.
Identifying the better one for you will also help you get acquainted with its particular author's writing style and drawing. It will guide you in the right way through all the publisher's works and enjoy them accordingly.
By the way, you are also given an opportunity to read paid episodes here by earning free Ink and spending it on unlocking costly comics, alongside supporting your favorite publishers and totally enjoying the process. They are given to you on Mondays together with exclusive Fortune Cookies.
All of the described characteristics of this app are privileges, standing it out from various others. The app itself is also free, just download it and become a user and keen reader.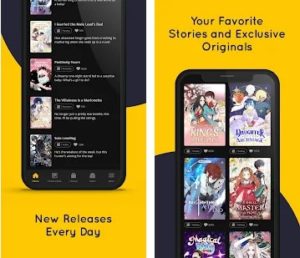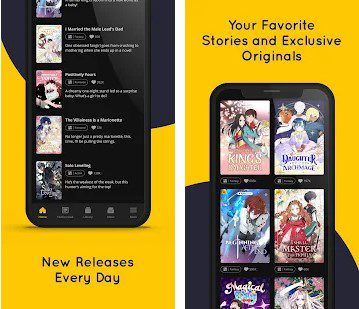 3. NETCOMICS
This application, being updated daily, offers you a great variety of comics to read: genres like romance, adventures, fantasy, boys love, drama, and many others are presented in it.
To find the most appropriate series to read, you should only tap on a quick search and type the title or only choose the genre. It will open you a vast list to choose from in no time. There will be hundreds of works so you'll definitely find the most attractive and interesting one according to your taste.
The interface is pretty simple to use; you don't have to spend time exploring it, only download and start being an active user. Read as many chapters as you want with your especially gained Inks. Without it, you will have a chance only to read 3 or 4 chapters maximum.
Subscribe to your favorite series and support the author. Suppose you have extra money or just desire to help the author and value his work. In that case, you can purchase either the whole comics' series or specific chapters from it. That means you will directly pay them for their spent time and energy on creating this particular story.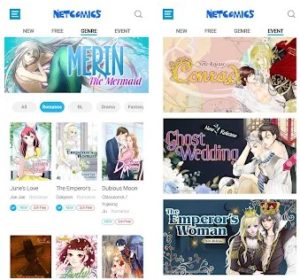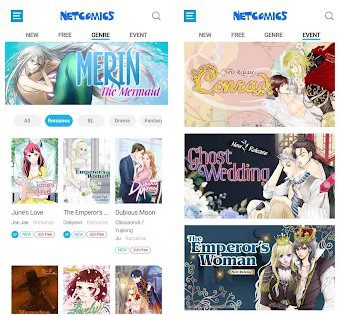 4. Tappytoon
This app is a commonly accepted official place for reading any type of comics regarding your personal preferences and tastes.
Any update in the number of chapters available occurs on a daily basis. Every new addition to the list of presented comics firstly appears in this app and then in many others.
That explicitly means that this application works way quicker than the others, providing you with the benefit of getting acquainted with the story earlier than your friends. It helps you to stay on top and be acknowledged of news occurring around you.
You don't have to sign up initially to get access to your favorite comics or to explore this field to understand better whether it suits you or not. There are lots of free chapters which can be read by you and enjoyed. By the way, you may simply subscribe to the series in order to get notifications about new chapters or the free ones available.
These comics' quality of the art is outstanding enough: no pixels images or any other errors. You don't have to spend your time on something unworthy for reading; enjoy your life and read whatever your soul desires. And this app will definitely help you to turn your thoughts into life.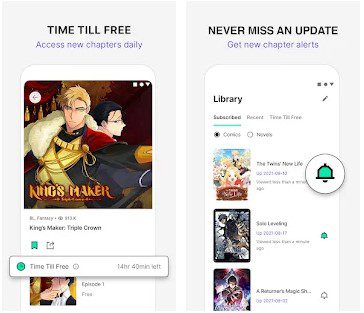 5. Lezhin Comics
The specially appointed workers monitor the quality of the images and chapter releases every day. This way, there're some new comics and chapters put into life on a daily basis. Every moment of your life, you can expect news from your acquaintances about something new being released.
Free episodes for reading are also provided by staff working on the app improvement and future development. This app is one of the few ones created for reading comics containing literally every genre existing as far, whether it would be a romance, action, BL, GL, and plenty of others.
This app gives you a specific opportunity. It is the allowance for collecting all the favorite works or creators in one place and turning on the notifications to get a reminder when the chapter of a particular comic is out.
You can read either on your phone. or the computer, every time deciding which one is more convenient for you to be used at that certain moment. Once you sign up, all the data will be transmitted from the latter device you used in the past. So there is no need to manually find all the comics and chapters you're currently following and enjoying.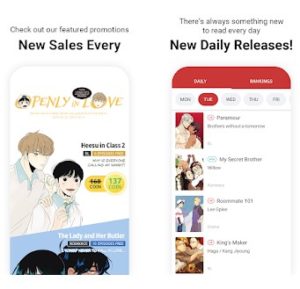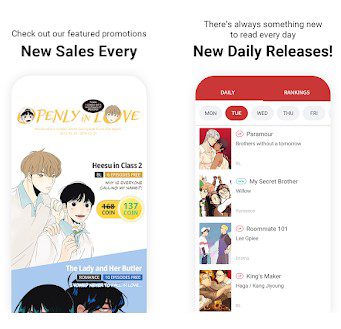 You may also like: 21 Best Free offline iOS games
6. Naver Webtoon
Suppose you're fond of both learning new languages and practicing them from time to time, as well as reading comics and various extraordinary and exciting plots. In that case, this app is definitely for you.
Training your brain by reading in a brand new language is relatively healthy and helpful for people who enjoy this process.
First of all, this app was first created for the Korean masses because all the interface is designed in Korean and full of Korean letters and grammar. If you're fond of learning new words and acquiring knowledge in one more foreign language alongside enjoying fascinating stories, download the app and enjoy it.
Reading stories in Korean offers you an opportunity to familiarize yourself with new chapters of a particular Manhwa way faster than your friends waiting for it to be translated. Everyone should wait for the last one; you also have waited a lot since reading in it.
Use your own reading history located under the menu to continue reading any of the series you're following at that particular moment and not to lose it anyway. Nothing can be missed in this app; everything is collected or saved somewhere.
Your essential goal is to learn basic Korean in case to read and enjoy the comics read entirely in it. No money is now spent on the tutors. Only keep in mind the basics, and the app itself will finish your studying by constantly making you memorize new words and specific grammar tenses.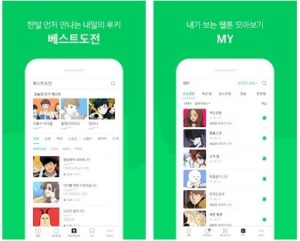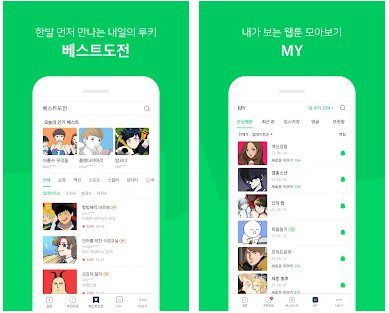 7. MangaToon
This application offers its users a wide variety of colorful comics. They attract the readers with a fascinating plot and interesting characters full of mystery, discovered as the story goes further. Action, romance, adventures, comedy, horror – all the genres are presented there.
One feature distinguishing this app and making it unique is an allowance to download the series and then read them offline. You don't only use it when you are provided with a stable Internet connection. Do it wherever, whenever, and whoever you want to.
Every week the comics are being updated consistently. Sometimes, there is an opportunity to buy the episodes way earlier than they will be published officially. You pay coins and get this chance to get acquainted with everything occurring in it before others have this ability.
You are able to read comics in whatever language is preferable personally for you. Will it be English, Indonesia, Vietnamese, Spanish, Thai, Portuguese, French, or Arabic? By the way, the app continuously adds more and more languages to increase and widen the variety of choices to make reading more accessible for everybody.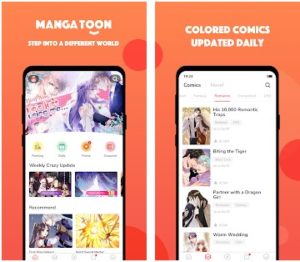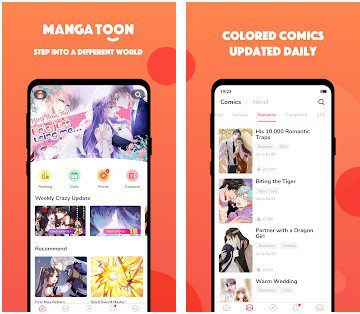 8. DC UNIVERSE INFINITE
This app is a fan-featured app containing the most extensive collection of all DC company's comics presented until now. All the new series are initially downloaded on this app and then spread by mass production of printed versions all over the globe.
Fans have the ability to read more than 25.000 diverse comics representing various genres and containing different meanings to their audience. Obviously, anyone will find something to read, matching their preferences. There is no chance somebody is going to be disappointed with the quality and quantity of presented comics.
Dc comics are introduced in this app, and stories from Vertigo, DC Black Label, and Milestone Media. This way, not only fans of DC can join the users' community but also people who are fans of these mentioned companies.
You have an opportunity to collect all your favorite series and sort them into unique custom lists that way as you want. By the way, you can also download some of the comics and enjoy them even offline. That means you don't need to care about where and when to read; it's completely up to you.
Suppose you already have an account in DC Universe. In that case, you don't need to create another one to use this particular application. Just log in with your existing login and password and enjoy your life. That means it will be more convenient for the users who don't want to create a new acc with a different password, which is hard to be memorized.
The 7-day trial is provided for any new user. If you don't want to pay for the subscription, you should turn off the free trial before the last day. However, suppose you feel totally engaged in the idea of unlimited reading access, then after a week. In that case, you will be charged $7.99 per month or $74.99 per year.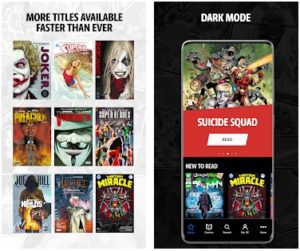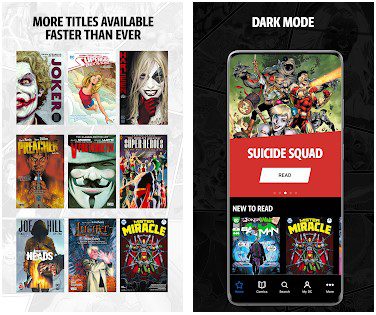 9. Toomics – Read Premium Comics
An app is full of diverse comics waiting to be read by its users. Free story previews for all of the presented comics are available on this application. By signing up, its users get unlimited access to all the fascinating stories included in it.
One feature describing this app as a brand-unique program is its given opportunity for the readers not to shift between the chapters but to go through it until the very end. You don't need to be distracted; fully concentrate on the plot and amazing characters and enjoy your life.
The quality of the images presented is breathtaking. It makes you attracted to its views and turns your interest into actions, like a desire to read all of the chapters still available on the app. All the genres are presented here, which means everybody will find their story.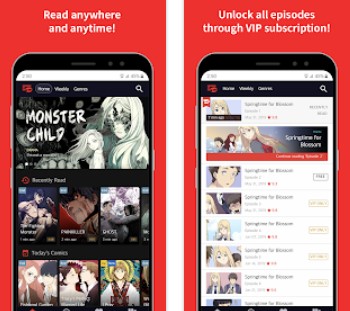 You may also like: 21 Best Free offline Android games
10. WeComics
WeComics is a Thai platform for reading comics, including Korean, Japanese, Chinese, and many other countries' stories. No limitations in access to all of them. The only thing is that you only have a fixed amount of chapters available per day for reading.
However, their availability can easily be increased by turning on the app daily and signing up in your account. You will be receiving some extra stars needed for unlocking new episodes. That means you don't need to wait until the app lets you read the chapters; you can easily acquire them with the help of that stars.
The navigation of this app is pretty simple to understand from first sight. Just tape the title into the search box, and you'll get the list of comics with similar titles and only one with exactly this one. No time-consuming, no money-consuming – all is free and quick. You only have to enjoy it.
You shouldn't zoom in and zoom out to see the image more clearly. The smooth scrolling in HD format is already available on this app. The quality of the comics is remarkably high. By the way, that means you'll be more engaged in the reading process.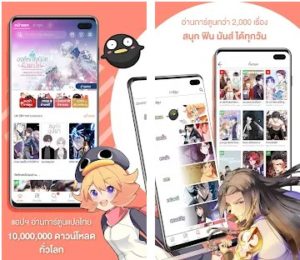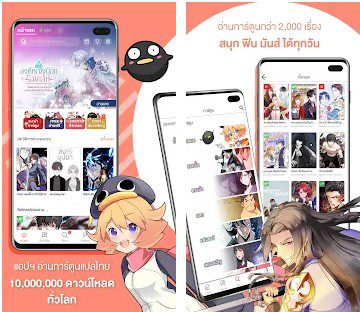 11. ToryComics
Diverse translations into any language are one of the main features of this particular application. The number of languages offered is getting expanded to make it easier for every person to read comics without learning international languages like English and China.
A wide variety of both ongoing projects and completed ones allows the users to decide which one they want to read more. You can choose whatever you prefer most: to get acquainted with the characters and learn something new about them every week or just sit and read the whole comics in one breath. It's entirely up to you.
Not to miss any new chapter of your favorite comic story, subscribe to it and turn on notifications. Once it is downloaded to the app, you will get a ring or any other kind of notification to open it and immediately read it. It makes you more engaged and more informed about the flow of the overall story of your chosen comics.
By the way, you can use the external storage to download the chapters to read them offline in any place and time that is more suitable personally for you. That creates comfort and convenience for the users and is definitely considered a direct advantage of the application.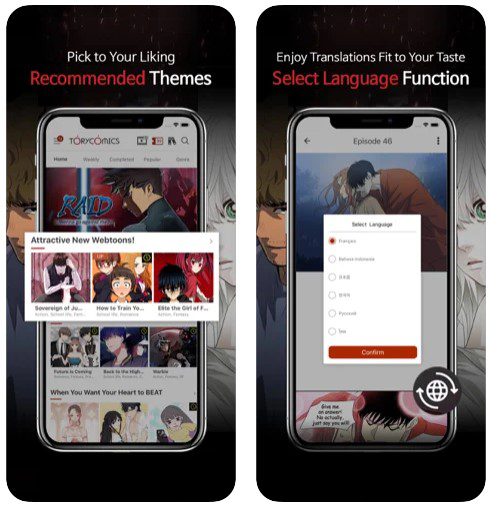 12. POCKET COMICS
Pocket Comics is one of the largest ever collections of webcomics from all over the world.
If you're hesitant whether you'll find the right story personally for you, just open this app and put the settings like the genre, the country of origin, the year of publishing, and many other options available for everyone.
The comics presented in the list are all officially licensed, meaning you're not a pirate who uses dubious resources to read whatever you want. No notifications about getting access to fraudulent websites are received because all the work on this platform is entirely legalized and approved by the government as well. So it's safe.
Provided weekly missions and games for those who want to gain tickets for unlocking the still unavailable chapters. You complete the given tasks and earn some tickets to open up the hidden episodes and enjoy them earlier than any others.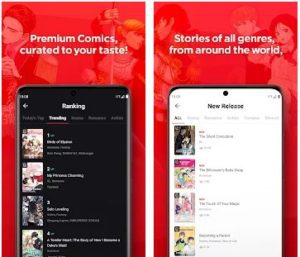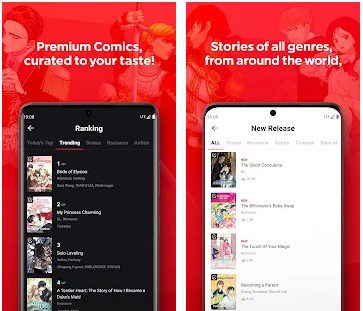 13. Manta Comics & Graphic Novels
Being acquainted with a wide variety of authors throughout the globe is really fascinating. Not only the professional ones are presented, but also some newcomers who only started their careers as creators and publishers. It is an explicit chance for them to get fame across to the readers.
Also, unlike other similar apps, you can subscribe and get access to all the content, instead of buying individual episodes. Of course, here you will be among the first to read a manga, a manhwa, or an original comic book.
By the way, all the genres are provided by this app to broaden your choice and make it more possible to you to find the right comic in almost no time spent on the searching process.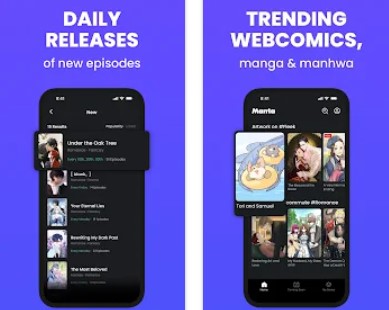 14. Dark Horse Comics
The unlimited access to all presented comics makes you willing to find the preferable one personally for you and read it as quickly as possible.
You want to get acquainted with a brand new universe where dragons and unicorns exist, or the prince falls in love with an ordinary girl from a low-income family, or the planet is crashing, so you should find a solution.
Purchasing every comic for $0.99, you also have an allowance to read some fere provided stories full of amazing characters and fascinating plots. There are constant updates in the number of presented webcomics in the list every week, meaning your choice is getting bigger from week to week.
By the way, because of the tight connection between the devices by the Cloud, you can easily shift from your laptop to the telephone or Ipad and vice versa only by signing up. All the necessary information is stored every time you log into your account.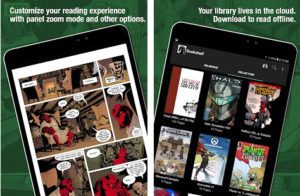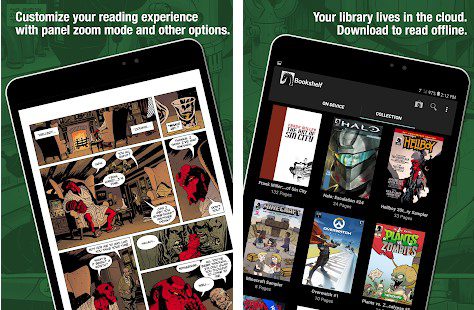 You may also like: 17 Best Text-Based Games for Android & iOS
15. Komik: Comic Reader
Requiring low memory space, this app is most suitable for those whose gadgets are always full. Various apps or any other things filling up the free space and not letting to download something beneficial are some of the main problems of the devices.
However, Komik is a great app that weighs very little.
It compounds elements of modern design and retro-style in it. These techniques make this particular app's appearance and visual component attractive to almost any type of user.
You can easily sort the comics' titles in the way that fits you the most: by colors, genres, characters, tags, or the authors. It's all up to you.
By the way, the time spent on ore on another story is shown to you, so that you can count which one is the most interesting for you. The more you like it, the more time you'll be spending on it, enjoying and getting deeper into the characters and the plot itself.
Also, you can view the comic lists either with list view or grid view. In the first case, you'll get one grid for vertical orientation. In comparison, you'll be allowed to watch two grids for horizontal orientation or tablets in the second one. That makes the previewing easier and quicker than before.