Tattoos have been with us since ancient times. The historians and archeologists find different proofs of that tattoos had already existed between 3370 BC and 3100 BC. Actually, the first ancient human who was found with tattoos on his body had more than 61 of them! The first tattoos ever were discovered to appear in the following countries: Alaska, Mongolia, Greenland, Egypt, China, Sudan, Russia, and the Philippines.
Ancient civilizations used these drawings on their bodies to mark the high social status, to connect with Gods, to perpetuate their tribe's story on their skin… Tattoos were helping to identify to which tribe the human actually belonged. As the centuries were passing by, tattoos invaded the broader geography and even ancient Greeks were wearing them.
The following history of tattoos is not so clear. With the spreading of Christianism, it was probably banished and then the tattoos were not acceptable in society until the 18th century. In the 21st century, we got total freedom of self-expression so we can have any tattoos we like. But that's actually the problem…
"If I am getting a tattoo, then which one? Should it be large or small? How should it look like? Does it have to have a meaning or it's too risky? Which design will suit me until the rest of my life? Is it going well with my complexion?"  – if you've ever thought of getting a tattoo you had all these issues in mind and even more.
But really, the choice of design is the most important thing in a tattoo. And that's when people are getting lost in the choice or they simply lack the inspiration. To make your life easier before getting a tattoo, here are the apps which will give you an idea, what kind of a tattoo you would like to get.
1. INKHUNTER
This is the most popular app to fit tattoo designs. It allows you to actually visualize the drawing on your body before getting one. It is really convenient since it does not only give you an idea of the design but also allows to see if it looks good on your complexion.
You can browse through the gallery and choose any patterns you like. Then take a picture of your body part where you would like to have that picture or just upload it from your phone gallery and see the results. It's fun actually even if you are not going to get a tattoo.
While trying the drawing on your skin, you can regulate the size and the angle of it. Make the cutting in the places you want, feel free to experiment. The only disadvantage is that this app allows you to try on tattoos in black and white variations.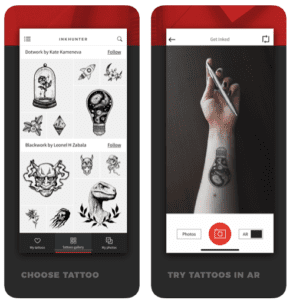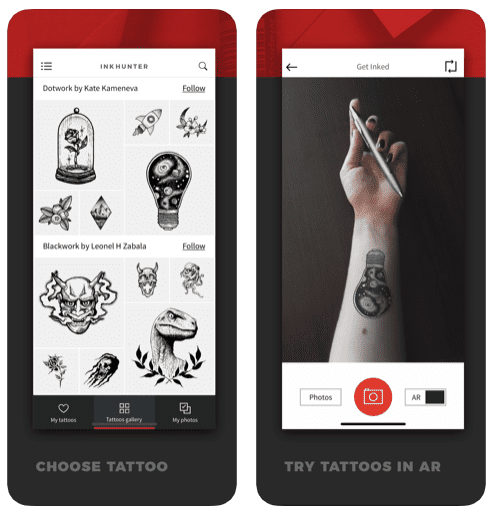 You may also like: 6 Best body swap apps for Android & iOS
2. Tattoodo
Considering the choice of tattoo design, this app was acknowledged as one of the best as well. In order to get inspired and get your own idea of a tattoo, you can use this app and view thousands of pictures of others who have already made a tattoo. And actually, how usually we come up with the idea that we want a tattoo? We just see it on someone else, right?
The whole interface looks rather like a blog dedicated to tattoo culture. There are several categories, as a tattoo of the day and so on. This is one of the larges communities in this industry – more than 600000 designs from various tattoo artists are gathered here from nearly 25000 studios around the whole world.
What else makes this app cool is its possibility to choose a tattoo artist online, make an appointment and get tattoed especially by him/her. So for the artists of this industry, it is profitable to publish here their photos as well. When you are searching for a tattoo design, you can do that by splitting them into categories, designs, and motifs.
It's like a tattoo Instagram – here you may like the designs and add them to your favorites. Follow the profiles of your favorite artists around the world. Find a good tattoo artist nearby, see the reviews. The only disadvantage may be, for tattoo artists in this app is there is always a danger that someone can steal your design.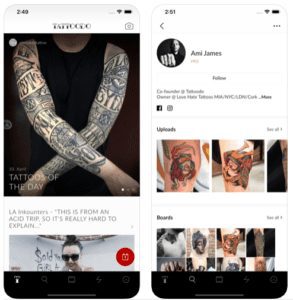 3. Tattoo — ink design & maker
Got lost choosing the design and the right artist for your future tattoo? This app will help you. This is an innovative app for tattoo lovers and tattoo artists.
Here you can choose a design that works for you in several ways. Therefore, you can try out the designs that the app offers you. Then you can combine them into a composition and create your own unique design. You can also remove unnecessary elements of the tattoo, leaving only what will beautify you.
In addition, you can also experiment with the resulting design using the app's technology directly on your body. To do this, just point your smartphone camera at your body. You can also try it out with a photo.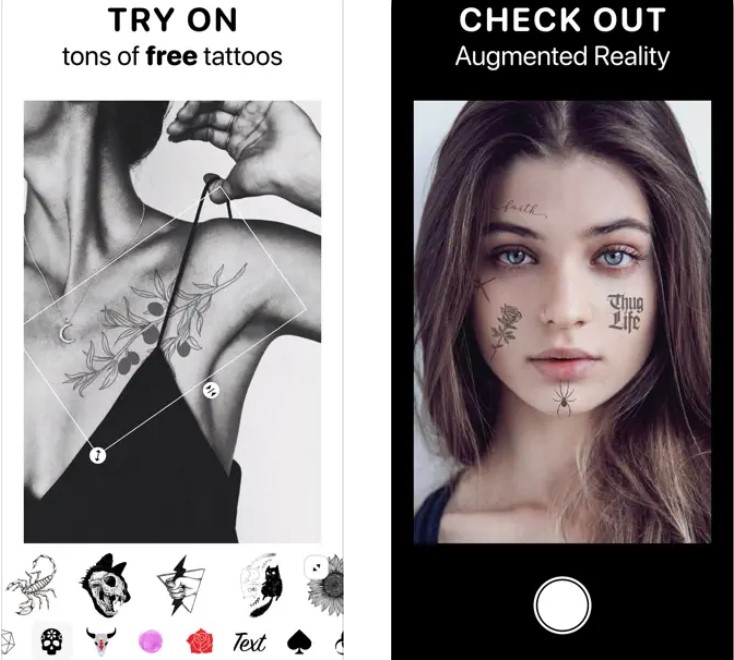 4. Tattoo Designs
Before choosing an actual tattoo design you need to keep one thing in mind – not all the ideas work out at the end. It happens for several reasons. First, your skin can simply reject the paint and the whole pattern will get smashed. Secondly, the tattoo artist must be confident in a design that he/she is going to do.
If a master is still doing a design that he/she is not confident about says a lot about their unprofessionalism. And lastly, an extremely complex design can fade away with aging. Restoring them will be expensive and not always possible. Deleting them – even more problematic.
So choose your design adequately with the help of this app. It includes more than 5000 various sketches of tattoos. It also has a list of the tattoo saloons nearby you. Just choose a category of the picture or type it in the search bar and see what the app has to offer. In the "shop" category, while browsing through the pictures, on the right side you will see the author of the design, phone number of an artist and location.
The app can even show you the location of a saloon on the map. By the way, here you can also mark the photos you liked as your favorites and go back to them later. Overall, this is a quite simple app, with not so original interface, but it seems to work well – both for tattoo artists and their clients.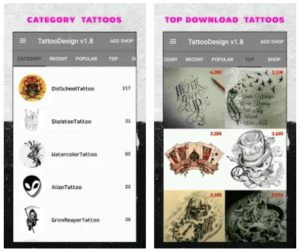 5. Skin Motion
This is a pretty much curious app to create a tattoo design. The thing is, it can record the sounds of the voice of your beloved ones, the sound of your favorite song, maybe even your pet and then recreate these sounds into the soundwaves and turn these sound waves as a tattoo on your skin. It is a little bit weird but it is an extremely authentic idea for a tattoo.
For those who like to stand out and unusual ideas, this one will surely be a good choice. Especially, for music fans. In other words, Skin Motion is a patent-pending augmented reality app that allows you to play Soundwave Tattoos. The app is the app developed by the creators of the SkinMotion.com website.
Find a Skin Motion licensed tattoo artist who is trained to make Soundwave Tattoos in the Skin Motion app. Artists can apply to join the Skin Motion Tattoo as well. For consumers, this app gives you a chance also search for a nearby salon on the map.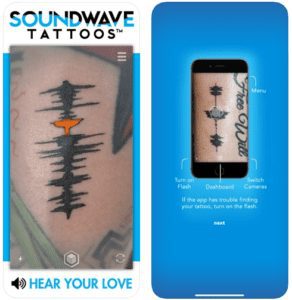 6. Tattoo Fonts
A small, but useful app for those who would like to get a text tattoo. Actually, there should be a lot of such users out there since writings have always been popular as tattoos. And usually, choosing what to write is always a hard dilemma, because this inscription is going to stay with you until the rest of your life.
The fonts of tattoos demonstrated here look really good and there are more than 150 variations. You can browse through the fonts, try to write your message with it and see how the result looks. What is good about written tattoo designs they are usually easier to make than pictures, especially if they are made in a single color.
The possible disadvantages may be the lags of the app and some users complain that the diversity of fonts could be wider.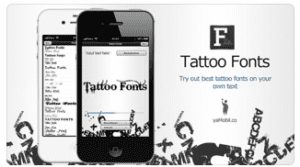 7. Tattoo Designs App
For those who don't like any extra functions and would like to concentrate only on the tattoo design search – this is a perfect app. It is simple and easy to use. With lots of pictures with tattoos design, it will take your attention for hours. Tattoos of any category, style, size, and meaning you can find anything you want.
The app contains both artistic pictures of tattoos or sketches or real people photos with the real tattoos on them. Usually, the photos go in the sets of three. All the categories of photos with tattoos design are arranged in the alphabet order – what can be easier! Moreover, the pictures with tattoos also made in various styles, so it will help you, for example, to determine if this design goes well with the color of your eyes or not.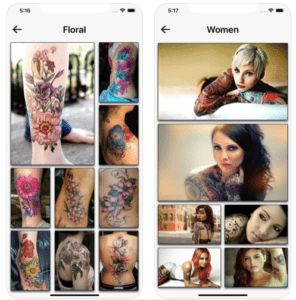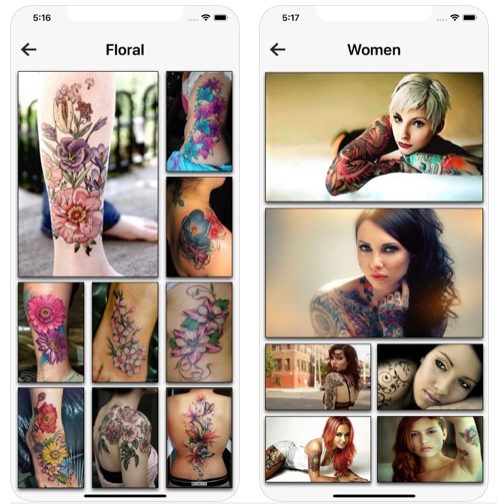 8. Tattoos for photos
Yes, it is more a photo editor for adding the fake tattoos on your skin. But, hey, this is what we need right? To find some interesting design that looks good on you. So why not to use all the benefits of this app and try on different design (by the way, this software includes a pretty decent range of them).
Along with that, the app has the ability to create written tattoos – any text you want. The selection of fonts is enough – mainly all of them are in gothic style (the most popular one). Among different variations of tattoo designs, you can choose black and white, colorful, flowers, hearts, arrows, symbols and many more.
After you found a design that you're interested in, just click on the icon and then place it on yourself (well, obviously you will need to upload a suitable pic of yourself in advance). You can rotate the tattoo to make it more or less transparent, smaller or bigger.
In case you wish to save the picture that you got – no problem, all the edited photos are getting saved in high quality, so all the details of the tattoo will be visible later. What is more, using the tools provided by the app, you can create your own design, but, being honest, the possibilities for coming up with something decent are rather low – the tools are not powerful enough.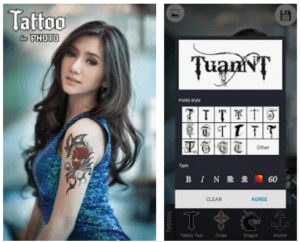 9. Tattoo for Boys Images
Obviously, you can tell by the name of this app that it is developed mainly for a male audience. Though, it is fair to say that women could also find some inspirational designs here. But men for sure will discover lots of using tattoo designs, patterns, and ideas.
The software also has a category Tattoos For Couples – so if you are a couple and have been thinking of getting matching tattoos – check this section. Other designs, for singles, have different categories – love tattoos, cross tattoos, flower tattoos, animal tattoos, and so on.
Moreover, it is also a photo editor, so if you want to try any design yourself virtually, you can just upload your photo and apply the design. Later, you can save that pic if you want. So in general, you see – even though the app is called Tatto For Boy – it is suitable for girls as well.
10. Tattoo Designer Body Art Maker
Nice app to choose your tattoo design. It is a photo editor as well, where you can apply any tattoo represented here on your body and get a general idea of how this kind of design is going to look on you. First, you need to upload a photo of yourself or make it right from the camera option in the app.
Then the main part – apply the tattoo. The app provides lots of choices, different fantastic creatures, ornaments, and so on. You can customize the color of a tattoo which is a useful option. The function of adding the written tattoo is also presented here. Then you can rotate, move and scale your design.
The number of fonts that you can choose from for your captions is enough. The tattoo designs represented in the app are about 100. This is not too much, but it is quite enough to be creative and get inspired. Well, if you wish to have more variations you should go for another app – but it won't be the photo editor, in that case, only the viewing app.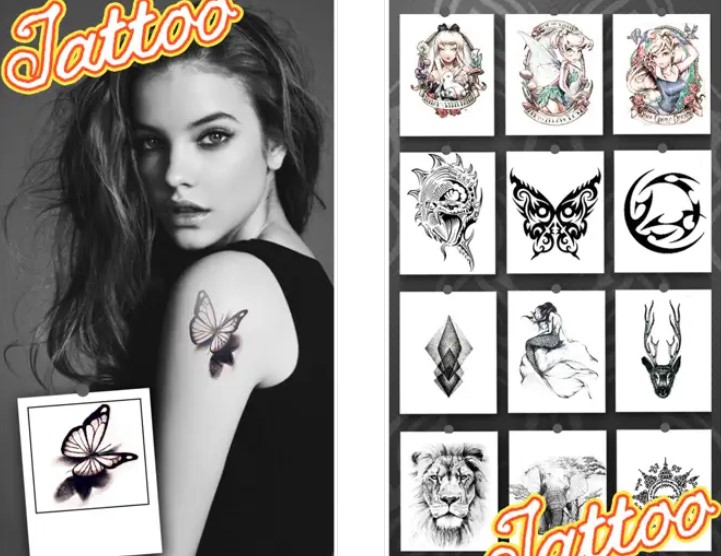 11. Inked
So as we can see from this list, apps for choosing a tattoo design are mainly divided into two categories – photo viewing apps allowing you to find a tattoo artist as a bonus and photo editors allowing you to photoshop the design on your skin before doing that in the real life.
And this last app is a place where you can get inspired by users from all over the world. Here you can browse sketches, add them to your favorites and look for something that might appeal to you. In addition, you can use the search by tags, such as butterflies, plants, animals, dragons, and more.
Then you just choose the design you like and bring it to life.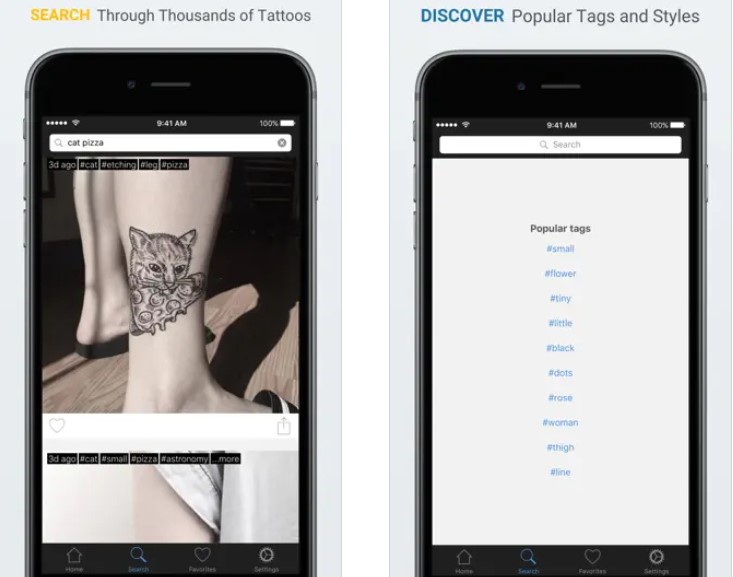 You may also like: 9 Best facial hair apps for Android & iOS