All humans are more or less creative creatures. Making something out of nothing is in our nature – that's how we have actually evolved through history. Nowadays, we possess unlimited imagination and express in all the possible ways in different cultures and subcultures. Even though it may seem that all that could be created is already created, and everything that could be imagined is already turned into reality.
However, this is far from the truth. The limit for your imagination is only your mind. We all want to make something artistical and scape the routine of days by making something different and fun. In psychiatry, it is called art therapy. True, it is useful sometimes to put everything that's on your mind on canvas.
The benefits of the creation process consist of a great number, including the improvement of the thinking process, emotional relief, understanding the world and so on. Moreover, with the apps that we have today on the market the process of creating different characters has become even more exciting. Do you want to feel like an artist who makes cartoons? Have you always had in mind an image of a character that you would like to perpetuate in the real world?
Well, there are a lot of apps for creating characters right now, but which are the best? Let's find this out and observe them in this article.
1. The Sims™
When we are talking about creating characters we almost instantly thinking about Sims. If you've never heard about this video game you must have been living in the cave for the last 20 years. The Sims is a legendary game that allows you to create any characters you wish and get them into living the life you choose for them.
The possibilities to create a character here are wide. Though the PC version is already the 5th one, the original Sims still works great and what is cooler, now you can have that piece of nostalgia on your smartphone. So you basically start with creating your own family. How many people are going to be there – up to you?
First, you need to choose the gender of a person. Then, you have to decide on the age – will it be a boy or a girl, an old man or a young woman? Or, maybe, your family is going to include all the persons mentioned above? After you decide on the age you start to customize the appearance of a character – which face feature will he or she have?
And yes, you can customize in the smallest details the face features – regulate the size of the eyes, the thickness of a nose, the fullness of lips, cheeks, the color of the skin and so on. Then you can choose the type of body that a person is going to have. Will they be fit? Chubby?
Then choose the type and color of hair. The app provides a really wide set of what you can do with your character's hair. Yes, you can stick to the classic and give them neat and nice hair, but there is always a place for the experiment – you can make it green and half-shaved. Or make their hair as long so they almost touch the ground.
Then you choose the clothes – well, here you need to be ready that the choice of types and shapes is going to be a little limited. However, the app has some fun and crazy options that you can customize up to your tastes and get something authentic as a result.
Then, you will have to choose the temper of a character. And here the developers of this game were really serious – you can choose the zodiac sigh, food taste, tidiness, love addictions and many more. These features actually are not going to play the crucial difference in how your character is going to act in the game, but some features will appear from time to time.
Then, everything you need is to live the life of the characters you created in the way you want. Exciting, isn't it? You can place them in a crazy rich house or make them struggling but a determined couple. In other words, the story is only limited by your imagination. The game has to offer truly a lot of ways for development so you won't get bored with similar scenarios. Already feel like you want to play?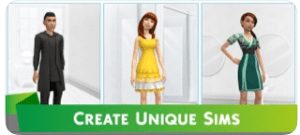 You may also like: 11 Free apps to cartoon yourself on Android & iOS
2. Comic & Meme Creator
Memes are extremely popular nowadays. They basically have become a part of our daily life. Seriously, who doesn't like to browse through funny memes in the free time? But, would you like to create your own meme character? This is a powerful tool for those who have such a desire.
Here is the app you can use thousands of images of cartoon characters inspired by the ones that we know from famous comics and cartoons. In general, you can choose between more than 50 characters and 50 locations to compile your own story. There are also text clouds so you could write down the dialogues inside them. Which kind of a story to create – up to you.
You can create a funny meme and share it with your friends or you can make a full-action story if you feel like it. The app includes more than 100 images for meme-making. Another useful feature is that you can log in to the app using your Facebook or Google account.
For those who are just starting to make their own comics this app is a great exercise. It is simple and easy to use. What is more important, it saves you time since all you have to do here is just to adjust already made characters toa story. However, for those who would like to concentrate more on the characters' customization – you will probably need another app.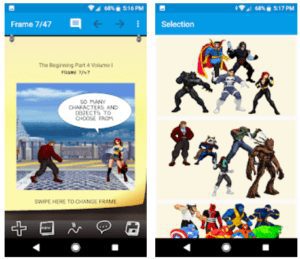 3. Avadon: The Black Fortress HD
It's not a surprise that most of the apps and games which allow the creation of your own characters and which are really good at it are RPG strategies. Basically, the whole point of such a game is to create the characters you want, create a world and control in a way that you are always in a winning position. Games may vary from the age when the story takes place to the core theme of the game, for instance, zombie apocalypse.
This game is a story that takes place in middle age and you got a fantasy world of castles and knights. First, you will need to create your own knight to play for it later. The game provides four different classes for characters and allows to give them unique abilities and powers.
If you want, for instance, you can create a wizard with a superpower to control water. Or a knight who can beat an enemy with a magic sword. You can equip then with different tools and artifacts which will be their signature things. You can also customize their general appearance.
After you are done with the character creation you will start playing. You will serve the keep of Avadon, working as a spy and warrior to fight the enemies of your homeland. As a servant of the Black Fortress, your word is Law. Experience an exciting fantasy role-playing adventure and battle a conspiracy to destroy your people.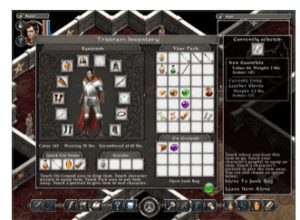 4. Pocket Legends
For those who prefer games with a more cartoon style and prominent fantasy element, this app will be a good choice. It is also a strategy game, but unlike the previous one, it allows you to play online so you play together with other players at the same time – which is really fun and helps you to find people who share your interests.
The app includes 5 classes to customize your character. Here it is probably going to look like a giant troll or a cat-alike witch. And just like in the previous case, you can choose their superpowers and basic skills. It can be the skill of using the bow and arrows or throwing lightning with their hands (or paws). You can equip your character with different kinds of emo – swords, magic grenades and so on.
Join players from around the world for crazy adventures in creepy dungeons, frigid mountain peaks, and steamy swamps. Create your own teams together with other players, work on your strategy, fight the monsters, discover adventures and defeat the enemy.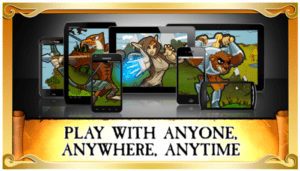 5. Bitmoji
Now let's take a look at something more suitable for real life. We all are using emojis in our messages nowadays – it helps us better to demonstrate how we feel and it is a lot of fun. Today the trend is to create an avatar of your face – in the more cartoon style. If you haven't done this yet, you can use this app to create a fun version of yourself.
First, you need to go to the section with faces shapes and find the one that looks as similar to yours as possible. Then this way you can choose the shape of the eyes and nose. Then you need to choose a haircut. Which one do you usually wear in your life?
But just creating a prototype of yourself is not the whole story yet. There are lots of fun stickers that will help you to customize the image of your avatar even more. Add yourself glasses, earrings, tattoos, give yourself a pizza, stick a heart to the clothes, make your avatar throwing money in the air… In other words, the options are countless. You can even wear the costume of an avocado.
Later, you will be able to use these characters in your Snapchat. It is actually more funny and cool when you have a cartoon version of yourself and can share it with your messengers. So make a mini-version of yourself and surprise your friends!
6. Facemoji 3D
Similar kind of an app but this time you got more possibilities to use it in your social media. It creates a 3D character of yourself. You can share it on your Instagram stories or put these avatars on your real pictures and post them. You can also create the animated avatar faces of your friends and then show them the result. It is a great way to diversify your common pictures and just have fun together.
What you need to do is to upload your picture to the app and then it will make a 3d version of your face. In this case, it is not so cartoon-alike, it looks more like a 3D emoji face. Then you can customize your hair, color of your eyes, accessories and so on. By the way, the choice of hair sets is really wide here, so the female part of the audience will definitely be impressed.
Apart from that, you can add to yourself lots of interesting objects – music instruments, cat ears, headphones and so on. Upload the pictures of all of your friends here and make a 3D avatar for each of them. It is really curious to see how the person is going to look in the 3D animation world.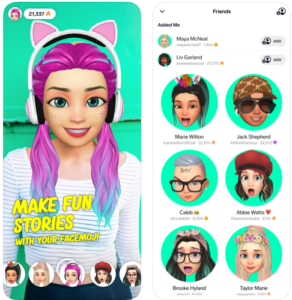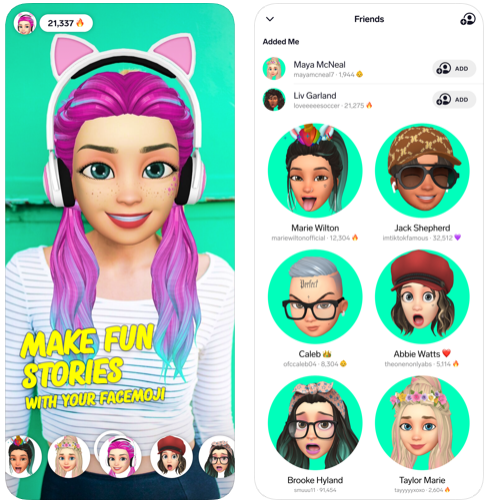 7. Ravensword: Shadowlands
Do you like games like The World of Warcraft and Skyrim? Then you will probably like this game as well. The Ravensword is an RPG game the action of which takes place in a fantasy magical world where you have to explore the mysteries of a Fallen King.
This game allows you to switch between playing for a character from the 1st and 3rd person. In case you are playing in the 3rd person mode you can create your unique character. Well, here honestly, the game itself attracts more attention than the customization. The possibilities are rather lean. You can choose the appearance of the armor and the specific skills of your warrior. Throughout the game, you are also going to switch between the characters.
Bu in total, the world where the action takes place in the game is developed really decently with attention to details and to the whole atmosphere. If you are that kind of a person who likes playing games with stories about fantasy middle-age-like looking universes then you will like this app for sure.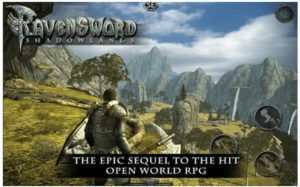 8. Myidol
Another app of the kind which makes the avatar out of you. However, in this one, you got many more options for character customization. And by the way, this app is extremely popular and it was number one in more than 56 countries. Such stars as  LadyGaga, Miley Cyrus, Zara Larsson, Lily Rose, Ellen DeGeneres have issued this app.
First, you upload the picture of your face (or the picture of someone's face into the app. Then, with the usage of the technology of face recognition, the app creates a 3D model of it. Then you need to adjust the color of the skin, eyes, shape the face features and other elements.
As always you are able to choose between hairstyles and stick to the face different funny elements, such as mustache. But here you can customize not only just face. You can always choose the clothes for the character from a wide range of garments. Don't forget about the accessories which will give your character an authentic and signature look.
The funniest part is generating emojis, making profile pictures, and directing your own MV using that unique avatar. Share the little animated version of you with all your friends.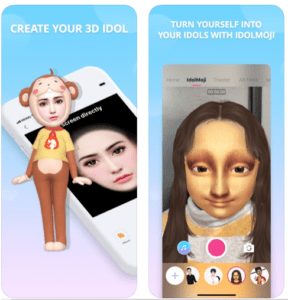 9. Creanime
And the last app in our list is for those who are into anime characters. Actually, there should be a great audience out there and this audience is usually full of creative people who would love to try to make something themselves. So now with this app, you can finally try out your abilities considering the anime characters making.
Here you can compile your character by choosing the pieces of it from the special sets in the app. You can choose the shape of the face, the face features, the haircut, clothes and many more. The choice is really diverse and everything is in the classical manga style. The customization is really detailed since you can even choose the shape of the brows and there are lots of choices even for it.
The app includes both the free sets and sets which you will have to buy. If you are really into this app ad would like to upgrade it, then you can buy a more advanced version. In general, it is a good app that allows you to create any kind of manga characters – those could be humans or non-human characters – your fantasy can really express itself here.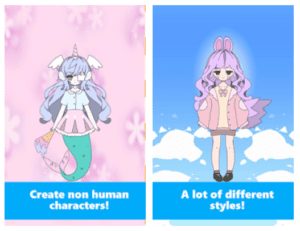 You may also like: 6 Best body swap apps for Android & iOS