The first romantic apps with anime characters appeared in Japan. The main task in such apps is to establish a romantic relationship. At each stage of the game, you are able to meet beautiful guys and girls. It is important to make the proper decisions during the course of the story in order to continue communication between heroes.
Love games allow you to build a perfect relationship. Thus, we will take a look at the best applications, where you will have to develop the relationships of the characters in the game. Moreover, there are even applications that allow you to see your virtual girlfriend in real life. The Best Virtual Girlfriend Apps article confirms it. So, let's start our review.
1. Shoujo City 3D
This is a fascinating dating simulator in which you will play as a cute anime girl who is looking for new adventures and wants to meet interesting friends and lovers. The action of the game is set in the virtual capital of Japan in the city of Tokyo, where anime culture has always been flourishing. At the beginning of the game, you need to create your own unique anime girl.
So, you will be able to choose the height, eyes, hairstyle, hair color and also give her a name. After that, you will immediately be able to go exploring the surroundings of the city, at the same time going on a date. Your goal will be to take care of your heroine and get acquainted with interesting characters, achieving their closeness.
This way, you can discover a large and open world, go to the stores to buy your heroine food or new clothes. After buying food, you can combine them to make a delicious meal. Then you can visit an amusement park where you can make your heroine happy. You can also approach any girl to get acquainted with her and start a romantic relationship.
Also, you can change the appearance of your heroine at any moment. In addition, here it is possible to play games in which you will have an opportunity to win good rewards. This game offers you a lot of interesting things to do to have fun in your free time. In addition, the whole design of the game is three-dimensional. Also, you can play the game without an internet connection.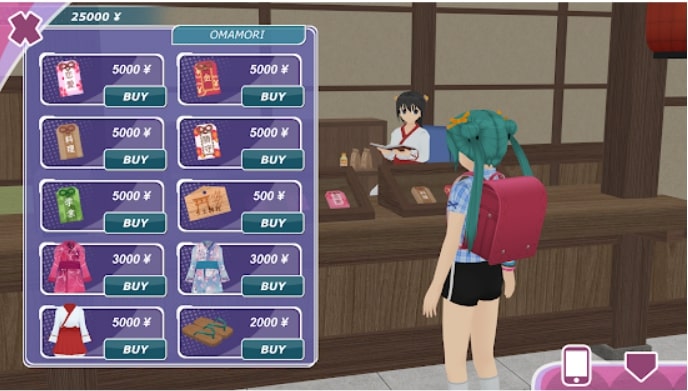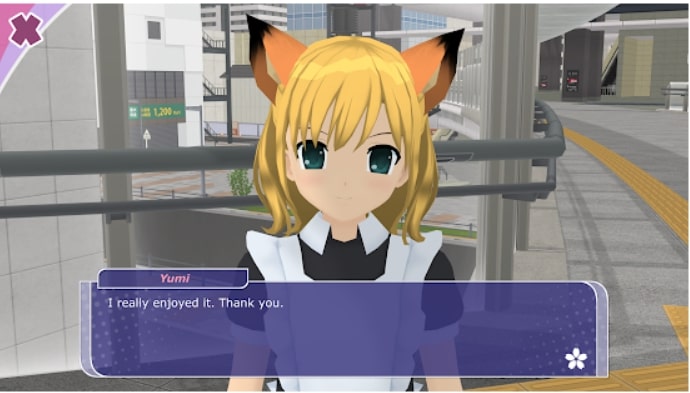 You may also like: 15 Best Webtoon Apps to Read Manhwa on Android & iOS
2. Romantic Diary: Romantic return
Romantic Diary is a unique cross-dressing and dating simulator. This application will suit all fans of love stories because there is nothing but romance. You will be constantly changing your images in the game, holding dialogues with your potential soulmates, and developing your relationships. By the way, you can dress up your beloved one too, and create a stylish couple.
Moreover, there are a lot of interesting features in this app. For example, at the beginning of the game, you can customize your character. So, you can even choose the zodiac sign of the girl. Depending on the chosen one, the character acquires special personality traits. So, you may not only meet cute guys but also perform the missions in the course of the game.
For each completed task you will get a reward that will either increase your level or open up new items. All the events of the game will unfold in different buildings of the magic city, for example, in a sweet cafe, Catholic cathedral, fashion salon, spacious studio, and other places.
In addition, you will be able to visit the store and buy various items of clothing there. In general, this game attracts the most with its huge closet and the possibility to create colorful anime characters.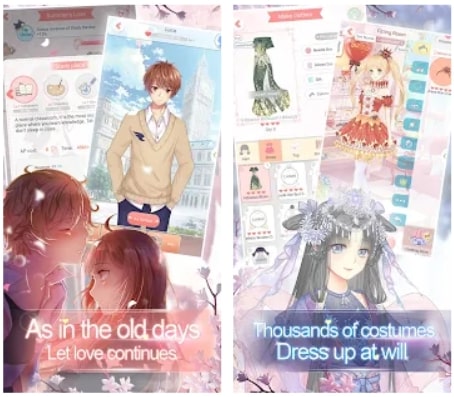 3. Is It Love? Drogo – vampire
This is a cool visual novel in which you can make connections with everyone, as well as boys and girls. The peculiarity of this application is a great storyline, by which you will be able to go on beautiful dates. Moreover, the application is made in beautiful anime graphics.
In addition, there is a lot of dialogue and opportunities to make decisions that will affect the development of relationships. You and your heroine in this game are going to have mystics, unusual acquaintances, and a lot of secrets that are so dangerous for any stranger.
It all begins with a young female student who moves to a small town with a college that is famous for teaching quite unusual disciplines. To make extra money, she gets a job as a babysitter for a young lady from a wealthy family. There are a lot of frightening rumors floating around.
So, Is It Love? Drogo – Vampire is an interactive novel about relationships, love, and madness, where everything depends on your decisions. You will have to get to know all of the characters, find out their secrets and mysteries, get close, perhaps find the love of your life. You may even become a vampire.
Well, the game is made as a romantic novel, where dialogues, dates, interactive elements, and minigames are present. Your words and actions will change the ending of the game. Therefore, this app can be replayed several times to experience different feelings from the story.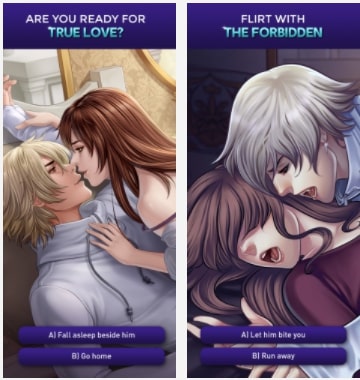 4. Love, Money, Rock'n'Roll
Love, Money, Rock'n'Roll is a game that captivated its fans with its PC version. However, recently the game appeared for mobile devices. So, this game is an application with a story filled with a romantic atmosphere. In general, the game is full of both drama and tragedy. Besides that, of course, there is love.
However, everything is not so simple. It is up to you to choose and make decisions. So, the events will transport you to Japan. This is where you will meet the main character, a simple guy named Nikolai. His parents have moved from Russian territory a long time ago and settled in Japan. So the hero is used to the new culture.
For some time you will be Nicholai who tries to lead, at first glance, the most ordinary life. Nicholas attends an ordinary school, where he establishes friendships with various beautiful girls. At one point your life turns upside down and now you need as soon as possible to sort it all out.
You have to act as follows to perform actions: there will be scenes of a peculiar anime movie on the screen, where you will have to decide what to answer and how to act.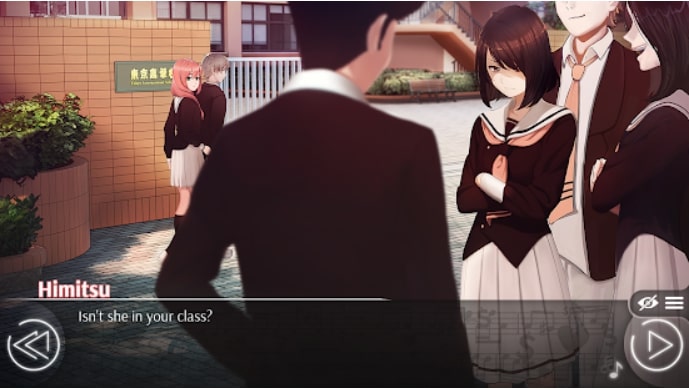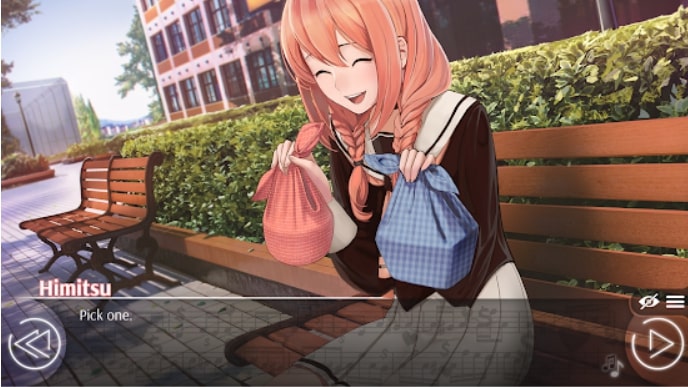 5. Dangerous Fellows: Otome Game
Dangerous Fellows: Otome Game is an app that will appeal to all those who love plot twists in thrillers. So, the plot of the game is as follows. After an unknown virus broke out of the lab, almost everything on our planet was destroyed. Therefore, almost all people have turned into the walking dead, who just want to eat all alive.
All of the characters in this anime novel are hiding in a half-destroyed school. However, even in the world of the apocalypse, there is a place for love. Then let's talk about the main features. First of all, you will be able to influence the development of the storyline, for example, save your favorite characters, that will continue to participate in the story.
Also, you will be able to get acquainted with colorful characters that have different characters. Secondly, you will be able to dress up in different outfits in the Dangerous Fellows game. In addition, you will be able to level up and unlock new characters.
So you will be able to find out the history of each handsome character. Moreover, the game attracts with detailed graphics. All the characters have their own style.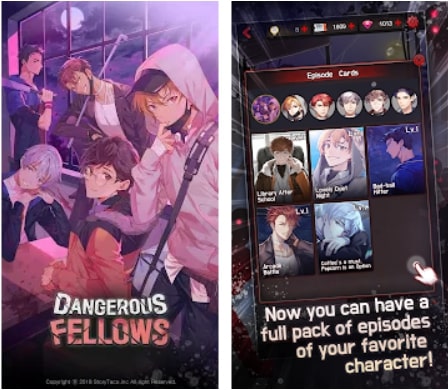 6. Everlasting Alchemists : Romance Otome Game
This game is a mysterious game, filled with mysterious events and unbelievable adventures. You will meet three charming men with whom you can talk and make friends or maybe even they can conquer your heart and show you what real love is.
According to the game's plot, the protagonist escapes from the city and finds herself in an old mansion, where she meets three very charming men. Each character has his own story as well as personality. So, the first is the handsome and not very talkative owner of the mansion, the second is a smart guy with a sad history, and the third is the careful mansion's butler.
And so, you will be able to go on romantic dates with all three characters. In addition, you will simultaneously investigate an incredible story and uncover the secrets of the inhabitants of this manor. Your protagonist will have to make a choice whether to leave this luxurious mansion or build love with young men. The whole future will depend on your actions.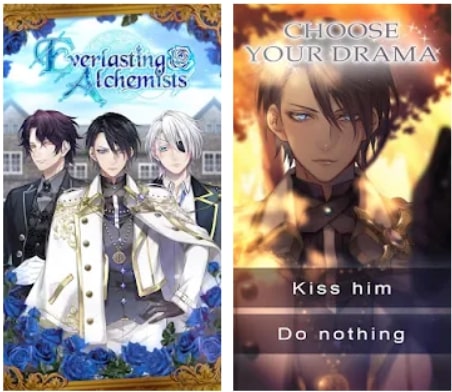 You may also like: 11 Best Roleplay Chat Apps for Android & iOS
7. Crush Crush
Crush Crush can be highlighted out of many anime apps. This is a game in which you have access both to dating and acquaintance. You will meet a lot of beautiful girls, whose attention you will have to get in order to make them fall in love with you. To do this you will need to court the ladies, perform various tasks, go on a date, and much more.
According to the plot, you will play as a no-name character, to whom you can choose a hairstyle. The plot of the game takes place since one day your character hits a cute girl on a bicycle. After that, she will be in the hospital. You will have to apologize to her and pay for her medical treatment. In the beginning, she will not trust you, but you will have to apologize and become her lover.
To do this you need to fill up the girl's scale with hearts, which will appear every time you click on her. If you get bored filling the scale you can buy her a present, or you can go on a date with her. You need money to woo the girls. So, you will have to get a job to earn game currency.
This way you will be able to buy gifts for your girlfriends. In the beginning, your job will be low-paid, in fact, there will only be a single job at the fast-food shop. But after a while, you will be able to get a new profession.
Moreover, there are also different hobbies, in which you will improve your skills in a certain area. As well as professions, hobbies involve the main spheres of human life. So you will have a wide range of choices.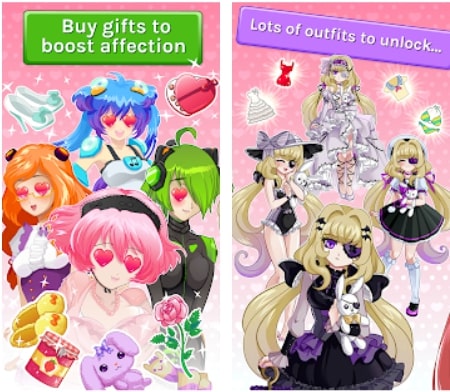 8. First Love Story
Who is not a fan of first love stories? This is a game filled with pure feelings and complex love stories. So, First Love Story offers you to choose one of six available novellas and the protagonist you will play for. You can play as a pretty girl or a handsome guy. After that, you will be able to build your own love story. You can meet your soulmate in the most different ways.
So, you can increase the percentage of trust and a good impression. In addition, the application has a mini-game mode, where you can increase the level of trust in your hero. You will be able to go on your first romantic date, where you will get a lot of pleasant emotions for a long time in memory.
Moreover, each character in the game is really interesting and well-drawn, so you can create different types of couples. A pleasant anime graphic is not everything. Indeed, relaxing music will accompany the whole game.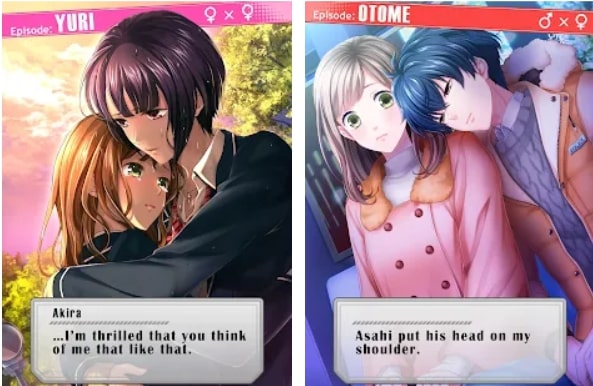 You may also like: 9 Best casual dating apps for Android & iOS
9. Mystic Messenger
The application is made in the popular genre of anime love stories. It provides a textual quest, in which you will have to pass a lot of funny adventures. The gameplay of this game is just a messenger. Most of the plot will be developed with the help of text messages, where you can choose one of the available answer options.
It is necessary to think carefully before choosing an answer. After all, any answer will depend on the attitude of the other characters to the protagonist. An interesting thing is that the game is going on in real-time, so as time goes by, the chats and messages will disappear. Also, the characters in the game can call the main hero to share his emotions or ask for a date.
As you are organizing the party according to the plot, your task is to invite cool guests. So you will be able to send out invitations and wait for a response from the pretty boys. That way, you will communicate with invited heroes, by picking one of the suggested answers.
So you will try to build your love. Also, the developers have promised that the end of the game depends significantly on the number of guests at the party.