Do you still track the time yourself? With interval timer apps that are available on iOS and Android, this is no longer worth doing.
Interval Timer - HIIT Training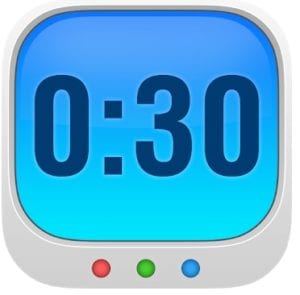 This reliable timer is ideal for both homework and workout in the gym. It can be used for running, cycling, weight training, stretching, boxing, MMA training and, of course, for high-intensity interval training.
Main functions:
Customizable approaches for high and low-intensity workouts, as well as setting rest intervals between them.
Support multitasking mode.
Continues to work in lock screen mode.
Plays music from your playlist.
Ability to publish workouts on Facebook and Twitter.
Save your workout settings as templates.
This convenient timer will help you keep track of your work and rest time during workouts and workouts with HIIT intervals.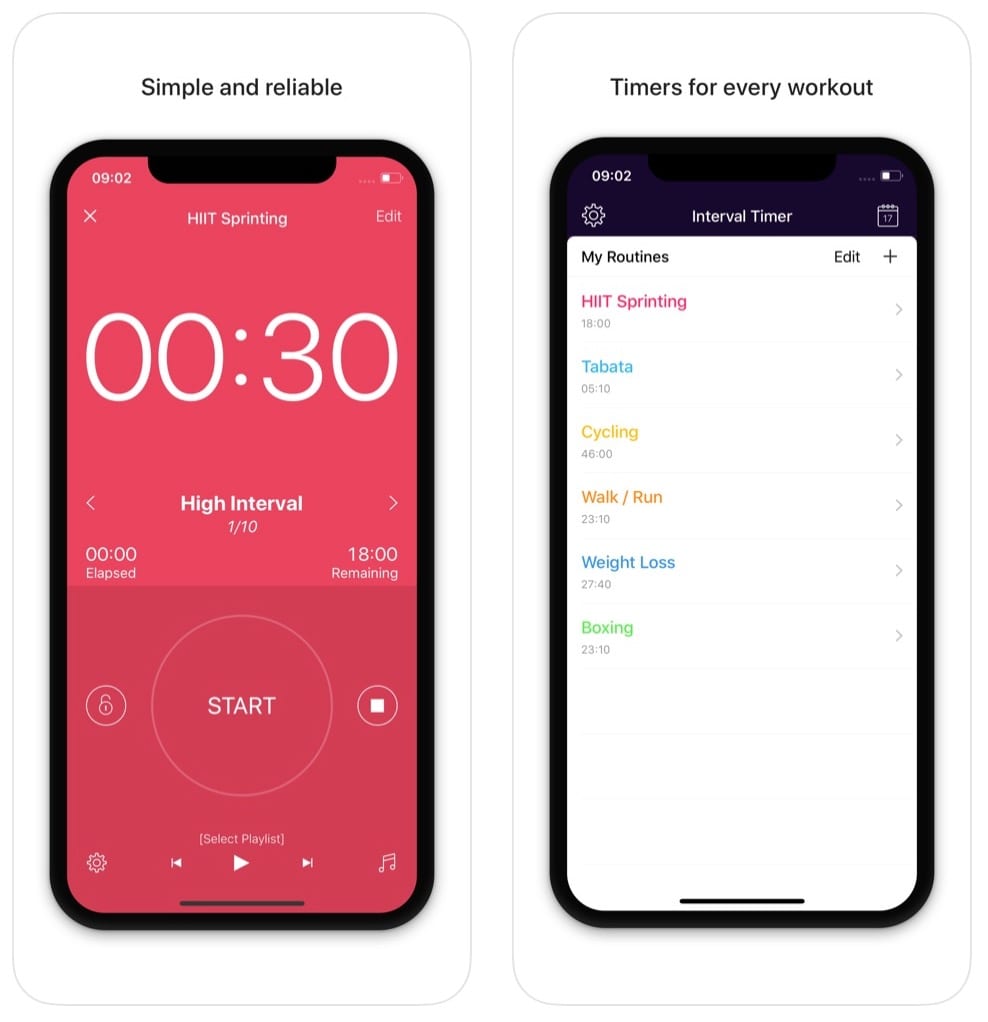 You may also like: 8 Best push up apps for Android & iOS
Seconds Interval Timer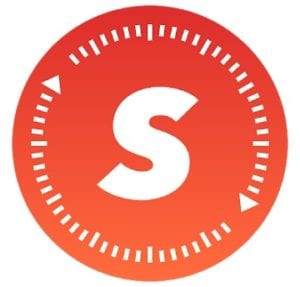 Seconds is a no less reliable and functional version of the sports interval timer.
This application is a superweapon among timers for interval training. A simple and intuitive interface will help to work in the application almost intuitively.
There is support for a heart rate sensor via Bluetooth, as well as templates for dozens of different workouts. At the same time, timers are suitable for completely different types of sports and intervals. You can even share them on social networks with your friends, who can quickly import your timer into your application.
Large full-screen color display allows reading from a distance. The display works in landscape or portrait orientation.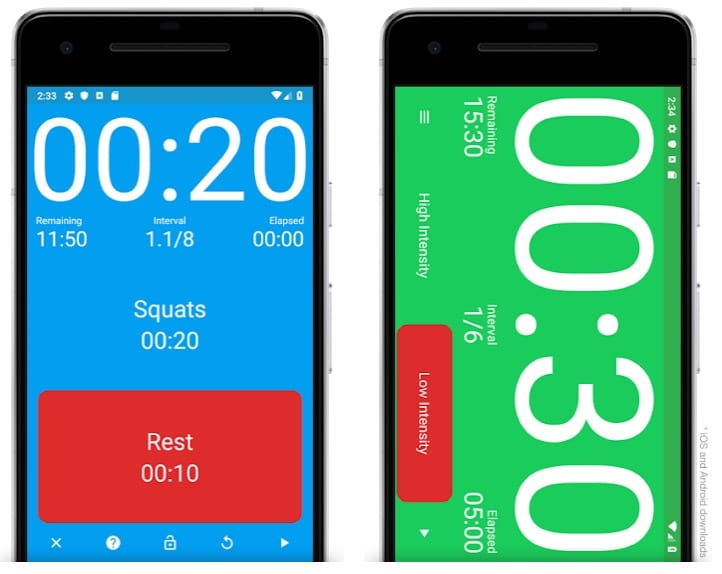 Interval Timer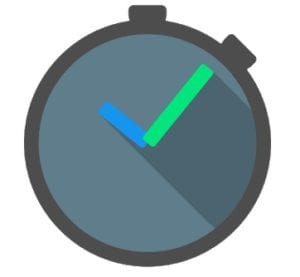 Interval Timer is a simple interval timer with an intuitive interface and a nice design. You won't have to figure out a bunch of functions and presets: they simply aren't here. deal for circuit training, high-intensity interval training (Tabata), etc.
You just need to set the number of Sets, Work Interval and Rest Interval, and then start the countdown. And the program will notify you of the end of the next time period with a loud sound.
Key features of the application:
Simplicity and usability.
Ideal for circuit training, high-intensity interval training (HIIT, Tabata), etc.
The ability to set the time for preparation, work and rest.
Color indication.
Sound notifications.
Work in the background.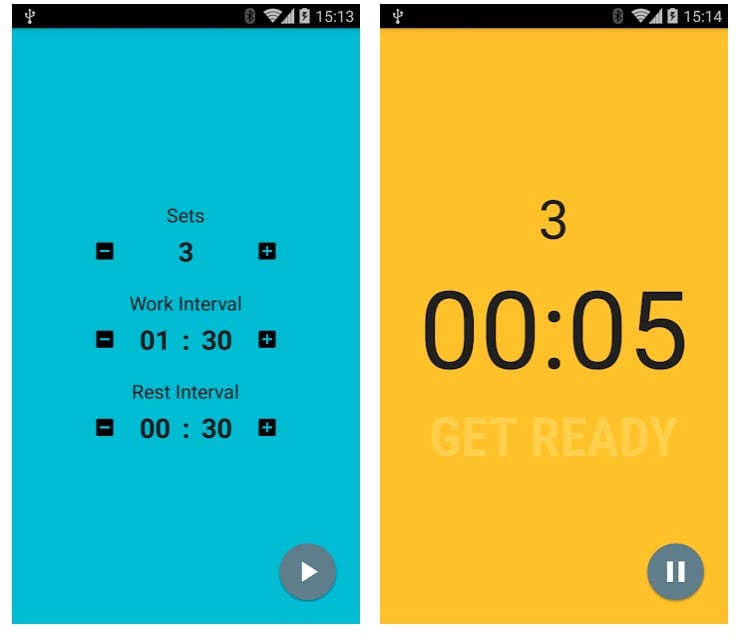 Tabata Timer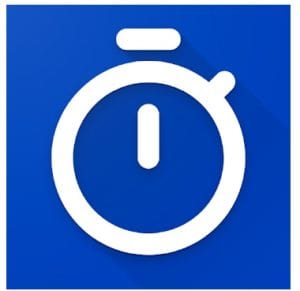 Tabata Timer: Interval Timer Workout Timer HIIT is a very useful application for everyone who is engaged in high-intensity interval training.
In fact, this program is a timer, but only with a wide range of functions, capabilities and other positive qualities that allow you not to lose time.
It's enough to set the time of preparation, training, rest, the number of cycles, sets and everything else for one or another training once, and after that only include them at the start of the training. Sound and vibration will tell you when and what to do, and a voice assistant will allow you not to be distracted by a mobile gadget.
The great advantage is that it works in the background and shows the current progress in a notification when your screen is locked or you're using another app.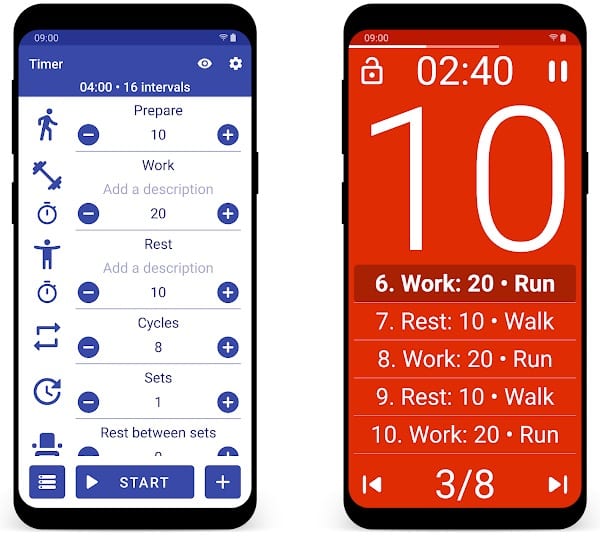 Tabata Stopwatch Pro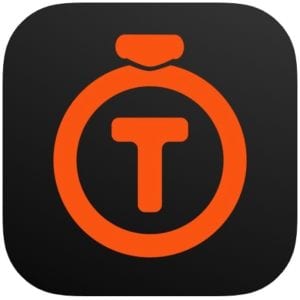 This is not an application for ultra-intense training, but a timer for practicing any sport, so don't let the name confuse you.
The application is suitable for any interval training – from running and swimming to HIIT. It works in the screen lock mode, you can set various sound signals or vibration.
You will also be able to switch between two different sets during training. In addition, if necessary, you can switch to a pause, and then continue from that moment, without starting the training from the very beginning.
It is possible to manually adjust the time for a warm-up, however, it includes the classic version of a Tabata workout with already configured intervals for exercise and relaxation.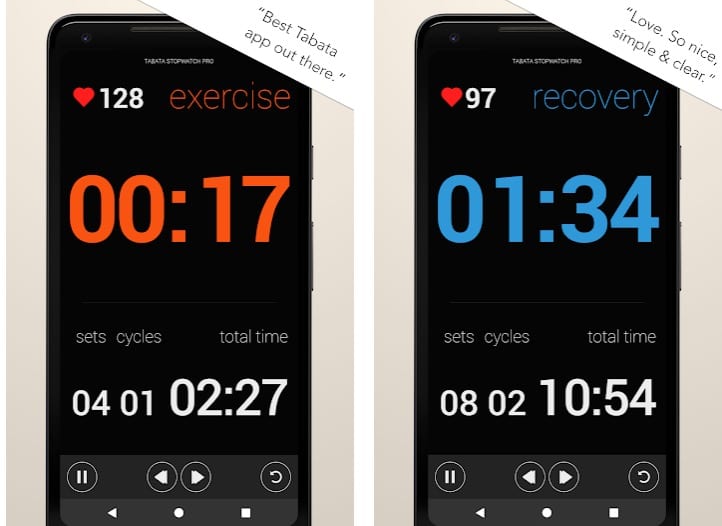 Custom Interval Timer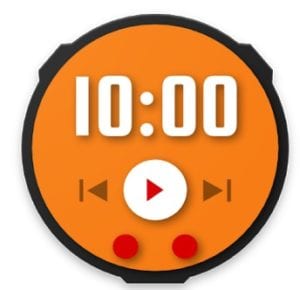 Custom Interval Timer helps you create workout timers to help you complete your workout routines.
Main Features:
Create personalized timers that guide you through your workout.
Set timer names, interval names, time intervals and the number of rounds.
Gives voice, sound and vibration feedback.
Customize theme, font size and font style.
Works in the background when using another application or when the screen is off.
The special interval timer is great for Running, Tabata, High-Intensity Interval Training (HIIT), Cycling, Weigh-Lifting, CrossFit, MMA training, Boxing, Yoga, Stretching, Home workouts, Fitness, Pilates and much more!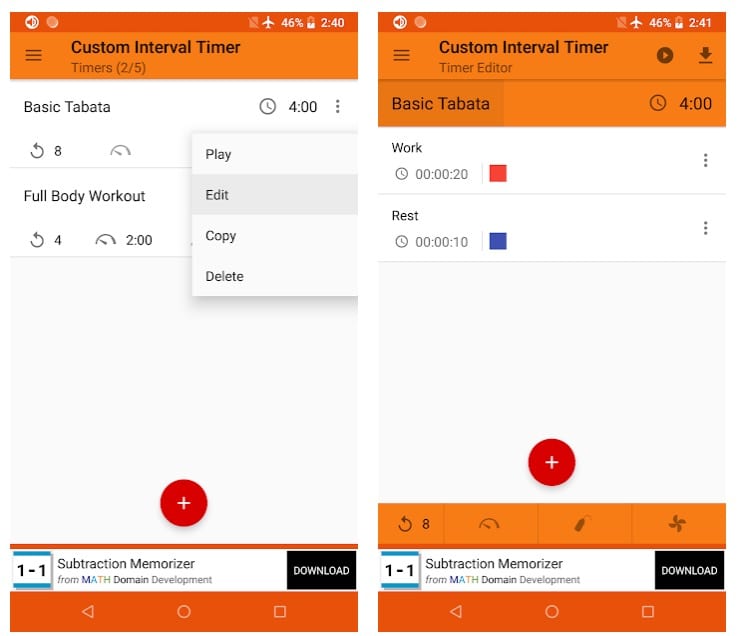 Gymboss Interval Timer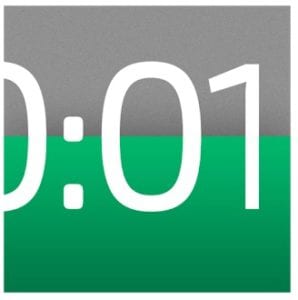 Gymboss Interval Timer is a smart interval timer perfect for any workout where timing is needed to time work and/or rest periods. It allows you to create individual timers at any intervals.
Any interval can be paused, started from the beginning or skipped. Many underestimate these opportunities but in vain. Very convenient, often relevant, especially if you want to continue resting a bit by the end of your workout.
As a bonus, the developers added another option – the ability to add the name of the exercise (a type of activity) for each interval. If you create a timer for circuit training, the option may come in handy. Of course, it's difficult to imagine a situation in which you forget which exercise is next, but all of a sudden … The name of the exercise is always displayed at the top of the screen during the time countdown.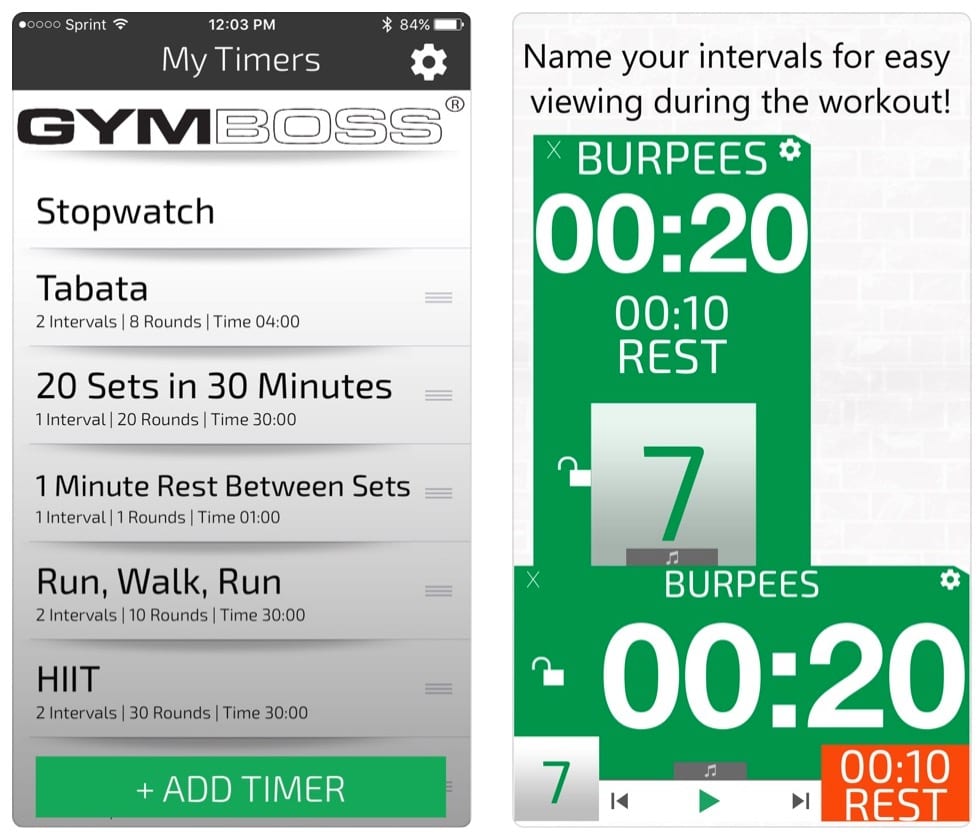 Tabata Timer With Music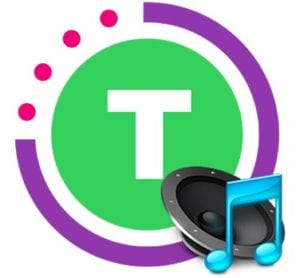 Tabata Timer With Music is an application designed for those who want to manage their time in specific tasks and need concentration. Customization options allow you to customize the application, and you can add songs that will facilitate the performance of tasks.
The application interface is simple and contains only two buttons: one to start the countdown, and the other to stop. If you want to start the timer, just press the button on the left and the big clock will light, reflecting the remaining time. With one click, you can turn it off, or pause it, and continue from the same place or start it all over again. To set a timer according to your needs, you just have to set a different time.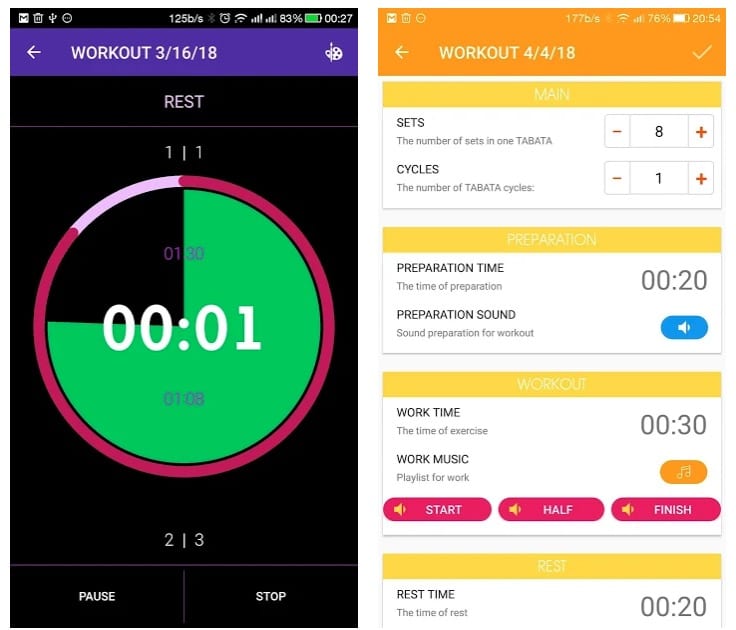 This application is most useful for workouts that require the use of two different timers, one for each exercise and one for rest periods. In this application, you can configure each timer to start after completing the previous one. Thus, you can create a complete task system without stopping, restarting, or delaying the countdown due to a shortage or extra time.
If you are preparing for training, or just want to do relaxing exercises, Tabata Timer With Music offers a list of musical preferences that adapt to your needs, making it possible to listen to quiet music for yoga classes or something more rhythmic for your cardio workouts.
Tabata interval timer & basic fit coaches training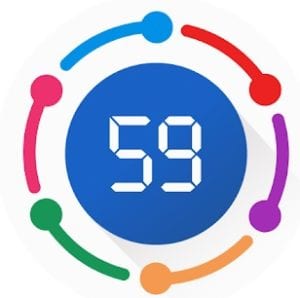 This is an advanced sports timer for сircuit and interval training. It will be perfect for most types of workouts (CrossFit, Tabata, street workout, running, boxing, yoga, HIIT, fitness, Sixpack workout, and more). With it, you can easily edit and create your workouts.
It has a simple interface and works in the background.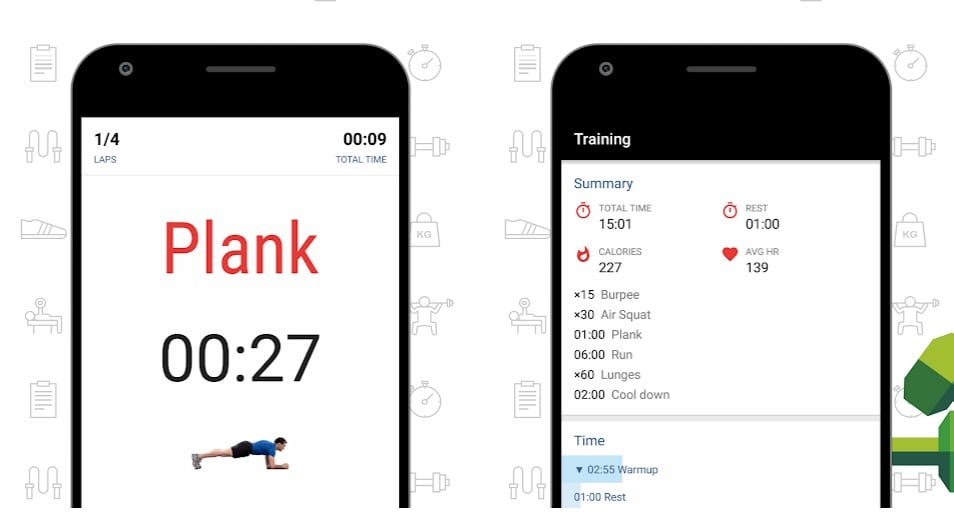 You may also like: 11 Great gymnastic apps to help you exercise
Tabata Timer for HIIT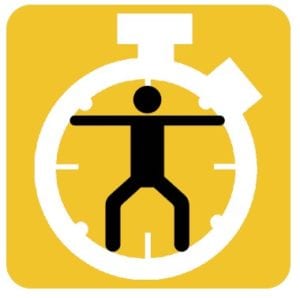 Tabata Timer is an application which helps you measure time intervals when training. With such a program, you can safely go to a new level of training, because the application contains many convenient settings. A
With this application, you can quickly create your training program and achieve unique results. That is why you should definitely start using this application. It will help you achieve excellent results from training because now all approaches will be coordinated in time.
The main features:
Configurable preparation, workout and rest durations.
Clear time display.
Customizable background music.
Record your daily workout history and track performance.
Thanks to such high-quality settings and multifunctionality the application could appeal to a huge number of people and therefore you should definitely make friends with it. If you have never used such a program, then it's time to start doing it. You won't lose anything from installing the application, but if you like it, you'll get a reliable friend and assistant.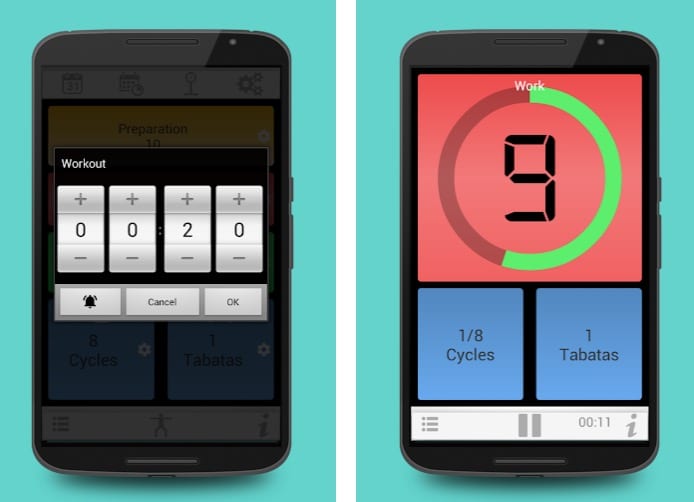 As a result, it turns out that the Tabata Timer is a wonderful program. By measuring time intervals, you can safely achieve unique results.