An active lifestyle is a key to your health. To maintain and enhance it, today we have collected the top of the best walking direction apps for Android and iOS gadgets. These services can create the best routes for any activity and all members of your family.
In addition, you can add another impressive app from the list of Best Walk Reminder Apps to your collection. They will remind you that the time has come to go outside and take a little walk.
1. Mapless Walking Directions
This app uses a schematic representation of the terrain, which displays your route with a pointer to a given location. Thanks to this limited information, you are free to choose your route to reach your goal.
In addition, the app present you some additional data about the location of the way and you can get even more info concerning the distance to your next point. The service also shows you the approximate time required to reach your goal.
Besides, the app lets you connect your data with the Apple Watch and the Health app. It gives you more control over your activity and your health.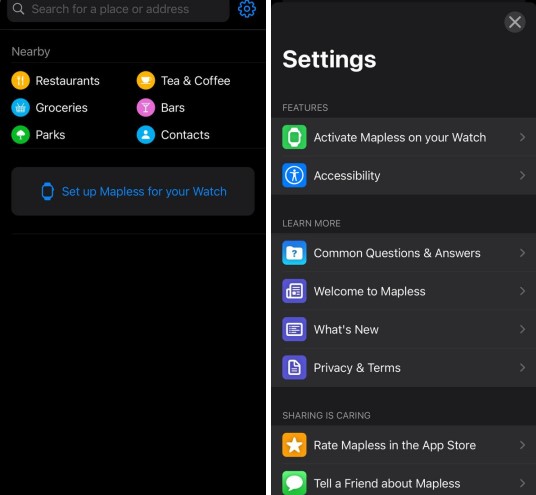 You may also like: 7 Best Trail Running GPS Apps
2. Outdooractive: Hiking Trails
This app contains all the features that will help you in any sort of walk. The app collects many routes that you will be able to view with brief information on each of them. For each path you take, there will be additional information about distance and intensity, as well as pictures.
In addition, the program allows you to work without the Internet or data transfer, which will allow you to save your maps and always be aware of where you are. In addition, you can save your walks within the app and view information about them.
It is also possible to sync the app with your Smart Watch, so you can view your waypoints on it without opening the app. You can also share your location with your friends or family right from the app. At the end of your walk, it will allow you to view detailed information about your walk, as well as track additional data in Health app.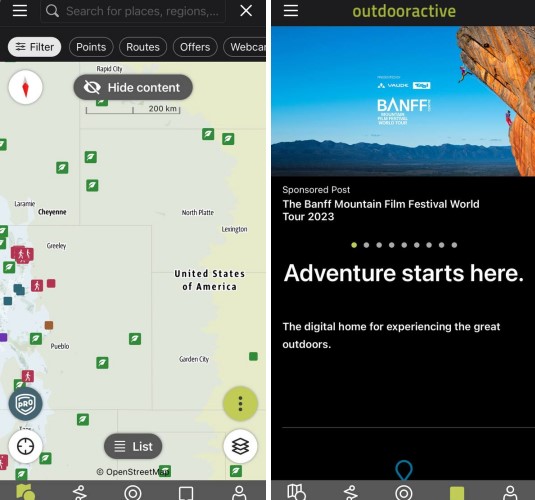 3. AllTrails: Hike, Bike & Run
This application contains more than 100 thousand trails that you can walk on. There are many filters in the app so that you may find the best route for you. In addition, the app includes routes for off-road riding, mountain biking, horseback riding, or snowshoeing. Also, you can browse options for walking with your dog and wheelchairs, which is great.
For every walk you take, you will have the ability to track it in the app. In addition, the app provides detailed information about your walk, you will even know what speed you were moving at and the time of your journey. Besides, you will be able to create custom maps with waypoints and save your favorite routes.
It is also possible to use the app offline and download certain sections of the map for further walking. In addition, you can turn on navigation notifications so that you stay on track and stick to your waypoints.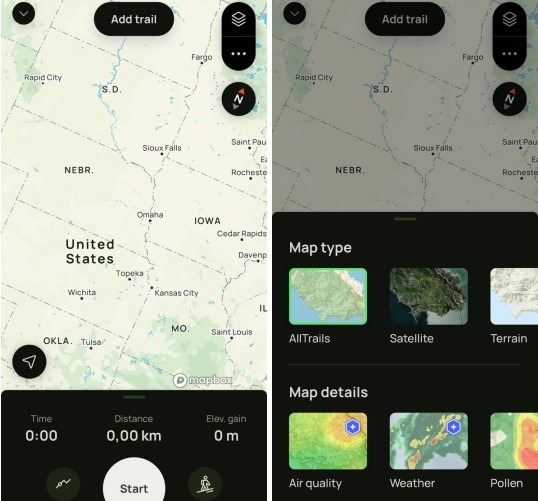 4. Wikiloc Outdoor Navigation GPS
If you love walking, this app is perfect for you. The service provides more than one million open trails around the world. The filters in the app help you choose the best route for your type of walking. You can choose between hiking, running, biking, skiing, and many other activities.
During your walk, the app will guide you with a directional indicator and beeps to alert you if you drift away from waypoints. In addition, the app contains a friendly and helpful feature that will help you stay in sight of your loved ones and acquaintances at all times.
You can share your location directly from the app, allowing your loved ones to always know where you are. In addition, the app provides advanced weather forecasts for your perfect vacation. Also, by using advanced filters to find your driveway, you can find your route through the neighborhoods you have chosen.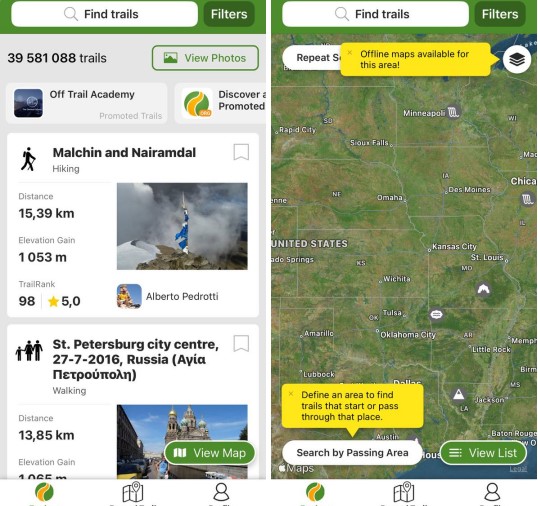 You may also like: 11 Best Ski Tracking Apps
5. Komoot: Bike Trails & Routes
This app invites you to set up a personal account and join a community of people who love healthy lifestyles and walking. Here you make your paths and share them with users and your friends. You can also share photos, write posts and tell more about your journeys.
This is where you may even subscribe to people you find fascinating and walk their trails. In addition, here you get detailed information about the state of the roads. So, it will be useful for those who want to ride a bicycle. That is why it is possible to lay out the roads for hiking, skiing, or mountain biking.
In addition, you can use the voice assistant, which controls all your way and tells you if you are lost on your way. In addition, you can forget about the Internet here, as the app offers offline maps that will help you not get lost on unexplored roads.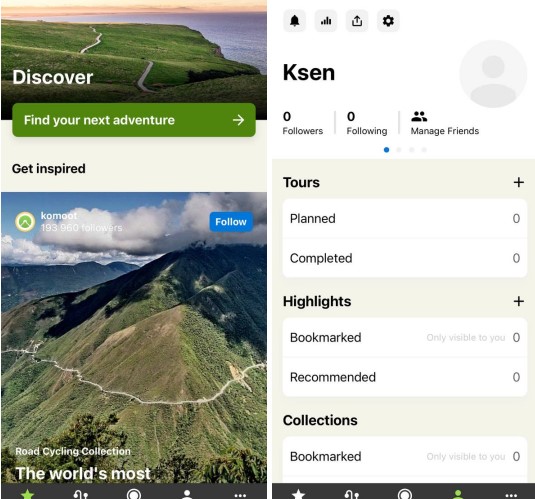 6. Relive: Run, Ride, Hike & more
This is probably one of the most convenient and suitable apps for your journeys in parks, streets, and nature. Here you can find uncharted paths and explore them with the app. There are several distinctive features available. First of all, there is a wide range of paths that are near you. You can also plan a trip to another city.
In addition, each path has some valid information. For example, the program shows the distance, time, and speed. So you can keep track of your performance and the time spent. In addition, you can use this app to create interactive and exciting videos of your walks.
Thus, the app records your walk and automatically creates a video with the terrain and all the distance traveled. This video can be sent to all your friends directly from the app. In addition, you can add your photos to the video and share your impressions about the road.
Additionally, you may attach various sound effects and music. Another feature is that the road will be displayed in 3D, so you can explore what you have not noticed during your journey.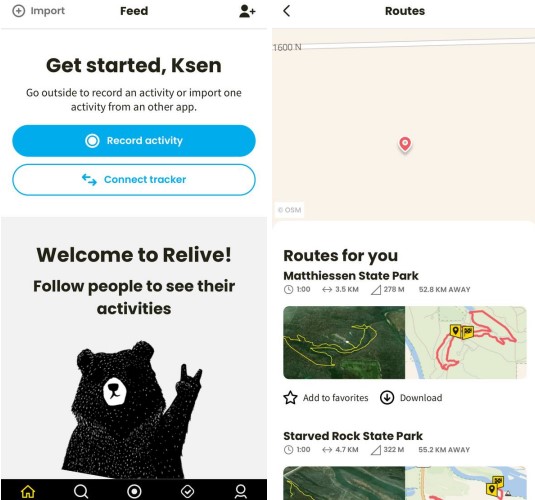 You may also like: 7 Best Wind Radar Apps
7. Running Walking Tracker Goals
The last app on our list is a bit different from the ones we have already mentioned. It of course provides you with a variety of walking routes through the city, parks, and woods as well. However, it is also brilliant for planning your workouts and monitoring your activity and weight.
In addition, all activity is conventionally divided into levels. For example, there are trails for beginners and advanced users alike. In addition, you can track not only the distance but also other parameters, such as calories burned or time spent outdoors.
It is also worth adding that there is a built-in pedometer that will keep track of your activity even when the app is off. After all, it syncs with Health and gets all the main data directly from there. In addition, various reports clearly show your progress over a day or month.
In addition, the service takes care of your fitness and comfort. For example, you can play music directly from the app. Just synchronize it with any available music service. And your walk will be accompanied by your favorite tracks.