The topic of all sorts of baby apps, gadgets, and products is probably your most familiar and favorite topic since you are going to be a mother very soon. All of these can simplify the life of an expectant mother by bringing some clarity to difficult issues, as well as saving time and nerves. In fact, when you are expecting twins there are probably even more questions in your mind.
That is why you most likely want to get helpful advice about pregnancy, childbirth, and raising babies. In such cases, the easiest way is to use a special app. We have prepared a selection of useful applications for all expectant parents in this article. For sure, if you are pregnant for the first time, the selection of the Best Apps for First-Time Parents will be interesting.
1. Pregnancy Tracker & Baby App
This app is another very competent app for pregnancy and baby trackers in this genre. It contains more than 15,000 articles on virtually any aspect of pregnancy, daily tips, health news, and various video content with even more information.
It is a tool for monitoring the course of a pregnancy, so when you first start it, the app prompts you to enter your expected date of birth. Later on, when you enter the program, it will display a timer on the home screen. In addition, it has some useful tracking features.
These pregnancy trackers will help you more quickly understand the changes taking place in your body. Moreover, they are distinguished by a beautiful and user-friendly interface. You can be more successful in maintaining your health, and then simply use the information you get, for example, to adjust your weight and keep your hydration stable.
The app also contains useful information about each trimester of pregnancy. The main thing here is the huge amount of information contained in the app. The amazing thing is that the application has forums with the other parents who are expecting twins. Here you will find popular discussions or even be able to ask your question.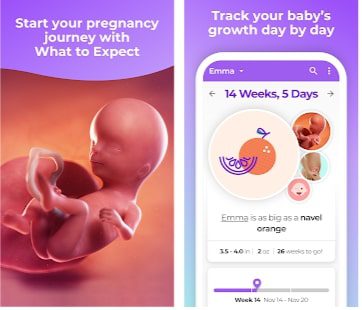 You may also like: 9 Best Fertility Apps for Android & iOS
2. WebMD Pregnancy
The useful WebMD Pregnancy app has gained popularity and positive feedback in a short time. The app will appeal to young women who have not yet had any experience with motherhood. It is a whole package that covers all aspects of the birth of a new human being.
Here you will find both the best date of conception and the best way to facilitate the process of childbirth. It also contains charts, short notes, and extensive articles. Most importantly, it is all endorsed by 900 competent doctors, who were involved in the creation of the application.
You will also get useful videos on the topic of motherhood. In addition, as with other apps, you will be able to track changes in the timing of your pregnancy. Each week is accompanied by information and useful tips.
Moreover, you will see how approximately your twins look like at a certain stage of pregnancy. This application is constantly being improved. The developers are adding new sections and updating outdated information.

3. Baby Daybook
Baby Daybook is designed more for those who have already born a child, although undoubtedly those who are expecting twins will surely find something interesting and useful for themselves. This app is an assistant for the care of the baby. Both parents take care of the baby when they are born.
The Baby Daybook app will help you make sure that you have everything in hand. It will help you make your own schedule. In fact, it is always synchronized with Google Assistant. So your whole family will be able to keep track of the kids' schedules.
This app implies that the program has many different trackers, such as a nutrition and breastfeeding tracker, a milk bottle decanting tracker, an analyzer of your children's allergic reactions, a diaper tracker, a sleep count tracker, and a baby activity tracker.
By completing the data about your baby you can make motherhood and fatherhood much easier for yourself. In addition, the app has a pleasant interface. There is such a function as Dark Mode, which is useful in the dark time of the day.
In addition, you can define the colors of the icons and widgets in the app. There is also a quick search bar and a lot of different filters to help you navigate quickly through the trackers. To capture all the moments of the twins' growth, you can create albums right in the Baby Daybook app.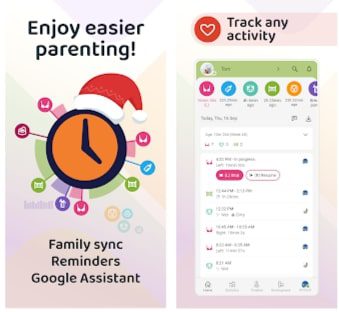 4. Baby Connect (Baby Tracker)
Baby Connect is an app that helps you keep track of your twins' development. This app has a lot of information, tips, and just interesting articles. The amazing thing is that you can even install it on your laptop or computer. This means that all your pregnancy records are instantly synchronized in each user account.
You can share photos and experiences with other parents through the app. This way you will not worry much because you can always open the app and considerably reassure yourself. It also allows you to set daily reminders that alert you to upcoming feedings or doctor's appointments. This allows you to better organize yourself and make yourself a healthy habit.
In addition, the program allows you to track your weight gain over the course of the week. So you will regulate your body condition. It is also worth mentioning that the interface is visually clear. You can easily move around the application and quickly fill in the trackers.
Moreover, it is possible to store an unlimited amount of information in the application. Also, you can share it directly from the application, for example, send an article on your email. By the way, you can give all of your data to your doctor. There is a special section for pregnancy consultation.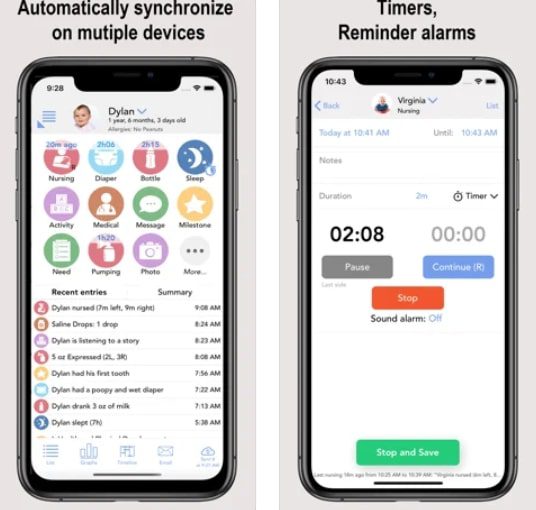 5. The Bump – Pregnancy & Baby Tracker
Bump Pregnancy Tracker is a free and most importantly knowledgeable and enjoyable tracker. The app has most of the maternity things you would want to see in an app for pregnant moms. You will find for yourself both including tons of pregnancy tips and how to be a parent.
In addition, moms will be able to monitor their baby's weekly growth with a cool 3D human body model. The three-dimensional baby model will help you visualize what your babies look like inside your belly, as well as how big your baby should be after each week of development.
There are also daily articles with tips in the form of articles on the most varied topics. You may also like the question and answer section, where you can find topical issues. In addition, there are other similar tools here to help you with your pregnancy.
For example, there is a registration function that will introduce you to a catalog with various baby products, such as diapers, toys, and clothes. The application collaborates with the most popular stores such as Amazon, Target, buybuy BABY, and others. By the way, you can purchase them with discounts from the app.
Also there you can find the perfect names for boys and girls. You can pick them using filters and even add your preferred ones to your favorites.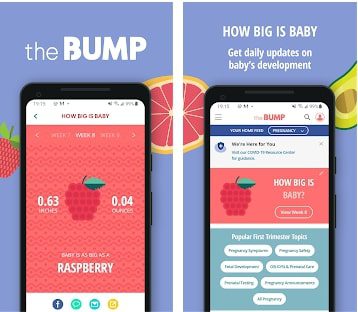 You may also like: 9 Best Apps to Find a Babysitter (Android & iOS)
6. Glow Baby: Newborn Tracker Log
You may have recently found out that you are pregnant. Whether it is twins then you need a double dose of care during your pregnancy. This app is the place where you will prepare yourself properly for life with babies.
Glow Baby will help you control your feeding and sleeping schedules. It will also answer all kinds of questions, even the ones you may be embarrassed to ask or might consider being silly. For example, you will discover how to change a diaper or bathe a newborn. It literally teaches you about the basics of motherhood.
In addition, the app has a chat room where you can communicate with other parents. You will receive useful tips every day, which are especially important for a young mother. There are plenty of different trackers to help you keep an eye on your health. These trackers also allow you to record your baby's temperature, height, and weight.
In addition, there is a weekly vitamin intake. You will not forget to take what your doctor prescribed. This app for pregnant women on the iPhone and Android is updated daily.
Also Glow Baby gives useful tips that are especially appropriate for first-time parents. In addition, there is a schedule of prenatal physical activity. This will help you prepare a little bit for the birth process.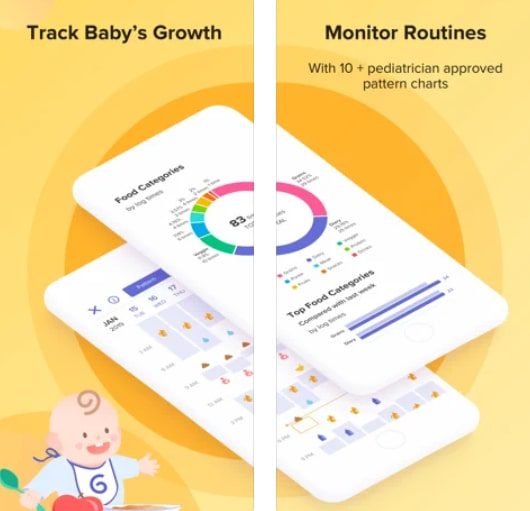 7. Pregnancy Tracker, Week by Week, Day by Day
Pregnancy Tracker, Week by Week, Day by Day is a daily pregnancy tracker with lots of useful information. Part of the features includes daily and weekly tips to make mothers feel more confident about their pregnancies. You will be able to watch your baby's development every day.
The app gives you access to pictures that show how your baby is growing inside your belly. In addition, the app provides you with the ability to observe an individual timeline of fetal development. You will also get a checklist to know when your baby is expected to be born.
ThIt is possible to use a variety of tools, such as a beat counter, labor timer, and weight tracker. The information is presented in an interesting and compressed way, without unnecessary digressions. This allows us to read all the necessary information in the fastest way possible.
It is also accompanied by interesting colored pictures. There is also special storage for ultrasound pictures. Each week of pregnancy is followed by colorful illustrations. Interestingly, the height and weight of the baby are compared to colored fruits and vegetables in the app.
All the information in the Pregnancy Tracker, Week by Week, Day by Day is described in an original way, with non-standard comparisons, in a positive way. Moreover, the pregnancy calendar of this tracker app includes many videos: gymnastics lessons, necessary examinations, Kegel exercises to strengthen pelvic muscles.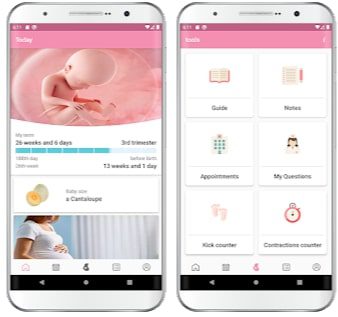 8. Baby Tracker & Breast Feeding
This app will give you easy control overfeeding your children in a smart way. You can use this app to set a timer that will remind you of upcoming feedings. It is also worth noting that the app is ideal for those who have more than one child, for instance, twins.
You will be able to add a baby and its own schedule. The program is also equipped with a schedule of necessary medications. Also, you will be able to keep track of the number of diapers you use. So you will know exactly how many packs of diapers you need to buy per week.
Moreover, it enables you to keep track of your children's weight gain. Just enter them in the Measuring section and you will be able to see how your baby is growing. The app makes it possible to set your baby's schedule in general, for example, to adjust the bedtime and wake-up time.
In the Baby Tracker & Breast Feeding settings, you can set the necessary trackers. As a consequence, it will help you not to be distracted by any trackers that you do not need.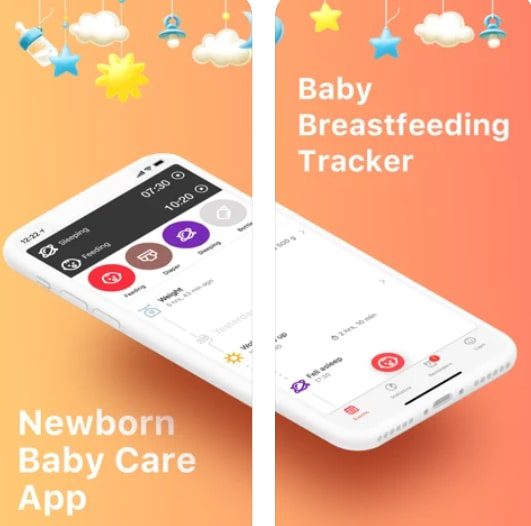 9. Pregnancy + | tracker app, week by week in 3D
This app takes into account the fact that a woman can be pregnant with more than one child. Even the free version of Pregnancy + has many advantages and strong points. Let us tell you more about all of them.
The first nice benefit is that the app has nice illustrations. Immediately after downloading the app, a picture appears on the start page with the baby at the age that corresponds to your pregnancy period. Then the app offers separate sections for mom and baby, where you can read and see how the baby is developing at that time of pregnancy.
You will also get information about how the expectant mother's body reacts during this period of her pregnancy. Each section has detailed information that is updated weekly to give you up-to-date news on how babies are growing.
You can guess the weight and growth of your babies and whatever is going on with them during these weeks without special ultrasound examinations. Also, the USI picture can be both 2D and interactive 3D USI shot.
In addition, the section for moms describes in detail what they may be experiencing during this period of pregnancy. That can significantly comfort a woman. After all, her body is undergoing significant changes.
It is also possible to record and control your weight. As we know, during pregnancy it is essential for women to stay physically active and monitor their condition. This application will help you in this very well.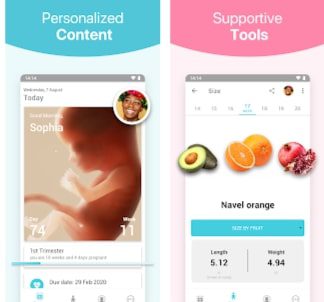 10. Ovia Pregnancy Tracker: Baby Due Date Countdown
Mascot – Anime RoleplOvia Pregnancy Tracker is another powerful pregnancy tracking tool. Its main differentiator is featuring such as a weekly tracker, baby size tracking, and a countdown timer. It also has many articles with health tips, treatments for pregnancy symptoms, and other helpful tips and tricks.
There is a separate section with a schedule of doctor's appointments and deadlines for necessary tests. The app also contains information about your baby's height and weight, the formation of his or her organs, and skills development.
In addition, you can track things like mood, sleep, activity, and blood pressure. It even has some calorie counting functions. After all, during pregnancy, you want to eat some totally unbelievable foods that can make a big difference in your weight.
What you might like best is that Ovia has an app for fertility as well as parenting. So you can use apps from this one company to get pregnant, deal with pregnancy, and then learn how to raise kids. This is a decent little trio of apps that will be with you through all stages of pregnancy.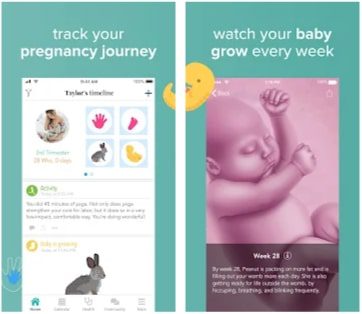 You may also like: 11 Best baby care apps for Android & iOS
11. iMumz – The Complete App for Pregnancy & Parenting
This app is a kind of diary that will help you to track your pregnancy, find out what changes are occurring in your body each week, receive useful information and advice, and monitor your weight gain. After setting up the tracker, on the main screen will be shown information about the current pregnancy term and how much time is left before the birth.
Most importantly, you will be able to choose the program you are interested in when you sign in to the application. Young moms will be presented with programs on meditation, diet, yoga and fitness, baby talk, and helpful music. In each section, you will find plenty of useful tips and information on the topic that interests you.
Also, the entire pregnancy process will be accompanied by live sessions with professional doctors. You no longer have to go to the hospital if you have questions about your condition. All in all, the app will help you create the right conditions to carry a healthy baby. You will also be able to feel more active and fitter.