Do you ever find yourself polishing off an entire bag of chips or a pint of ice cream in one sitting? If so, you're not alone. Binge eating can be a struggle for many people, but there's a way to get rid of it.
We've made a list of the best apps to prevent binge eating and help you keep your impulses in check. Whether you're trying to monitor your meals, handle eating triggers, or just need a little extra support, these apps got you covered.
From carb counters to mindfulness exercises, these apps are sure to make the journey to a healthier relationship with food a little easier. Say goodbye to endless cycles of guilt and unhealthy eating habits, and say hello to a healthier lifestyle. Let's get started!
1. RR Eating Disorder Management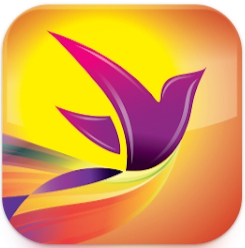 If you're seeking an app to cope with binge eating, don't get past this app. It's an absolute game-changer when it comes to ED healing. The app will become a full-on smart companion for handling your healing.
It lets you keep an easy and discreet log of your meals, thoughts, and emotions all from the privacy of your mobile phone. Not only that, but you can customize your log form, meal plan, reminder schedules, and even alarm tones! Talk about personalization at its finest. It's like having a personalized assistant right on your phone!
But, here's where it gets even better. The app offers a unique and fun way to stay motivated through its jigsaw piece system. By logging consistently and keeping up with your journey, you can earn hidden rewards and collect jigsaw pieces. Who doesn't love a fun little challenge to spice up their journey to recovery?
And speaking of motivation, you can receive and send anonymous encouragement messages and virtual gifts from thousands of other users. You'll also get to share your advancement with your therapy team for even more personalized help and support.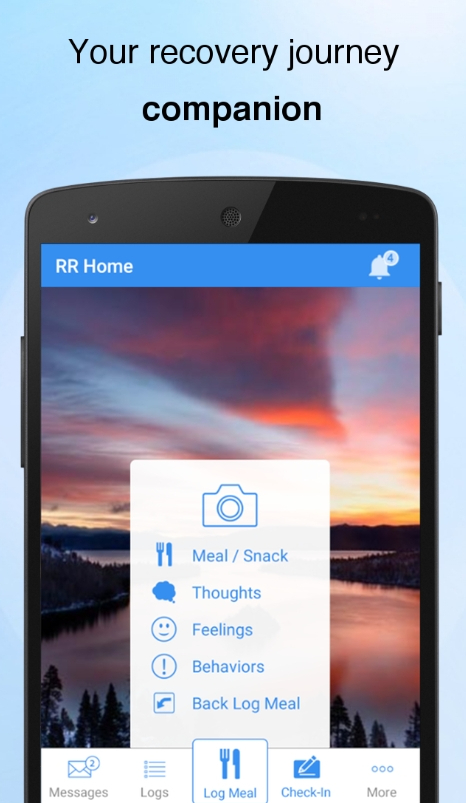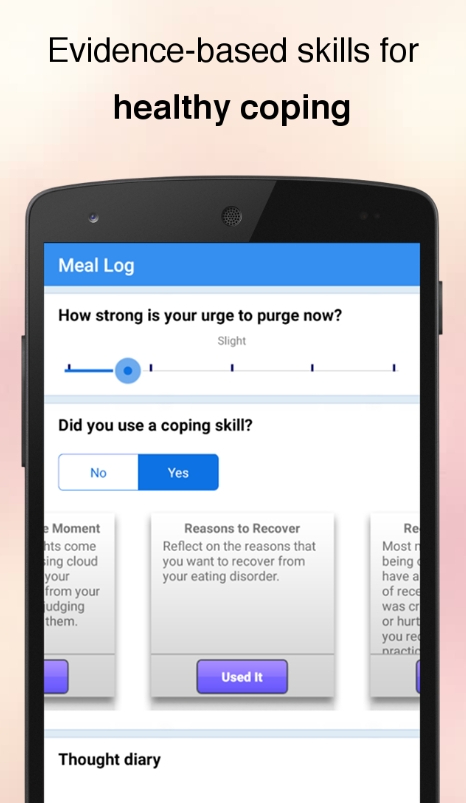 You may also like: 11 Best Apps For People With ADHD
2. Rise Up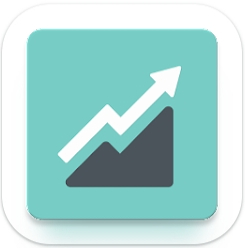 This app is here to help you get more control over your ED. This app is made to help you take charge of your life by offering easy and convenient ways to log your meals and patterns. With just a few taps, you can keep track of everything from what you've eaten to how you're feeling. It's a great way to keep yourself accountable during a recovery journey.
But the app is not just about tracking, it's also about providing you with the instruments to stay motivated and concentrated on your recovery. You can set notifications to help keep you on track, and you'll have access to a wealth of resources that can help you build a strong, healthy mindset.
You'll also get to export all the meals and check-ins in a PDF summary. Being able to share this with your treatment team will make your therapy sessions so much more productive and efficient. Security is also a top priority, and the app lets you set a passcode to keep all your personal info protected and private.
One of the most uplifting aspects of the app is its motivational and inspirational quotes, images, and affirmations you can share with other users. It's like having a positive online community cheering you on every step of the way!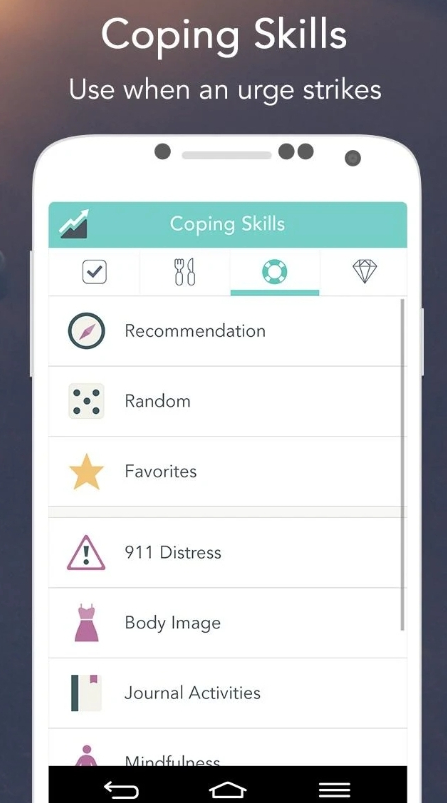 3. Brighter Bite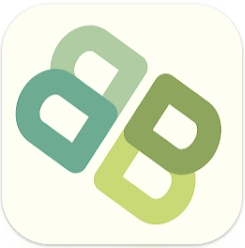 This app is a game-changer for anyone dealing with binge eating. It offers an all-in-one suite of features aimed at helping you monitor your meals, track eating disorder behaviors, and also get valuable insights into your thought process and emotions.
With over 20 therapeutic techniques to help you relax during hard times, the app is made with a fun and creative tone that makes it easy to use. One of the standout tools here is its innovative coping chat that helps you build up your own resources to cope with distress.
The app's easy-to-view format makes it easy to organize and filter your logs, providing you with insights into your advancement over time. You can gain recovery insights from analysis graphs based on recorded data and monitor your mood and thoughts. The ED assessment test is a valuable resource that helps you gain insight into the severity of your disorder and the appropriate treatment options available.
With the ability to export tracked data to a shareable PDF report, you can share your progress with your healthcare provider or support group. The app also has an educational section with recovery resources, treatment insights, and communities, all in one place. The daily motivation quotes are a lovely touch that puts a smile on your face and reminds you to stay strong.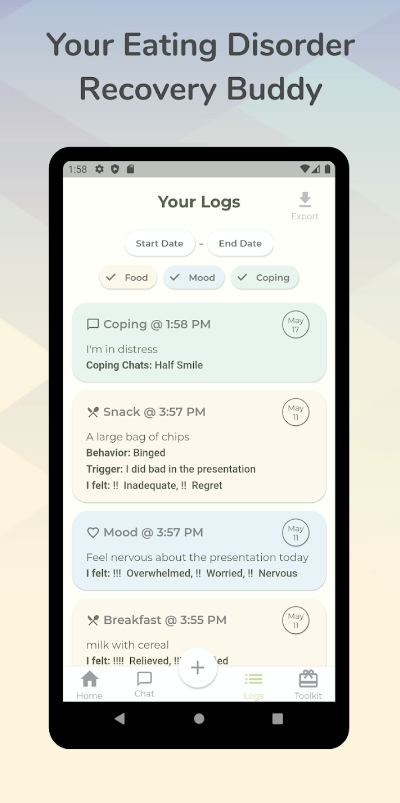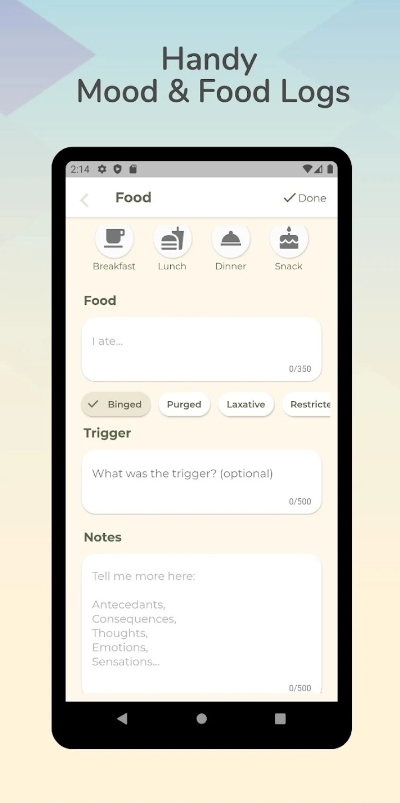 Check also: 11 Best Apps to Prevent Food Waste
4. Eating Disorder Recovery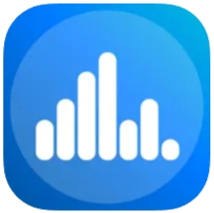 If you're struggling with a binge-eating disorder and feeling overwhelmed by keeping track of your symptoms and progress, this app can help. This app is not solely for coping with ED, but it can certainly be a useful tool to aid in your recovery journey.
With just a few taps, you can easily track your feelings, symptoms, and treatments. Plus, you have the option to add your own unique symptoms and treatments to better personalize your journaling experience. You'll get to analyze your statistics over time and have a clear overview of how you're doing.
You'll even get to create PDF or CSV reports to share with your healthcare provider during check-ups and appointments. But it's not all work and no play, the app also gives you the opportunity to collect achievements, so you can stay motivated on your path to recovery.
Daily reminders will keep you on track with journaling and self-care habits. Not to mention, the app takes security seriously! You'll be able to lock your journal with Face or Touch ID, ensuring that your private information stays safe and secure.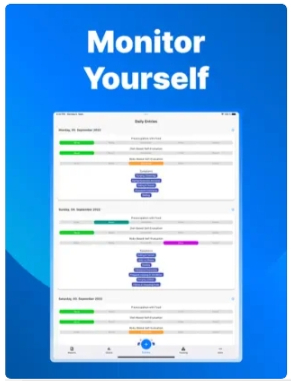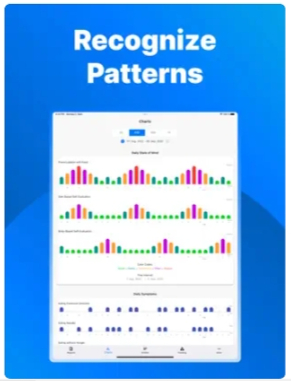 You may also check: 7 Best Walk Reminder Apps
5. Nourishly
To wrap up, there's an app to help you cope with your binge-eating habits. While it wasn't specifically made for those with ED, this app can definitely lend a helping hand in that area. It's not just your average meal tracker app: with input from leading dietitians, and psychologists, this app has been tailored to bring together all the best parts of what works to help you live your best life.
The cognitive-behavioral tracking feature is a game-changer. You can log your meals, activities, mood, sleep patterns, hunger levels, and even temptations all in one place. It's a super easy way to see how they all interconnect. It's not just about what you're eating, but the other factors that can impact your overall well-being.
Plus, the simple and specialized meal plans are a major plus. Whether you want to follow a specific diet or just need some inspiration for healthy meal ideas, the app got you covered. And the science-backed micro-missions are genius! They're small tweaks to your habits that can lead to big moments. It's amazing how something as simple as drinking more water or getting a few extra minutes of sunshine can make such a big difference.