Human environmental footprint grows with each passing year. We should take care of nature and think about the food waste produced by humankind. Such food waste can be found in every home. People do not really think about the negative impact of dumping the trash. However, it is necessary to do some thinking about what happens with the garbage afterward.
We suggest our readers pay attention to applications designed to reduce the production of waste in this article. This planet suffers from us. If you feel like doing something about it, then you can take a look at this article. You can rent clothes there instead of buying new ones. This way, we can reduce the amount of waste together.
1. ResQ Club – Save food!
Food trash and food waste are not the same things. Food waste can be used after some processing, while food waste can no longer be. To avoid turning waste into trash, the Finnish developers have invented the ResQ app. With it, we can decrease the amount of trash. So the app works in the following way.
In the beginning, the app shows you the restaurants that are nearest to you. The owners of these establishments have some leftover food, and they offer to buy it at a greatly discounted price. For example, they recently had a business meeting where it is not common to eat much. The food was leftover, even though it had not been touched.
The restaurant owners used to have no choice except to throw it out. Besides that, you can ask in the app to either pack a meal to take with you or to eat in the establishment itself. You can make payment both in the app and in the restaurant. It is important to note that in the search app you will be able to find a restaurant according to your taste.
ResQ Club is great because you are not only preserving the environment but also saving your money. More and more restaurants, bars, cafes, and other places are participating in this program.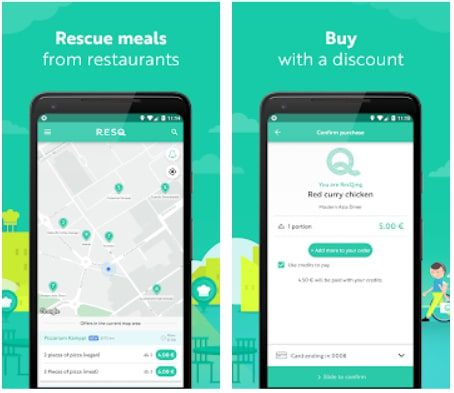 You may also like: 9 Best apps to quit sugar (Android & iOS)
2. Magic Fridge: Easy French recipe and no more waste
What does food waste consist of? Certainly from our under-eaten meals and products that could actually be potential ingredients. Therefore, the FrigoMagic app is designed specifically to reduce the garbage that you produce every day. First of all, you will find here a way to make a meal out of the leftover ingredients in your fridge.
All you have to do is to load what you have into the app. Meanwhile, FrigoMagic will provide you with over 2,000 recipes from 21,000 combinations. You will encounter an incredibly convenient search for recipes of different types of cuisines. So you can prepare vegetarian, low-calorie, lactose-free dishes. Secondly, you will save your money.
After all, now you do not have to throw away any products. You can always come up with something interesting. Students, single parents, and anyone else who is in need are already in love with the app. Users have appreciated the possibility to edit their profile and setting their preferences beforehand. So the app algorithm knows in advance what you might like.
It means you can set not only your gourmet preferences but also the technique that you have, which products should be avoided. Moreover, the application has an incredibly nice interface with illustrative pictures of products.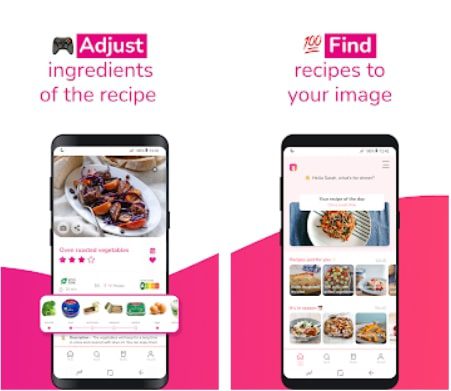 3. Karma – Save food with a tap
Karma has already saved the production of 1,800 tons of CO2. The developers of this app believed that restaurants and potential customers could be connected through the app. This is where restaurateurs offer to buy ingredients at super discounted prices, or ready-made meals. By some means, the restaurant either was unable to sell or simply leftover.
This way, restaurants do not lose much profit, customers save money, and our planet does not suffer from waste. After all, it takes an enormous amount of resources to produce food, not to mention recycling garbage. In addition, the app has a handy search engine. First of all, you will find the nearest restaurant to you.
And secondly, use the search bar to specify what exactly you want to buy. From each restaurant, you will see a list of foods which they offer along with an image. You will be able to choose food of different cuisines and preferences. Use the suggested filters to search and find something that suits you. The convenient thing is that you can pay directly in the app.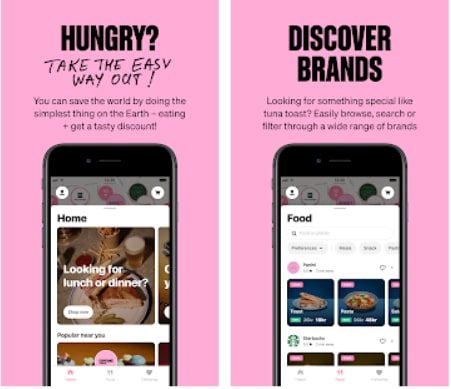 4. GOOODr – Food Donation App
The owner of various food establishments can now do good deeds using the GOOODr app. All thanks to the service of this app around the clock. Already millions of malnourished people have received their portion of food. The only thing people who want to donate food need to do is to complete a small questionnaire.
It includes your name, phone number, donation weight, address, and type of food. If you have any issues the app support will always answer these questions. So in the Frequently Asked Questions section, you might quickly find the answer. Restaurants have some food leftovers anyway, which they are likely to dump.
However, with the GOOODr app, you will be able to do a number of good things and throw away less food waste. For instance, the service will independently point out which non-profit organizations need help. In Atlanta, for example, the service works 24 hours a day and is quite effective. This application is currently generating $30,000 a month in revenue.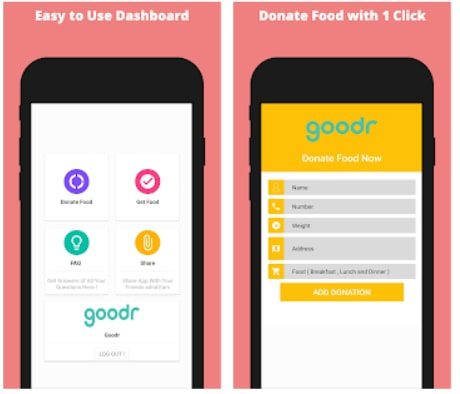 5. Too Good To Go: End Food Waste
Too Good To Go is ranked number one among apps that are dedicated to reducing food waste. Its developers are an official, certified company that is fighting against climate change. They are aiming to change human awareness of the consumption and recycling of food and trash. With the app, supermarkets, cafes, bars, and restaurants can reduce food waste.
The owners of such establishments can use this application to place products at a discount. And the users of this application, in turn, will be able to get a quality takeaway product. You will always be able to find stores and restaurants near you with a built-in map. Then, in order not to miss updates, you can add them to your favorites.
So you will be able to find the restaurant that you like. After all, Too Good To Go is the most popular app in the field. It has a lot of connected places in the program accordingly. That way you can use filters to choose food for breakfast lunch and dinner, decide what ingredients to use, and choose vegetarian dishes. Discover new places within a certain radius of you.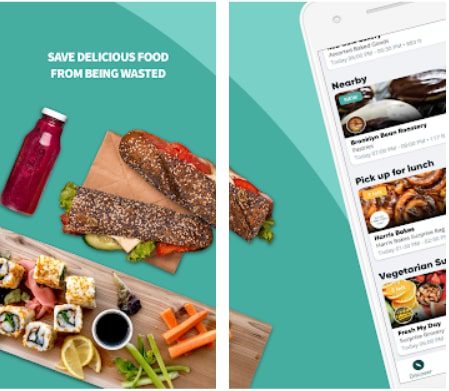 You may also like: 7 Best Cholesterol Calculator Apps (Android & iOS)
6. OLIO – Share more. Waste less
OLIO is a multifunctional platform that helps people share. First of all, for ordinary citizens, OLIO offers to put uneaten food into the app so that your neighbors can take it away for free. That way you can do a good deed and save time on recycling. We buy less food by sharing with each other.
The second thing is that the app collaborates with large supermarkets, various stores, and some cafes. That means there will be a range of different foods and ingredients available. Like we wrote previously, the OLIO app fights for sustainability. That is why they offer to share household items, to lend things out for free on a completely free basis.
In the app, you can also go to the forum page, where a lot of users are as interested in the future of the planet as you are. There are more people than you think. Users of this application can fill out their profiles and receive karma points, which will affect their rating. This is needed to secure the transaction.
Basically, there are no negative profiles here, but OLIO cares about your safety. All you need to do is to post a product in, add a photo, and a description. It will be picked up statistically in less than an hour.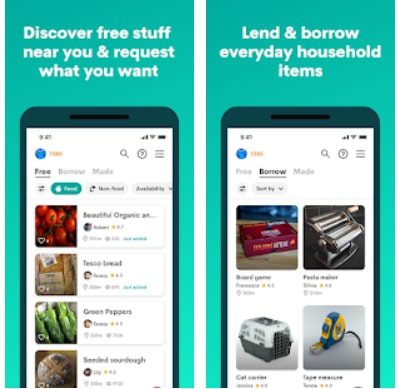 7. FoodCloud
FoodCloud is an application designed for supermarkets. It helps connect them to nonprofit organizations that help people in need. All food business owners have to do is to post an announcement that they have surplus food that they are willing to share. In turn, FoodCloud staff will pick up the food scraps and identify them to anyone who needs it.
To donate, you simply need to place an ad directly into the app. In fact, there is a fairly convenient way to select foods categorized here. You can put a plus sign on the product you want to donate. Your profile will display your good deeds. That way, you will understand that the life of our planet depends on the number of products you give away.
There have already been more than 2,500 tons of food donated and a huge amount of CO2 since 2017 with the app. With FoodCloud you can easily do charity in the food world.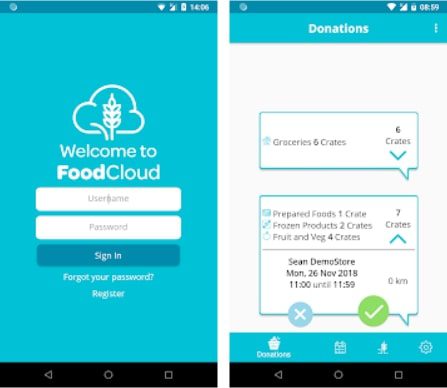 8. NoWaste
Nowaste will help its users to reduce their product emissions. So, the app works as follows. First of all, you should use it to scan the barcodes of products. Then, the app automatically organizes the received data into a list. From which you will learn more about the possible ingredients.
First of all, you will receive notifications on your phone that the products have expiration dates. It means you need to use them. The second is that you can add even those products, which are not labeled. You have a slice of meat in the freezer, for example. That way you will always know the contents of the refrigerator, even without opening it.
This makes it easier for you to store in the future. This app has a great filter and sorter of products by expiration date, date of placement, and name. To make the grocery list look convenient you can use icons that will represent a certain type of food.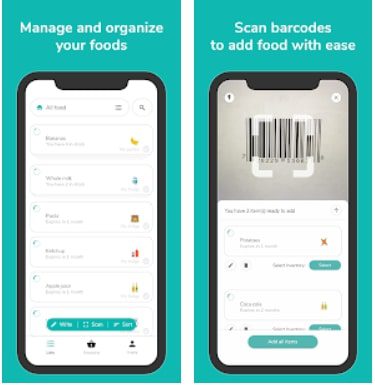 9. Nosh – Food Stock Management
Nosh combines a tracker of your food in the fridge and many recipes. This application will help you to always know what you have on hand, the expiration date of your products, and their quantity, so you can use Nosh. The database of this app will accurately inflate all the products.
You simply use the search bar to add in your groceries by clicking on the plus sign. In addition, the Nosh app will take over your fridge by organizing your food preparation. In other words, it will offer you many recipes from what you have in your fridge and freezer. That way, you will be less likely to go to the store and cook more interesting dishes. You can add products either manually or with a barcode.
They are all placed in five different categories such as fridge, freezer, medicine, pantry, and uncategorized section. In order to reduce the amount of time you spend adding groceries from supermarkets, nosh suggests scanning the receipt and automatically recording everything you buy.
The app also has a share function. Here you will be able to create product selections for other users. One of the handy features is the automatic grocery list, which you can also set up yourself.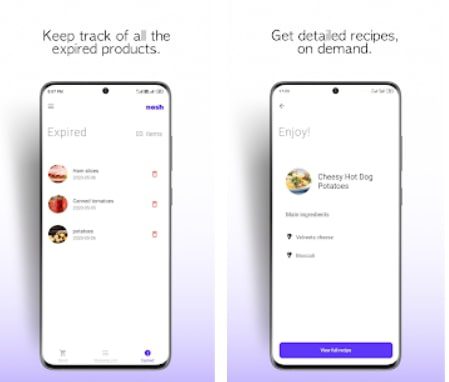 10. 412 Food Rescue
412 Food Rescue has been doing an excellent job in the city of Pittsburgh at the moment. In fact, this app is a delivery service. It helps to provide food to all those in need with the help of volunteers. This keeps thousands of people nourished every day. And food leftovers are intelligently distributed and not thrown away.
You can register here even with an existing social networking account and start helping others right away. Already 20,324,787 pounds of surplus food have been saved. This app is great for anyone who cares about the environment and people's lives.
You will deliver the groceries yourself. It is important that you are guided by the volunteers of the app. They will tell you exactly where to bring your product surplus. Share this app with your friends to spread it across other cities.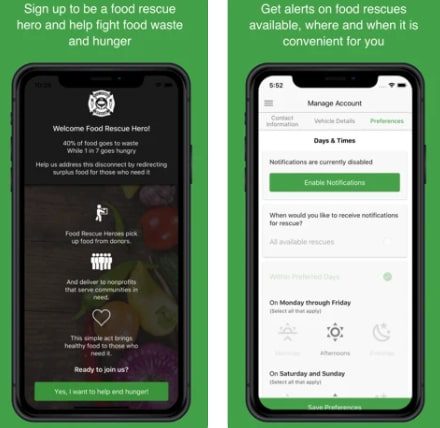 You may also like: 9 Best Intermittent fasting apps for Android & iOS
11. Flashfood: Grocery Deals
The developers of this application suggest you take a look at statistics. About 40% of products are wasted in the USA. This greatly harms the ecological state. Therefore, we recommend you use FlashFood.
Indeed, with its help, you will be able to make purchases at almost half the price and simultaneously reduce food waste. You will need to log in after downloading the application.
Right in the app, you will be able to make purchases from the nearest supermarkets. You will be able to find products whose expiration date is about to expire in the search bar. Add filters to find what you need even more accurately.
Users consider this app to be great for its ease of use and the availability of a huge selection of products. FlashFood is supported by such large networks as Meijer, GIANT, FAMILY FARE, TOPS, MARTIN'S, and many others for now.
The app is made in light colors. Meanwhile, all products have a colorful image. The latest update suggested users the rewards section, where all will face personal discounts.
There are also links that can be shared. Due to it, you will be able to get additional bonuses.