Cholesterol is an integral part of hormone production and cell building. However, with excess, it can cause appearing of atherosclerotic plaques. This leads to a stroke, heart attack, thrombosis, and many other life-threatening conditions.
At the moment, quite many health risk assessment tools are represented as apps. To stay aware of the cholesterol level in your body, we highly recommend you to install one of the tools below.
Our list includes the best cholesterol calculator apps available on the App Store and Google Play. By using such a tool, a user will greatly reduce the risk of various dangerous diseases.
1. Cholesterol Table: diet aid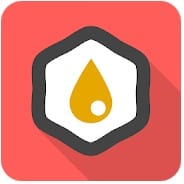 As our health mostly depends on the food we eat, here is an awesome app capable of calculating the cholesterol content in products. By the way, it is the only cholesterol calculator tool of this category, so we are going to review it first.
The Cholesterol Table app will allow you to identify the quantity of cholesterol in the food you consume. To do this, you will need to choose the products you are going to use for cooking. After analyzing the content of cholesterol, the app will let you know whether a meal benefits your health or not.
What is more, there will be two options to choose from: cholesterol content can be counted per meal or per serving. As for the last option, you will need to enter the grams of serving to make the results accurate. However, this feature is available for the app's premium users only.
Apart from this, you will be able to manually add products you need. In this case, you will need to enter a food name as well as the content of cholesterol in it. The items can be easily edited or even deleted. Besides, adding them to Favorites will be possible as well.
Plus, the app can be regarded as educational ones. It contains some short articles that will definitely increase your awareness of cholesterol-connected issues.
Finally, this very tool can perfectly substitute a weight tracker app. The thing is that it can monitor your weight, transforming the data into statistics and nice charts. It is a real advantage to those who are really careful of their health.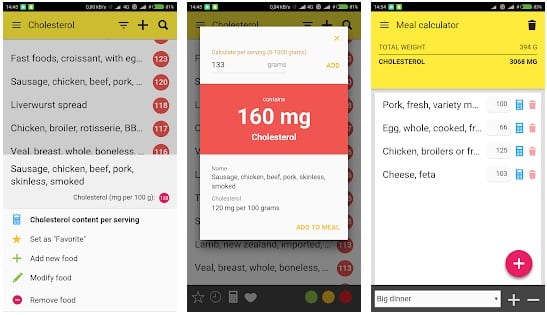 2. LDL Cholesterol Calculator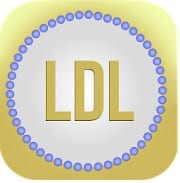 Now it's high time to review the apps calculating the level of cholesterol in your body. The first tool with this feature is the LDL Cholesterol Calculator.
Developed by Johns Hopkins Hospital, the app will become your personal doctor by identifying a cholesterol level. To learn the results, you will need to enter 3 values for total cholesterol, HDL cholesterol, and triglycerides. Then the app will show you the cholesterol of your body.
In this case, the main distinguishing feature is that the app supports two measurement units – mg/dL and mmol/L. You may find this feature quite convenient.
In addition, the tool includes the FAQ section. It will be so informative for all the app's users. Whatever the question, you will surely find a comprehensive answer to it.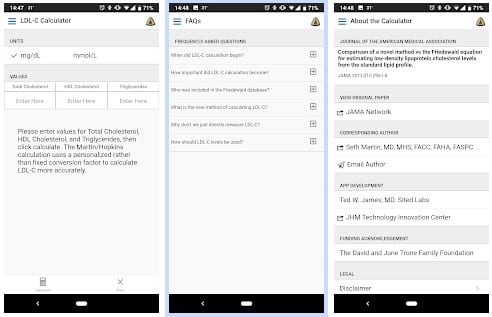 3. ACC Guideline Clinical App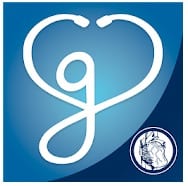 ACC Guideline Clinical App is a must-have tool for those who suffer from heart-connected diseases. So if you belong to this category, we highly recommend you install this amazing app.
However, let's start with features connected with cholesterol. First of all, the app includes dozens of articles on this parameter. They will be so priceless for both nonpros and specialists in this sphere. What is more, the information covers remarkably many aspects, including general information, tips, recommendations for diagnosing and therapy, etc. As you can see, the content will be really valuable.
When it comes to considering cholesterol calculating, we should say that the app includes all the necessary tools for this. Moreover, it can even identify risk scores, which is essential.
Apart from this, the application contains extensive clinical guideline content and accurate tools for dozens of other diseases and conditions. For example, Heart Failure, High Blood Pressure, Non–ST-Elevation Acute Coronary Syndromes, Valvular Heart Disease, Peripheral Artery Disease, and many others can be found in the list. Trust us that this very app will be a regular find. Millions of people have already proved that.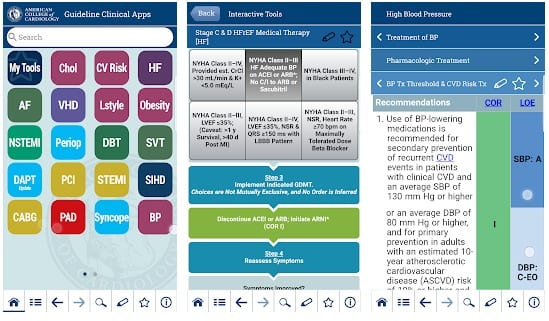 Would you like to view cholesterol-related processes as 3D animation? Need some scientific explanations for them? To become an expert in this aspect, we recommend you to install one of the Best anatomy apps for Android & iOS.
4. LDL Cholesterol Calculator
LDL Cholesterol Calculator is the next app that is worth being included in our list. All Android users will definitely appreciate its capabilities.
It will take you several seconds only to learn the level of cholesterol in your body. Just fill in the blanks entering the values for triglycerides, LDL, and total cholesterol. The results will be shown instantly.
In a moment, you will have the values of LDL cholesterol, risk, VLDL cholesterol, and Non-HDL cholesterol.
The app will be especially suitable for those who are focused only on cholesterol calculation.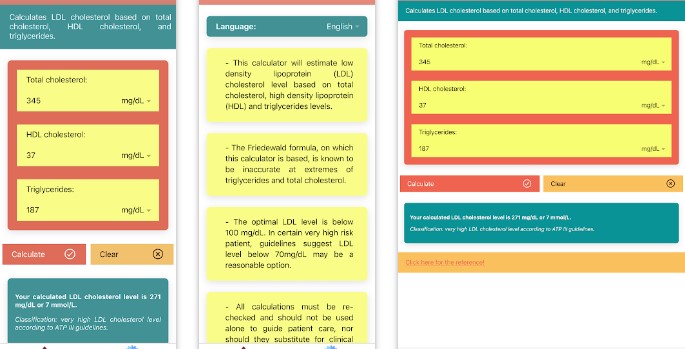 5. Cholesterol Manager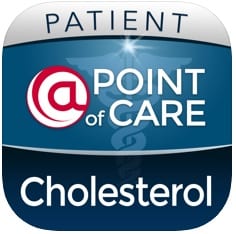 Are you in search of an all-in-one app that is fully dedicated to cholesterol? If you answer in an affirmative way, here is what you need to install from the App Store.
Cholesterol Manager comes with tons of features. However, let's start with cholesterol calculating as you are interested in it the most. Well, to identify the cholesterol level, you will need to enter values for Total cholesterol, low density cholesterol, high density cholesterol, very low density cholesterol, triglycerides, and lipoprotein. As you can see, in this case, even more parameters will be analyzed.
Talking about other features, the app will offer you filling the daily journal to track the cholesterol-related parameters and symptoms. All the data can be viewed in easy-to-read charts and graphs. That is what makes the app so user-friendly.
One more reason for installing the app is that the app will even consider the food you consume. Track it in the Food log section to find out whether the products you ate were healthy or not.
Also, the app will become your assistant in tracking your medications and treatments. Moreover, there is no need to keep them in mind anymore. The thing is that every user can set reminders, notifying about therapy.
One more advantage of this tool is that it connects its users with care providers. You can easily provide them with access to your progress and trends, share visible symptoms by sending jpg files, chatting, etc. Due to this feature, you will keep in touch with your doctor between visits. You can hardly find another cholesterol calculator app with this feature.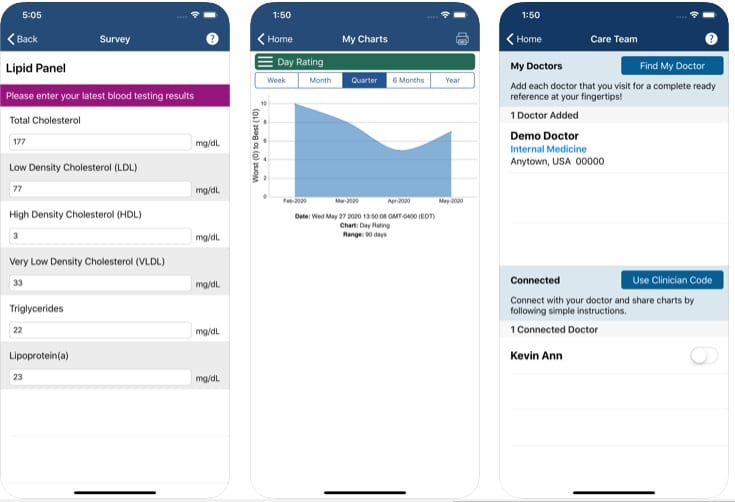 6. LDL Cholesterol Calculator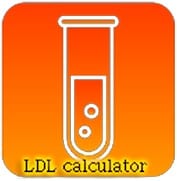 LDL Cholesterol Calculator is a simple but powerful tool from Google Play. So our advice is to install the app to make yourself sure of it.
Again, all you will need to do is to enter the values for total cholesterol, HDL cholesterol, and triglycerides. Being on this stage, you will already know whether your values normal or not. The thing is that entry lines for each parameter are completed by information on normal values. However, let's review the way the app calculates.
Within several seconds, it will show you the level of LDL cholesterol. It can be measured both in mg/dL and mmol/L. At the same time, the app will generate the note with explanations for your values. So you will find out the explanation of your values and warnings about possible risks. That's why we find this app so brilliant.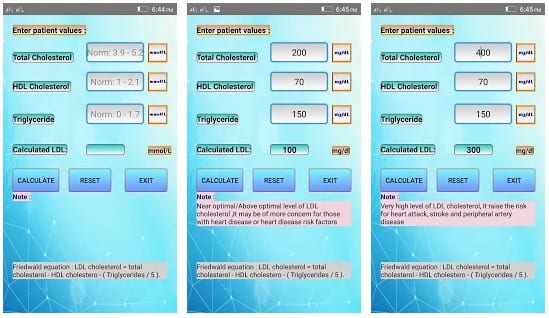 7.
LDL-Cholesterol calculator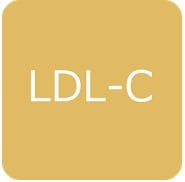 LDL-Cholesterol calculator is the last but not least tool we are going to review. It has both pros and cons, so what are they?
Like other apps of this category, this one requires filling the blanks by entering values for total cholesterol, HDL cholesterol, and triglycerides. For your convenience, the app has a built-in keyboard with figures much larger than on your phone's one. There is no doubt that most users will find this option helpful.
After all, the app will calculate the level of ILDL or Non-HDL cholesterol (it depends on the values for triglyceride). The result shown will be measured in mg/dL. Thus, keep in mind that the app doesn't support mmol/L.
As for other disadvantages, you will need to decode the results by yourself. The app doesn't include any explanations or notes. So you will need the consultation of experts or the Internet.
However, the thing that compensates this problem is the size of the app. It is extremely light. And it does its work by calculating the cholesterol level. That's why, in a way, it perfectly meets your requirements.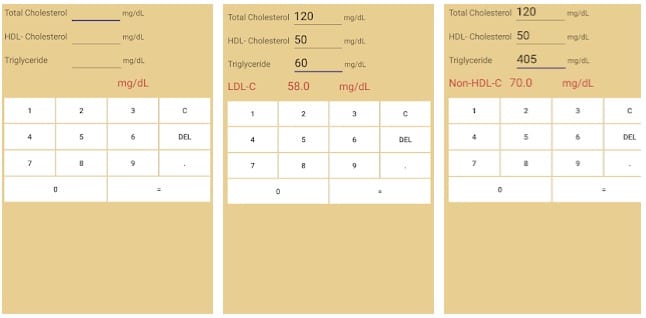 You may also like: 9 Best Intermittent fasting apps for Android & iOS