You have probably noticed that phone screens are rapidly increasing in size. So, it is sometimes uncomfortable to operate a smartphone, for example, when you hold it in one hand. Therefore, in order to make them more convenient to use, various input methods and elements have been invented to simplify day-to-day work. For example, there are gestures.
In this article, we will describe the applications that extend and complement the basic functionality of your phone. Also, if you want to have more control over your device you will definitely like the selection of the Best Don't Touch My Phone Apps.
1. Gesture Control – Pro Key
Gesture Control – Pro Key is a navigation gesture app. To use the app, you need to turn it on first. This program makes the functionality of your android phone very simple. It also makes it easy for you to choose where to place the navigation bars. You can put them on the bottom, left, or right side of the screen.
Here you will be able to have multiple navigation panels on the screen at the same time. Likewise, when you select a gesture, a list of actions appears. For example, users will be able to control a specific application. Gesture Control Pro also offers many different gestures.
Some interesting functions are a gesture that will put the phone into silent mode, a track switch, a brightness control for the screen, and a display with information about the available space on the phone. You can even edit the indicator. For example choose its size, shape, and location.
In addition, you can operate not only with lines but also with different taps on the screen and figures. This is an application that will definitely be able to extend the functions of your smartphone and allow you to work better with your phone.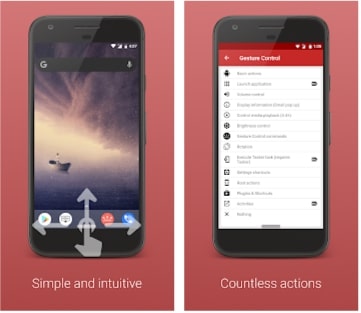 You may also like: 11 Best Messaging Apps Without Phone Number For Android & iOS
2. Edge Gestures
Ease of use, quality of operation, and a high number of features are the main advantages of Edge Gestures. Many features and gesture control will greatly speed up your device. With this app, you get all three bars by default: bottom, right, and left. These panels can be activated on the screen at the same time.
Not only can you swipe the panels for different actions, but you can also add circular controls. Also, you can use gestures in the form of taps on the screen a certain number of times, or just by holding your finger on the screen. There are five slots available, so you can even open a specific app. In addition, you can use gestures right on the lock screen.
In order to open an app or make a call, you will not even need to turn your phone on. Also, the app has a simple and user-friendly interface that will help you quickly set up the gestures you want. Edge Gestures, for example, has various functions, such as opening certain applications, making calls, writing SMS messages, taking photos, and much more.
When you create a gesture, the app will offer you to draw the intended figure several times. This way, the recognition will be the most accurate. Gestures can be both simple and complex. The last one is composed of several separate lines. It will provide better protection against false operations.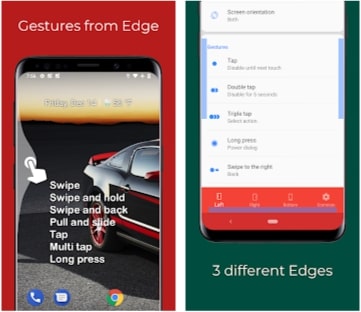 3. One Hand Operation +
From the name of this application, it is clear that it will help you to use the phone with one hand. So, One Hand Operation + is an application that contains many useful features.
First of all, it is designed specifically for right- and left-handed users. Secondly, there is a basic setting as well as a more advanced one. For example, advanced features help you customize One Hand Operation + so that it works in certain conditions. For example, a gesture app is not always needed when you are playing games or watching movies.
There is also a Portrait Mode in which the app stops responding to your gestures. You can also enable or disable the app while you are texting or when the screen is locked. Moreover, you can customize gestures by direction and distance.
Each of these gestures can be assigned a specific command from the list. Also, here you can set up and Touch by selecting its size and position.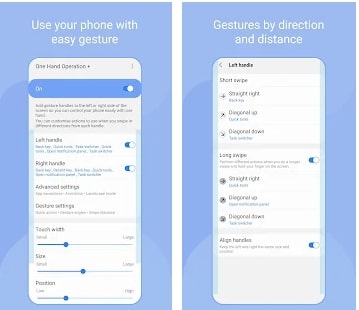 You may also like: 9 Free Apps To Limit Social Media on Android & iOS
4. Air Call Answer
Air Call Answer is sure to surprise you. After all, this is a free Android app that allows you to control your phone without even touching it. With this app, you can easily answer or reject a call. This is an app that automatically detects, your hand swipes over the screen.
Moreover, it is a kind of gesture that you do not have to customize because the Air Call Answer app is incredibly simple. In fact, it works even when you are holding the phone near your ear. All you have to do is wiggle your device slightly.
Even drivers with Bluetooth headsets praise the app. They get a lot less distracted by the phone without having to look for the right button to cancel a call. It is an interesting app that has only one function, however, which is really fun.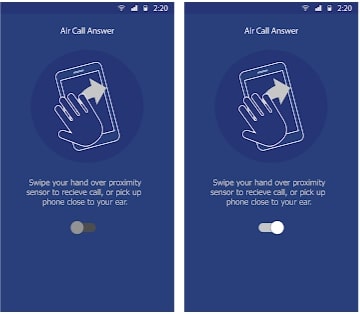 5. Gesture Magic Pro
Gesture Magic Pro is an app that helps you create gestures. In addition, you can take a tutorial that will help you navigate through the application. Also, you can use the different settings or rearrange the gestures you have already created. All of these actions you can find immediately in the main menu of the application.
This app is extremely simple. After all, here you can create gestures for any need, such as for launching a specific application, opening the browser, locking the screen, making calls, writing SMS messages, and other various controls functions. There is a panel for convenient setting up gestures.
Here you have to draw the future gesture, which means to slide your finger across the screen. Everything is very simple and without unnecessary intricacies inherent to such applications. You can also save the gestures and later you can customize them.
Moreover, there is an interesting feature that allows you to draw lines in different colors. The color of the line can be chosen from a wide palette of colors.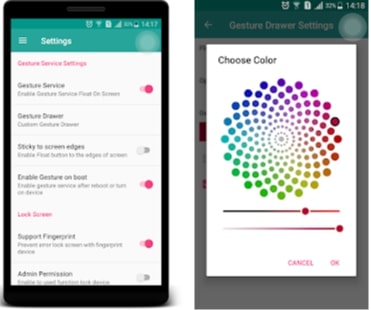 6. Infinity Gestures
Infinity Gestures is another very simple, handy, and quite functional program for controlling your android device with gestures. In fact, it works very well, includes multi-gesture support, and consumes minimal hardware resources. Moreover, users have noticed that it is one of the best programs that allow you to use the phone with one hand.
You will find a little tutorial to help you understand all the functions of the app. There are lots of them, for example, you can navigate through apps, take screenshots, control the volume, change the brightness, and much more. Also, this application has a nice interface that will not affect your usage.
The application has a floating button that you can activate using the settings. When you click on it, the application itself will open. You will not have to look for the Infinity Gestures icon every time. This way you can always quickly make up a new command, or undo an existing one. In addition, you can use all of the above actions on the lock screen as well.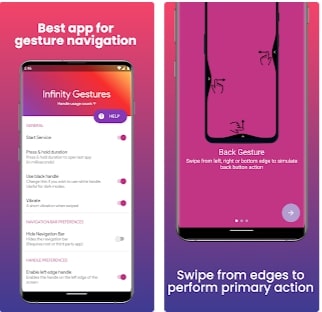 You may also like: 8 Best Text to Speech Apps for Android & iOS
7. Fluid Navigation Gestures
This little app will help you to adjust your smartphone to suit you. It will be your helpful assistant that will guide you through the apps and tabs you want to use as quickly as possible. Moreover, you can choose which applications will correspond to the gestures.
This is a very handy application if your smartphone has a large screen. You may have noticed that reaching down to the Home, Back, or Menu buttons is not always a comfortable experience. With the app, you can put those buttons wherever you want on the screen. They will not disturb you when you are using your smartphone because they are almost invisible.
Moreover, all the actions are triggered by a simple swipe. Also, all these gestures can be customized. That way you can open a browser or quickly lock your phone.
In the menu of the Fluid Navigation Gestures app, you will find all the necessary gesture settings. In addition, you can customize the interface of the application, select the desired color palette, for example.