Our lives are full of amazing events. Unfortunately, sometimes the time moves extremely slowly, so one can feel exhausted while waiting for this or that date. To speed up the days, months, or even years, people often countdown days.
The best way to keep track of the time until an event is to use one of the countdown apps. It has dozens of helpful features that simplify this process greatly.
As there are tons of such apps on the App Store and Google Play, we have chosen only the best ones for you. All you need to do is to choose the most suitable tool. However, because of the apps' amazing features, the choice is going to be a little bit difficult.
1. Countdown Widget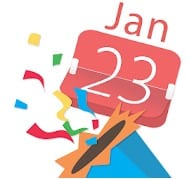 Our review starts with the Countdown Widget app. Whatever the occasion, it can easily count days until this event.
Well, the app will allow you to tack days until ant important date. The number of occasions to be added is limitless. That's why you will be able to monitor the time until even some minor dates. For measuring the time, you will be able to choose various units from years, months, days to hours, minutes, seconds, and even heartbeats. The last unit seems especially cool.
To create a countdown, you will need to choose a particular date pf an event, add the title, choose its font, color, and background. These details will make the waiting much more enjoyable.
As for a background, there is a good choice of pre-loaded ones in the app. That's why you will surely like something appropriate. However, in case you don't like them, uploading your own image will be possible, too!
As a bonus, the app will make this countdown appear on your Home Screen as a widget (4×1 or 5×1). We are sure that with this feature, the time will move faster.
One more thing that makes the app outstanding is music played while counting down. It is the feature that you should definitely try.
Finally, the app meets your requirements in case you want to share countdowns via social media. This will make your friends aware of the important occasions in your life.
By the way, the app also includes keeping track of anniversaries. With this feature, you will avoid forgetting about important dates.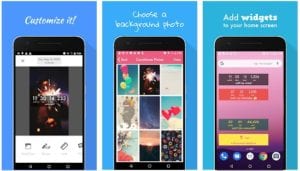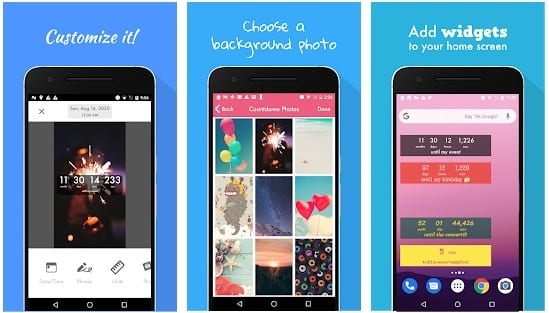 2. Event Countdown Lite – Countdown Timer & Reminder
Would you like to make your countdown more colorful? If your answer is positive, we highly recommend you to install Event Countdown Lite. This tool will brighten up your waiting for sure.
In this case, you will also be able to create as many countdowns as you need. Just choose one of 30 colors suitable for your occasion the most. The thing that is going to complete your countdown is a perfectly-designed icon. By the way, there will be over 450 of them. Finally, you will need to add a title to your event and attach some funny notes to it.
As for the units of measurements, the app supports years, days, hours, minutes, and seconds to events. Talking about keeping track of the time, the app doesn't support home screen widgets. Nevertheless, you will have access to the countdowns in the app. In addition, setting notifications will also be possible.
Again, you will be able to share the countdowns with your friends on Facebook, Twitter, Instagram, WhatsApp, SMS, and Email.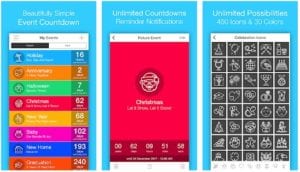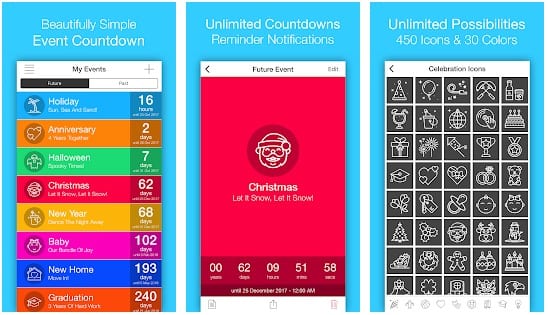 3. Countdown ◎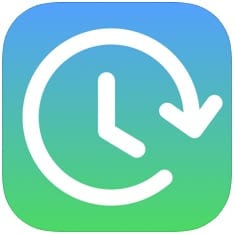 Countdown ◎ is the app that will become your personal assistant is countdown days until events you appreciate. In this case, it will be available for iOS gadget users only.
The app will count days until a particular date which you are waiting for so much. Whether it is graduation, birthday, party, concert, or trip, the app will do its best to help you in keeping track of the time.
To create a countdown, you need to write down the type of event, set the date, and choose the color of a background. So you will do it within a few seconds. What is more, there are no limits in the number of countdowns.
There are some more nice features to be reviewed. For instance, when an event passed, you will be able to view the number of days/months/years after it (the count up feature). If this occasion happens annually, it will be possible to set its countdown in a year. Thus, there won't need to add it every time.
Also, for your convenience, you will be able to sort all the countdowns from the closest to the most distant. It seems great.
Apart from this, the app supports synchronization between various devices. Besides, you can always share your countdowns via social media.
Talking about a widget, this feature supported only in a Pro version. The same can be said about the format in which you want to see your countdown.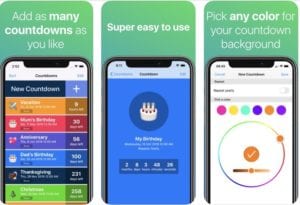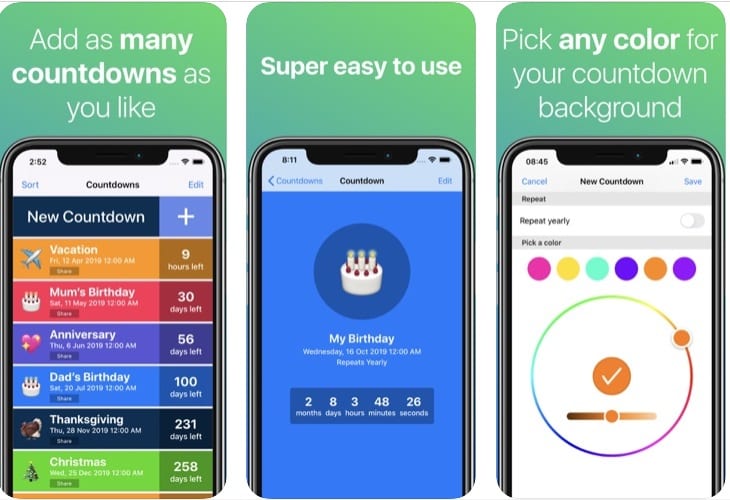 4. Countdown Days App&Widget
As for an alternative from Google Play, we would like to review Countdown Days App&Widget. Just install the app to make yourself sure how powerful it is.
As usual, the app will allow you to countdown days until special events. The app will show you how many days, hours, and minutes left. What is more, the tool will be so suitable in countdown repeated events. Thus, you will be able to set daily, weekly, bi-weekly, monthly, and yearly event repetition for a countdown timer.
Apart from this, the app is famous for its cool widgets for a home screen. First of all, you will be able to create them in various sizes ( 1×1, 2×1, 3×1, 4×3). Secondly, they will be fully adjustable. That's why you will be able to change their backgrounds (using your own images is possible), fonts, and also add some stickers. As a result, the widget created by you will fully fit the event of a countdown.
Besides, the app is going to meet your needs if the backup and restore features are important for you. Additionally, the app supports nit only countdown but also count up.
As for the disadvantages, we find the measuring units a little bit inconvenient. The thing is that countdown doesn't include counting years, months, and weeks.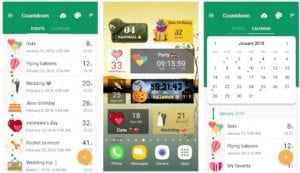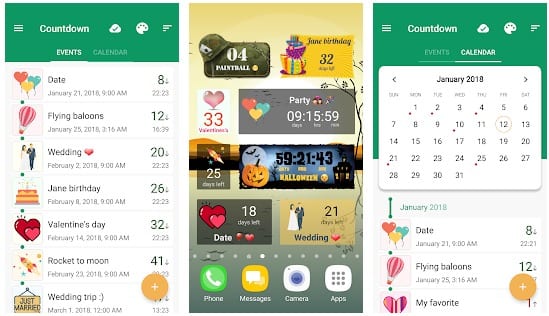 Is one of your friend's birthday coming? What about an original present that you can create with  the best Happy birthday frame apps for Android & iOS
5. Countdown°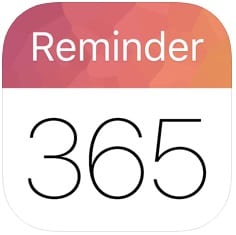 Countdown° is a tool from the App Store. It will be the best choice for those who prefer minimalism.
The app will provide you with the opportunity to create countdowns for various events. To do this, you will have to choose the date of your event. Step by step, you will create a list of countdowns. It is so convenient that a user can sort the countdowns by various parameters. What is more, creating various categories will be possible, too.
As for this very list, you will be able to choose a background for it. To do this, use one of the pre-loaded images or upload your own. The only problem is that this background will be applied to every countdown. That's why the customization isn't so developed here.
Talking about additional features, you will be able to set alerts, share the countdowns via social media, repeat event cycles, create widgets, etc. Also, the 3D Touch is supported. Plus, you can protect the app with the pattern lock.
P.S. If you prefer the Lunar calendar, the app supports this cycle as well.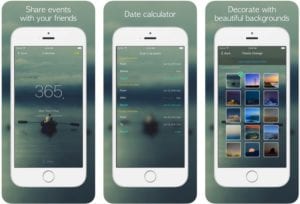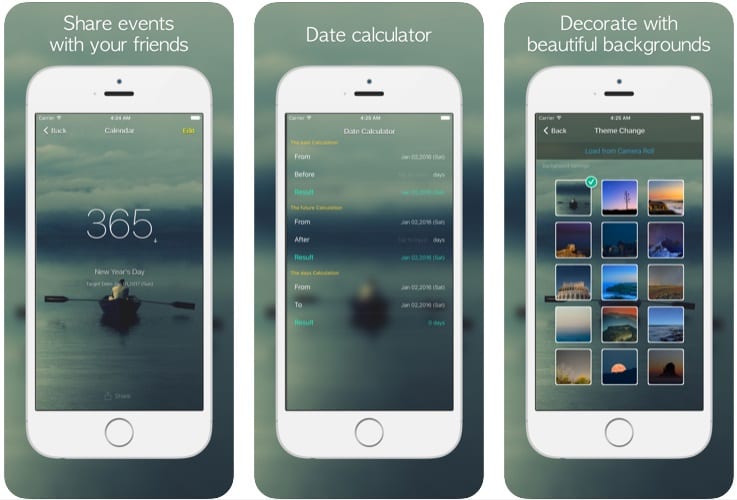 6. Time Until | Beautiful Countdown App + Widget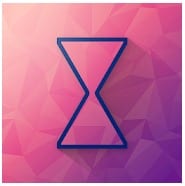 Do you need a similar app for Android? If you do, the tool called Time Until is what you've been searching for.
The app represents a digital assistant capable of creating excellent countdowns. Each item of the countdown will be absolutely customizable (date, title, font, background, notifications, and so on). As for the units of measurements, the app includes seconds, minutes, hours, days, working days, weeks, months, and years. As you can see, the choice is extremely wide. Apart from this, just like in the previous apps, you will be able to set repeating countdowns for particular occasions.
Also, the app will let you have your countdowns at your fingertips 24/7. By it, we mean cool widgets suitable for your Home screen.
When it comes to considering other advantages, we can add that the app is completely user-friendly. Thus, sorting your countdowns by date will be possible. Plus, full-screen mode, as well as dark mode, are also great features.
Further, there is one more good thing about this app. The thing is that it supports sharing countdowns not only as images but also as small videos. This makes the app unique.
At the same time, some quite important features will be available in the Pro version only. For example, being a usual user, you can create a maximum of 10 countdowns. After subscribing, there won't be limitations at all. Also, the pro version will provide you with more fonts and text colors. Finally, such an important feature as a backup will be activated with a subscription.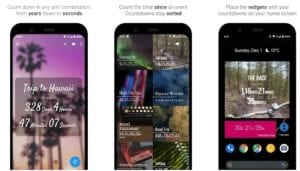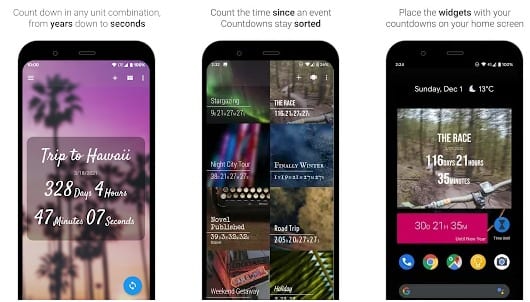 7. Countdowns – Track Events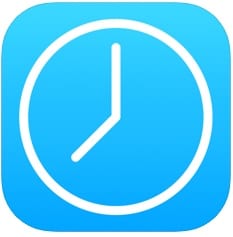 Now it's high time to review the app called Countdowns. Within several taps only, you will be able to create a quite simple countdown for every event.
As always, you will have all the necessary tools to do that. As a result, the app will generate uncomplicated countdowns for you. The number of them isn't limited. The same can be said about creating count ups.
In this case, there are so many things that make the app outstanding. Thus, you will be able to set the custom intervals for repeating countdowns. Also, the app is compatible with Siri. So with the help of voice commands, you can easily check the time until this or that event. One more way to do that is by Apple Watch. With it, you will always have access to countdowns directly on your hand. Alternatively, creating a widget will be possible, too.
Lastly, the app is capable of importing events from your calendars. So everything will be done automatically instead of you.
Unfortunately, synchronization via iCloud will be possible only for Premium users. Apart from this, only the Pro version supports managing and sorting countdowns on the list. So keep that in mind.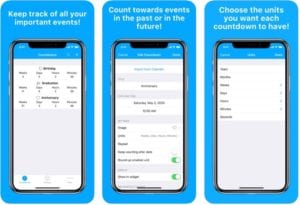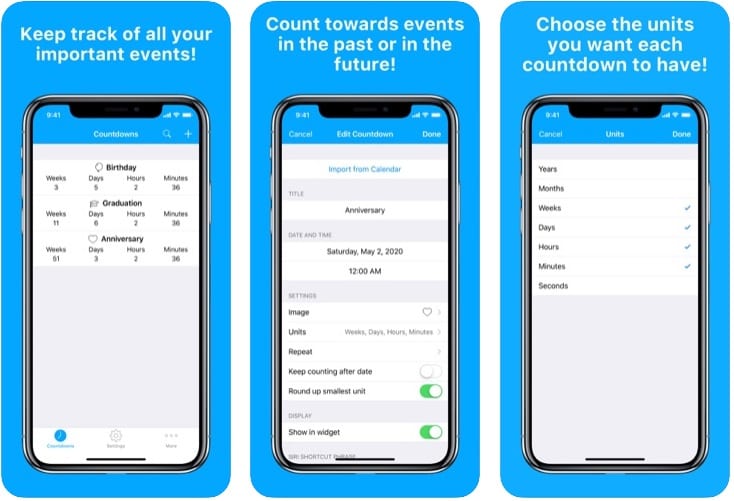 8. Countdown Time – Event Countdown, Countdown Widget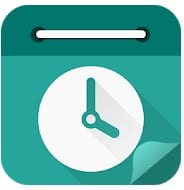 Countdown Time is one more app that we can't help adding to our list. Being a very functional tool, it will help you to monitor all the countdowns.
To begin with, you will gain access to nice widgets that keep track of time until significant events. The number of them isn't limited at all. What is more, there will be complete freedom in adjusting them. To be more precise, after entering all the necessary information, you will be able to choose the background for an event, add an icon, choose a theme, and so on. What is more, the choice of backgrounds is not bad. Their quality will also surprise you.
Do you want to be notified? If you do, you will always be able to set custom reminds that can be received even daily. In case you want to notify your friend about this or that event, sharing a widget via social media will be possible.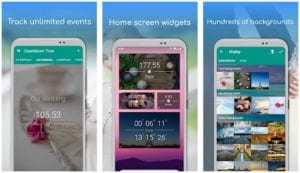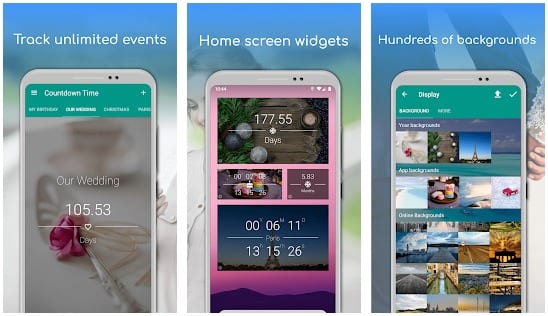 9. Days • Event Countdown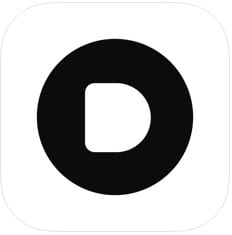 What about one more app for monitoring upcoming events? The Days app for iOS perfectly suits for this.
With it, you will be able to create in-app widgets for every occasion in your life. What is more, if you want to learn how many days passed from an event, the app will help you to. The thing is that it supports not only countdown but also count up. However, as you are interested in countdown the most, let's talk about it in more detail.
Firstly, you will be able to set repeats for recurring events. As always, this feature simplifies countdowns greatly. Then, it will be so easy to view the widgets with countdowns and even browse them. Apart from this, you will be also notified about this or that occasion or time until it. Opening the app won't be required.
As for the widgets themselves, there will be dozens of parameters to custom them. Moreover, when it comes to choosing the background, the app works in collaboration with the Unsplash service. That's why the choice will be really great. It will be one more reason to share the countdown with your friends directly from the app.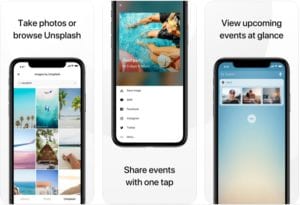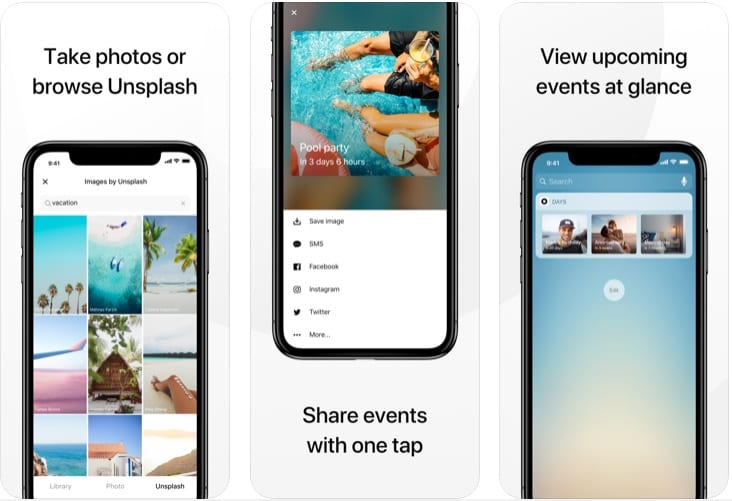 10. Countdown App – Death? There's an app for that.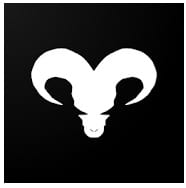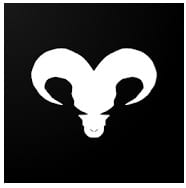 Have you ever heard about an American horror movie called Countdown? It is about the app that predicts how long a user has left to live. This app from the movies has been 'reconstructed' by Ryan Boyling in real life. As this tool also belongs to the category of countdown apps, it is a thing that you might like to try.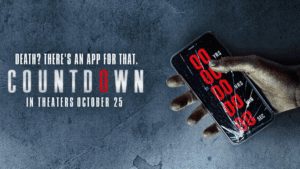 The Countdown App's developers have done their best to make this tool similar to the movie's ones. Though it is quite frightening to see this very countdown, we claim that the app is just for entertaining, so you shouldn't take it seriously.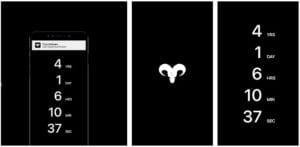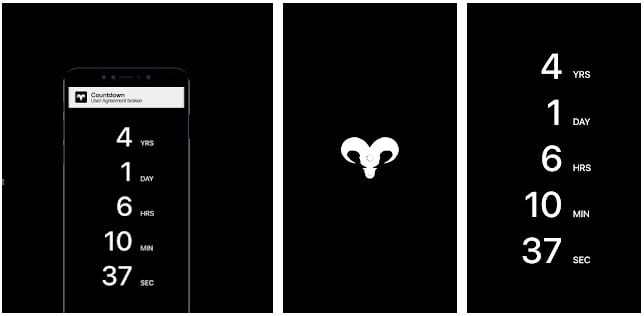 You may also like: 10 Best interval timer apps for Android & iOS