We all like time-lapse pictures, they are mesmerizing and entertaining. However, taking a timelapse video or picture is not that easy as it might seem at the first sight.
You may also like: 7 Cool apps that make you look skinny
There are technical moments and special features of each smartphone and app that can make the result turn excellent or low-quality. Intervalometer is the kind of app that will make your timelapse shots as good as possible.
First of all, the Intervalometer is very convenient in usage – you just get the app and start using it without creating any accounts. You have full control of any camera modes – this feature you won't find in most timelapse making apps. You can use various modes depending on the situation (HDR, night mode, light-painting, telephoto, and others).
Another feature that you may find in the Intervalometer is the full exposure time-lapse with full manual/RAW control. You can configure the video and set up a delay timer, interval time, and a number of shots. Plus, there are 2-time interval features in the painting modes.
By the way, you can use Intervalometer not only on your smartphone but also on such professional cameras like Canon, Sony, Nikon, and more – another feature that you won't find in other apps of this category. In order to get an image of the best quality possible, you need to choose an option of image stacking in post-process.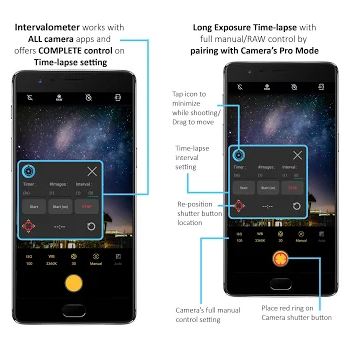 In case you have any issues with the app, you can always text the support – usually, the response time is less than one day and they solve basically all the problems. What is more, there are always new features added to the app – thus you'll never get bored with Intervalometer.
You may also like: 11 Best zombie tower defence games for Android & iOS
It is absolutely pleasant in usage and will suit any type of user, not the professional photographers only. You will see how the quality of your timelapse videos and images will increase after you start using Intervalometer.