Pimples, skin flaking, and large pores cause a lot of problems. They spoil the appearance of the face, making it unkempt, and even makeup cannot cover them up. Apart from this, you may also notice strange spots and moles on your skin, and you should keep an eye on them. We will tell you how to solve these problems in this article.
That is why we have collected the best applications to improve the entire body in this article. In addition, we suggest you have a look at the article Best Skin Care Apps, which will tell you even more about your skin problems.
1. Skin Check: Dermatology App
If you have a skin disorder or a suspicious mole, the app will help you find an experienced dermatologist and find remedies. With this app, you can take a picture of your skin areas and monitor their development. Also, if skin disease is detected, the app can show you how to find an experienced dermatologist. The app will allow you to chat about your condition and the result will come within 24 hours.
Just select the affected skin areas on your body. And then capture detailed photos from different angles on your skin. You will be able to explain to the doctor how you feel and what is bothering you. After that, the dermatologists will handle your claim and send a detailed response within 24 hours.
In addition, the app will provide you with detailed information about your skin condition and treatment options, which you can follow without the help of a doctor. Moreover, the app is completely confidential and your scans will remain private.
This app is great for those who are worried about their health and need first aid. It is all because as soon as symptoms are detected, the app will recommend you contact your doctor.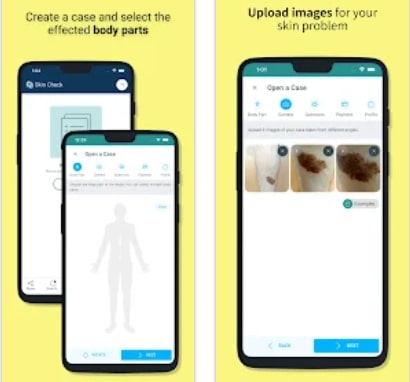 You may also like: 9 Best Fingerprint Scanner Apps for Android & iOS
2. Skin-Check
This app is made to track the state of your skin. The app also allows you to get to know more about the meaning of moles on your body. The app can identify the symptoms in certain areas of your skin. It has a very pleasant style. It lets you take photos and compare them with the most recent photos of your skin.
Likewise, you can add information about your condition and the way your body is feeling right now. This will allow you to check out the health state. In addition, this app offers you a great amount of information about cancer symptoms. This will help you understand the condition of your skin and prevent new problems from occurring.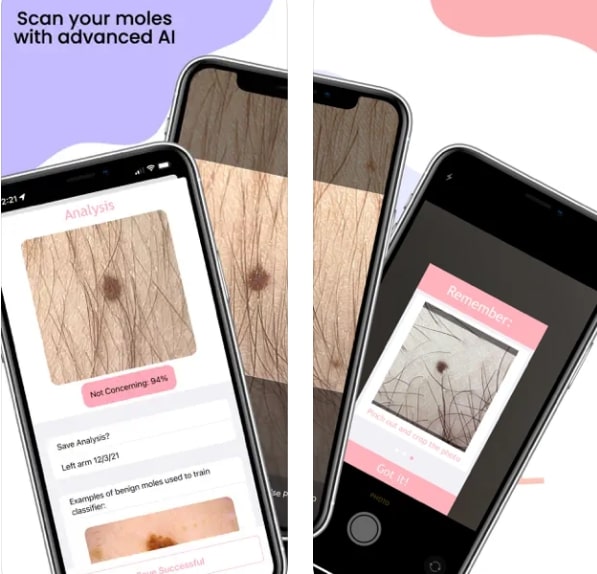 3. Mary Kay® Skin Analyzer
This app will find trouble spots on your skin and pick makeup products that are suitable for you. There are many useful features in the app. One of them is the skin analyzer feather, which allows you to scan your skin and identify problem areas. After the app has scanned your face, it will give you an illustration of where the problem areas of your skin have been detected.
Once it detects wrinkles, signs of aging, and rough skin tone, the app will offer you customized product recommendations for each client. The app will compare your skin with a database of more than 80,000 facial profiles to find custom cosmetics designed for your skin type. The app is also great for beauty consultants.
You can locate your client's problem areas and recommend the right products for your client. Also, if you do not have a beauty consultant, the app can help you with that. In addition, you can contact a beauty expert to discuss the best treatment for your skin.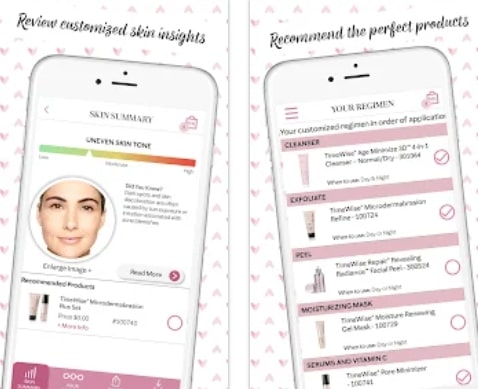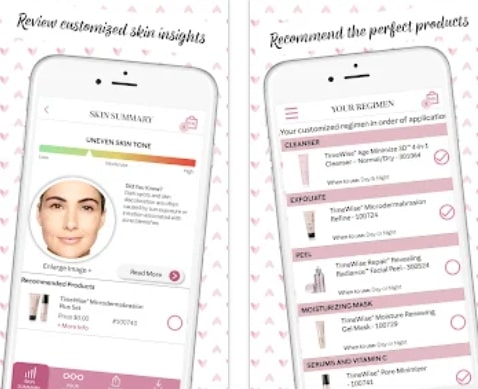 4. TroveSkin – Skincare App
This app is great for those who take care of their skin and want to identify sensitive areas. For example, it is suitable for taking pictures of your face over a certain period to notice some changes. In addition, you can add some information about your emotional state and the way you feel while sleeping.
This will help you choose cosmetic products and treatments more accurately. The app will also guide you on how to handle problem areas of your skin. As well, you can check the expiration dates of the products and get reminders about them. Just write down the information on which cosmetic items you are using and note the expiration date.
It will remind you as soon as a product is about to expire. You can also chat with other users in the app. It is the perfect app if you want to stay in touch, share your knowledge, and discuss your skin issues.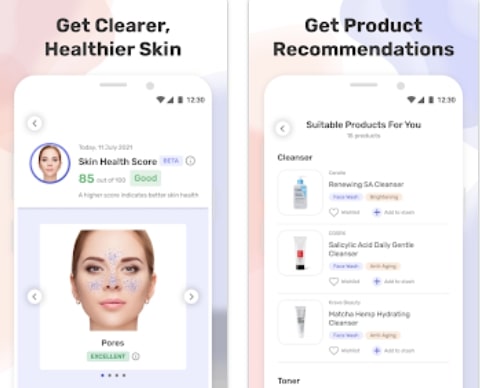 5. AI Dermatologist: Skin Scanner
AI-Dermatologist is an app that may track the health of your skin and help you identify problem areas. Thanks to this app, you will be able to photograph and monitor your skin problems over time. This will help you to avoid the development of disease and contact medical professionals as soon as possible.
By scanning your skin areas, AI-Dermatologist will immediately inform you of the necessary next action you need to make. The app will give you tips and advice on problem skin. It is worth noting that the app does not give you a cure, but only helps as a tool to monitor your skin. It also allows you to set a reminder for you to take a new photo.
That way, you will have a new photo every day and monitor the consequences. In addition, you can easily record the location of your skin conditions and write a description of how you feel at a given time.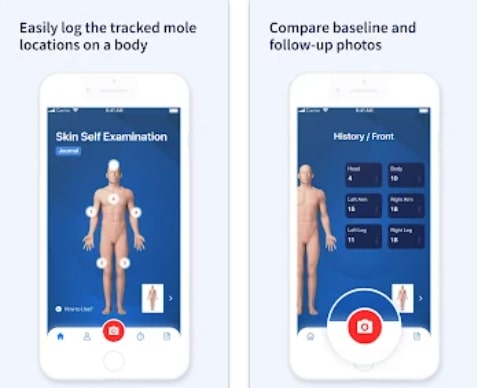 You may also like: 7 Cool apps that make you look skinny
6. Medgic – AI Skin Analysis
Take pictures of your problematic skin areas and monitor your development with the Medgic app. This app will let you scan your skin and detect problematic areas. All you have to do is take a picture of the problem areas of your skin and watch how they are developing daily.
You will have to record some data about your current condition while scanning your skin. After that, the app will deliver you a diagnostic result. The app will also give you some tips on what to do when you find painful areas of your skin.
Even though the app is not a medical diagnostic device, it is useful for finding life-threatening diseases at an early stage. If an illness is detected, the app prompts you to contact a qualified medical staff immediately.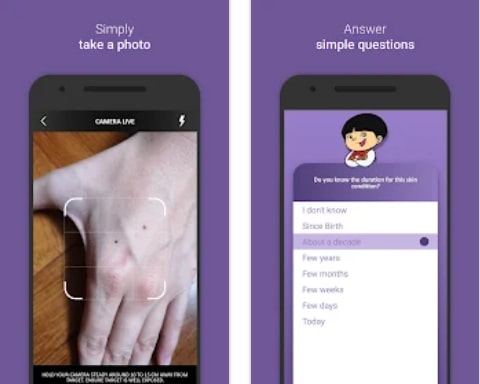 7. Aysa, your answer to common skin conditions
The Aysa program will become your home doctor, as this app is designed to check your skin and recognize the symptoms of diseases daily. The app is pleasantly designed and it is immediately clear how the app works. You are required to take a picture of your problematic skin areas and the app will give you useful details about the present symptoms.
This will allow you to evaluate your symptoms and prepare for your medical appointment. In addition, the app is fully confidential and all your pics are protected. There are more than 120,000 medical images in the app's library and all skin colors and types are represented. There are also more than 200 skin diseases.
Thanks to this, the app will accurately identify your symptoms and help with treatment. It also provides you with the information you need to know about all of the diseases in the app and discover a lot more.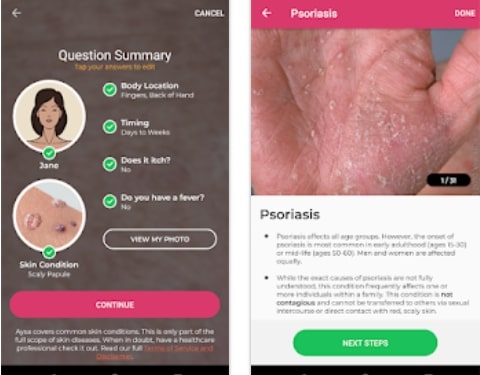 8. Miiskin Skin Tracker & eHealth
The app is designed to help doctors keep track of your skin and moles. It will give you a way to check your moles and check your skin over time. This app is supported by many major skin cancer companies in many countries. The app is also recommended by several highly qualified doctors and dermatologists at more than 130 clinics and hospitals worldwide.
With this app, you can easily track areas of your skin and record the location of moles on a body map. In addition, there are many useful features available. One of them will help you compare past pictures with new ones over time. You can use this to note changes in your skin and moles in your body. You can also use computer vision technology right from your smartphone.
This way, you can take photos of your entire body and notice how your skin develops over time. In addition, it is possible to send the result of your examinations straight from the app to your doctor.
The app also allows you to protect your data with a pin code that is attached to the app. It is worth noting that the app is designed as a tool to help users monitor their skin and make up a map of their bodies.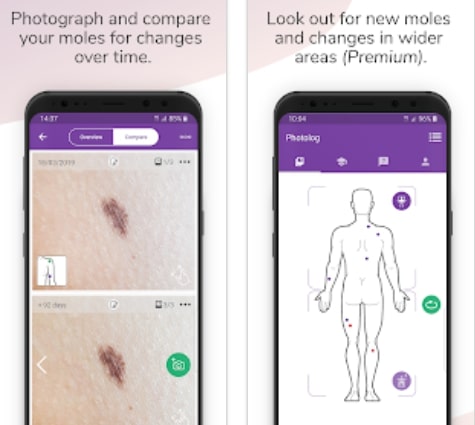 You may also like: 5 Best Mehndi Design Apps for Android & iOS
9. scanoma mole check dermatology
This app is made especially to facilitate the healthcare professional's work and make it easier for you to stay informed about your symptoms. You can use the artificial intelligence and data that is available in the app to improve your health and well-being. With this app, you can easily take pictures of your skin injuries and compare them with later photos.
Thanks to this, you will be able to notice changes in your skin spots and contact your doctor immediately. The app is just a tool to help you identify a sore and send your results immediately to a medical professional. It will also create electronic medical records and easily send them directly to your doctor.
Likewise, if you are scanning a skin, you can write down the way you feel and what sort of discomfort you are experiencing right now.