It is a super beneficial ability to know foreign languages. Still, probably not everyone has it, even though we need it so much in everyday life, for example during a trip or when we are studying. However, thanks to specialized translator apps, each person can easily understand and communicate in any foreign language.
We have gathered translators that can be used with a smartphone camera in this article. In case you are not a native speaker, we suggest you improve your speech with the article Best English Pronunciation Apps. Let's get started.
1. Google Translate
Many people have probably heard of this translator. It is the most used translator with multiple useful automatic features. Moreover, Google Translate can certainly boast the feature of instant translation via camera. All you need to do is merely point your camera at the foreign text, and Google Translate will translate it automatically.
Furthermore, the app will also help with automatic translation if you do not know what language you are facing. After all, there is a language detection function. The translator also works not only with text images from textbooks but with different images that you come across on the street, for example, various signs, and ads.
Google Translate defines up to 90 languages for images and 108 languages for text. Using this application you will even be able to talk with a foreigner. So, the speaking language will be detected automatically, this way you will get a translation of both languages at once. Also, there is a simultaneous interpretation, which is suitable for a quick analysis of what you heard.
In addition, there are a lot of other features. For example, the Google Translator app has the so-called external translation feature. It allows you to translate text in any application regardless of its origin and mission, as well as the language from which you want to translate.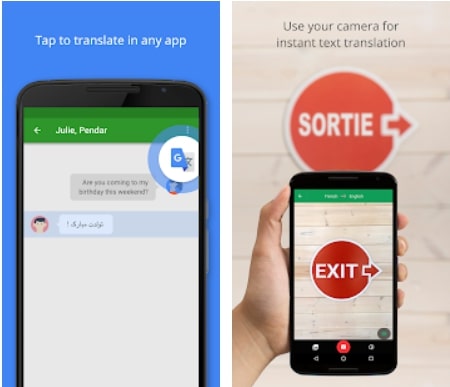 You may also like: 10 Best apps to learn a word a day for Android & iOS
2. DeepL Translate
DeepL Translate is the most suitable option for translating the text into popular languages. The main feature of this automatic translation machine is that it takes into account linguistic peculiarities and offers several translation options. In addition, it certainly has the function of translation with the camera of your gadgets.
Moreover, you can take a snapshot and select an image from your gallery. It is worth mentioning that the built-in camera is incredibly handy because your screen is divided into photo and translation areas.
This machine has the best approach to the translation process, so you will get a competent, quite understandable contextual translation, even if you do not speak the language at all. In addition, this app will suit you if you want to find the meaning of certain words. All you have to do is select languages, and enter the word itself and DeepL will give you the highest and lowest usage options.
Also, the translator offers you to listen to the correct pronunciation. In addition, you can save the translations you need in a separate tab of the application. You can also quickly delete or swap them. Since this translator gives rather high-quality translations, the free usage is limited to 5000 symbols per day. However, this is enough for daily usage.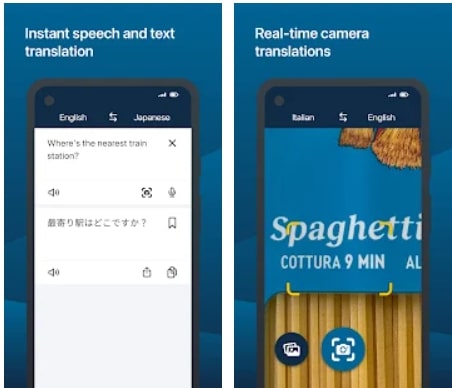 3. Translator PROMT.One
PROMT.One is another super quality translation tool. There are only 17 languages in its arsenal at this moment. But such an average number of languages compensates for its capabilities. First, it is a great option for translating text from images. The translator will quickly copy text from an image and give you a good-looking translation, all thanks to its neural networks.
Secondly, it is worth mentioning that a translation is made by separate categories here, for example, car, humanities, dating, learning foreign languages, news, and others. In addition, if you do not know to which category the text belongs, you can use the automatic universal translation function.
Thirdly, this translator is distinguished by its ability to use the application without access to the Internet, which is great for long trips. So you can start a conversation with a foreigner, and select the topic in the application, which will give you the most lexically and grammatically correct translation.
In addition, there are many ready-to-use dictionaries for various topics and offline translators for a specific language pair.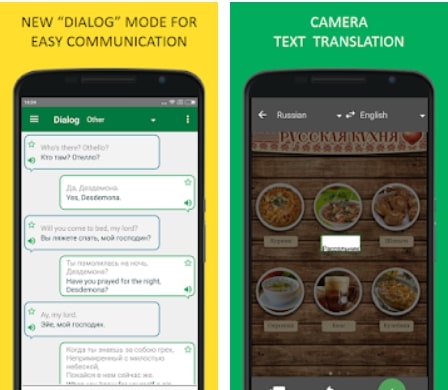 4. Microsoft Translator
This is a translator with the same features offered by Google, except with one difference: group conversations. Users can create a room and then join it by scanning the code to have multilingual group conversations. This feature is good for basic conversation to get the main point of the conversation. There are as many as 30 languages for chatting.
And this app supports as many as 90 in total. This is also a great option for traveling because 47 languages work with no internet access. You just need to download the language pack you need. In addition, this app will automatically translate the text you type or say.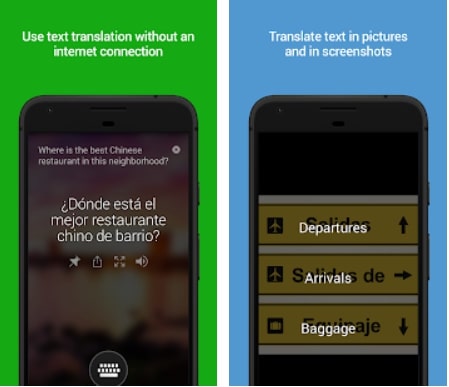 5. Naver Papago – AI Translator
Papago is one of the best apps, especially when it comes to Asian languages. It is a free translator that copes better than Google Translate in some cases. After all, it focuses mainly on Asian languages, such as Korean, Japanese, and Chinese. However, it also supports the most common ones. There are 13 of them in total, including English, Spanish, French, German, Italian, and Russian.
The interface of the application is simple and well-designed for communication and study. In addition, there is an excellent photo translation. It recognizes all the text in images. Besides, you can copy the scanned text and not only see the translated text. Moreover, this app is great for studying as well.
After all, there are various cards to memorize new words along with the correct pronunciation and context for using them. You can also take a picture and use it in your learning process. In addition, this app offers handwriting recognition. Just write for example the hieroglyph you have seen and you will understand its meaning.
Furthermore, the application has a feature that allows you to translate any website. To do this, just copy the link and paste it into the app. Besides, the app can recognize music and videos with an automatic audio translation.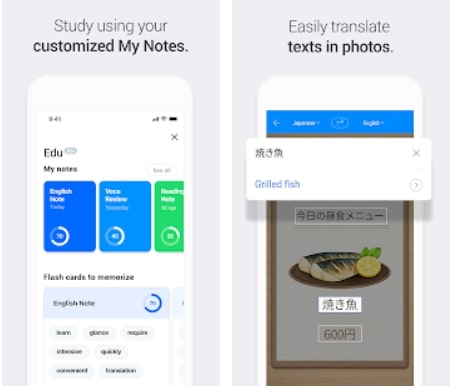 You may also like: 11 Best IELTS preparation apps for Android & iOS
6. TextGrabber
This translator can be used both offline and online. When you use the translator with an Internet connection, you will get more than 100 languages. While there are 10 of them in offline mode. This translator, of course, has a text recognition and translation feature. The way it works is much similar to all of the others, you just point your camera and you get a translation almost instantly.
You can also upload your file. The main thing here is to choose the correct languages for recognition. In addition, the resulting file can be saved or you can continue to edit, searching for spelling errors, which were not recognized by the app. Nevertheless, this translator will also surprise you with the live translation of video files. This way you will not have to take a lot of pictures.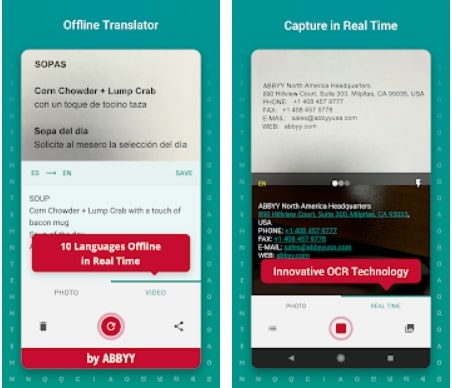 7. Text Scanner [OCR]
Text Scanner (OCR) is an application that will help you translate any text into another language for free. The app supports 92 languages that you can always use to translate text from one language to another. Also, this application uses Optical Character Recognition technology which will help you to recognize and translate any text on your image into different languages.
Besides, the application has a history of your translated sentences and you can always find the sentence you have translated and use it. You can also clear the history if you want. This app will help if you need to quickly copy text from a photo. It will ask you to point your camera and select the area you want to copy.
After that, the sentences that were in the image will be converted into text that you can easily use. Likewise, the application supports handwritten text, so you can use your finger to write on your device instead of using the keyboard.
Everything you write on your device is quickly converted into text. In addition, you can immediately share the translation with someone else or send it to yourself on your device without copying it.


8. Translate Photo & Camera Scan
The app is perfect for those who are currently abroad or learning a foreign language. This app is great for quickly translating sentences that you do not understand or want to learn. It works with over 100 languages allowing you to quickly translate any sentence you want to understand.
In addition, for text-to-picture recognition, Translate Photo uses the latest deep artificial network combined with cloud technology to help you recognize text from images with high accuracy and then translate it into more than 100 languages.
It is worth mentioning that the app will automatically detect text edges and highlight them when you recognize some text from a document, and then you can quickly scan the text and send it to yourself. In addition, the application allows you to edit photos, use filters, crop, rotate, adjust the contrast of the photo, and much more.
The application includes an audio translation feature, which will help you learn another language better and understand if you are pronouncing a phrase correctly in another language.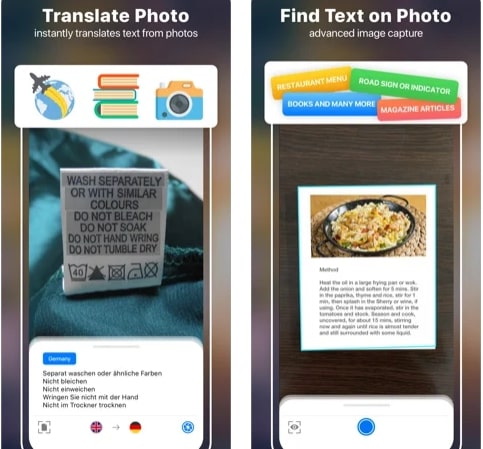 You may also like: 9 Best Apps to Watch Korean TV Shows (Android & iOS)
9. Photo Translator – translate pictures by camera
This translator will suit you if you are looking for an application that will help you translate text from images. In addition, it will be able to work even in offline mode. You will find this app perfect for you! The app will immediately detect the language and translate it to the one you want. It works with over 100 languages to help you translate any text you want with ease.
Moreover, the application uses the most advanced technology for text recognition and artificial intelligence. It is worth mentioning that the application works offline, you will always be able to translate any text and picture in the future. Also, the application has an audio-translation function.
Using this feature you can translate any sentence or check your pronunciation skills. Additionally, the application will quickly turn your sentences into text. All in all, the app is great for people who want to improve their foreign language skills and quickly translate text from an image.