If you have doubts about your partner or employee and suspect that you are being followed, this article is for you.
Here you will learn how to use special apps to find a hidden camera and other similar devices.
Browse through this overview of the best spy camera detector apps and choose the best one for you.
1. Hidden Camera Detector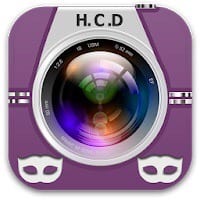 The Hidden Camera Detector app uses magnetic sensors in your phone camera to detect hidden cameras.
The camera uses electromagnetic fields to detect the hidden camera. It makes sound signals if there is a positive match.
To detect, you need to bring your phone to the intended location of the hidden camera or microphone.
Wait for its response.
If an object that can record is detected, the corresponding inscription will appear.
The app Hidden Camera Detector will cause your smartphone to pick up flares that are specific to cameras.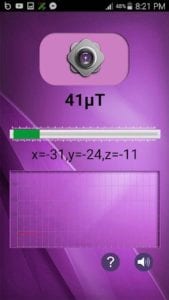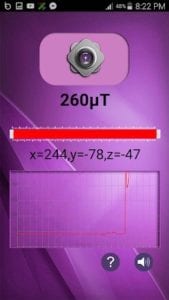 In this way, it detects them even at a considerable distance.


You may also like: How to remove spy apps from your gadget
2. SpyC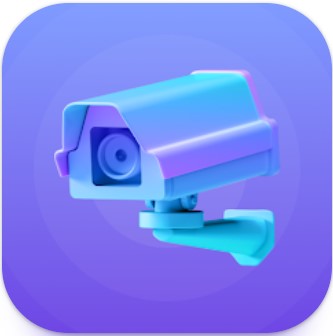 SpyC is an app with good reviews for its design and functionality.
If you suspect that there are hidden cameras in your home or hotel room, this app is definitely for you. It marks hidden cameras around you and makes a list of suspicious devices.
In addition, the app identifies camera types such as pinhole, infrared, wireless, wired, sleep, and other cameras.
It allows you to quickly and easily find hidden cameras placed nearby.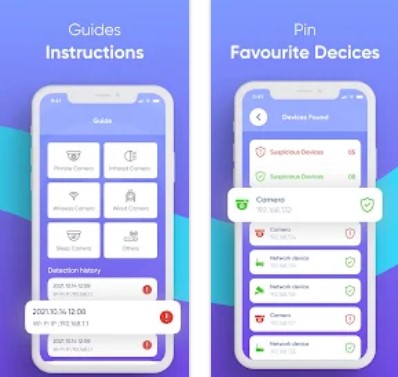 In addition, there is a detailed manual that shows how the application works.
3. Spy Camera Detector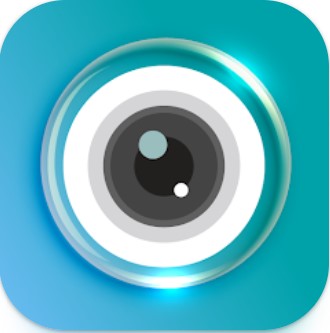 The Spy Camera Detector application will allow you to easily locate a hidden camera that is not far from you.
Your phone screen will show you the approximate location of the camera or other devices. This is to give you an idea of where to look in more detail.
When you start the app Spy Camera Detector, a red circle flashes on the screen when your smartphone is near the camera.
The scanner also detects other types of hardware. You should pay attention to the number in the middle of the screen.
If the number exceeds 100, then the camera is detected. In addition, there are several ways to identify a spy camera, so you can choose a convenient one for you.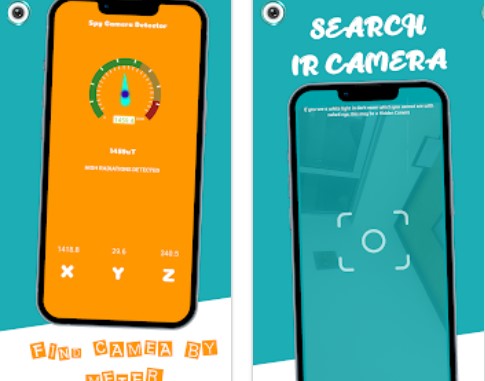 The application also has an IR mode that allows you to find cameras that were not before detected.
4. Hidden Spy Camera Finder Pro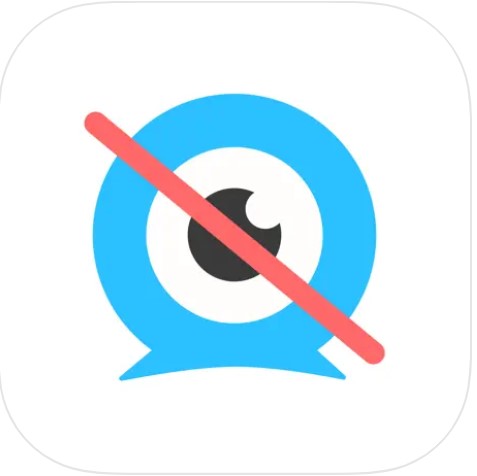 The Hidden Spy Camera Finder Pro app can help you detect hidden spy cameras.
For a more accurate magnetic sensor, move your phone's camera as close to a device. Most hidden cameras are invisible to the naked eye.
They remain on objects that are least likely to be suspected. An infrared camera helps you get a wide-angle view of your room.
All you need to do is keep an eye on the white light.
The application Hidden Spy Camera Finder Pro is very sensitive to Bluetooth devices.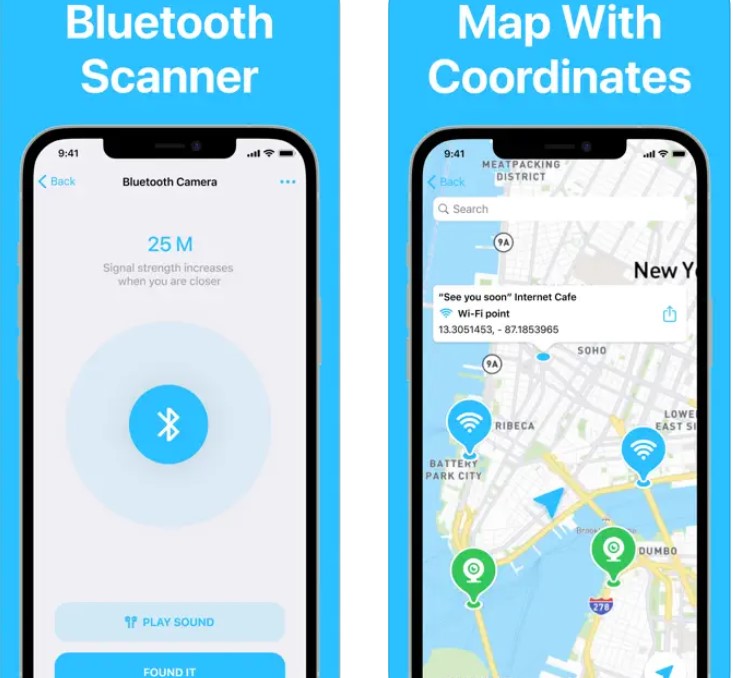 Also, this app is different in that it has a guide for finding cameras in any place from hotels to common places.


5. Findcam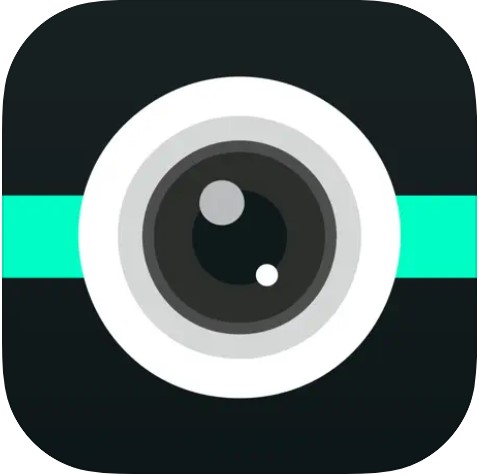 With the Findcam app, you can find hidden cameras in any room.
The application recognizes various cameras with wi-fi and Bluetooth.
This application also has an infrared camera mode. This will allow you to detect hidden objects in the room where you are.
For more accurate readings, you should just point the camera of the app at the suspicious objects in the room.
In the application's information section, you will learn many useful tips.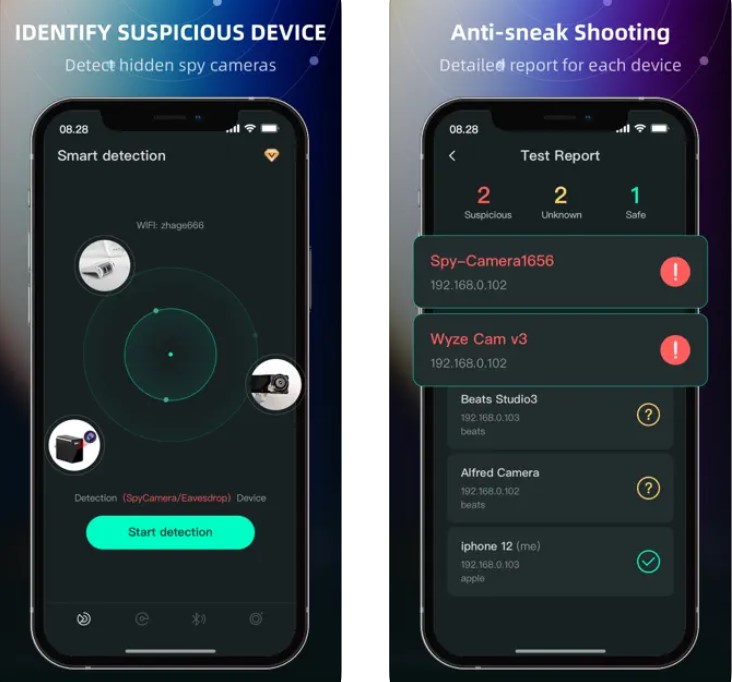 For example, the app tells you which parts of the room are the best places to look for hidden spy cameras.


6. Spy Cam-Hidden Camera Detector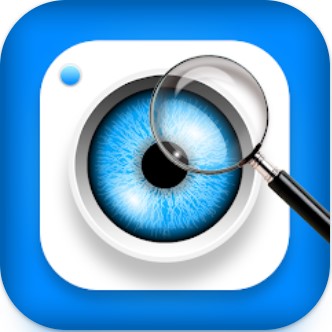 The Spy Cam-Hidden Camera Detector application detects spy cameras with magnetic fields.
To do this, your mobile device must have a special sensor. All modern devices have this tool.
Enable the app and move your phone around the room where you want to find the hidden camera.
The application will analyze the magnetic activity around you and your phone.
If it recognizes suspicious activity, you will see a notification on your phone. The app will also issue a special beep to alert you if a hidden camera is detected.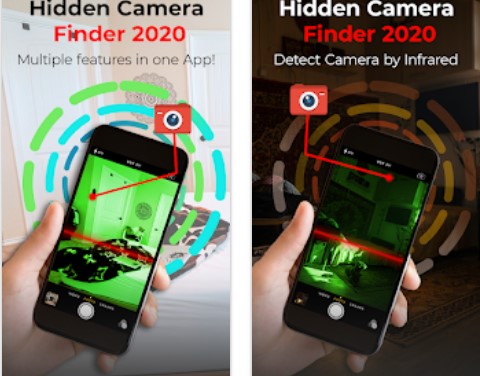 This free app will allow you to use all its functions without restrictions. There's no built-in shopping or annoying advertising.
7. Anti-Spy: Spy Camera Detector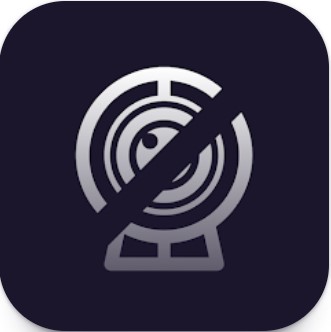 The Anti-Spy app is a hidden camera detector.
It is an excellent tool for this purpose. Moreover, it is completely free and works very well and quickly.
First, you need to calibrate the application Anti-Spy: Spy Camera Detector. It will take a few seconds and will happen automatically.
The application detects magnetic waves that emit hidden cameras.
To update the application's performance, you need to shake the phone several times.
Detecting hidden spy cameras takes little time and is done with a couple of clicks.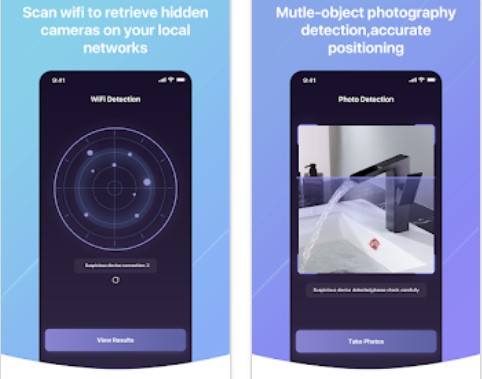 You can also use the camera as another way of identifying hidden cameras.
8. Camera Finder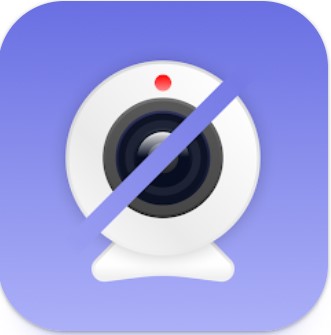 With the Camera Finder application, you can find spy cameras wherever and whenever you want.
Stand in the center and divide the room into parts. Then check each sector with your phone and this app.
Examine each sector, paying attention to anything that seems suspicious. There may be double objects in the room.
Check the electrical appliances for protruding wires or suspicious glow. CCTV devices are placed so on provide a better view.
So get close to places such as the bathroom, bed, and exit doors with your phone. It is very important to check places where people can talk.
If the attacker's purpose is to record the conversation, bugs can be placed in such places. Particular attention should be paid to beds, tables, sofas, chairs, and balconies.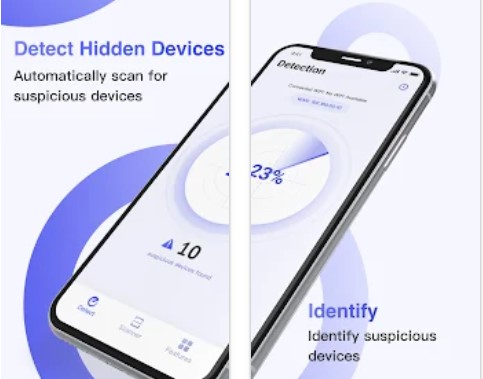 All you have to do is press one button and start scanning. So, it will not take much time, but it will quickly identify all suspicious devices.
9. Hidden Camera Finder: Spycam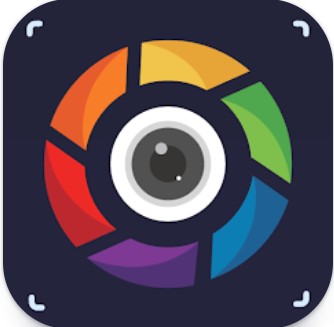 The Hidden Camera Finder: Spycam application detects electromagnetic fields using smartphone hardware.
So you need to move your phone around the room or in an area where there is suspicion of the presence of a hidden camera.
Where there will be an increased density of the field, there may be a camera behind a wall or inside an object.
The home screen shows you the approximate location of the camera or similar device. The radio detector only detects wireless devices that send information.
Also, you will love the incredibly useful tips on spotting spying devices. They can be everywhere: in the bathroom, bedroom, dressing room, toilet, and outside.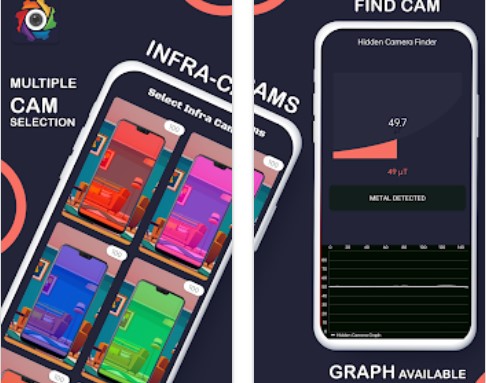 And, you can also search for spy gadgets using the app's infrared camera.
10. Hidden Camera Detector Pro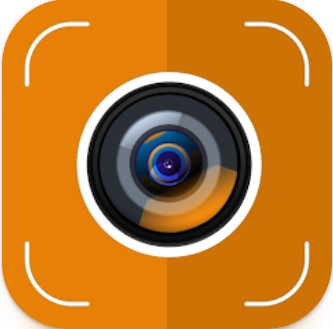 The Hidden camera Detector Pro application can detect hidden cameras in any room.
It also detects any other spy devices that produce similar magnetic waves.
In unfamiliar places, you may suspect a hidden camera somewhere near you.
With this application, you can protect yourself from such surveillance.
To start the analysis, you need to click the "start" button on the main screen of the application.
It will start the process of searching for hidden cameras. Move around the room and get close to where the spy camera is most likely to be. If detected, you will hear a special signal.
The closer you get to where the hidden camera is, the louder the sound the app camera detector makes. This is how you find the spy hidden camera.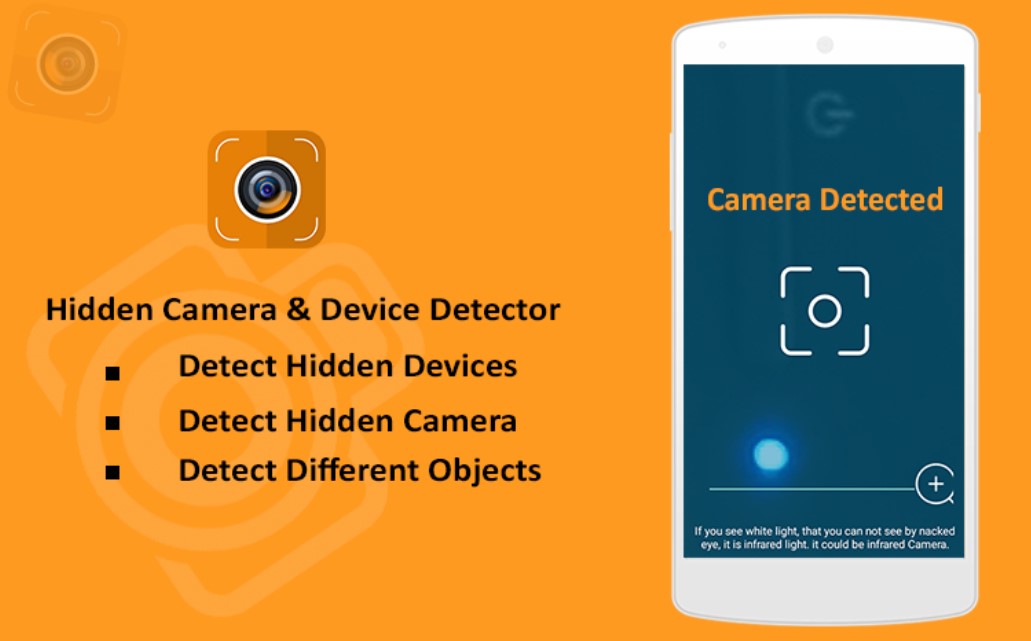 Then manually check the location selected by the app camera detector and remove the spy camera.
11. Hidden camera detector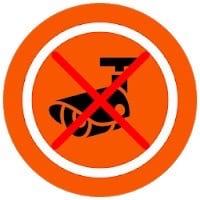 The Hidden camera detector application is a specialized hidden camera detector.
This tool will help you secure yourself in unfamiliar places. The application Hidden camera detector is absolutely free and easy to use.
Get rid of negative suspicions and find out where the hidden spy cameras are located.
First, you can manually check all available places for spy cameras.
Then turn on the detector on your phone and move around the room.
Your phone will start to vibrate as you approach the spy camera. The closer you get to the hidden camera, the more your phone will vibrate.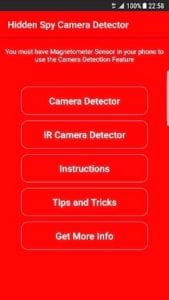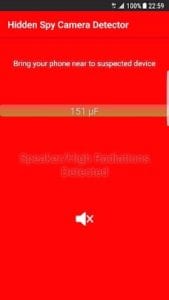 This is how the application Hidden camera detector reacts to the magnetic waves generated by the hidden spy camera.


You may also like: 9 Best hidden voice recorder apps for Android & iOS