We live in such a globalized world today that international mobility, which used to be the thing, accessible only for millionaires, politicians, artists, and other "chosen" people, has now become almost a routine case. Today you won't really surprise anyone if you say you studied abroad or did an internship in a foreign company.
Along with that, we could see how the English language has turned from a language of more economically advanced countries to the universal language that almost every newborn child studies together with his/her native one.
But still, not all the people are equally talented in languages and many people have a hard time with international language exams.
But what to do for those who are still willing to go abroad for living and they need an IELTS exam to be passed? By the way, according to the stats, this one exam is the most popular for international students and expats, not TOELF.
It is not the easiest challenge to take and, what is more significant, the preparation and exam itself cost a considerable sum of money.
However, there are some ways to reduce costs and take additional training curing IELTS preparation. Logically, because there is such great demand, the market offers a decent diversity of apps which will help you to prepare for IELTS and everyone can find an app suitable for their level of English.
1. TakeIELTS.org
So as we all know the IELTS exam was invented by a British Council to test the language skills of foreigners. This app is licensed by that British Council itself which means you can truly rely on it during the preparation. The app was created by the same developers who made the web source for IELTS preparation.
The app was also developed with the help of English language learning experts and downloaded by more than 100 million users all around the world.
Well, there is probably no need to convince you how useful this app is. It has a complete overview of test like those that you are going to face on the actual exam, thus you will get an idea of what to expect during the test day. Here you will also find easy daily exercises that slowly, but effectively train you for taking the test.
Listening, Reading, Writing and Speaking parts training can be found here. It is recommended to practice everything even if you consider you have a comparative advantage in one of those sections. Similar types of questions like these you are going to meet in the actual test.
Grammar exercises here are useful as well. Apart from that, the app contains videos of the speaking part interviews, useful tips, and tricks for the exam,  explanation of assessment criteria, vocabulary exercises, quizzes and so on. The app also tracks your progress in preparation and studying.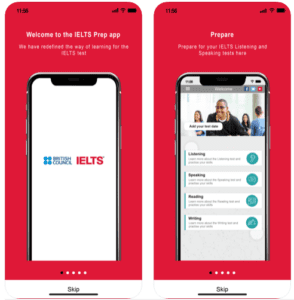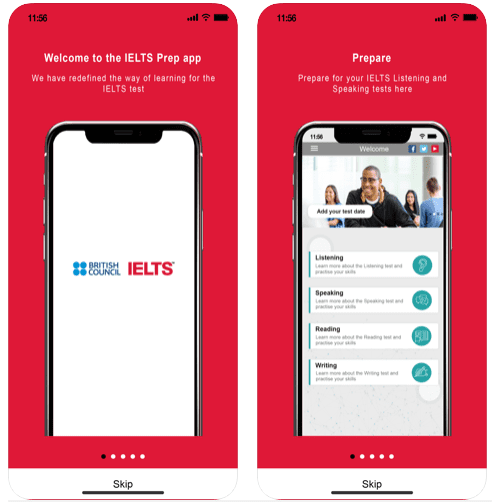 You may also like: 9 Best deep breathing apps for Android & iOS
2. IELTS Practice Band 9
If you've never dealt with IELTS before be ready that all the apps that we are observing here are going to be similar to each other. And here we have another app for the IELTS preparation that contains tons of tests and other valuable materials for exam training.
This app contains all kinds of materials and possible practices to provide you with the best preparations for the test. Seriously, the training materials are so diverse here that it can be even hard to choose. The interface of the app is super simple and user-friendly, so it won't take you long to open the app and actually stop preparing for the exam.
On the upper side of the screen, you will find different categories with materials useful for a certain part of the exam. For instance, in the "writing" section you will find all the essential vocabulary that you should use to win a high score, useful tips, examples of tasks and many more.
An interesting feature of the app is that it actually contains materials from the IELTS video channel. If you are a more visible-perception kind of person, you will find it extremely helpful. In total, the app contains more than 280 practice test and more than 4000 different questions.
All essential aspects of the English language are covered here: phrasal verbs, idioms. irregular verbs and everything else that may cause difficulties during the studying process. So with this app, you simply got no excuses not to do your best on the exam.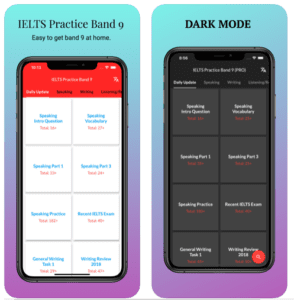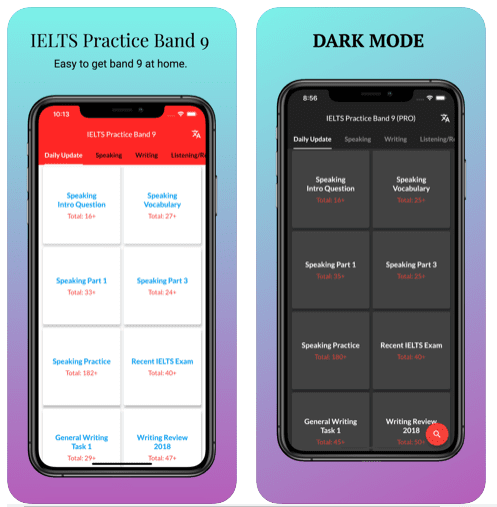 3. IELTS Exam Test Practice 2019
It is also needed to be taken into consideration, that exam structure and tasks change and evaluate each year. That's why you need to stay in touch with the latest updates and also use the most recent official example of exercises. Thus you are significantly increasing your chance to pass IELTS and get a good score.
And this app is a perfect example of the latest update of IELTS tasks. Like the previous ones, it includes separate practices for all sections of the test, with the mock tests for the Reading part.
Another useful feature of this app that distinguishes it from others, is that it totally reproducing the speaking part, with the recording and analysis of your speech. What is more, it can help you significantly with essay writing.
It doesn't only contains helpful vocabulary, idioms, and examples, but you can also make the whole analysis of your essay writing skills right in the app. Besides, here you will find the interactive listening and reading sections. Day by day, week by week, the app tracks your progress and you can see whether you are ready to take the challenge or not.
The only thing, you will need to pay for the subscription. Generally, most of the IELTS preparation app requires that since the materials, provided by official IELTS preparation centers, are not available in the free access anywhere.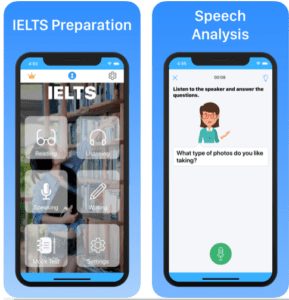 4. IELTS Mock Test & Practice
The main goal of this app is to introduce you to the system of how the IELTS test actually works and to train you specifically to gain the skill of solving it. And let's be honest here, it is a crucial part of any exam. You may have a native speaker but if you are not familiar with the whole testing system, even there is a chance you won't do your best.
The working method of this app is the following: you do the tests, the app tracks your progress, analyses it and then tells you what are your strengths and weaknesses. Thus, you will be able to pay attention to your problematic parts.
And, of course, all the main parts of the exam (Speaking, Reading, Listening, Writing) are covered here. Here you will also find a detailed overview of IELTS that will help you to get into essential aspects and answer the possible question you might have.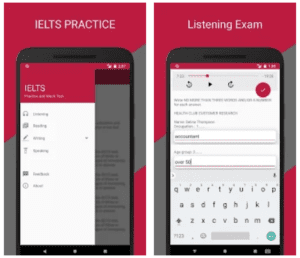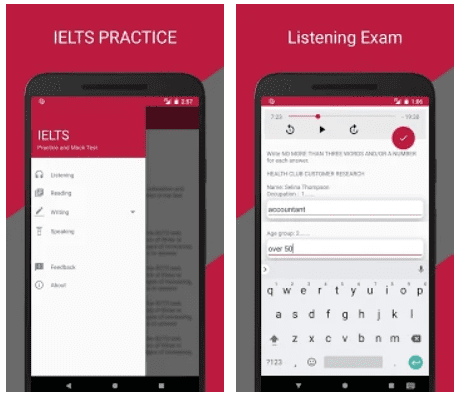 5. IELTS Writing 2020
Now let's take a look at other options for IETLS preparations and note that there are apps on the market which are dedicated specifically to a certain section of it. This one deals with the writing part, and if you got trouble with it, you can make real progress by solving the exercises and learning materials from here.
Moreover, it is hard for some students to analyze and write literally correct in general. Imagine what a challenge it is for them.
This app contains examples and exercises for the academic writing (that's the part that you usually get if you take the IELTS Academic version), general writing, that is much easier and analysis function of all the text you write.
The app will provide you with the tips and training on how to extend your ideas and create a plan, how to brainstorm ideas and come up with something authentic, how to correctly make an introduction, the main body, conclusion and so on.
And of course, some life hacks and tricks are included. All the vocabulary presented is sorted by a topic and the chance that one of them is going to be at the test is very high. And most importantly, the app contains the latest updated exercises and practices that are probably going to come up at the exam in 2020.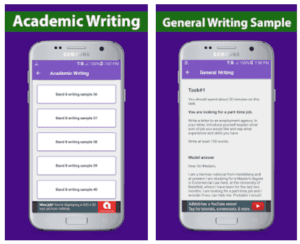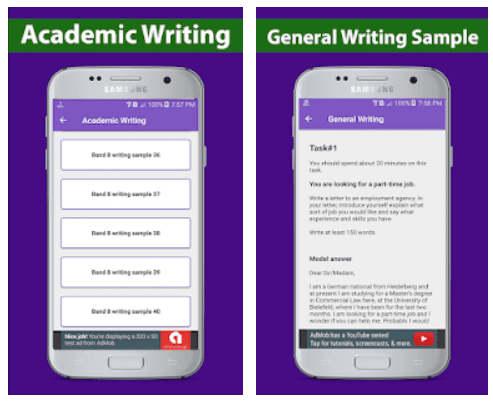 6. IELTS Exam Preparation
It is not really clear why, but considering the IELTS exam preparation, Google Play has definitely an advantage in good apps over the App Store. And here goes another great software to practice and polish your skills for the IELTS test.
Let's start with the first and probably the main advantage of this app – it is completely free. Taking into consideration the fact that most of the materials for ITELS are closed and cost relatively high sums of money, this one app is a lifesaver for those who cannot afford expensive apps or tutors to prepare but still wants to take an IELTS test.
In the section, that prepares you for the writing part of IELTS, you will find effective tests and helpful information about the part in general. In the writing section, you will also find samples of essays that you can learn by heart and use as a template each time you are writing an essay or letter.
Moreover, there are extended opportunities to practice your vocabulary. There are various tests and cards designed to increase your knowledge.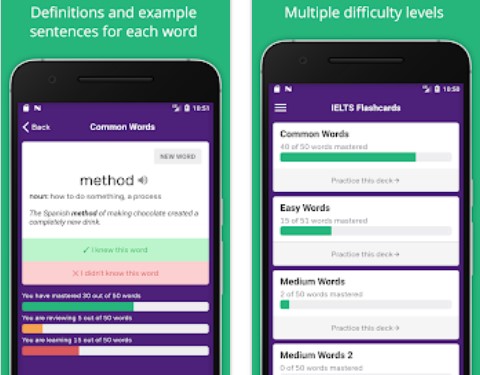 7. IELTS® Test Pro 2019
For those who prefer multi-functional apps and having everything in one place, this app will be a good choice. Every single detail that might be important on your way to best prepare for your IETLS exam is included.
The app has simple practice questionaries that help you to "warm-up" before taking the actual exam tests, the practice tests themselves, and what is more important flash cards. Flashcards are one of the most effective ways to memorize information for long periods of time.
After you completed a training test, the app will provide you with the score and a detailed analysis of your work. Moreover, it tracks your progress day by day thus, showing your current readiness for an exam (only if you solve the test frequently enough).
In total, there are more than 3000 questions, written by expert tutors which cover all sections of the International English Language Testing System exam. So don't miss your chance to increase your IELTS score and explore this app which is, by the way, doesn't cost too much.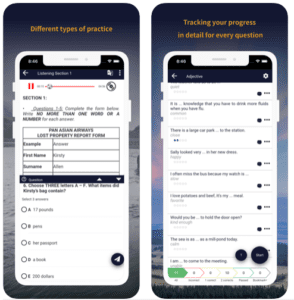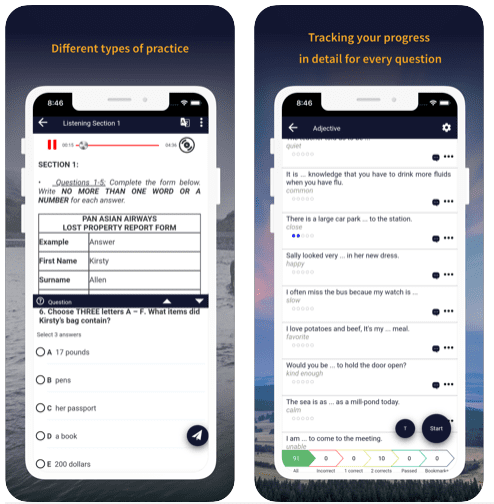 8. IELTS Listening English – ELI
Just like it is stated in the name of this app – it helps you to develop the skills necessary for the IELTS exam. And has already been mentioned above, not always knowledge of the language only can give you a high score. An understanding of the test structure is also a vital part.
And this app will be appreciated by those who are into that kind of obsolete style interface of the app and a more classic presentation of the information. The distinctive feature here is that you can collect puzzles in the task thus training your multiple-choice section.
Of course, this app is designed to improve listening capabilities. That is why there are daily assignments, and clips from the radio and TV. Also, you can improve your vocabulary by using the word highlighting function in the text.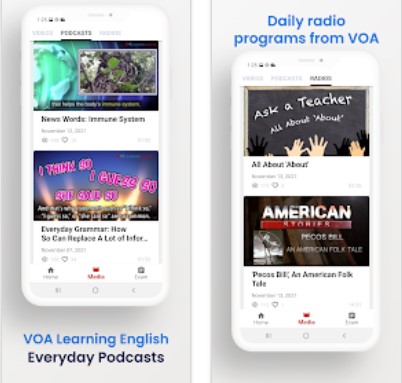 9. IELTS Preparation – IELTS FREE
If you are into these apps with the well-designed interface then this one is your choice. Well, everyone has their own methods on how to make themselves to study more effectively for the exam. And the structure of the app's interface is not the last point when it comes to choosing the right app, so it is reasonable to have.
This IETLS preparation app differs from other apps in the way that it concentrates a little bit more on the common practice of the language rather than on practicing the tasks, related to a separate section. You will get a chance to improve your grammar with those exercises, your conversation, and listening skills, that will help you in general during the actual test.
There is also a flashcards vocabulary section in the app that contains more than 3800 words so you can keep memorizing then as much as you want (for those, who like to fulfill their English vocabulary).
But don't worry, the samples of the real IELTS test are also presented. As usual, you can choose a section you need and practice until you are confident.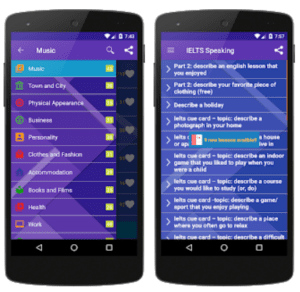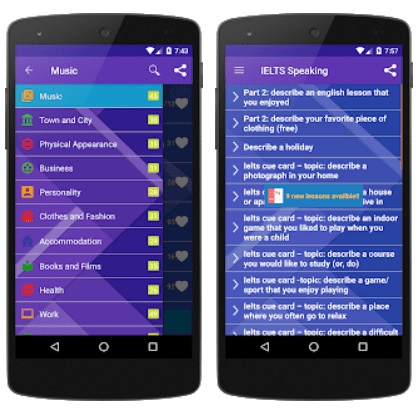 10. Vocabulary Flashcards – IELTS
Also one of the best apps on the market for IELTS preparation. This app is different compared to the previous ones, but it doesn't mean it is not effective. On the opposite, this is an extremely convenient and effective app to memorize as many as possible words before the exam.
Vocabulary is an essential part of the whole test. Moreover, it is not stated so obviously, but the experts are going to give you much more points if you are using an exquisite vocabulary and rare-used words in a specific context.
However, if you are going to try to learn all the new words by simply hanging the notes around your house, or, even worse, trying to memorize them just reading from the list, most likely you won't succeed. The flashcards are by far more effective in this case since they involve the cognitive abilities of a person in a deeper and productive level.
When you launch the app, you can see several sections of flashcards sets. There you can choose a level of difficulty and the specification of words that you would like to learn. The app contains the exact academic vocabulary that you are going to face on the actual exam.
And the best part of it – it is effortless in using! All you have to do is to go over and over the flashcards until you actually learn them.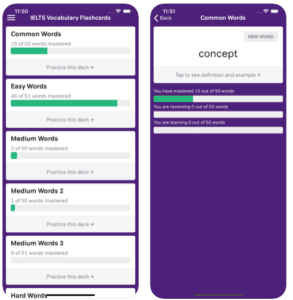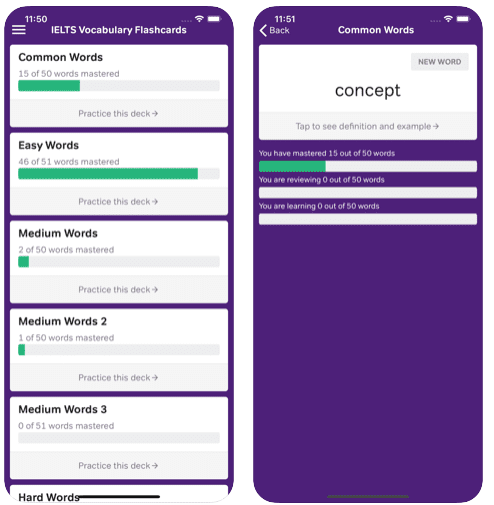 11. IELTS preparation app. Learn English vocabulary
Another app that helps you to learn new English vocabulary fast. In fact, this is one of the popular and highly-ranked apps in this category, but if you take a look at it, you will see that it differs from the previous one and will be more suitable for the users with a lower level of English.
It doesn't mean the app has lower quality – on the opposite, it is more interactive and diverse and that's why it allows to fully plug into the learning process and get used to the language more quickly. Here you got not only flashcards but also the graphic representation of words, word puzzles and many more.
Of course, there are a lot of apps like these on the market today that allow learning new English words by graphic cards. But there are almost none which prepare people this way for the IELTS exam. In this case, the app promises that you will be able to learn up to 3000 new words each month.
Another reason why the words learned by means of this software are well-memorized is that it'd not only explaining the meaning of them but also provides the examples of usage and gives you the chance to use this word in a speech immediately by texting messages to the chatbot.
And even the lack of time is not an excuse anymore. The app allows you different options and ways of how you can study for the exam, and among them, you will find even those which take 15 minutes a day.
In the vocabulary section, the pronunciation, usage, and examples with words are provided. However, we wouldn't advise using only this app while preparing for IELTS, since it includes too little materials provided by the official British Council. But as a useful addition, it is a perfect app to train for the best score.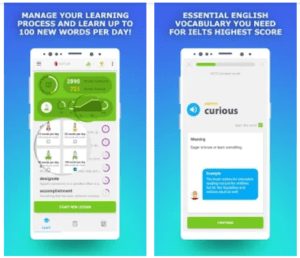 You may also like: 13 Best apps that make you look older (Android & iOS)