Dating simulators have become popular thanks to Japanese animation. These games are now being played by millions of single and romance-loving people. The goals and storylines of the simulation games focus on achieving success in the romantic relationships of the main character or heroine with other characters in the game.
This interest in these applications is due to the fact that these simulations have many storylines and potential partners. And so we will review apps for all ages in this article. Therefore, you may be interested in the article Best Dating Apps Just To Talk, in which you can enjoy romantic chatting with strangers.
1. Romance Club – Stories I Play
Everyone has probably heard about this game. There are a lot of posts about it on social networks, memes, and videos on YouTube. This is not a silly game for kids, but a real novella, where every action affects the plot. The Romance Club – Stories I Play is played by everyone, both girls and guys, both adults and children.
At first, you begin with a choice of the protagonist. You can choose from four different ethnicities, add a name and an outfit. Then your heroine will have to get out of several troubles. Also, for some reason, she meets handsome men who are ready to abandon all their affairs and deal with her problems at once.
In addition, she has to fight against vampires, werewolves, monsters, and aliens. Moreover, you can choose the character of the heroine, making her gentle or saucy in Romance Club. To unlock certain scenes and make the right choices that help the heroine overcome her troubles, you need to save game currency, such as diamonds.
These diamonds allow you to buy clothes, hairstyles, makeup, decorations, and most importantly, relationships with other characters and plot twists in the game. Your choices determine the rest of the story. The game also has cups, you need them to pass the novellas. You need one cup to start one episode of the story.
So, there are a lot of them. For example, there are mystical and creepy, historical, detective, and many other stories. In each one, you have some kind of mystery to discover.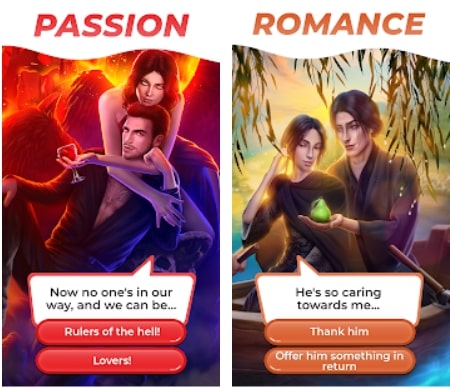 You may also like: 9 Best Dirty Truth or Dare Apps for Android & iOS
2. Dream Daddy
It is one of the most exciting apps. It has been perfectly received by its users. The reason is that the plot is realistic and close to current trends. So, you will have to get into the role of a father who moves to a new city with his daughter Amanda. After the death of his partner, he raises Amanda alone. They try to treat each other with mutual warmth.
Meanwhile, the city in which they arrive is full of similar single fathers who are currently having a tough romantic time. After a brief tutorial, you can choose the fathers with whom you are ready to go on dates. Moreover, each of them is made in the most unique way possible.
You can go through both mini-quizzes with local English teacher Hugo and fishing with a master of all trades Bryan. It is interesting that there are only three dates. After the last one, the player finally finds the father of his dreams. You will find your dates to be quite creative. Sometimes the dialogues may be suddenly interrupted, due to unusual events.
In addition, you can also communicate with your daughter, discussing dates together. In addition, the developers have also made an effort upon the personalities of the fathers. All of them are complex personalities with their own weaknesses. In addition, you will also have to bring up your daughter.
So you will have to think over your parenting strategy in order to become the best father. The main point of the Dream Daddy app is about love towards others, respect, and understanding. So, you will definitely like this simulator for the greatest closeness to life.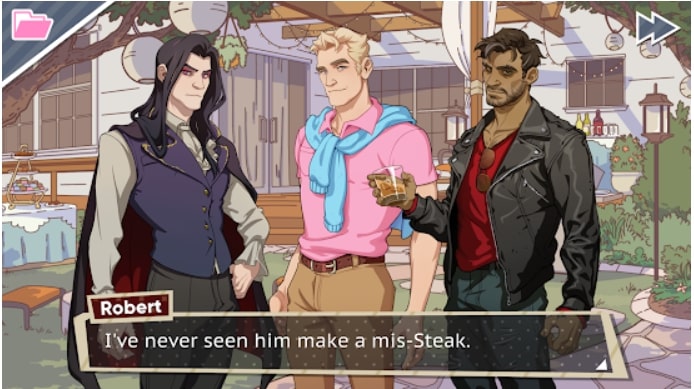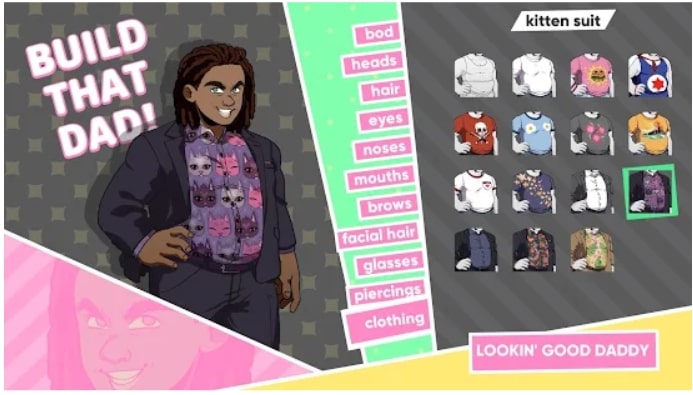 3. Kiss Kiss: Spin the Bottle
Kiss Kiss: Spin the Bottle is a fun app for flirting, dating and chatting. This is where you will find new friends and acquaintances in the form of characters in the game. When you start the game and pass the training, you will find yourself in a room made up of guys and girls. Here each player takes turns spinning a bottle. The bottle always stops at a random player of the opposite sex.
After that, it is suggested to the two players to kiss. It is up to you to decide whether to kiss or not. The app is designed in such a way that the room, besides the simple gameplay, is a chat for communication. So, you will be able to talk to different people, answer their questions, and flirt.
Besides, there are different stories, that you can pass with your friends and strangers from all over the world. Also, there is a system of gifts, the main part of which is offered for donation. In addition, the app has a well-known game named Truth or Dare.
The main interesting peculiarity of this application is that players can open their contact information to each other and get acquainted offline if they fulfill a certain condition. This way, you can not only play but also meet new people.
Moreover, there are different chat rooms designed for different companies. Even now Kiss Kiss: Spin the Bottle is a kind of huge community, which is played by a large number of adults.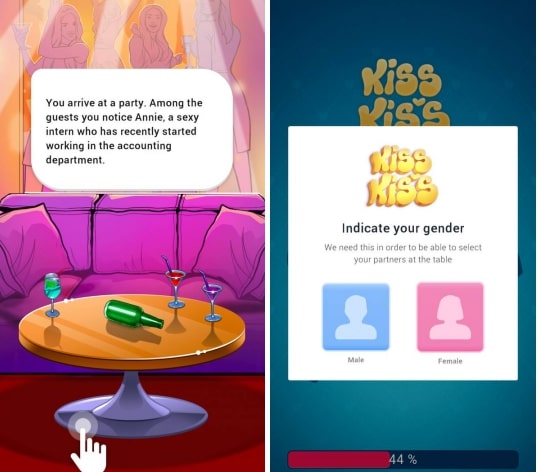 4. Choices: Stories You Play
Choices: Stories You Play is a cool game, which combines great heroes and interesting storylines. There are quite enough love stories to choose from.
Most stories allow characters of any gender to have romantic appeal. The game requires a constant internet connection to the server. To begin playing, you need to choose the book that looks good for you. All books in this game represent the story. It is possible to play several at the same time.
At the beginning of a new story, they offer players to choose a face, hairstyle, and clothes, sometimes even the gender of a new hero. Moreover, when you enter the game, you select what you spend the key on. Keys are game currency. To pass 1 chapter of the book you need 1 key. Keys are renewed automatically: 1 key appears every 3 hours.
Also, there are crystals needed for a special choice in the course of the game. Sometimes this special option does not provide any advantages during the game, sometimes it helps the hero to improve or develop a relationship with another character by spending time together with him.
You also can spend it on an expensive beautiful outfit. in addition, you can get a pet or furnish your character's room by purchasing some items offered by the game.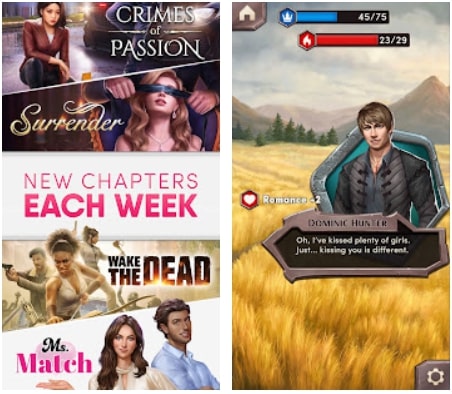 5. Love Island: Romance games
Love Island The Game is an interactive visual novel that is a complete work of art. Its signature style of graphics can confuse players who prefer variety. But even in this format, fans of the genre will be more than satisfied.
After all, they are invited to become a member of a reality show, go to a remote island, find love, or just have a great time being surrounded by handsome men and beautiful women. The system of choice, non-linear development of events, the division into episodes, and much more will please gamers who love leisurely text entertainment.
Moreover, you can create your own hero for whom you will play. After all, there is an incredibly cool closet, from which you will compose incredible outfits. It is up to you to choose how events will develop in the game. All you have to do is to choose your favorite response from the proposed ones.
There are over 100 love episodes in three completely unique seasons of a reality TV show. Each episode gives you plenty of romantic opportunities. In fact, you can go through the game several times changing your partners and your character.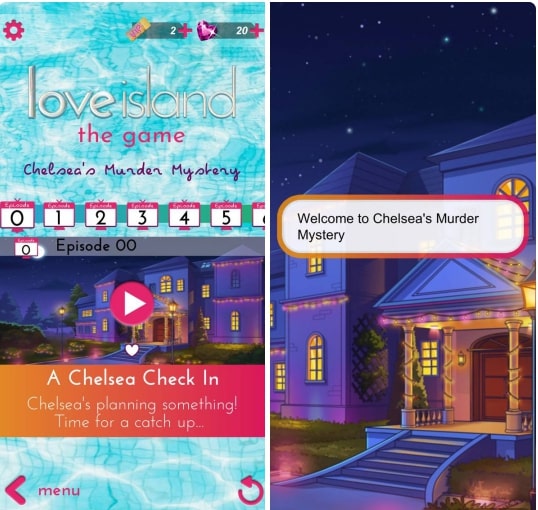 6. Hey Love Chris: Chat Story
And here is this game in which you have to make the right choice to match your favorite character. So you will play as a girl who works as a fashion designer. She has moved to the big city and now you are going to help her. As it is supposed to be in a dating simulator, she has a number of potential partners.
Your goal is to get acquainted with different life stories and seduce the selected character or even several of them. Well, you will find four main love stories in Hey Love Chris: Chat Story. The interesting thing is that there is one LGBT love story. The amazing thing about this game is that there are more than 30 alternate story endings.
Moreover, the communication with your favorite characters will take place in the real world and social networking chats. It will be your task to help the girl choose the response or action from the list. All this will impact the development of the plot. In addition, you will be presented with incredible outfits that will help you conquer the city.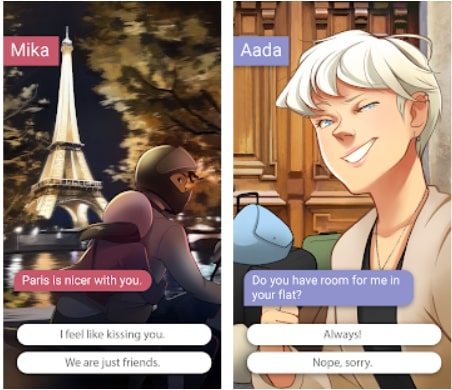 You may also like: 11 Best Roleplay Chat Apps for Android & iOS
7. My Horse Prince
This is probably the funniest app in our selection. You are about to find out why. Numerous plot branches give the player the opportunity to play the game multiple times, trying to uncover new branches of the plot. One more feature of this game is that its main character turns out to be rather smart half-human, half-animal.
My Horse Prince takes place in an alternate world where different kinds of animals have human intellect becomes the dominant species. You will meet a horse prince in this dating simulator. The prince will have a horse body and a human head ridiculously glued to his neck. Despite the fact that what happens is absurd, the dialogues in the game are really funny.
If you like the genre of visual novels, try to download this application. My Horse Prince is not the usual dating simulator. You are invited to play as an anime girl who swings between several guys. There is the shy smart guy and the arrogant major and others. Also, there is a complex plot, which gives a lot of good and bad endings.
So the game's dialogues are absurd, the authors experimenting with the dating simulation genre. It is the absurdity of this game that appeals. On the one hand, the hero you are flirting with is kind and helpful, but on the other hand, he is easily offended. Also, the game attracts with bright graphics and a user-friendly interface.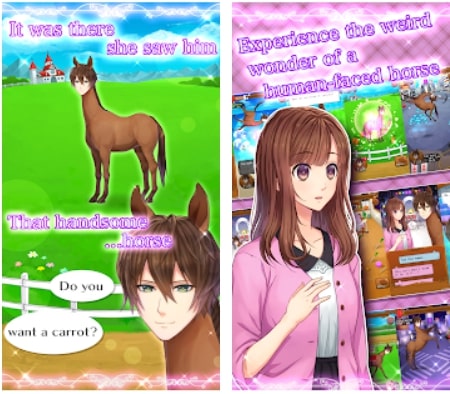 8. Dating Simulator 3D
If you are interested in love simulations in 3D, then Dating Simulator 3D is perfect for you. The interesting thing is that you can play as both a guy and a girl. In addition, your hero and his whole life will be completely in 3D.
So, the main part of the gameplay is concentrated in the social networking simulator, where the player is choosing his partner by the picture and brief description. It is similar to the familiar dating app. That is why you have to communicate with a potential partner by text messages in this simulator.
Afterward, if you have got the location of your partner, you can invite him or her to one of several locations for a date. The aim of the game is to get to the wedding. And then the game is over. In addition, the application has additional tasks for passing which you will receive awards.
Then you will be able to change the clothes of the hero. Perhaps this game will appeal to those who like passing the game fast. The main thing is to get a match in the dating app. In addition, Dating Simulator 3D is attractive because it allows you to edit the character you are playing for.


You may also like: 9 Best casual dating apps for Android & iOS
9. Amnesia: Memories Premium
This game is an adventure novel in which you have to help a nameless girl and a spirit named Orion to recover her memories and return to her real world. The main character is a girl, who opens her eyes and realizes that she has forgotten everything.
Well, you have the opportunity to enter your own name. Also, it is possible to pick the place in which the story of your heroes will begin. In the first stages of the story, the personality of the characters is not clear. However, later on, it will be shaped depending on the answers you choose.
In addition to an interesting plot, it is also worth noting the graphics of this game. The color palette is well chosen while the character design is qualitatively detailed. In addition, backgrounds are atmospherically elaborated. In general, all stand in a single style.
Amnesia: Memories is definitely going to please fans of good graphics and anime. The game has a couple of storylines, dedicated to different characters. So you will get to know both the kind and caring guys and the brash and unstable ones.