People who have ever been to a party have definitely heard of Truth or Dare. It is a game for a large company, which helps to bring a great atmosphere of fun. It is usually a game where you get to know the people at the event by simply asking them questions or making them follow certain actions. The rules are familiar for many people.
However, it is easier to use the application which randomly gives out variants of the questions and tasks. So you can not be embarrassed by asking dirty questions. The application already contains a lot of tricky questions and naughty tasks. Likewise, you will enjoy a party with the article Best drinking game apps.
1. Truth or Dare Dirty Party-Game
The game can be played in pairs, but it would be more fun to gather a large company. Truth or Dare Dirty Party-Game app automatically determines the course of the game, decides who will be first, and picks up tricky questions and actions. You can set such important nuances, such as setting a limit on the choice of "truth" or "action" three times in a row.
Otherwise, you can give each of the players the right to refuse the task once. Likewise, you can play by the basic settings of the game simply by filling in the names of the participants. Then you will see nice cards that ask you to choose truth or action. The app will allow you to play with children and adults.
After all, there are different modes such as party, naughty party, crazy, ultra dirty, childhood, for couples. In addition, you will be able to adjust the desired style of the game, by clicking on the section customizable mode. It is possible to choose what questions and actions you will see during the game.
In particular their topics and age limit. It is quite interesting that the program can randomly choose the truth or action. In addition, each question you can share on social networks. The app will be useful for the visually impaired because each card can be read aloud by the app. It is convenient for the visually impaired because the app can read each card aloud.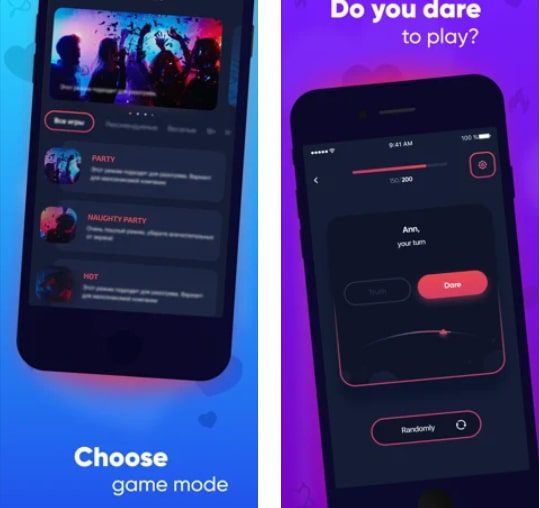 You may also like: 11 Best Drunk Mode Apps to Avoid Texting on Android & iOS
2. Truth or Dare Game – Party App
Do you want to start the game with dirty truth or a bold action? With the Truth or Dare Game – Party App, you will find the answers to the most intimate questions and uncover all the secrets of your lover. It is enough just to choose the Extreme mode.
Especially in case you are in a relationship, you can always find out the new sexual fantasies of your partner by switching to the special mode for couples. First of all, you will definitely like the application because it contains dirty and naughty questions. By the way, there are over 1,000 of them. This means that the questions will not be repetitive.
Secondly, you should not have to think long about actions. This app has put the most interactive actions together to unite a group of people. Most of them are targeted at other players. The app is also suitable for playing with friends. To have fun without being vulgar, pay attention to the Group mode.
In order to start the game, you need to fill in the amount, gender, and names of players. The interesting thing is that you can always surprise your friends just by adding your own questions to the game. So you can ask or challenge to do something that is familiar to your group. After all, there is a mode of personalized questions and actions.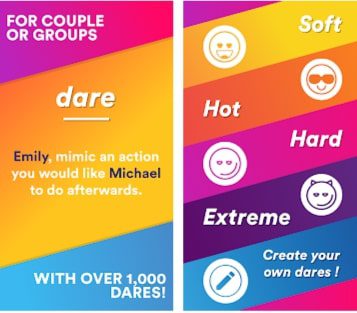 3. Truth or Dare
This app will definitely help you and your friends get out of your comfort zone and overcome modesty. This app with the simple but familiar name Truth or Dare is designed to do just that. This game will perfectly create the mood of a hot party. These game questions will reveal all the secret desires of your girlfriend or boyfriend.
It is interesting that the application contains different difficulty modes. Under the difficulty, we mean their intimacy. Consequently, this will allow you to take advantage of the Truth or Dare both on your first romantic date and in your sex life with your partner.
In addition, the app can add an unlimited number of players. So you can definitely play it with a large group. It is up to you to adjust the list of questions. There is a very simple way to personalize it. In addition, it is worth noting that the application has a wide range of questions and tasks.
During the game, participants can always use the function to change the task if it seems difficult to do or too vulgar. It is also worth noting the incredibly pleasant interface made in black and contrasting bright colors.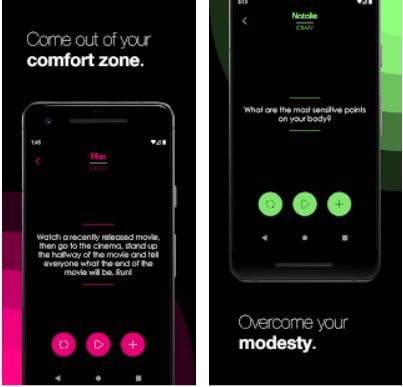 4. Truth Or Dare 18+
There are virtually no barriers in Truth Or Dare 18+. The game is designed according to the type of player, and an appropriate list of questions and tasks. The app is compiled to fit any situation. The app can be varied and adjusted to suit the interests of the people who play.
There are modes for lovers, couples, friends, married, as well as only for guys and girls. The game spice up it is unique, or even tricky questions. Since this is an application with vulgar and dirty questions you would not be ashamed to ask them. In part, questions may embarrass, confuse, and surprise the players.
The aim of the game is to make people laugh and to set a special mood. The app can adjust the modes themselves, depending on the gender of the participants. It is also worth mentioning that the application has a nice look and a simple interface.
During the game, you will see the cards with the truth or dare. In addition, you can add your cards with true and dare in the settings.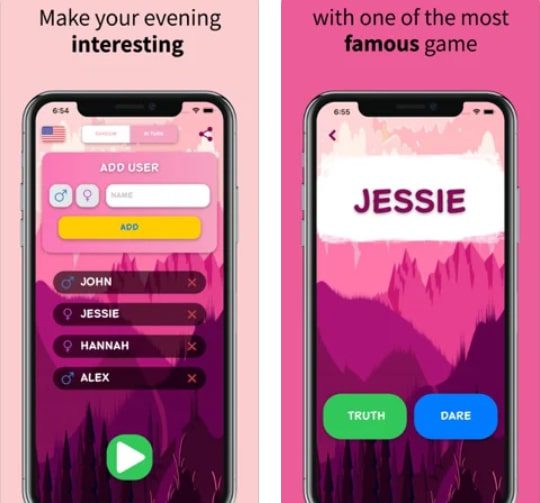 5. Truth or Dare 2 – Questions
Truth or Dare 2 – Questions is an app that looks like a bottle game. There is a wheel with the names of the participants on which the bottle is spinning. This way the program will select the player who will answer a tricky question or perform a naughty activity. You will be able to edit the questions yourself by selecting the mode.
The application offers Truth or Dare to different groups of people. You will be able to play it with children, teenagers, and adults. The questions are also arranged in difficulty levels. You can mix in questions that are sexual with just fun activities that will help cheer up the participants.
The interesting thing is that you can play online with players all over the world. Here you will see cards with percentages. For example, you will see the number of people who have already done a certain action.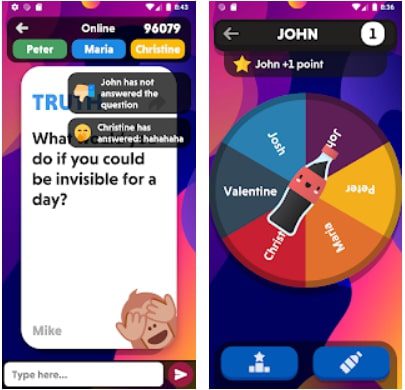 You may also like: 9 Best Mixtapes Apps for Android & iOS
6.Truth or Dare – Super Party
The game can be played by two people. It will not be boring for sure. In any company, there may be a period of isolation and even boredom during the party. The naughty questions for adults will help to get to know and understand each other more deeply. The inner connection can become better and stronger than it was before the game.
The app has different questions in various categories. By asking these questions to the participants, you can be surprised by the answers. These questions can also be very appropriate in a large group of different genders and ages. It is not so easy to answer harsh and sometimes tough questions.
If you like to tickle your nerves you definitely need to use the Extreme mode. Remember that there are two possibilities to refuse a question or perform a task.
This category of questions covers different topics. Do you want to have a hearty laugh to keep a positive mood for a long time? Then pay attention to the Cool Party and Friend Party modes. It is interesting that the application will earn bonuses for completing the cards. Therefore, at the end of the game participants will know who is the bravest.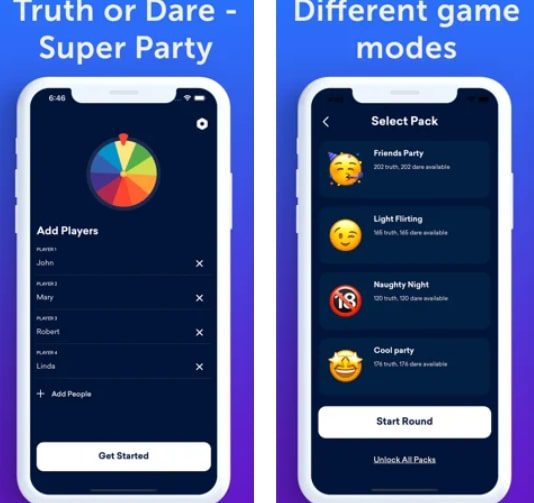 7. Truth or Dare – Dirty
If you are tired of boring games you definitely need something new. So for example the application Truth or Dare – Dirty will bring a little spice to your party. Just choose the category you are interested in. There are only three modes such as Dirty, Party, and Casual.
Each mode is designed for specific ages and different companies. So you will get as a result a certain range of issues. By the way, the application presents more than 400 free truths and dare. It is up to you to choose between them. The application is constantly updated so you will definitely not get bored and you will definitely want to use the application again.
Many users admit that Truth or Dare – Dirty has a creative list of actions. Therefore, it is perfect for having fun with friends, parties, couples, and families. The app contains Truth and Dare that is suitable for lovers and couples. After all, here you customize your own appropriate list of actions and questions.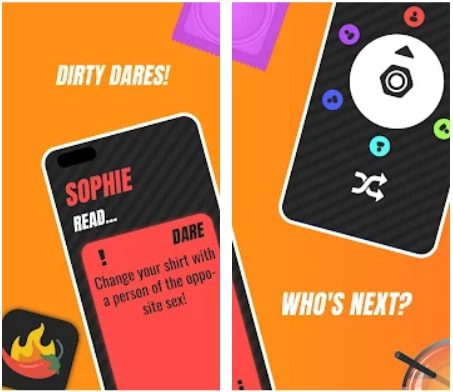 8. Truth or Dare? Dirty
The next app, meanwhile, is perfect for the upcoming New Year's Eve holidays. It has specially adapted a new interface. So, this application offers its users to use different modes of play. For example, there is a soft mode for parties with friends. There is a list of questions that will be quite simple and general.
And if you want to have a hearty laugh then you need a Crazy mode. Also, for those who want to know the tricky details and perform the dirty tasks, we recommend going to Hardcore mode. It is interesting that you can play with the company of only girls, and boys. They have funny names such as Betches Only and Bros B4 Hoes.
In general, the application has a fairly simple interface. Most importantly at the end, you will see a list that will determine the winner. As you answer questions or perform an action the program counts the points that go into the final value.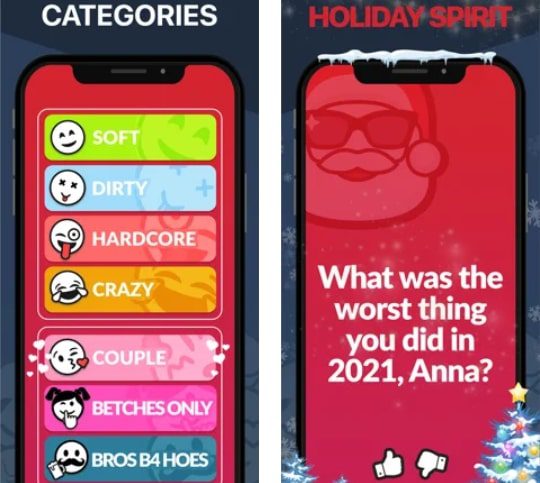 You may also like: 21 Free music download apps for Android & iOS 2020
9. Game for Couple – Naughty
The last app in our selection is designed specifically for couples. Game for Couple – Naughty is an application through which you get to know your partner, his or her desires, and secret thoughts better. There are questions from general to narrower and more personal.
That way you will get to know all the naughty details for sure. In addition, the app offers interesting modes. Here you can play with your partner or partners.
Note that the app is for adults only. This means that you will not see boring children's tasks. Play along with your significant other to entertain each other.