We all love to listen to music. The easiest way to do this is to use special applications. In this article, you will find a selection of the best applications for mixtapes. Most of them offer their users to dive into the world of DJ sets from all over the world. These days, mixtapes are written because artists want to get their music heard faster than the studio album is released.
 Some of these apps offer interesting additional features. And some others let you try to become a musician and share the music you create yourself. Meanwhile, for those who want their smartphone to always have music at hand, even when there is no Internet connection, we suggest visiting this article. After all, here you will see applications that allow you to download music. So here we go.
1. DatPiff – Mixtapes & Music
You can listen to brand-new music using the DatPiff app. Even new DJ sets can be streamed using this audio hosting service. All mixtapes are right at your fingertips. You can listen to your favorite popular artists. Although, you can also find great and new independent artists. All the material is exclusive here.
One interesting thing is that DatPiff was created in 2005. Within ten years, it was the launch of a music career for many artists, including The Weeknd, Puff Daddy, Mac Miller, and Lil Uzi Vert. You can figure out that a variety of genres from underground rap to jazz music is flourishing here according to the performers. Everyone can find something to their taste.
Besides brand new artists, you can listen to archive tracks of old artists. In that way, you can not only stay up-to-date but also be aware of how your favorite artists were formed and how they developed.
First of all, it is useful that you can add your favorite tracks to your favorites in this application. And secondly, it is possible to download them to your smartphone. It is important to note that this is a free platform where you can listen and post your works.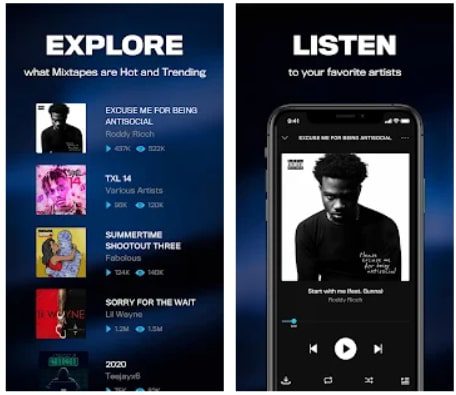 You may also like: 9 Best Apps to Play Music from SD Card (Android & iOS)
2. Spinrilla – Hip-Hop Mixtapes & Music
Spinrilla is the main platform for mixtapes. This is where your favorite artists started performing. Try your skills at creating mixtapes as well. Here you can find your audience because this application is numerous in the number of users. All of your favorite hip-hop artists are gathered here.
Listen to your favorite tracks and get a portion of unreleased compositions. One thing worth mentioning is that this app works perfectly in offline mode. You can always put your favorite tracks in your favorites and listen to them, for example, on the journey, where the Internet connection is poor.
In addition, the app not only allows you to listen to audio tracks but also to attend live concerts by popular and underground artists. Indeed, there is a huge video hosting service.
You can listen to and watch your favorite music videos, performances, and streams from concerts. As well as not to miss streams you will be assisted by the specially made schedule here. You can create your playlists for your music moods. And you can find trending music from around the world in the "Popular Artists" tab.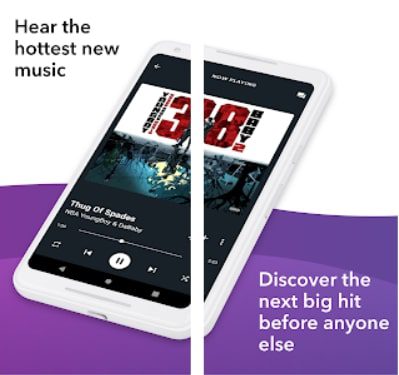 3. My Mixtapez Music
This service is a place where you can listen to various artists for free. Experience the mixtapes here. The main functions of this application include of course the ability to listen to different genres of music from around the world, add albums and singles, create your playlists, listening to recent streams.
All of this in composition gives you a great music platform where you can find everything you were looking for. Check out the trending music section and see what the world is listening to. It also includes announcements of new releases and tracks. Add them to favorites and be the first to hear your favorite DJs, rap, and hip-hop artists.
The interesting thing is that you can leave a comment and make a snap right while listening to a track. This feature will help you share your favorite tracks and see what other users think about the track. The application comes with a pro version.
Many users have noted that without it, a lot of ads pop up. However, it is necessary to note that with the pro version you can always download your favorite albums for listening offline.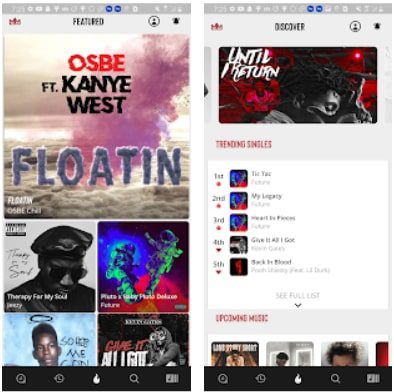 4. Audiomack – Download New Music
With this app, you can listen to your favorite artists for free and download them directly to your phone. The application supports MP3, WAV, M4A, AAC, and other files. You can also upload your mixtapes and see what other users think about them. Check out the Trends section. Here you will be able to see the most popular music.
Download up to 6 million songs for free. And for less than $5, get the full version of the app with even more key features. You can stream your mixtapes and build an audience. Audiomack has a user-friendly interface, which is why you can always easily adjust playlists and add your favorite tracks and artists.
Listen to music from different genres such as electronic, rap, country, reggae, hip hop, and more. Listen to music on specially compiled playlists. Many of the mixtapes collected here are absolute new releases. Be the first to listen to a variety of genres of music offline.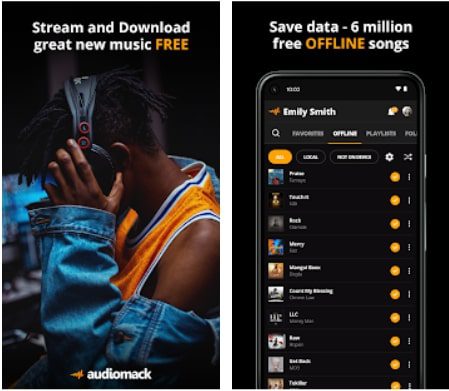 You may also like: 13 Best apps to slow down music on Android & iOS.
5.
Pandora: Music & Podcasts
Pandora is a place where you can listen to music mixtapes. This is where you will find a lot of recommendations. You will be presented with a variety of music playlists tailored to your tastes. The application offers a lot of interesting features. One of them is to listen to the mixtapes using voice commands.
This way, you will be able to increase or decrease the volume of the track, skip to the next track, to give a play or pause command. This feature is useful when you do not have access to the phone. Additionally, you can get personalized podcasts. Play albums and podcasts and then add them to your favorites.
Pandora offers six audio listening modes. You can use them to listen to your radio station, your friends' favorite tracks, new tracks, and artist releases. You can also discover brand-new tracks in the Discovery tab that you have never heard of before. To keep up with the latest music news you can subscribe to various artists in the genre of rap, hip hop, jazz, country, and many others.
Pandora is trying to please its users and allow them to listen to music anywhere. Anyone can combine the app with
Android Auto and with Google Wear OS. Taking all the above we can say that the application stands out for its unusual functions. In addition, you will have an application with excellent quality of the music you listen to.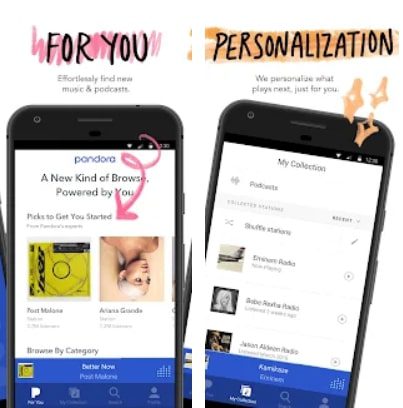 6. LiveMixtapes – Mixtape Culture
LiveMixtapes is one of the very few platforms designed specifically for listening to mixtapes. Here you can find the hottest music from all over the world. So here it is possible to listen not only to new releases but also to unreleased tracks of your favorite artists by entering into the archived music.
This application itself is comfortable to use. Here the developers have worked hard to provide their users with a convenient filter to search for mixtapes, albums, tracks. And in order not to miss something new from the world of music, the application has a tab newsfeed.
Interesting that with this app, you can add music to an unlimited number of playlists then edit them. Also worth considering is that the application will allow you to download any hip-hop tracks. First, you will get access to the new mixtapes from popular artists such as Future, Lil Wayne, Young Thug, and many others.
Also worth considering is that the application will allow you to download any hip-hop tracks. First, you will get access to the new mixtapes from the popular Future, Lil Wayne, Young Thug, and many others. Secondly, you will be able to download the tracks you like.
The main thing is that all users will get this application free. It is also worth sat that young artists will be able to unload their musical creations here. So you get a platform not only for uploading to the music world, but also to become a mixtape maker. Start your career here.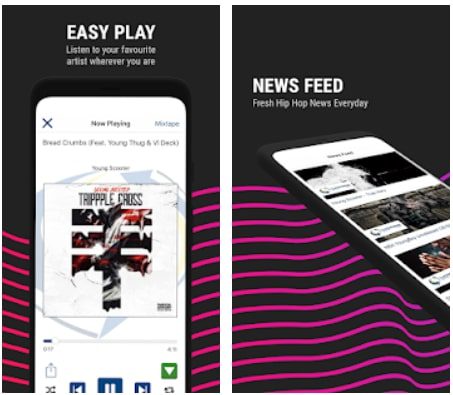 7. Pacemaker – AI DJ app
We have already talked about applications that allow you to listen to mixtapes. And now we should talk about Pacemaker Ai Dj, which allows you to make mixes. So, this application is a constructor for creating your mixtapes. The way it works is that the artificial intelligence from your or the app's tracks creates music on its own.
The important thing is that it is super easy to use. Even someone who has never made music is up to the task. To make it easy for you, the app lets you sync up with Spotify and Apple Music. That way you do not even have to download music from third-party resources.
One interesting thing is that by connecting any of the music apps, you can use multiple tracks or even an album to create seamless mixes. For a more detailed approach, you can use the studio, represented by the application, in which it is possible to cut the track at the beginning and the end, to add a beat and a measure.
Another good point is that the application can be used both on the iPhone as well as on the iPad. You can easily synchronize the application and save your mixtapes.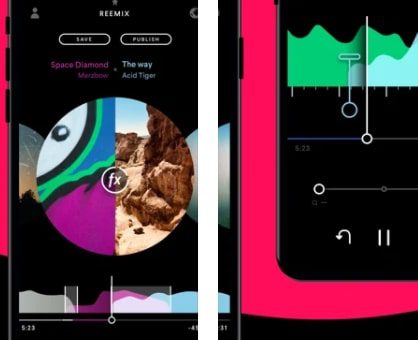 8. Bon Entendeur
The developers of this application based on the feedback of their users have created a completely new application that fulfills all the necessary needs. Now you can listen to your favorite mixtapes even more conveniently. After all, this application has a pleasant interface. Moreover, it is incredibly easy to navigate.
Add your favorite tracks to your favorites to listen to them later. Interesting that you can sync with SoundCloud to create your mixtapes. Bon Entendeur also offers its users to listen to playlists specially selected for them. So you get an app that selects mixtapes based on your tastes and allows you to upload your art.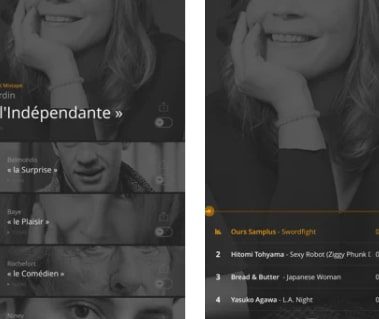 You may also like: 8 Best Lip Syncing Apps in 2021 (Android & iOS)
9. DaMixhub Mixtape & Music Downloader
The DaMixhub app is another platform but with interesting features for listening to music mixtapes. It is important to note that here you can listen to a lot of different streamers, which are playing their music every single day. The main features of this application are a huge collection of mixtapes and singles.
You will be able to listen to the usual classic tracks in the world of music and discover great newcomers. In addition, you can download music at a huge speed. In addition, you will be able to save your favorite mixtapes and then create your playlists from these tracks.
The app also allows you to sync across all your devices. Here you can find hot new releases from popular artists. Try to dive into the world of electronic, dance, and hip-hop music.