Probably, it makes no sense to speak about how meaningful the music in our life is. Together with the development of society, the music was taking more and more place in people's everyday routine, along with how new technologies were appearing.
And with the digital revolution in music that came together with the appearance of iTunes, everyone could just have songs in their iPads and mobile phones. Nowadays we don't even bother about how would we get a new melody – we just Shazam it and then download it from available sources.
About downloading. Even though the spread of music streaming platforms is taking over the world right now, it has, maybe, one little negative aspect – they are all paid and there is less and less way to download songs for free. There are strict laws preventing the illegal copying of music on the Internet.
However, there is no situation without any salvation. There are still some apps left using which you can get tracks for free, or, at least, for a very small price. It's up to you which one to choose – they all are different quality and price, so take a look.
1.Freegal Music
It is not easy to get something for free considering the music nowadays, especially, for iOS, but here we go! This is the app that downloads the music from the iTunes or Google Play music for you so that later you can listen to it on your device.
Freegal Music claims to have more than 200 million tracks in more than 200 various genres. The main advantage of this app is that it is really easy in usage and it doesn't distract you from what you are here for – for the music. The interface looks simple and the songs are put in the first place.
It works similar to all music streaming apps – here you can not only search for music by typing the name in the search bar but also view new songs and releases on the main page. Freegal Music also includes playlists that help you to get in the mood or which are appropriate for a special occasion.
In order to download a song, you just need to click on its right corner and choose the "save" option. Then the song will be saved only in the app (not in the storage of your device, because that would be impossible with iOS).
But it is quite enough because even if the song you have downloaded gets deleted from the app nothing happens to the copy you saved before.
A disadvantage of an app: when it gets updated there is a high risk that all your playlists will be deleted and you will have to collect them all over again.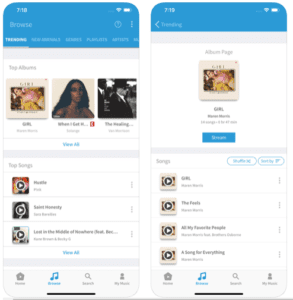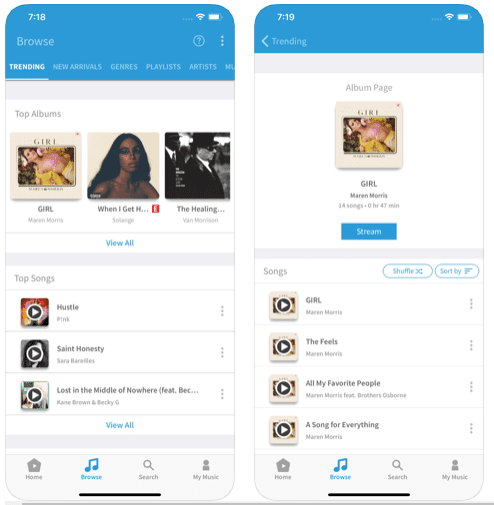 You may also like: 10 Best apps for drummers (Android & iOS)
2. Spotify
Ok, this is actually a well-known app and it may cost you something. However, first of all, prices vary from country to country, and if you are not living in Eurozone or the USA, then you may have it for cheaper (just disregarding the fact that it may be unavailable at all in certain countries).
Secondly, if you don't want the extra hassle with all that illegal downloading along with the constant search of a song of better quality – Spotify is a good investment. Moreover, the freshest releases will always be in your gadget.
The app contains all kinds of music that were released in the Western music world, in most of world music in general. Moreover, here you will find not only songs but also podcasts. It is convenient since thus you don't have to spend money also on Audible, for example.
There are several types of accounts you can have considering payments, and the version that includes ads is almost for free. And of course, here you can always download the songs and listen to them in the offline mode. And, if it makes you happier, listening to the music here gives additional credits to your favorite artists.
There are additional benefits of Spotify that basically no other app has. For example, it can synchronize with your Apple Watch allowing you seamlessly access and control the music playing.
Once you created your Spotify account it will be available not only on your phone but also on your tablet and PC. Considering the latter, you will always be able to play music on your PC at a party or just to have nice background music when you work, for example.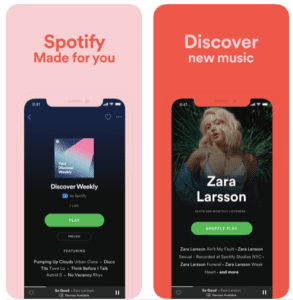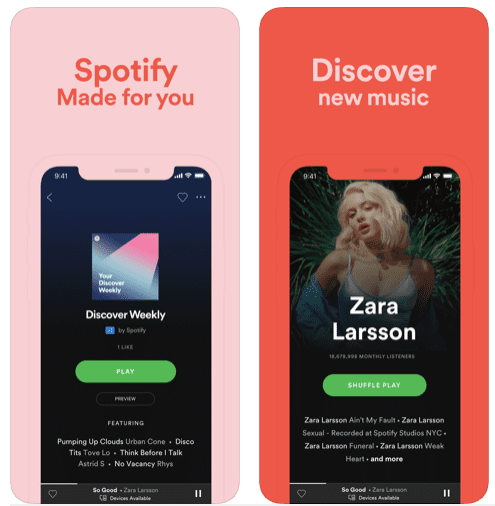 3. Music Video Player Offline MP3
You can also try to download music to your iOS device using this app. It is basically a thing that allows you to download the music you like.  One of the main advantages of this app is that it optimizes the downloading process as much as possible.
Music Video Player Offline MP3  is an analog to paid music service. There you can do practically all the same things, but everything is absolutely free. There are cool playlists and new releases. Overall, this is a simple and safe way to download music. Plus, it even has the popular features of today's apps.
For example, you can find out in seconds what song is playing right now. All you have to do is open the app instead of searching for words you remember. On top of that, there is a large community where users share their favorite tracks. So, it also allows you to listen to and create playlists.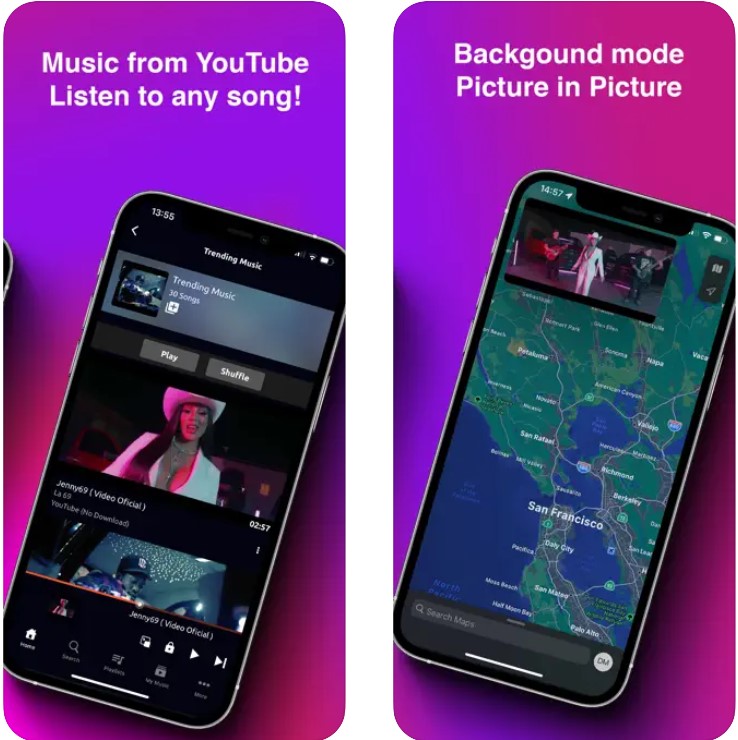 4. Free Music Downloader & Mp3 Music Download
Still, on Google Play you can find a much bigger variety of free music download programs. This one app is one of the most popular out there and has more than 5 million downloads. It shows one more time that even though the companies struggle to prevent piracy, it still exists and isn't going anywhere.
In general, the app works like a music streaming service, where you can search for the tracks you need. It contains lots of popular music and the chance that you will find what you're looking for is relatively high. After you have found your song you can just click on the download sign and the track will be downloaded to your device.
By the way, there is two way how you can save a song – either store it in the app or download it to your SD memory card/phone memory. A pleasant bonus is that here most of the tracks are going to have a high-quality sound.
In addition, you don't have to download the music, you can just listen to them in the app. You can also search for music by genre hashtags. Summarizing all the points – easy to use, fast-working software.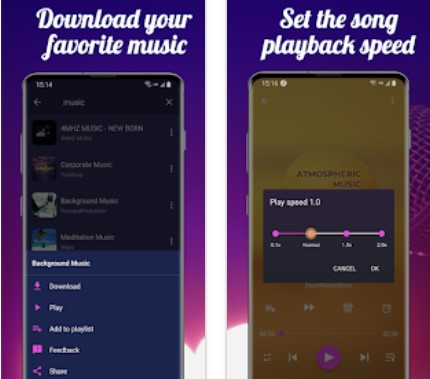 5. TREBEL
This one may seem too good to be true, but it is – probably the only app that allows you listening to music and download songs to your phone for free. What is more, it is absolutely legal. Trebel may not be that popular as Spotify or iTunes but it definitely deserves more attention from the wide audience.
This is a nice app with a nice interface that looks like a perfect music streaming app with the official songs provided by music companies. All the tracks presented in high quality. The downloading is unlimited, so you can save as many songs as you like.
Another bonus of Trebel is that it's programmed in such a way to consume less battery charge of your phone. There is no data plan in the app. When you put the app in the background mode it plays only the track, without proceeding data or uploading other media files.
The library is constantly upgraded with the latest tracks by the most famous artists. But less known singers are presented as well.
Moving on, there is another really cool feature that Trebel has. It is often a problem, that music streaming apps and your phone player have different songs because the first play the songs you stored in the app, and the latter plays the music from your phone internal storage.
In Trebel, tracks, acquired from the app and the music from your phone are synchronized and combined together which is extremely convenient. And again, it is hard to believe, but here, when you are listening to music, it's not interrupted by ads.
You can download separate songs, you can download the whole albums. You can also find various playlists in the app or create your own and make it public. Moreover, you can view what other users are listening too. The app even has its own top-40 songs every week.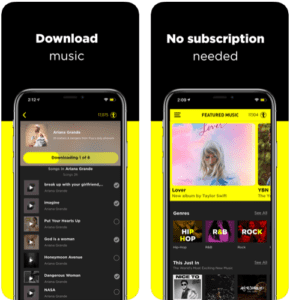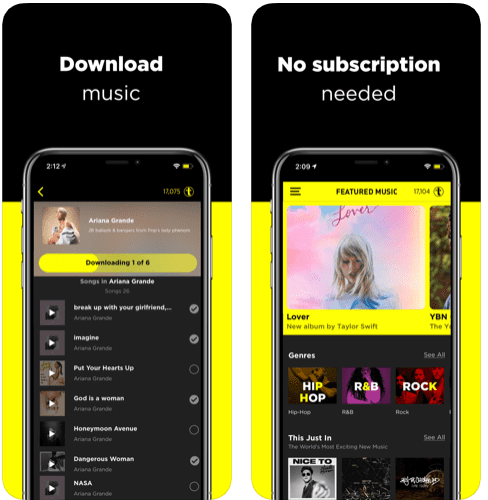 6. SoundCloud
Another famous music app. Yes, it is more a streaming app to listen to the music online, but some songs are available here for download as well. Mostly, this platform is popular among beginning artists or it contains different remixes of popular songs or other musical production that is, in most cases, unauthorized by the music labels.
Comparing to the previous apps, SoundCloud may be more tricky to use. First, you need to create your account so you could listen to the music in the app. Then you can browse through the songs and also upload your own. When you will be browsing you will see that some tracks are available for download.
There are actually the ways how you can download any tracks from the SoundCloud, but for that, you will need to use one of the specialized apps (which of those almost not presented at App Store). The easiest way to get any tracks from here is to get it through PC.
Here you can also create your lists, basically, that's the main idea of this app. The app contains tracks by the most popular artists as well. It actually contains more than 120 million songs.
The disadvantage here is that in order to have it without the ads and to get access to all tracks you will need to upgrade your profile and the Pro version costs $5.99 per month.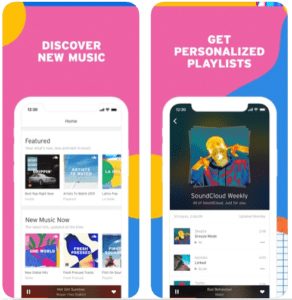 You may also like: Best apps for drummers
7. Cloud Music Offline Downloader
Cloud Music is a great app on the market that allows you to listen to music online and download songs. You can download them as regular files to your iPhone memory.
Moreover, a nice interface with a visualizer makes the user experience of this app more pleasant. In general, its interface is similar to Apple Music.
You can also listen to music online and put the app in the playback. When you download a song it is going to sound just like an official copy – it has high sound quality and a cover of a single or an album.
Another interesting feature of Cloud Music is its player. It has a built-in equalizer that allows you to add more depth or upper notes to the sound while listening to music via the app.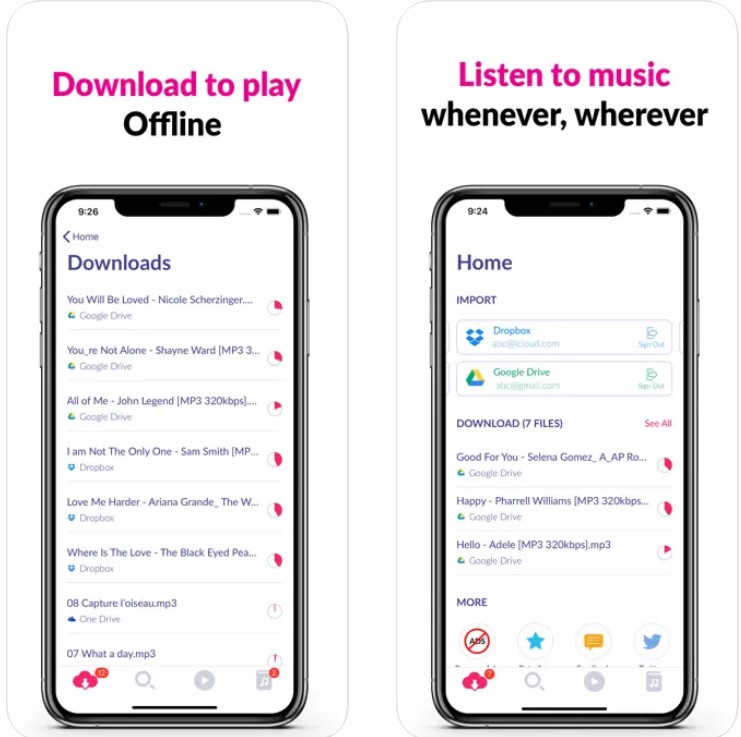 8. Audiomack
A very cool app for Android that makes the free download of music easy and effortless. Albums, singles, mixtapes and all kinds of playlists – you can download it all here. Browse music from top categories like Hip-Hop, Rap, R&B, EDM Afropop, Reggae music & mixtapes for FREE on the Audiomack free music app.
New music is being uploaded constantly. All the latest singles released by famous and unfamous artists are downloaded here. The streaming and listening are unlimited here – so you can listen to your favorite tracks online and offline whenever you want.
Besides, in the app, you can find various playlists for different states of mood. A good idea when you want to discover new music. Also, users can create their own playlists with public access – thus everyone can expose the tracks they like the most.
If you want, you can even follow your favorite artist via Audiomack and get notified each time they make new releases. The app includes some quantity of ads but if you want to remove it you can upgrade for a pro version for $4.99 per month.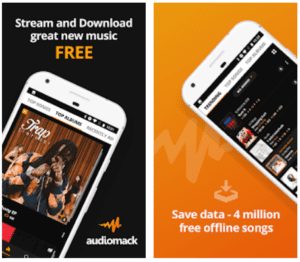 9. MP3Juice
This app has gained such a high position in our list not only because it allows us to download music tracks without any problems but also because its interface looks really nice and it is constantly upgraded with new music. All the popular genres, such as House, Nonstop, Hip-Hop, Rap, and many more can be found here.
In total, the app includes millions of songs. When you open the app, you can see the main menu where all the genres are presented – just click on the one you prefer and explore. Or, just type the name of a song in the search bar.
There is an option to personalize the interface, for example, you can choose light or dark mode. Also, here you can select the quality of the tracks and choose a download folder.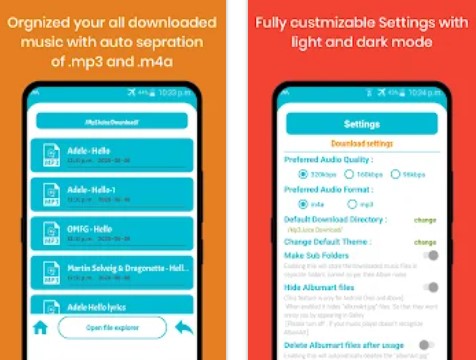 10. MusiC
This is an app that invites you to download music and listen to it offline in this app. The peculiarity of this app is that music is displayed as if on shelves. So you can immediately see which albums you have in your player.
What is more, the app has a nice interface and each artist has their own page where you can find compact information about them and their albums. You can also download the whole album at once.
Besides, MusiC has its own radio station. As an alternative and in order to explore new music, you can switch to that from time to time. One more remarkable feature is that you can set up notifications in the app to inform you about just-released music. You can create your own playlists as well.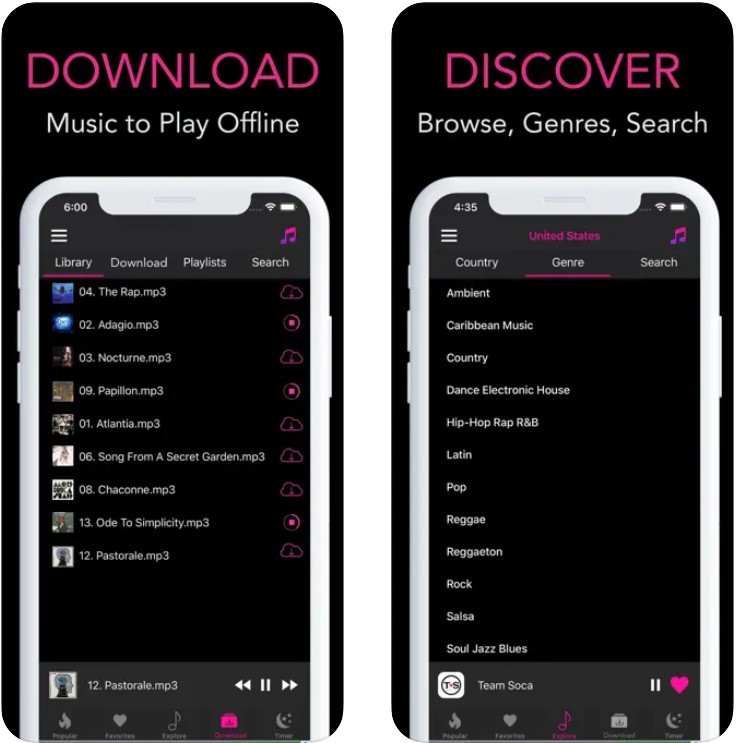 11. FrostWire
An app version of a Torrent for Android. We are all probably familiar with Torrent that has been the nightmare of all the media production companies for the last 20 years. However, despite all the attempts and efforts to block it continues operating and, it even seems that it is evolving more.
The proof for the last sentence it FrostWire itself. The whole app is built-in as an analog of a torrent system, where you need to first install software on your phone and then just browse for torrent files on the Internet, download them and open later via the app.
The downloading will start immediately. You can have several downloading at the same time. By the way, thus it is more convenient to download the whole music albums rather than separate songs since Torrent is meant for heavy-weight files downloading.
You can search torrent files right in the app, using the in-built search bar. Moreover, you can start playing music already when the process of downloading is happening. Like in the original version, you can pause, stop downloads, share files with others later.
Besides, the app has its own music player and you can listen to music there online and offline. By the way, take into consideration, that the app works only using WiFi – for the reasons mentioned above.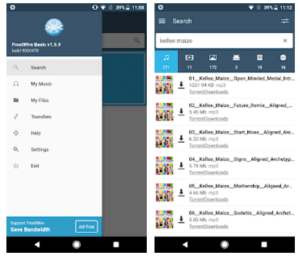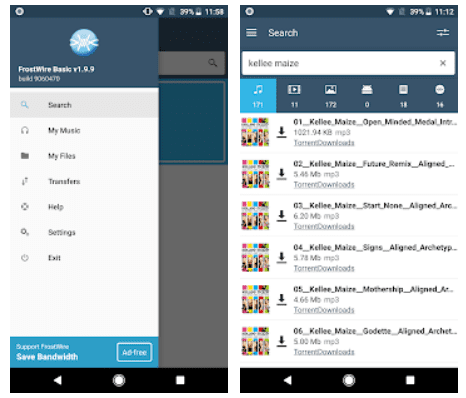 You may also like: Best microphone apps
12. Wynk Music
To add more diversity to our list, let's pay our attention to the music downloader which was initially developed in India, so as a consequence it has more Hindi songs in it. Well, there are different people with different music tastes and it would be cool if everyone would get a chance to download the music they like.
Hindi songs are hard to find in the common music downloader apps, but Wynk Music is an app in English that has plenty of music released in India. And actually, it includes not only the latest Bollywood hits but new singles with the world trending artists as well.
So many people actually would find this app useful – it counts more than 4 million songs. Pop, Rock, Bhangra, Devotional, Romantic, Dance and many other genres, both in English and Hindi – you got plenty of choices.
You can easily stream music online and download a song by clicking on the sign in the right upper corner of its icon. After a while of using the app, Wynk Music will provide personalized recommendations for you thus you can discover more songs.
Another advantage of this app is that it effectively stream music even at the low Internet speed. In case you don't want the ads to chase you, there is a possibility to upgrade your profile for a small fee.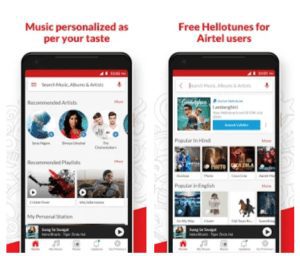 13. Hungama Music
Another music universe where you can listen to your favorite tracks and download them to your device. Hungama Music includes more than 10 million songs – something to choose from. An interesting thing that this app was also an Indian songs platform at the beginning but later it evolved into a more international streaming service.
All your favorite artists, your beloved music genres – they're all here. The app also includes online radio, just in case. While you are listening to a certain song in this app you can see the download icon in the lower corner of the screen.
In other aspects, the app includes all the common features of a good music streaming app: playlists, recommendations, equalizer and many more. A great aspect of Hungama Music is that it doesn't include any ads in it.
But there is one disadvantage as well. At least, for iOS users – in that version in order to be able to download songs you will have to buy a subscription for $4.99 per month. For Android users it is free.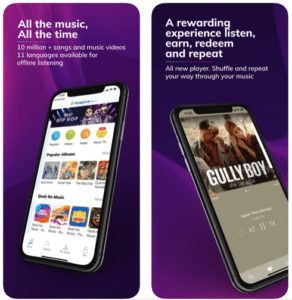 14. Free Music
A standard and effective music downloader. If you know exactly which tracks you want to get then this is your best choice. The downloading process is fast and the tracks are high quality. The search can be done in several ways.
You can search tracks by artist, name of a song, name of an album, genre, and year of release. You can also view all the songs which fit those parameters.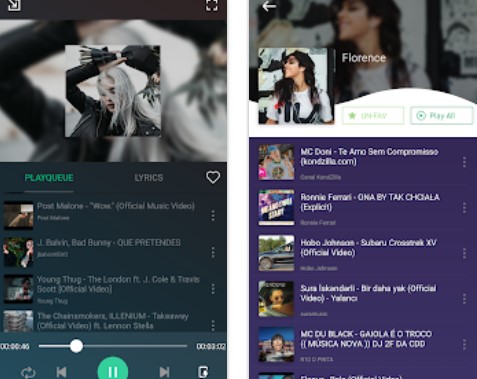 15. Music Player & MP3 Player
This app is characterized by the possibility of some personalization – here you can choose colorful themes according to your taste. So, when you first launch the app, you can see the main page with several sections.
One is for the most popular tracks at the moment, another is for the latest releases, one more is for the most popular songs in the pop genre, and so on. Generally, a regular music streaming app, but it is free and with the possibility to download tracks as mp3 files to your device.
In addition, the application surprises with a modern equalizer, in which each user can adjust the sound of the tracks, add a bass, strengthen vocals, and much more. And all this in a stylish design!
There are not so many additional functions considering playing music in the app, but instead of them, the downloading process is easy and effortless.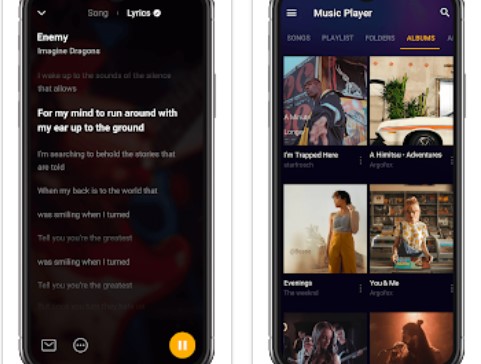 16. MyFreeMp3
Another music downloader for Android stands out because of its simple, cute interface which it is easy to navigate. Also, the search is attractive, because here it can be carried out both by title and by keywords, i.e. tags.
In addition, of course, there is a player that allows you to evaluate the quality of the downloaded music file. Some users prefer to use this player as the main one because of its convenience.
Besides, here you can also search for different music by categories (the most popular, genres, top charts, playlists, and so on) and also using hashtags. The music player itself is similar to the one we observed in the previous app.
Downloading a song here is also easy and requires a little time. The choice of tracks is decent as well, the database counts around a million songs.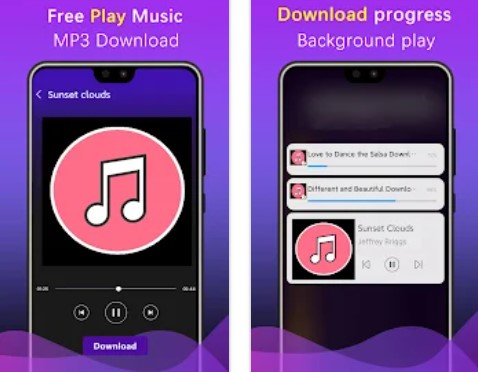 17. Music Downloader & Mp3 Songs
Also one of the newest apps on Google Play. It allows you to get new music instantly without problems.
The quality of almost all tracks presented in the app is more than decent and they sound as if you would download them from the official store. All tracks are verified – it means the situation where you were expecting another song, but got something completely wrong is avoided.
The multithread download engine is optimized for the fast downloading process, so even if your Internet is not that powerful, you still can get a new track in less than a minute.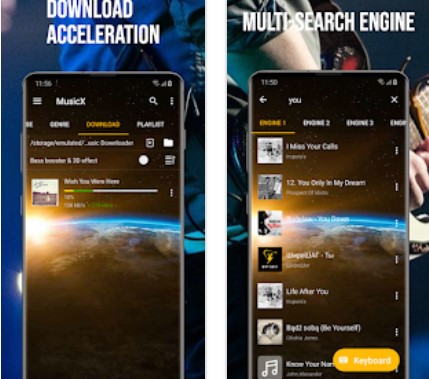 18. Music Downloader & MP3 Downloa
Here millions of tracks of the best quality are stored for free.
Because of the friendly user interface, you will quickly see how you can play a song and download it to your device. Like the previous apps, this one also includes sections with the most trendy hits, various genres, and moody playlists.
The app also features a unique search engine in which you can select music in four categories.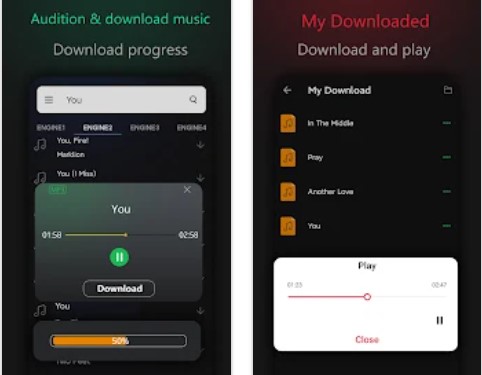 You may also like: Best apps for amateur singers
19. Blue
Well, first of all, this app already differs from others with its name. Did the developers mean to leave the music production companies in the blue? No matter if that was their intention, they pretty much succeeded in it.
However, this app was released a little bit earlier than those we observed before in our list, so when you open it for the first time, you might get a little bit confused. The interface and the whole arrangement of tracks look quite messy and really remind of those old music downloading websites from the 2000s.
But despite that fact, it is still a powerful app to get tracks instantly. There are more than 10 million songs in the app and the database is constantly renewed.
An interesting feature of this app is that is claims even in the description that the quality of tracks may vary and not all the songs are going to be high-quality. Well, this can be explained if it contains rare songs, which cannot be found anywhere else.
The music search is flexible, the downloading process is fast and easy (though not optimized), there are numerous playlists and charts in the app. But downloading a song is really the most simple action in this app – you just click on the tracks and the download button comes out to the screen.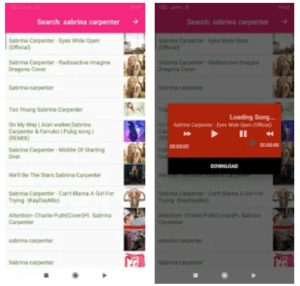 20. Music Downloader -Mp3 music
A nice new app on the market with a fresh-looking interface. So, it has the main page, with all charts and the most popular hits and playlists at the moment. Also, you may create personal playlists.
The downloading process is easy, just click on the download icon in the player. What is more, the app has an advanced search where you can search for certain tracks even with tags.
Its download engines allow us to get songs quickly even at low data speed and all the tracks are presented in high quality. What is more, this app can serve as a player allowing you to manipulate tracks from your SD card.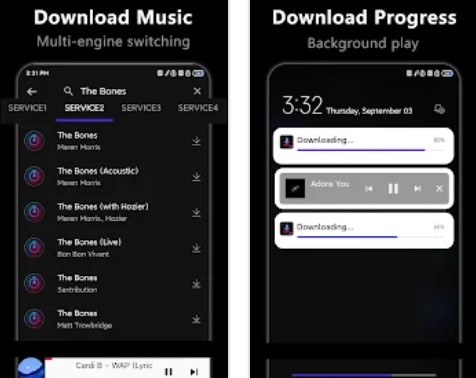 21. Mp3 Downloader & Music Downloader
And the last, but not least app in our list of music downloaders is this cool app that gives you a chance to concentrate on the main purpose of why you are using this app – download the music easily and quickly.
The user-friendly and nice-looking interface considerably improves the user experience of this downloader. An interesting feature here is that on the main page you don't see various top-10 charts or the most popular and recommended songs for you.
For that, you first need to choose the category in the bars on the upper side of the screen and then choose s genre of the top list. All the tracks are presented as large icons and it is convenient to browse through them since they don't collide with each other in the viewer's eyes.
You will easily find the download icon. The tracks are high quality and the app does provide a wide choice of the music for free download. An interesting feature of this app is that it also includes tracks of not so famous yet artists thus you got a chance to discover completely new music first that maybe will be trending in the future.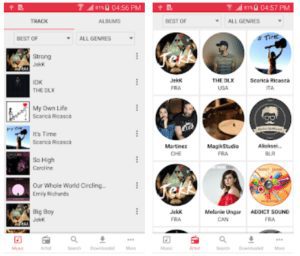 You may also like: 9 Best auto tune apps for Android & iOS