HCG or human chorionic gonadotropin diet was developed by Dr. Simmeons, who suggested using the substance in the treatment of obesity. He created a system of a diet based on the following principles: limiting daily caloric intake and giving injections of the hormone.
Taking the hormone in the form of pills, capsules and injections provide the body access to its resources, which will lead to weight loss. If you want to lose weight and are concerned about your diet, you can read more about this kind of diet in our article. Or if you want to cut calories, which is necessary on this diet, then check out these apps that will help you to cut down your sugar intake.
1. Calorie Counter – MyNetDiary
This app offers you significant weight loss in just 21 days. So it presents the HCG diet system, which is set up for your body to lose 2.5 pounds a day. This diet has many contraindications. Many people treat it with caution. Therefore, to protect yourself, you will need an app that will monitor your progress on the diet.
First of all, it will monitor your calorie intake. You will be able to record the food you eat, and the app will calculate it all by itself. Moreover, it is worth mentioning that the diet varies in the consumption of about 1000-1500 calories. To stay within these limits, you will need the app's algorithm, which will tell you which products are not advisable for you.
For example, everyone knows how delicious avocados, trout, and olives are, but unfortunately, you should not eat them all because of their high-calorie content. Also, the application is an advisor, which will tell you what to eat on a particular day, and what activities to do.
The function recording the intake of vitamins and supplements will be useful because such a diet threatens the loss of useful substances. But here you will be able to track this as well.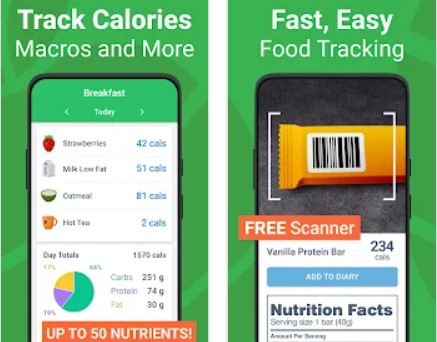 You may also like: 11 Best Mediterranean Diet Apps for Android & iOS
2. Weight Loss Recipes
Helping you follow a popular diet like HCG is this app. In short, it is a huge collection of useful and, most importantly, low-calorie recipes that will help you in overindulging in this type of diet. Indeed, when a person reduces the number of calories immediately wants to eat something unhealthy for satiety.
That is why, in this application users will find delicious recipes not only for main dishes but also appetizers as well as desserts. There is also a detailed description of each of the presented courses. The application contains all the information about the content of useful substances, the number of calories as well as other useful properties of a particular dish.
What is more, you will see a nice interface, with very clear navigation. You just need to click on a category, where you will see a lot of bright and attractive dishes. Follow your diet, though, only with good taste.
3. HCG Diet Guide – Weight Loss
If you still have doubts about the usefulness of this diet or are not sure that it is suitable especially for you. Then download this unique application. After all, only here can users find the most accurate information about the diet itself. This is where you will learn what the HCG diet is, find out more about its creation and its authors.
In general, you will understand the history, which will help to draw some conclusions. In addition, you will get useful tips, such as how often you should take pills and injections, what time will be most convenient and useful. And also, there is an opportunity to track what foods you can or should not eat.
Everything is categorized, so all you need to do is to choose what you are interested in, for example, the meat section, and the app algorithm will give you all the possible types of meat and how to take them, what health benefits they have, and whether it is worth eating them at all.
The app is designed so that you will be familiar with the basic, most relevant information. Nothing will distract you here and you will be able to figure out if this diet is right for you or how to improve your dieting behavior.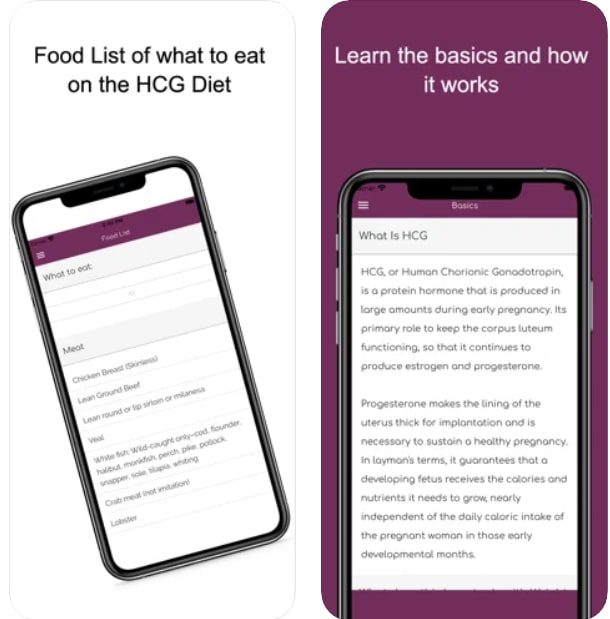 4. HCG Diet Recipes Plus+
When it comes to this app, all you need to know is that it is designed to find recipes that we sometimes find too difficult to find on the Internet. So, it is worth saying that it is always convenient to go into a particular app and find out what you can eat today.
And for those who always do not know what to choose, the creators of the application have come up with an entertaining feature. This way, you need to open the application, crack your phone and the algorithm will give you a random dish. And for those who know what they want, there is a special filter in the menu, which selects and searches for what you need.
More importantly, unfortunately, the application is only available in the App Store. But all owners of Apple devices will appreciate it. After all, there is an opportunity to save your favorite dishes directly to iCloud. So you can share an interesting find with the whole family. It is worth noting that all the recipes are presented to their users most skillfully.
Here you will see a super brief description and several necessary ingredients. In case of need, you can always write down the missing fruit or vegetable on your shopping list in the application.

5. 2Slim: Weight Loss Motivation
2Slim is like your personal nutritionist and trainer. If you follow a diet, this multifunctional app is perfect for you. After all, this is where users find everything they need to keep their bodies in proper shape. Let's move on to the main functions.
First of all, the calorie counter is present here. After all, on a diet, it is so difficult to keep track of the consumed diet. The app will always tell you exactly how many fats proteins and carbohydrates are in your meal. More than that, it will tell you exactly what foods to avoid at your next meal and what foods to add.
And the second, you can stay hydrated here too. The app keeps track of the amount of liquid you eat and reminds you when you should drink some water. The app's algorithm will find the ideal ratio of your diet to your water intake. Finally, the app is concerned about your activity. Here you can mark your workouts and the app will tell you approximately how much kcal you've burned.
Sticking to a low-calorie diet is difficult. Moreover, there is a risk of losing muscle, so exercise is good for you. It is worth noting that a sleep tracker is present here. After all, sleep is a necessary part of our day, which should be monitored carefully. Putting it all together, you get the most complete device for following your diet.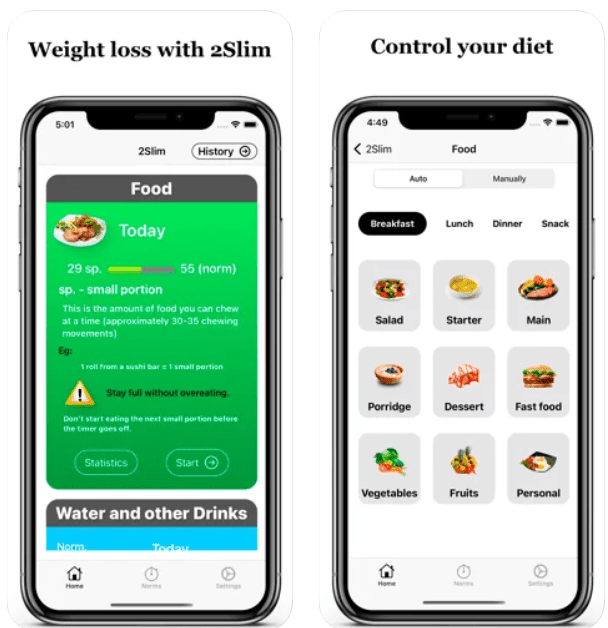 You may also like: 11 Best Skin Care Apps for Android & iOS
6. HCG diet app free
If you download this app, you will get some information about the low-calorie eating system. There you will find out more about Albert T. W. Simeons, the man who suggested cutting back on calories in the most unusual way possible. You also learn the basic tips and precautions related to this type of diet.
It will teach you more about injections, which are a hormone that is generated during pregnancy. For your convenience, there is a calendar where you can keep a record of your vitamin intake, meals, and your state. More than that, there is also a small sample menu, following which you will be able to lose weight. It also has a small number of dishes, a way to prepare them and small recipes.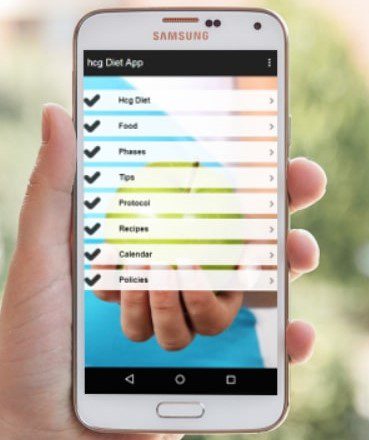 7. Calorie Counter – MyFitnessPal
If you have prepared to follow a diet, you need either a personal assistant or a helpful app. And if you have decided to try the HCG diet system, you will need a multifunctional app. Of course, it is not going to cover the benefits and harms of dieting or the rules of taking vitamins.
But with this app, you will get more than that. After all, it is here collected a huge number of functions important for the adherence to a healthy lifestyle and diet. First of all, from the significant functions, it is worth noting an incredibly handy calorie counter. It precisely prevents you from overeating and you will be able to keep within 1500 calories, as there is a possibility to adjust the desired by you.
More importantly, your hydration counter is also present here. It will be helpful to combine your diet with the amount of water you will need. In addition, as previously mentioned, the app is also a sports app. You can record your workouts and the app will calculate how many fats you burned today.
For those who are trying to maintain a good body condition, the recipes presented in the app will also be suitable. You will always be able to repeat them because they are so detailed and many of them are quite simple.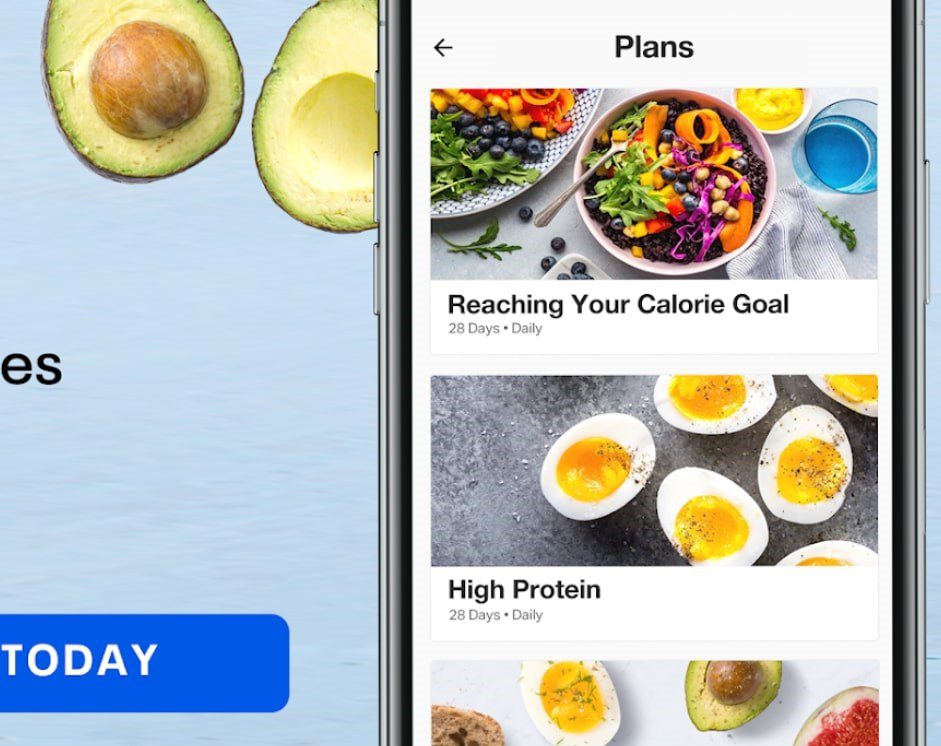 8. hCG Diet Assistant
You have concluded that you want to follow the HCG diet system and do not want to be distracted by extraneous things. Then this app is exactly what you need. It has everything about this diet. Moreover, you will have a plan for following the diet with this app.
In a nutshell, this app will have a specific schedule and necessary diet every day. Your every day will be like a new level. After all, there is a function to measure your data, such as weight or the circumference of certain body parts. Here you will be able to monitor your water intake and track your caloric intake.
In addition, to reduce your body fat, the app recommends that you exercise vigorously and record your workouts and your achievements. After all, this is where the special exercises are presented. You won't even need to search for them on third-party resources. Being up to the finish of the diet will help this application, it will motivate its users to overstay the diet.
It also provides a handy mechanism for measuring food supplements and vitamins. This will make it harder for you to forget to take your nutrients.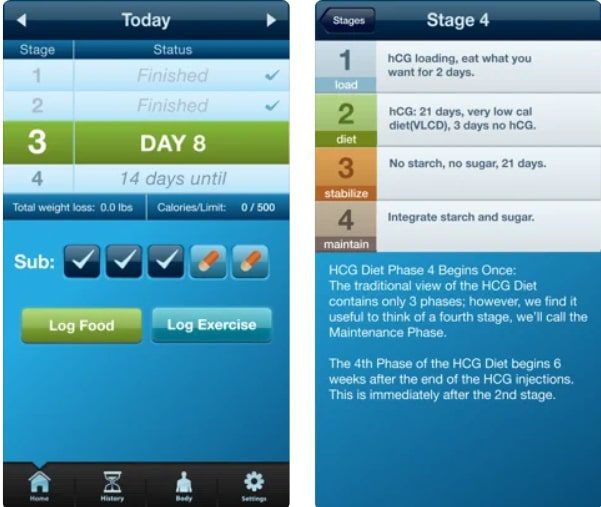 9. Zero – Intermittent Fasting
This app is great for those who want to keep track of the periods between meals. This way, it will be easier to keep track of your diet and lose weight quickly.
So let's talk about the main functions. First of all, it is worth noting that this application will be the most enjoyable because of the large amount of data that the application provides. It divides your workouts into groups of muscles that they involve. Secondly, you get a great calorie counter.
And also, you will have a water tracker at your fingertips. In short, this app will be a supplement to your diet. Among the useful things here, there is a special way to track your results. You will be given the plan to follow. At the same time, you, in turn, record your weight changes.
This is how you will reduce your body weight in the fastest way possible. The HCQ diet with this app will be the most effective way and your weight will be reduced most rapidly.
10. Diety – Diet Plan, Calorie Counter, Weight Loss
To plan your diet you will take care of a special tracker, or this app. Here you can set yourself a daily goal that you want to meet. You can also set a date for the final result. Users recommend this app for its ability to motivate you and keep you on track with your goals.
A nice calorie counter will also help you lose weight, in which you will find not only the calories themselves but the number of consumed nutrients that you need to add. In addition, there are recipes for dishes designed for your diet, you only have to adjust the search for the right one for you.
There are collected a huge number of different recipes for dishes. So you can always choose something of your own. For the HCG diet, it is also important to exercise. Also, in case you urgently need to lose weight, you could try exercising a little and you can check if exercise together with your child suits you.
Here you can evaluate your results with a special chart. You also have a personal diet plan, if and when you are not quite sure of your strength, maybe this is the safest way to go about your diet. It also allows you to record your vitamin intake.
You may also like: 10 Free Body Fat Calculator Apps for Android & iOS
11. Fastin: A Fasting app with simple calorie counter
Speaking about this app briefly, it is worth noting that it resembles the previous one. But why is it so special? Note that here its users are equipped with an even larger set of features. Consider, for example, the handy daily schedule, which shows whether or not you stick to the planned balance of calories and nutrients.
Moreover, as in many similar applications, you will find that a huge number of recipes are collected here. So, by opening any recipe, users can see exactly how many calories, how many proteins, fats, and carbohydrates are in this dish. And most importantly, the method of cooking this dish.
In addition, the application declares itself as a way to keep track of your eating habits. Consequently, it makes it even easier for you to control not only how much you eat, but also what you eat. This way you can look healthier. It also has a user-friendly water tracker as well. Mark your glasses you have drunk, the app will remind you to do that.