Don't you think that it would be so convenient to have a weather forecast in front of your eyes every time you use your phone? If you agree, installing a weather app supporting Home Screen widgets is what you need.
As you know, the are plenty of weather apps on Google Play. However, even if you find something worthy to install, not every tool includes a widget, which is essential for you.
Don't panic, our post is a sure solution to your problem. The Apppearl team has chosen the best Home Screen weather widget apps for your Android device. So go through the reviews, choose the most suitable tool for you, and stay aware of the weather forecast 24/7, without opening an application.
1. Weather by WeatherBug: Live Radar Map & Forecast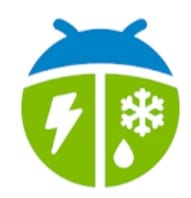 The first app under review is Weather by WeatherBug. It is an Editors' Choice-awarded, by the way.
With this tool, you will have access to a detailed forecast (from the nearest hours to up to 10 days). Apart from this, the app also includes 20 additional animated maps on wind, lightning, highway condition, UV index, hurricanes, air quality, pollen count, and so on. All the information provided is definitely accurate.
Apart from this, the app is capable of alerting its users about severe weather conditions. However, even if you want to know about general changes in a forecast, enabling notifications will be possible as well.
Now let's talk about the thing you are interested in the most. The app will let you put a weather widget on your Home Screen without any difficulties. Being so informative, they will show you the necessary information on the weather at your location.
As for additional features, the app also includes a section devoted to both local and global weather news. The posts are also completed by photos and videos.
One more thing that you will also like here is the numerous possibilities of personalization. Thus, you will be able to customize the weather tiles shown according to your preferences and choose the UI language (English, Spanish, Portuguese, German, French, and Japanese are supported). Also, feel free to select the measuring units to your liking.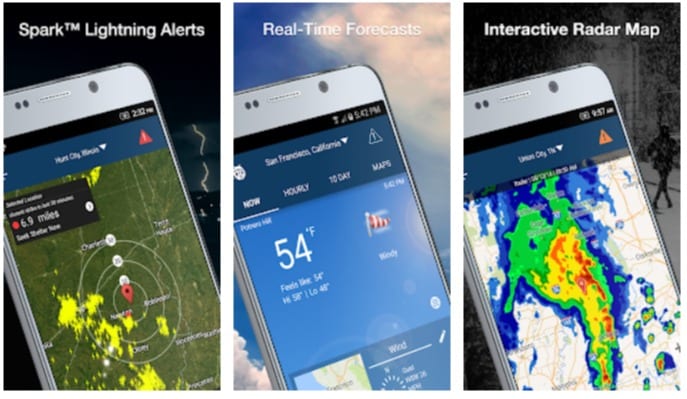 2. Weather Radar & Live Widget: The Weather Channel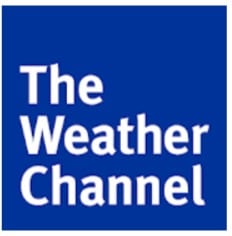 The next cool weather app supporting a home screen widget is Weather Radar & Live Widget by The Weather Channel. What are its advantages?
Again, the app is considered to be a pro in forecasting weather conditions including temperature, storm, wind, tornado, flood, pollen, and so on. As for the weather patterns, they will be shown on a radar-like map. The weather prediction is available for up to 2 weeks.
Talking about the data placed on a Home Screen widget, it should be added that it will include such information as the forecast for the next three hours, radar updates, and severe weather alerts. In a word, only the most necessary info will be displayed. What is more, the widget (like the app itself) will also be available in a dark mode.
Apart from this, the app will do its best in keeping you informed about the latest news on weather in the world. You may find it interesting.
Also, in case of severe weather conditions, you will be constantly supported by the app's live alerts.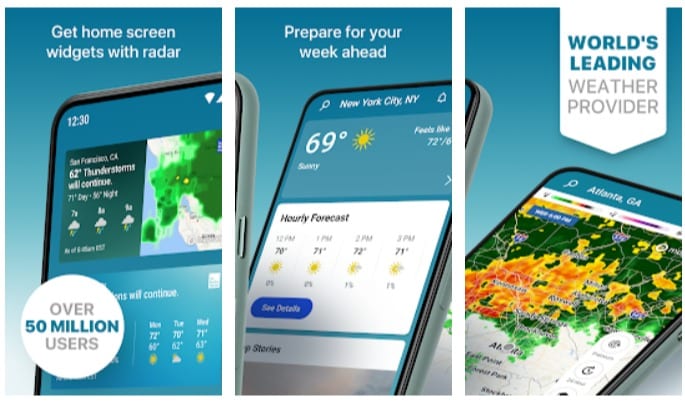 3. NOAA Weather Unofficial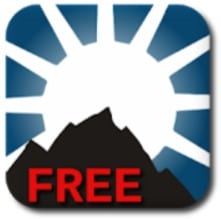 Here is one more cool weather app that meets your requirements. Its name is NOAA Weather Unofficial.
As usual, the app will provide you with a detailed weather forecast on temperature, precipitations, wind, and so on. Again, the data can be shown on a map resembling radar. That's why you will stay aware of all the weather conditions in your area.
However, it will be an in-app widget that will let you view all this information on your Home screen. So there is no need to open the tool every time you want to check weather predictions.
The only minor disadvantage here is that the app doesn't support severe weather alerts or notifications. So if these features are essential for you, we recommend you install another app.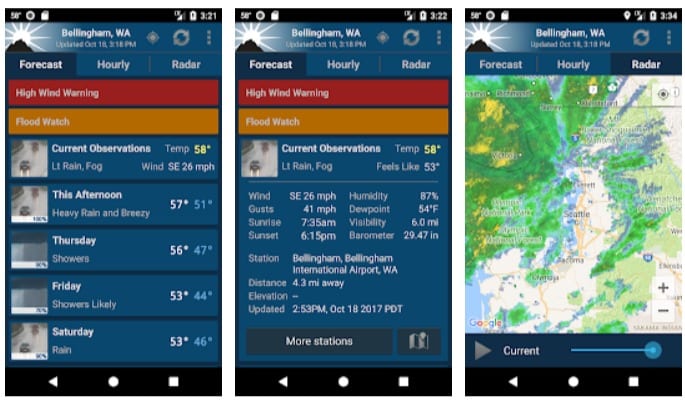 4. Weathergraph weather widget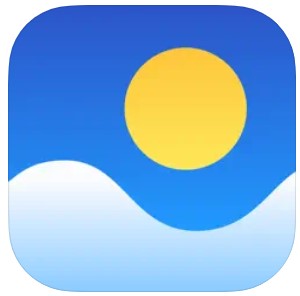 This is a beautiful and modern app so that you always know the current information about the weather outside.
Add a widget to the home screen of your iPhone, iPad, or watch, and always get an accurate weather forecast to choose the right outfit if it is too hot or cold.
As for the widgets, you can change them as you like. Choose a theme, dark or light, set up the configuration, and the metrics.
The service provides you with information such as temperature, atmospheric pressure, precipitation, UV radiation level, wind speed, direction, and many other useful factors.
The service updates weather information every hour and rain or snow data every fifteen minutes. What is more, the app will notify you of the coming downpour with a notification so that you can get ready and take an umbrella with you.
In addition, you get the weather forecast even if you do not have internet access. The app saves information for the next 24 hours. This way you stay informed about the upcoming heat or storm.
5. Hyperlocal Weather (Dark Sky Powered by) & Radar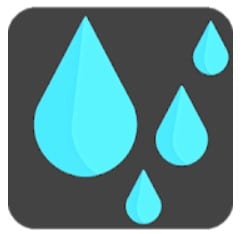 Here is one more must-have tool Hyperlocal Weather & Radar. There is no doubt that it will become your personal assistant in all the issues connected with weather.
Right after you open the app, you will have access to accurate data on the temperature, humidity, wind, pressure, UV Index, visibility, and many other conditions. Again, you will be able to view the real-live radar map to view the weather predictions for your area.
When it comes to considering the widget, it must be said that the app supports 3 types of them. Just choose the most suitable one and add it to your Home screen within several taps only. Apart from this, current weather condition information can also be viewed in the notification bar.
In addition, the app also includes Next hour rain widget. Keep in mind that not every app supports a feature like this.
As for the application's distinguishing features, it is capable of providing minute-by-minute forecasts as well as down-to-the-minute forecasts. Also, checking the moon and the sun phases will be possible for you with this tool.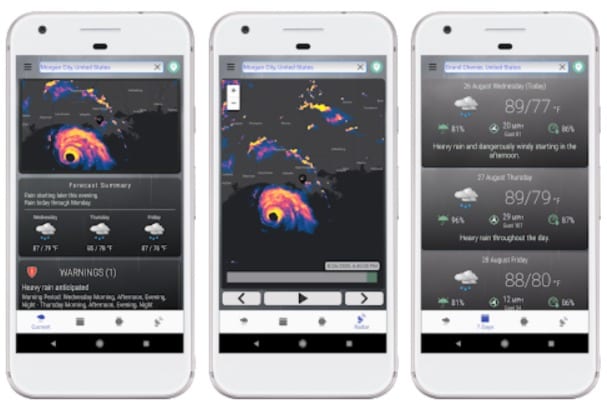 To make your home screen even more eye-catching, our advice is to install one of the best live wallpaper apps for Android in 2021.
6. 1Weather: Weather Forecast, Widget, Alerts & Radar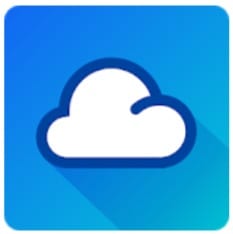 If the number of the app's installs is important for you, here is a tool that is already admired by 50 million people across the globe. It is a great reason to try the application.
Well, with 1Weather, you will know about all the weather conditions including temperature, wind, rain or snow, pollen count, thunderstorms, typhoons, hurricanes, UV, sunrise, moonrise, their phases, and so on. Totally, tracking more than 15 weather data points is available with this app.
Talking about the forecast in detail, you will be provided with comprehensive 48-hour weather predictions. Moreover, the app is also capable of generating forecasts for the next 12 weeks.
As for the widget, the choice is great in this case. You will be able to view 10 of them and choose the most appropriate one. Then it will remain to put it on your Home screen.
Lastly, the app will also notify you about severe weather conditions with the alerts. It means that you will always stay safe without being taken by surprise.
Plus, you may also like to view the forecasts as HD videos (regional, national, and city weather predictions). As a result, it perfectly substitutes forecasts on TV.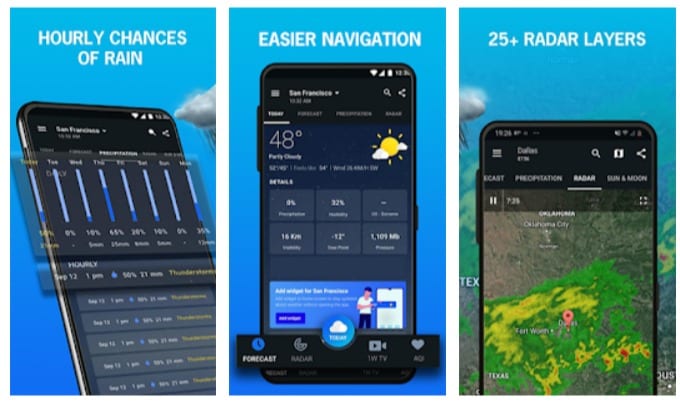 7. Today Weather – Widget, Forecast, Radar & Alert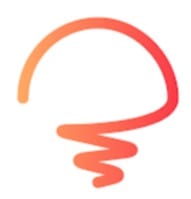 Today Weather is the next awesome tool that will assist you in staying aware of the issues connected with weather. What features it has?
Like any other app above, this one will provide you with info on weather conditions, including temperature, wind, humidity, air quality, UV index, pollen count, moon and sun phases, and so on. As for the severe weather conditions, every time they happen in your area, you will receive instant alerts by the app.
Talking about the widget in detail, it is supported here as well. Due to this feature, you will have quick access to all the necessary info on the weather.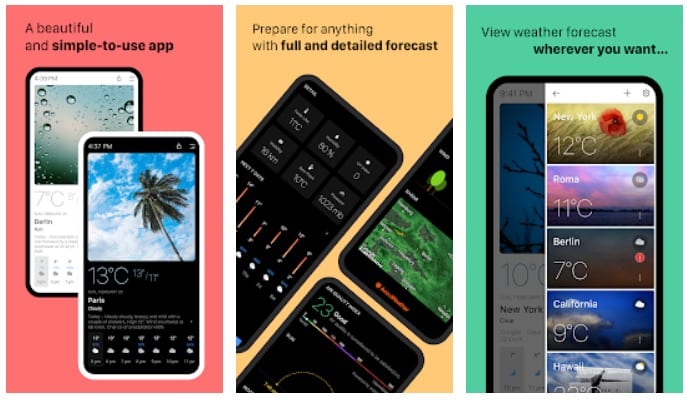 8. Overdrop – Storm Radar & Hyperlocal Weather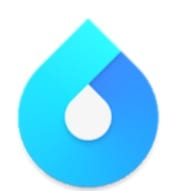 The last but not least Home screen weather widget app is called Overdrop. Because of its extreme popularity across the globe, we can't help adding it to this list.
To begin with, the app is considered to be a pro in predicting the weather. As a result, you will have an accurate forecast on temperature, rain, snow, wind, thunderstorm, hurricanes, pollen count, hail, the UV index, cloud cover, pressure, and other conditions at your fingertips. The forecast available is up to the next 7 days. What is more, the data is displayed on a radar-like map with timelines.
As usual, the users receive instant alerts in case of severe weather conditions. As for an alternative, you will also have a chance to receive weather notifications in your status bar. Everything will be adjustable to your taste.
As you are especially interested in widgets, here is some information on them. The app will allow you to choose any of the 50 widgets for your home screen. That's what you exactly need!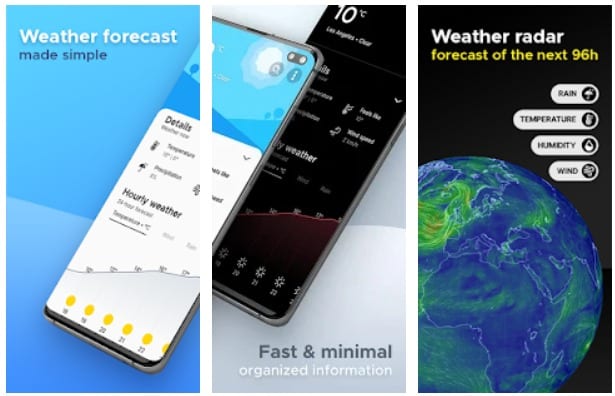 You may also like: 9 Best Hurricane Tracker Apps for Android & iOS