Though nature wields power, people still can predict the weather and avoid being taken by surprise. Weather forecasters make our lives much easier, saying when we should take an umbrella or wrap up warmly. But what about more disruptive hazards like a hurricane? This natural phenomenon puts at risk human health and even life. Are there any ways to track a hurricane?
Of course, there are. What is more, at the moment, hurricane trackers are available not only for weather forecasters but also for all of us. They represent very accurate and reliable apps that provide people with the necessary information about this act of nature.
We have chosen the best hurricane tracker apps available on the App Store and Google Play at once. They will allow you to stay abreast of the latest news about upcoming hurricanes.
1. Storm Radar: Hurricane Tracker, Live Maps & Alerts
The first app to be reviewed is Storm Radar: Hurricane Tracker, Live Maps & Alerts. Being one of the most reliable hurricane tracker tools, it will notify you when you are in danger.
We are going to start with the hurricane tracker feature. The app is capable of predicting storms and hurricanes up to 8 hours before they hit. You will be able to view the accurate trajectory of the hurricane, learn its power hourly, etc. For your convenience, the forecast will be shown on GPS maps.
As for other severe weathers, you will also be able to keep track of extremely low or high temperatures, floods, lightning, seismic activity, and so on.
In case you don't have time to monitor the weather by yourself, you will be protected, too. The thing is that the app can monitor weather conditions by itself. In case the weather is adverse, you will be notified by the weather alert created by The Weather Channel.
As a result, after installing the app, you will get the digital weather forecaster, showing you the map with 15 layers depending on the natural occurrence. Each of them will be perfectly trackable. If you don't have an opportunity to monitor the weather, anyway, you will be notified about bad weather conditions.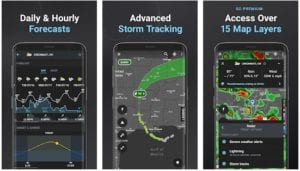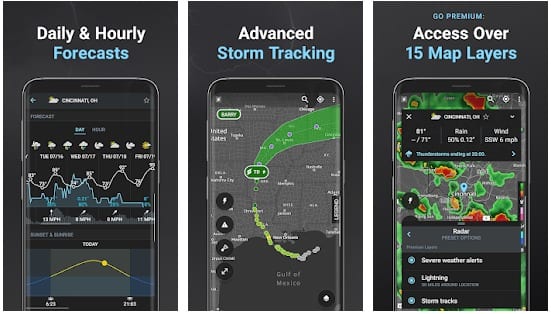 2. Max Hurricane Tracker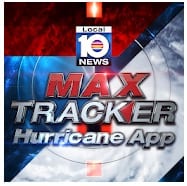 Are you searching for an app that deals with hurricanes only? If you are, Max Hurricane Tracker is certainly what you need.
The tool will provide you with access to tracking current as well as potential hurricanes. To be more precise, the app is powerful enough to forecast hurricanes that might hit within up to 5 days. The information will be quite detailed so you will stay aware of the events.
Apart from this, there is one more way to learn the latest news. Just open the Live Updates section to become familiar with 10 local storm news coverage updated on air.
What is more, don't be afraid to miss something. The thing is that the app sends Severe Weather alerts and warnings. With them, you will be protected from severe weather, including hurricanes.
Besides, there is a distinguishing feature that we can't help mentioning. The app is considered to be educational because of its advice on how to be protected during the hurricanes. For instance, do you know how to find the most appropriate shelter? Install this great app to learn the answer to this and other questions.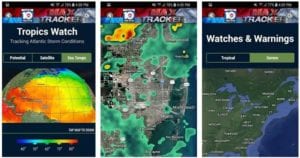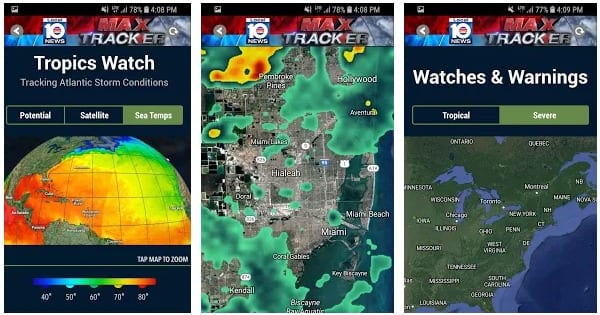 3. My Hurricane Tracker – Tornado Alerts & Warnings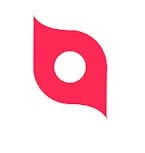 One more outstanding app that you should try is My Hurricane Tracker. Here is the review to make you understand how powerful it is.
First of all, you will have an interactive map at your fingertips. With it, tracking the hurricanes, their paths and speed will be as easy as possible. By choosing this or that hurricane on the map, you can read about it in more detail, from its generation to the expected expiration. Monitoring the forecast for up to 5 days is possible. That sounds so appealing.
Talking about additional advantages, we can say that with this tool, you can view the history of previous hurricanes. The digital archives include detailed descriptions of storms that took place from the end of the 19th century. Don't you think it is great?
As usual, the app supports the notification system. It will be the National Weather Service that will definitely send you alarms every time the storm is going to hit. Moreover, there is no need to reopen the app again and again.
When it comes to considering forecasting of other parameters, new storm formations are not only the thing that you can monitor here. In addition, the app will let you track sea temperature. Some users find it extremely helpful.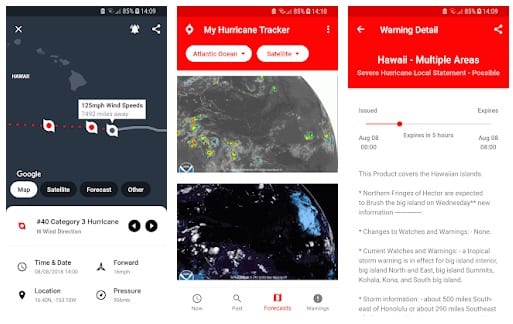 4. Weather Alerts & Storm Radar – The Weather Channel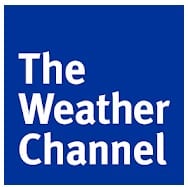 The world-known Weather Channel has developed its own app that meets your requirements. What is more, it is the top weather app on both platforms at once.
Let's start with the app's basic features. By it, we mean an extremely accurate weather forecast provided by the service. So you will surely know what to wear to feel comfortable.
As for the hurricane, you will be able to track this natural occurrence, too! The app's built-in live radar will do its best while showing you both current and potential hurricanes.
Whether there is a hurricane or other adverse weather conditions, you will receive notifications from the app. Due to this feature, your health and life will be protected for sure.
Besides, you will have access to graphs based on tendencies in various weather conditions. It is one more feature letting you predict how nice the weather will be in the future.
Apart from this, the app includes such an important feature as Outdoor Indexes. With it, you will receive the most relevant information on UV Index, Dry Skin Index, Mosquito Index, Air Quality Index, and many others. What is more, the app is also capable of predicting allergy risks. So you will clearly know whether you can go outside or not. We find these features so handy.
Do you need something for entertainment? If your answer is positive, the app has a nice gallery of short videos on unique weather phenomena. The shots are surprisingly exciting.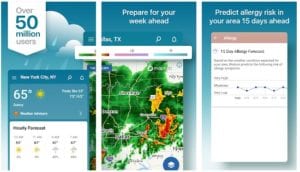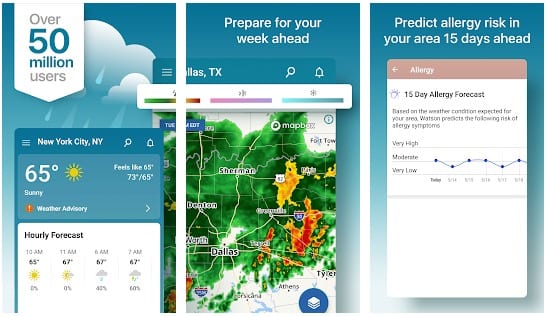 5. Hurricane Tracker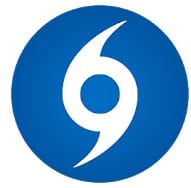 As it is clear from the app's name, it suits perfectly for tracking the hurricanes. As for us, we also think that it is a must-have tool for every person who needs it.
With Hurricane Tracker, you will have a great opportunity to view more than 65 perfectly-designed maps to track hurricanes. Each of them worth being studied. Plus, they are so well-observed.
In case you aim just to receive notifications about potential danger, the app also fits you. You will be able to set real-time push alerts National Hurricane Center. So that you'll be safe 24/7.
Apart from maps, the app contains updates on video and audio content connected with hurricanes. They will also allow you to be completely informed.
Do want to deepen your knowledge of this theme? Read some in-app discussions analysis provided by the team. Not every app includes this feature.
Finally, all the app's information is shareable. That's why you can easily send any content to your friends or relatives via email, SMS, and social media.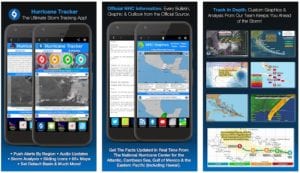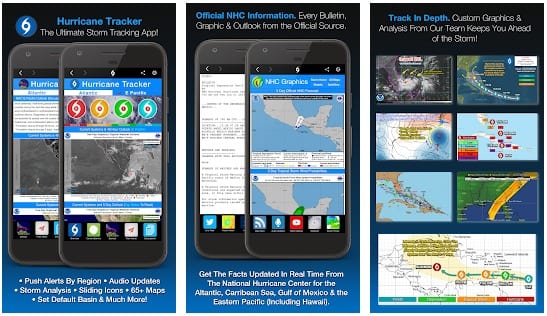 6. MyRadar Weather Radar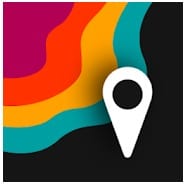 MyRadar Weather Radar is one more weather app with a hurricane tracker feature. It is so appreciated by users from all over the world. What is the key to its success?
The app represents a map with dozens of animated layers related to weather conditions. In a word, these maps are so relevant and comprehensive. As for the hurricanes, you will be aware of its activity in the whole world as well as in your location. One way or another, if this natural occurrence puts your life and health at risk, the app will send you an alert. Also, you will always be notified about its status, for instance, when a hurricane is downgraded.
In this case, the free and pro versions are quite different. In both modes, the information on hurricanes will be completed by the cone of probability for tropical storm/hurricane forecast tracks. The app's premium users will also have access to the advanced radar pack. With it, you can select individual radar stations around the US, select the radar tilt angle, and also change the radar product being displayed. These features will make the National Hurricane Center's forecast even more accurate. At the same time, the information will be precise without any subscriptions, too.
Besides, the app is famous for its radar on tracking the rain and its probability. Again, the notification system works great in this case.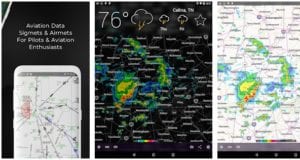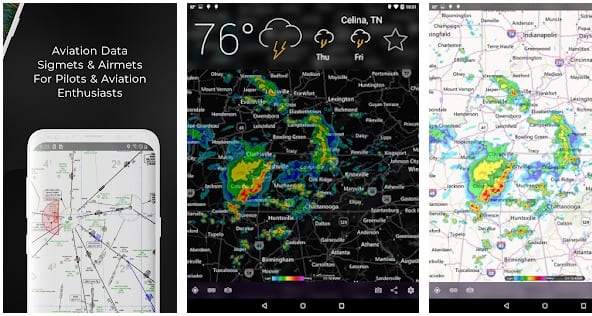 Don't you have an app that can easily measure your room temperature? To install one of the tools of this category, we highly recommend you to study our post.
7. Ventusky: Weather Maps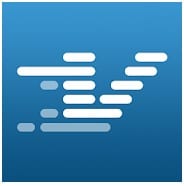 The team of one more popular weather forecasting service Ventusky also has its own app. Though it doesn't focus on hurricanes, it still lets the users track wind and its related parameters. So anyway, when the wind becomes a hurricane, it can be monitored with this tool.
Well, to monitor a hurricane, you need to switch on the layer called Wind gust. After that, you will be able to view the animated map with the potential development of the weather. The app's developers emphasize that their forecastings are generated with unique models. That's why they are the most reliable among the rivals.
In general, the app will provide you with access to dozens of weather-connected layers observed on the map. Also, you can view the real and perceived temperature, cloud cover, snow cover, air pressure, humidity, and so on. In all cases, you will receive actual information as well as a forecast on these parameters.
Finally, if you need to know how clean the air is, the app will help you as well. Due to the various sensors, it will show you the percentage of NO2, SO2, PM10, CO, and so on. It is one of the reasons for the app's demand.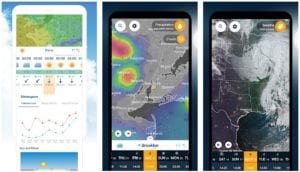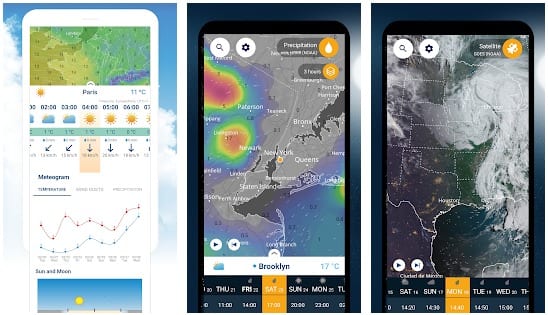 8. Hurricane – American Red Cross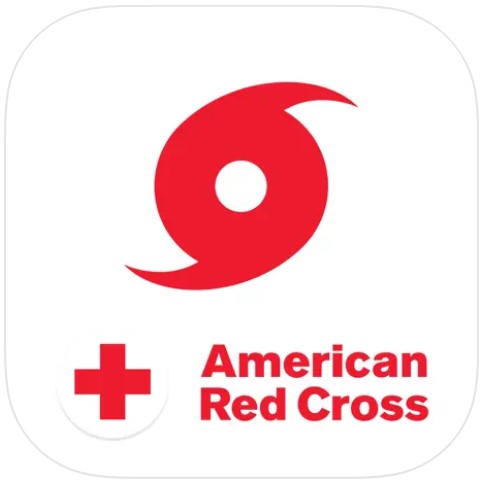 How fo you feel about installing the app developed in collaboration with the American Red Cross? In case you give an affirmative answer, here is the all-in-one app called Hurricane.
As usual, the app will allow you to track this or that hurricane on all its stages. The built-in radar is powerful enough to show you the path passed by the hurricane as well as to monitor its potential trajectory.
Would you like to study the previous hurricanes in more detail? There is a chance to do that with this app! It contains the explained history of hurricanes that happened in your area in the past.
As for the other severe weather conditions, the app also includes flood and tornado trackers. That's why there is no need to panic at all. What is more, every time these natural occurrences (including hurricanes) hit, the app will send you customizable alerts. Alternatively, you will always have access to the app's alert feed.
Talking about additional features, we want to notice that the app is so informative. Thus, it contains step-by-step guides with instructions on what to do before, during, or after the storm. Apart from this, it has all the necessary information on medicine required for the emergency kit. So after installing the app, you will have a great opportunity to receive the most reliable recommendations from the experts.
Do you need to check your knowledge on emergency connected with severe weather conditions? This very app meets your needs in every matter. It includes quizzes that you can also take with your friends and relatives. These tests will make your beloved people stay aware of emergencies from A to Z. So there is no need to worry about their safety anymore.
As a bonus, the app includes a template of alerts. So during the severe weather conditions, you will be able to send the instant Facebook message, tweet, or email to your family members or friends. The text is adjustable, but anyway, it will make recipients keep calm.
Besides, in case of an emergency, the app will tell you about Red Cross shelters in your area. Apart from this, you will be informed about the location of water and food supplies.
Finally, the app contains tools that are so essential when there is a storm outrage. Thus, it is going to provide you with a strobe light and a flashlight. Furthermore, receiving audible alerts will be possible, too.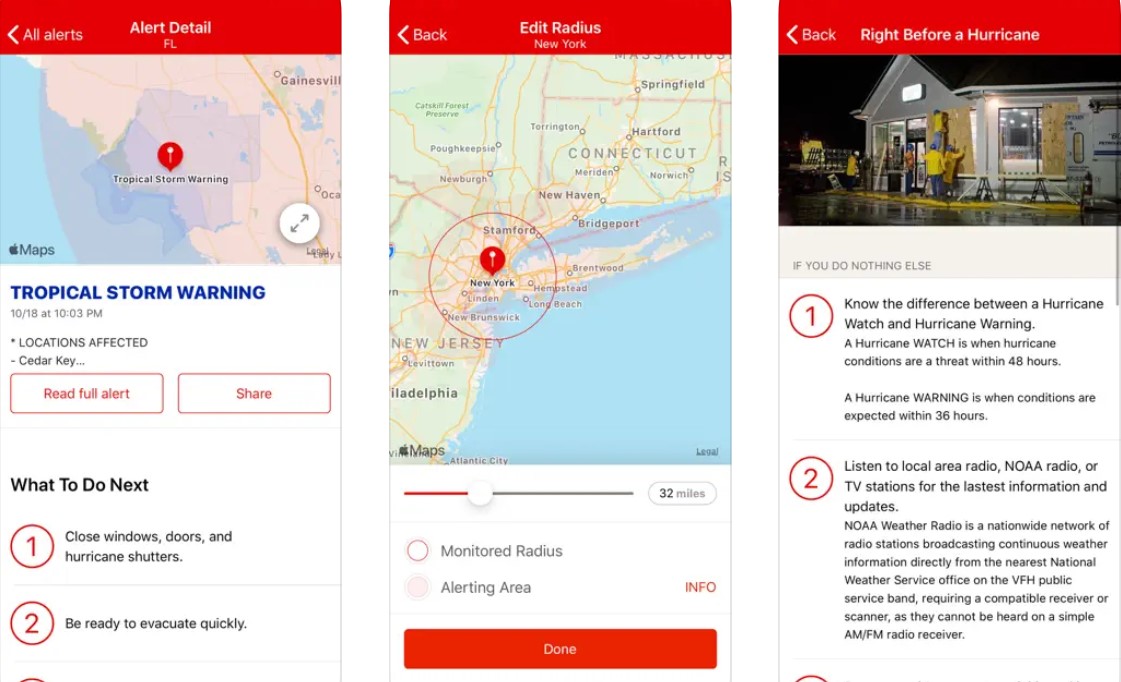 9. NOAA Weather Radar Live & Alerts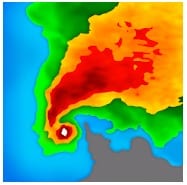 Of course, we can't imagine this review without NOAA Weather Radar Live & Alerts app. There is no doubt that it is an awesome way to track natural occurrences.
Before we start, we want you to understand that the hurricane tracker is supported only in the app's pro version. It is quite comprehensive and accurate, so the subscription worth being purchased. In addition, you will also gain access to a lightning tracker, and more accurate and long-term (2-week) weather forecast. Lastly, receiving alerts for an unlimited number of particular locations will become possible, too.
As for the free features, the app is a digital assistant that surely knows the short-term (24-hour) and long-term (1-week) accurate weather forecast for almost any place in the world.
Apart from this, you will be able to study the world's map and detailed weather conditions in this or that location. The information includes the temperature, snow or rain tracker, cloud cover, and so on.
The thing that makes the app even cooler is its user-friendliness. Thus, it supports dozens of units to measure pressure, distance, temperature, and speed. Apart from this, you will feel pleasure while dealing with an absolutely convenient map. By the way, there are several types of them: radar, satellite, and rain ones.
Besides, there is no need to open the app again and again. To view the weather forecast, you can put a widget to your Home screen. We find it great that it is completely adjustable.
Just like the previous apps, this one is capable of sending alerts on severe weather conditions. In this case, it will be provided by National Weather Service.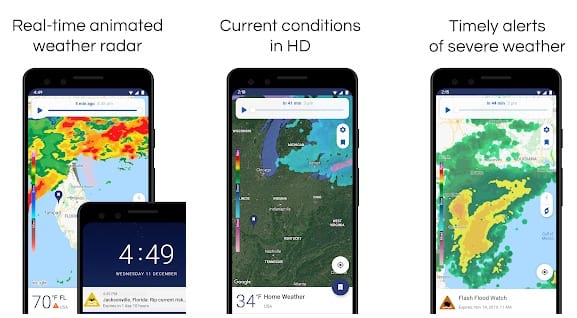 You may also like: 10 Free air pollution checker apps (Android & iOS)