Who doesn't like building simulators? Where can you create amazing cities, settlements, and villages?
We've collected the coolest empire building games that make you feel like a great ruler, an architect, and in general strongly important man.
Forge of Empires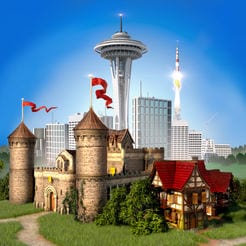 An exciting strategy game that combines a town-planning simulator, a political negotiator, a merchant simulator and a military strategy – Forge of Empires.
Why is it worth downloading Forge of Empires?
Nice graphics, convenient and simple management will help you quickly get used to this game, and even despite the incredible number of diverse opportunities – you will not have to learn for a long time.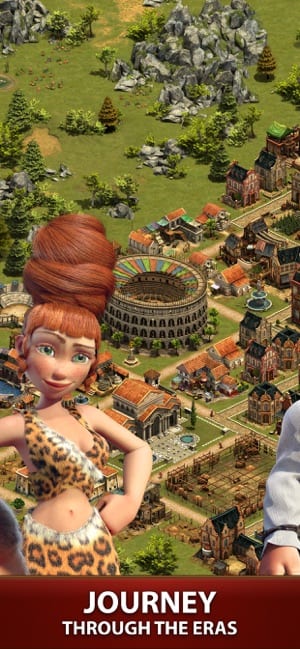 You will be offered to take a seedy village under your wing. But under your strict guidance, this small village should grow into a big and beautiful city. Oh yeah, this is a game in which you have to go through the centuries and, starting with almost stone people, go into the world of modernity.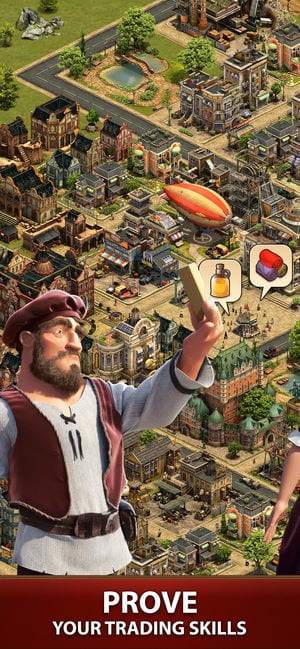 Participate in battles for lands, setting your own rules in the district and warning everyone that you are serious about becoming the ruler of local and adjacent lands, because you are not used to be content with half kingdoms, you need everything at once.
You are not limited in the territories and actions. The main thing is never to forget to learn new technologies, so as not to be left alone with your stone ax when all the neighbors are already driving on the machine and firing their guns.
Building lovers will get a lot of fun, developing and improving their city in this strategic game.
You can also check: 21 Fun games to play over Facetime or Skype calls
DomiNations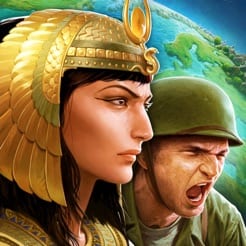 The village of primitive hunters, organized on the outskirts of the evergreen plain, is surrounded on all sides by dense forests, wild animals and dangerous tribes that capture all the settlements in the district.
The task for the group of unorganized and unprepared people is serious – quickly build several huts before sunset, get provisions, and then organize a suitable protection option.
Why is it worth downloading DomiNations?
In the course of a short but intensive study, the main details of the plot and game narration are revealed. You will know how to correctly place buildings on the map, where to get food and where to expect attacks.
The economy, in general, hides a lot of interesting things. Thanks to the proper organization of all enterprises, it turns out to quickly learn new technologies, discover unique weapons and even armor. And if you act harmoniously and in the company of faithful allies, then very soon primitive hunters will turn into armored knights.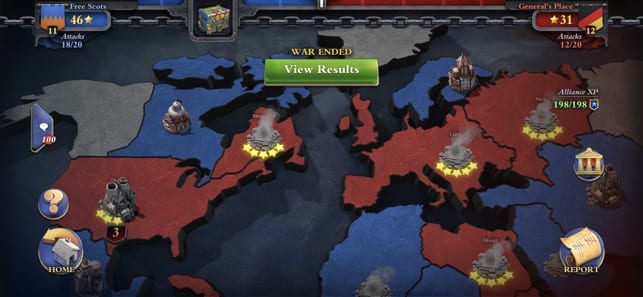 In addition to the economy, DomiNations has a well-developed military business. You are allowed to attack nearby settlements, collect resources and even conquer new lands. A pleasant feature of the project is that the warriors who survived in battle don't disappear into space, but faithfully return to the camp for the sake of new feats and valuable awards.
And in general, the project DomiNations turned out to be thoughtful and colorful – the story is supported by the task system, and the passions don't disappear due to the unique battles and the rapid change of time.
Idle City Empire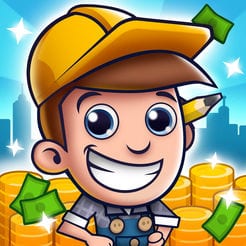 Build your corporation and turn it into a real empire!
Why is it worth downloading Idle City Empire?
Empires are different. Usually by this word we mean the Russian Empire, the Babylonian, or, in extreme cases, the one that is in a distant galaxy.
However, there are no such empires in the modern world, business empires have come to take their place, with a similar structure power = money. And, perhaps, the time has come for you to become the head of this empire!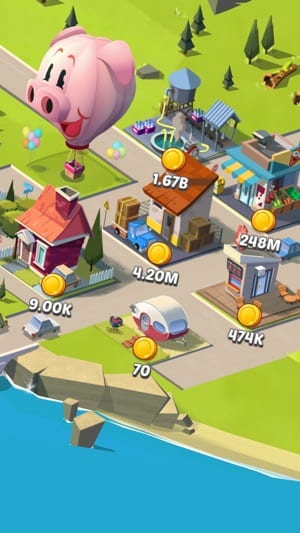 Start to play Idle City Empire with real estate. We don't promise the position of the president at the end of this path, but the beginning is good anyway.
The fact is that the whole game is based on the purchase of the real estate, thanks to which you are destined to become a billionaire. Your budget, however, is initially limited, so we recommend making the first purchase wisely. It's better to buy a couple of the cheapest buildings that will bring a steady income.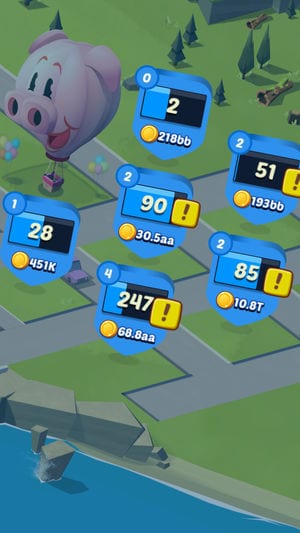 So you can manage your resources much freer and not worry about being left with nothing. In the future, you will open more and more new buildings. Pay attention that buying buildings, you can make residents of the city happier. This is very important – a happy citizen regularly pays taxes and in general, brings more money.
In addition, the game has a very interesting thing – money flows to you even when the game is not running. And this means that you should just download Idle City Empire, and you immediately have a source of virtual income!
Megapolis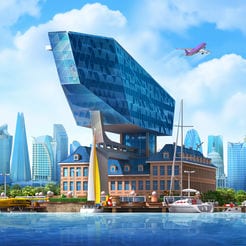 The strategy Megapolis promises to occupy the player with the construction of a modern city for a long time.
Why is it worth downloading Megapolis?
The main occupation of the player, of course, is the construction of a variety of buildings and infrastructure. At first, the city builder Megapolis is completely loyal to the "free" player – simple tasks are rewarded with substantial sums, construction is fast, and buildings cost very little.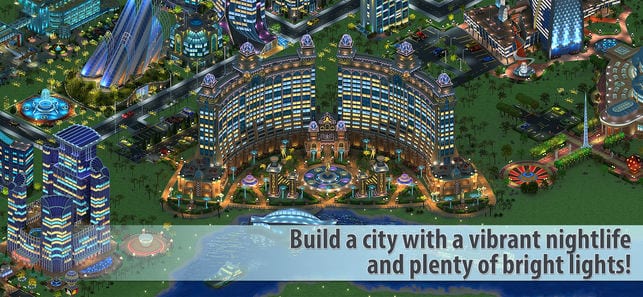 In this strategy, as in other city builders, there are several resources that ensure the development and growth of a virtual city. We build various houses to increase the population. Factories, shops, cafes, gas stations and other small and large businesses bring income to the city budget.
The population limit can also be increased by placing parks in the city, fountains and other buildings adorning the city landscape.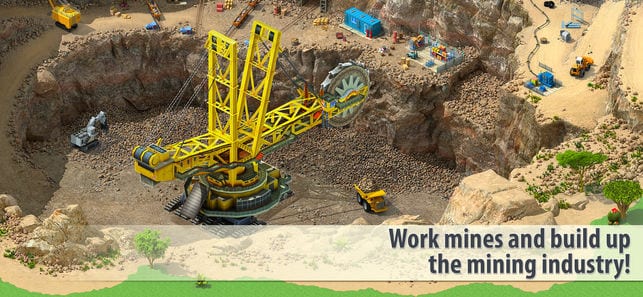 After completing the starting tasks and building a tiny metropolis of a couple of blocks, the strategy seriously slows down its pace.
Construction of buildings and the implementation of contracts takes real-time clock, the treasury is replenished reluctantly, and prices for new types of buildings are too high.
In general, be ready for months and even years of the game, if there is no desire to change real money for local megabucks, and you really want to grow the real megalopolis from a regular urban village.
You can make friends with other players, go to visit to admire their cities, and also exchange resources and objects that are useful for any mayor. Internet access, however, is not required for a single game.
Start building your own modern empire right now!
Empire: Four Kingdoms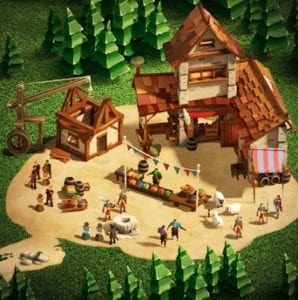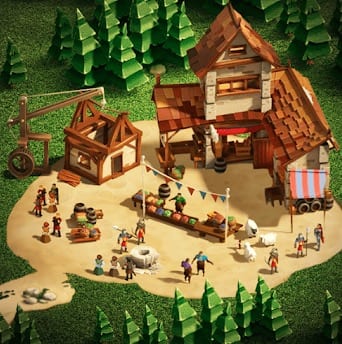 Empire: Four Kingdoms is a real-time strategy game with PVP elements of battles that will appeal to many players.
Why is it worth downloading Empire: Four Kingdoms?
The game has its own unique story. Empire: Four Kingdoms game offers you to become the lord of four kingdoms But before you start the game you will need to undergo training, which will be very exciting.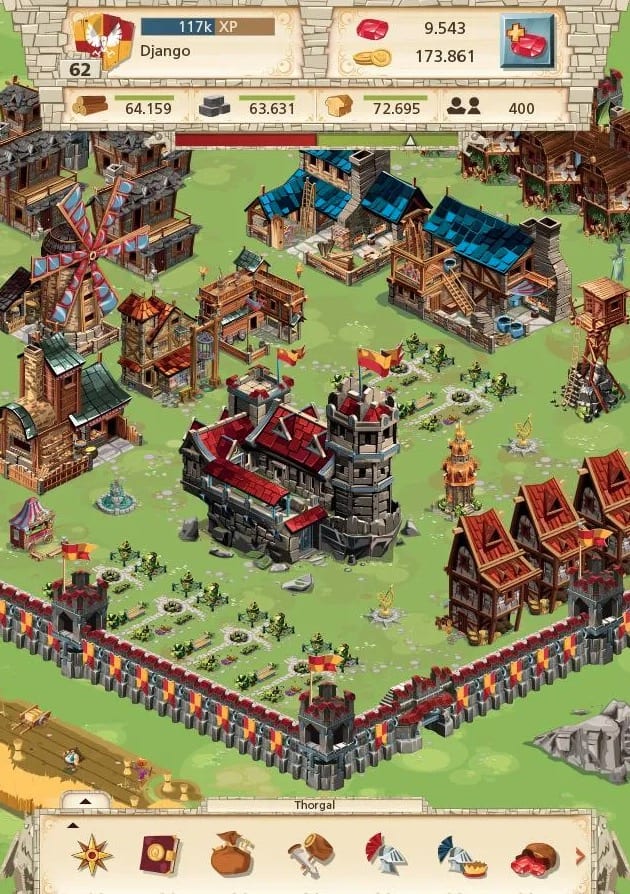 Also in the game, you will have the opportunity to own a castle, which will be unique and can be improved. You will need to collect a large number of resources, then exchange them for something more expensive and then upgrade your own castle.
Throw a challenge to your own fortune and try to seize the four medieval kingdoms in this magnificent MMO-strategy! Become a real master of tactical PvP battles, develop a powerful empire and intelligently manage the resources available to you!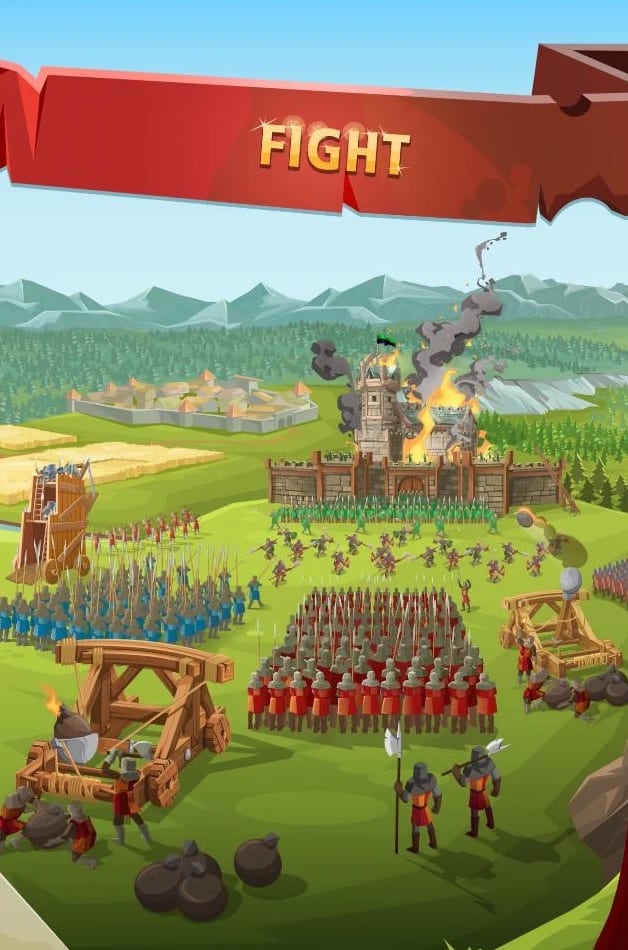 Gather an invincible army, conquer new lands, but don't forget about protecting your estates! Make a profitable alliance with your friends, share your plans and destroy enemy forces together!
More than 50 different units will allow you to create your exclusive tactics against each enemy. Take part in mass battles with millions of other players from around the world!
March of Empires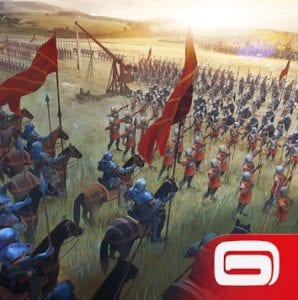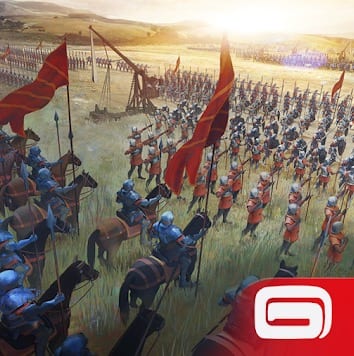 March of Empires is a strategy that offers a look at the genre in a new way. The game in the style of "build-defend" appeared in a slightly different light with the addition of a new battle system that diversified and colored the game in new tones.
Why is it worth downloading March of Empires?
You have to choose one of the three factions. Whether you choose the fearless and ambitious warriors of the highlands, the wise and inspirational guards of the desert, or the treacherous and despicable northern kings at all times – it's your choice, and the game will give you all the opportunities to get the maximum enjoyment.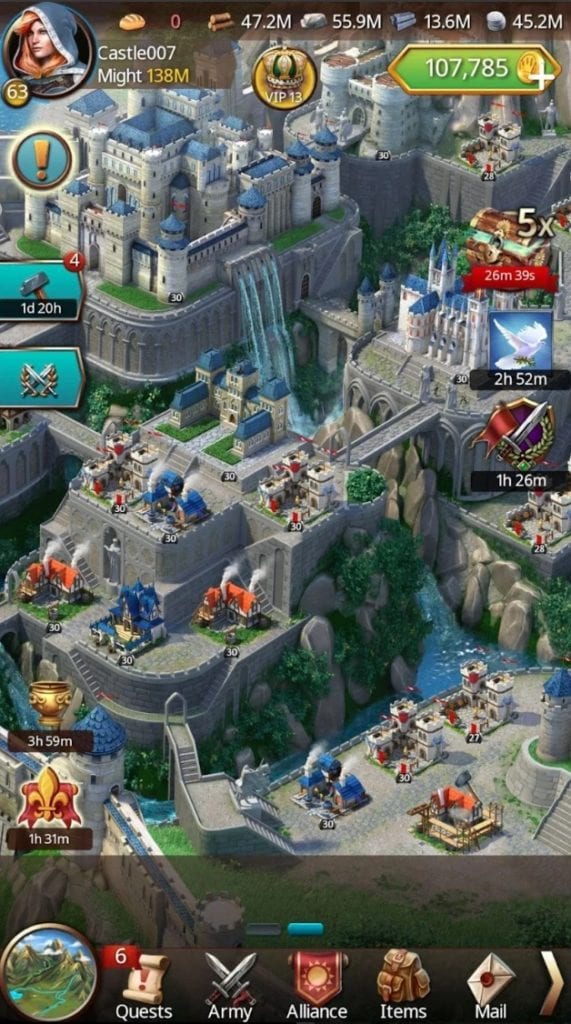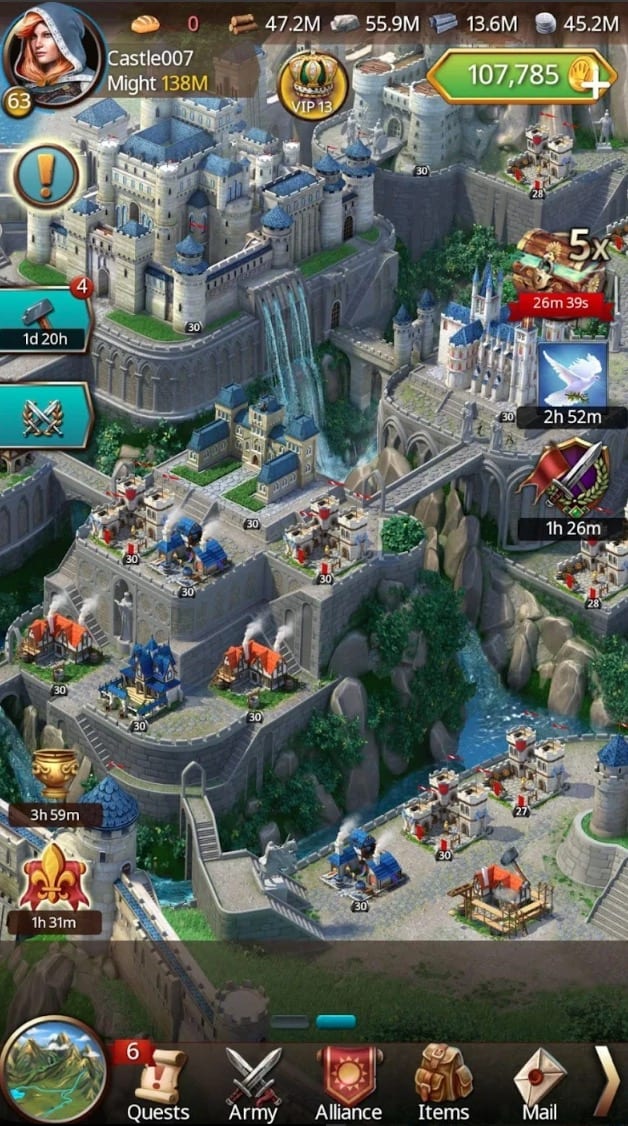 Create incomparable guilds and rise to the very top of the Olympus of Fame, being their leader and a strong fighter. Or act alone, only occasionally resorting to the help of neighbors. It's up to you how you will achieve your throne and become the ruler of all the surrounding lands and possessions.
Build up the most powerful and inviolable fortress. Develop your city. But just don't forget to develop your troops, which faithfully and unquestioningly obey any of your orders, believing you and hoping that you will not let them down. Think over the tactical side of all battles.
If you don't stop screwing around, then all your warriors will soon die, their families will be killed by grief, and then they will be killed by the enemy. The choice is yours – to save them all or fall in the eyes of millions.
Elvenar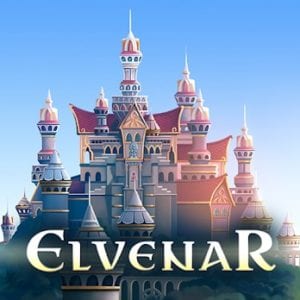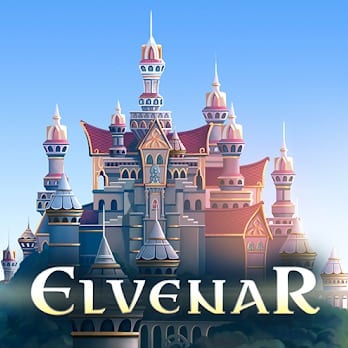 The game Elvenar is a city planning strategy in the style of fantasy: about elves, humans, gnomes and other fantasy creatures. The game begins in a small village, which, as it develops, will become a city with a large army. Get ready to build, upgrade, fight, expand, and train units.
Why is it worth downloading Elvenar?
There are two races to choose from:
Elves are born magicians who live in harmony with nature;
Humans are a fast-growing race. In the game Elvenar, people are strong and energetic.
On the world map, there are several types of objects: cities of other players and provinces. Player cities cannot be attacked, but you can form an alliance or help the player in exchange for resources. In the case of union, online chat and trading become available. You can interact with the provinces in two ways:
Battle and forceful seizure of resources;
Agree, spend money, but get artifacts and resources.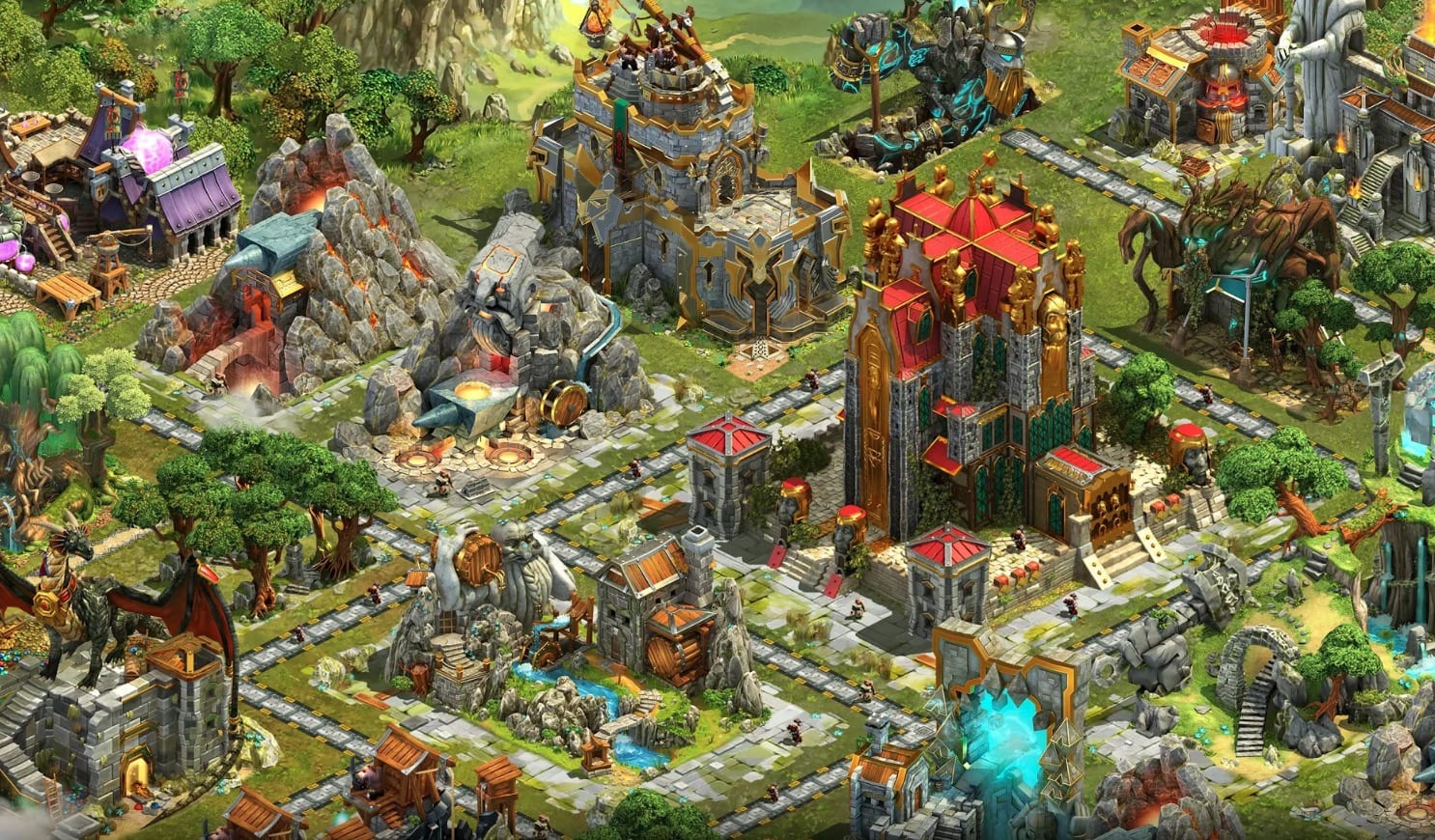 Elvenar battles take place step by step, which means the player has time to think about actions to try to outwit the opponent. The game has teams of masters of the sword, archers, mages or fantasy creatures.
The main goal of the game Elvenar: research, construction of the city and the expansion of borders. The research will open new buildings, technologies that will lead to the next era. There are seven of them.
SimCity BuildIt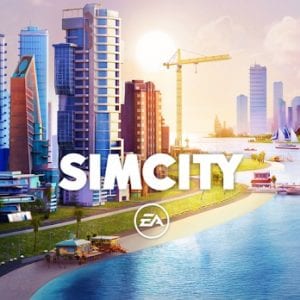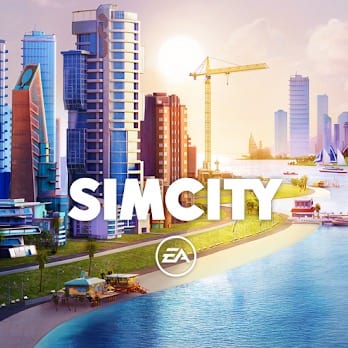 New SimCity BuildIt offers players the role of Mayor in one of the most realistic simulations of a virtual city – get ready to build skyscrapers, parks, landmarks, factories, solve problems of citizens and move forward to progress!
Why is it worth downloading SimCity BuildIt?
Bright, slightly cartoony, with pleasant sounds and background music … It's amazing how the developers managed to create an attractive picture using fairly simple visual techniques and effects.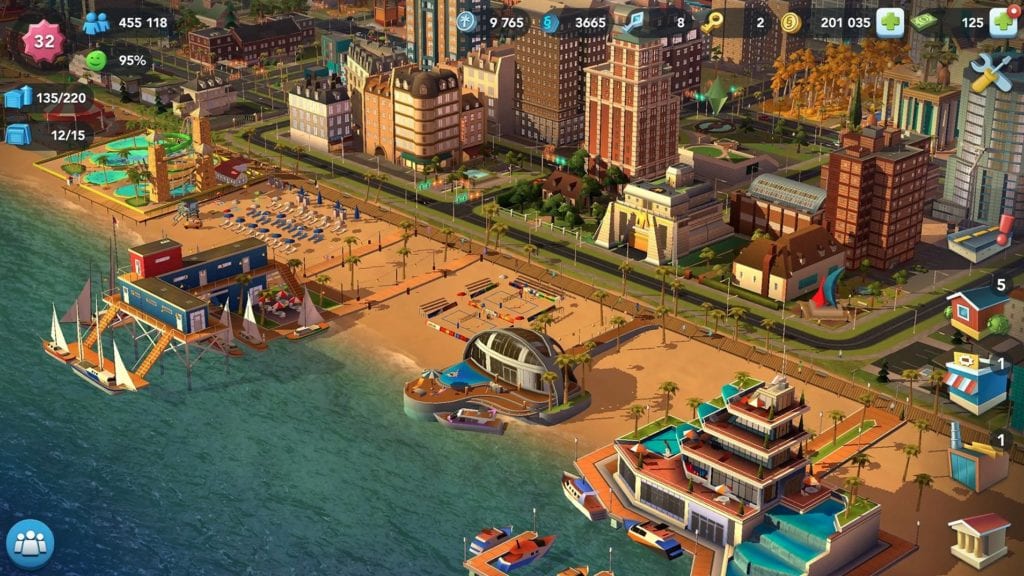 The adventures of the players in the SimCity BuildIt simulator begin with comprehensive training in all the subtleties of managing, controlling the city and resources – in a matter of minutes, the players will create a line of roads, build the first building and begin to explore different areas of the city.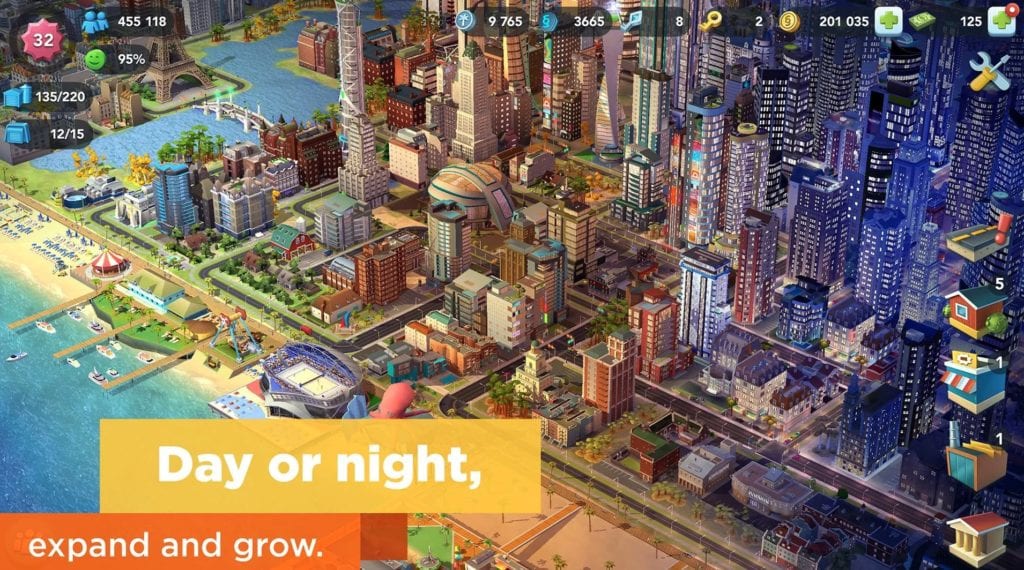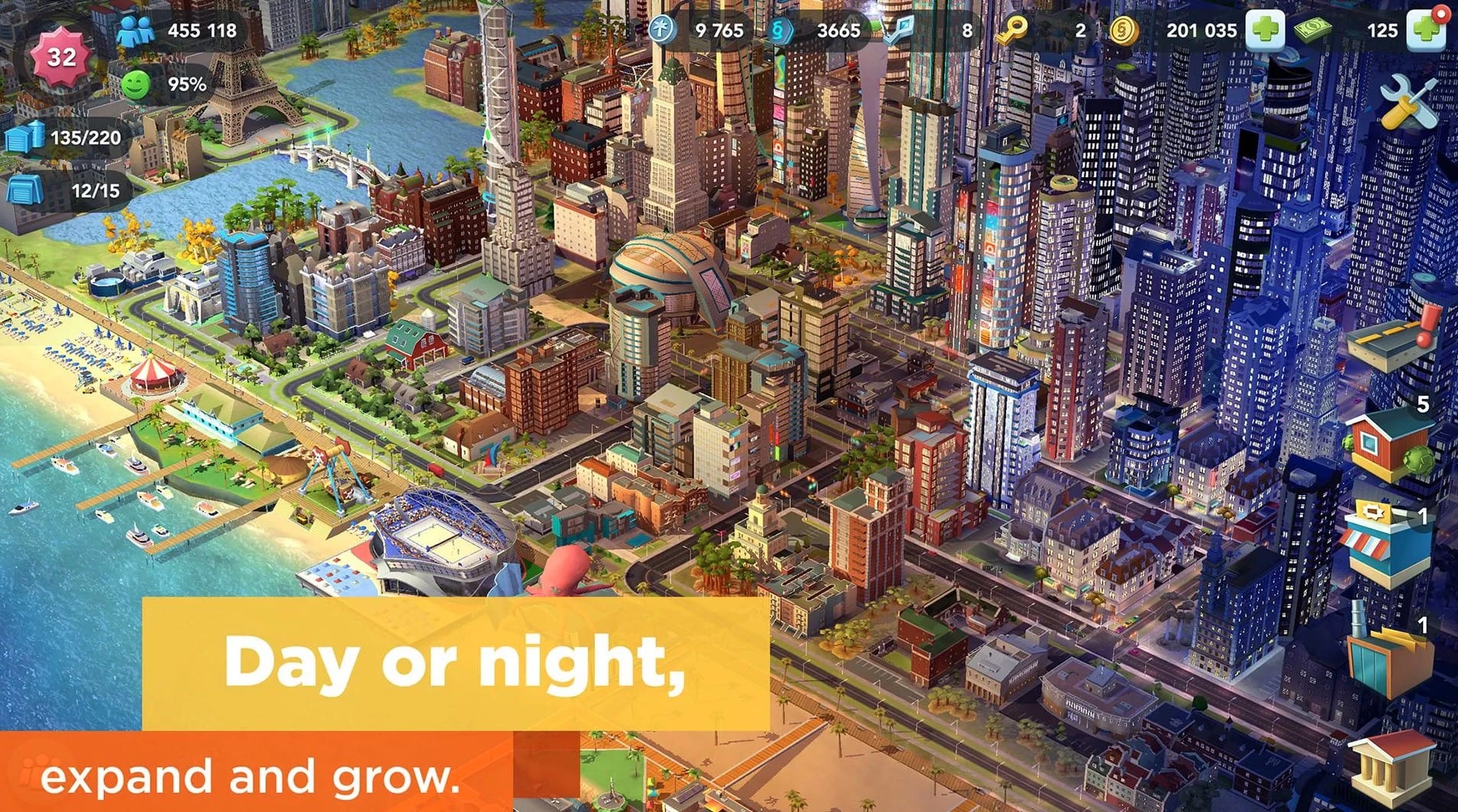 However, the settlement of citizens, the construction of attractions, shopping centers, and office areas isn't the most important thing… It's necessary to open city services, new branches of roads, and at the same time monitor the ecological situation in the city.
The players have never seen the most complex simulators – every little thing in a virtual metropolis can affect the fate of millions of people! Try to download SimCity BuildIt and share your impressions!
City Mania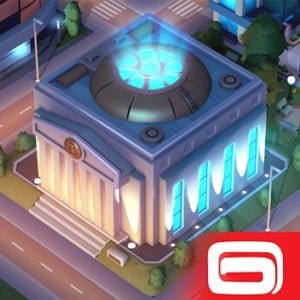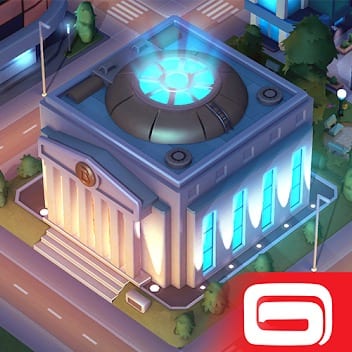 City Mania: Town Building Game – an amazing city-building simulator from Gameloft, in which the user has the opportunity to create his own modern empire.
Why is it worth downloadingCity Mania?
At the very beginning, the user has a small town with poorly developed infrastructure. The user will have to erect buildings of various purposes. But all spheres are closely connected. For example, some wood is needed for a certain building. This means that you first need to create a factory producing wood.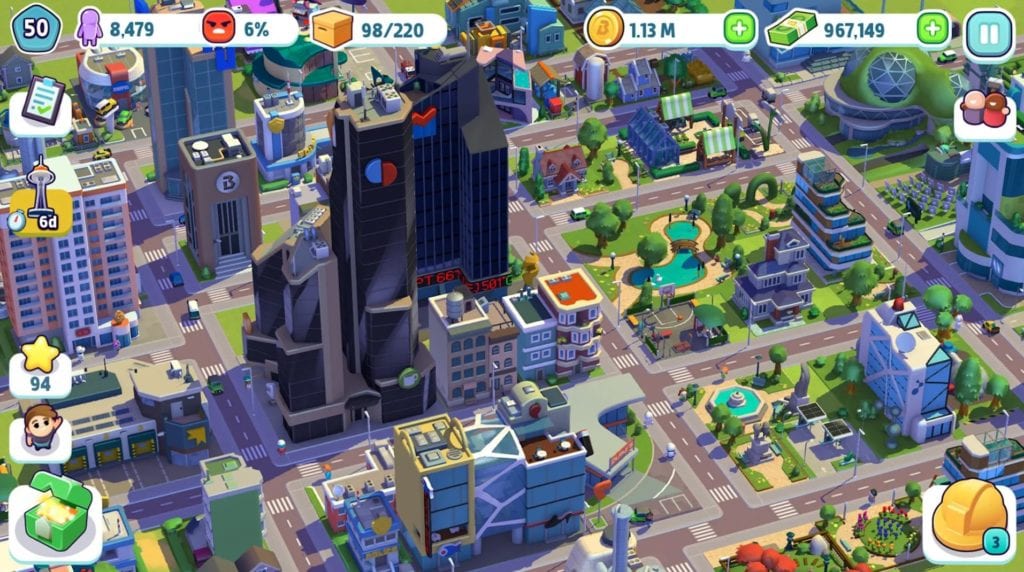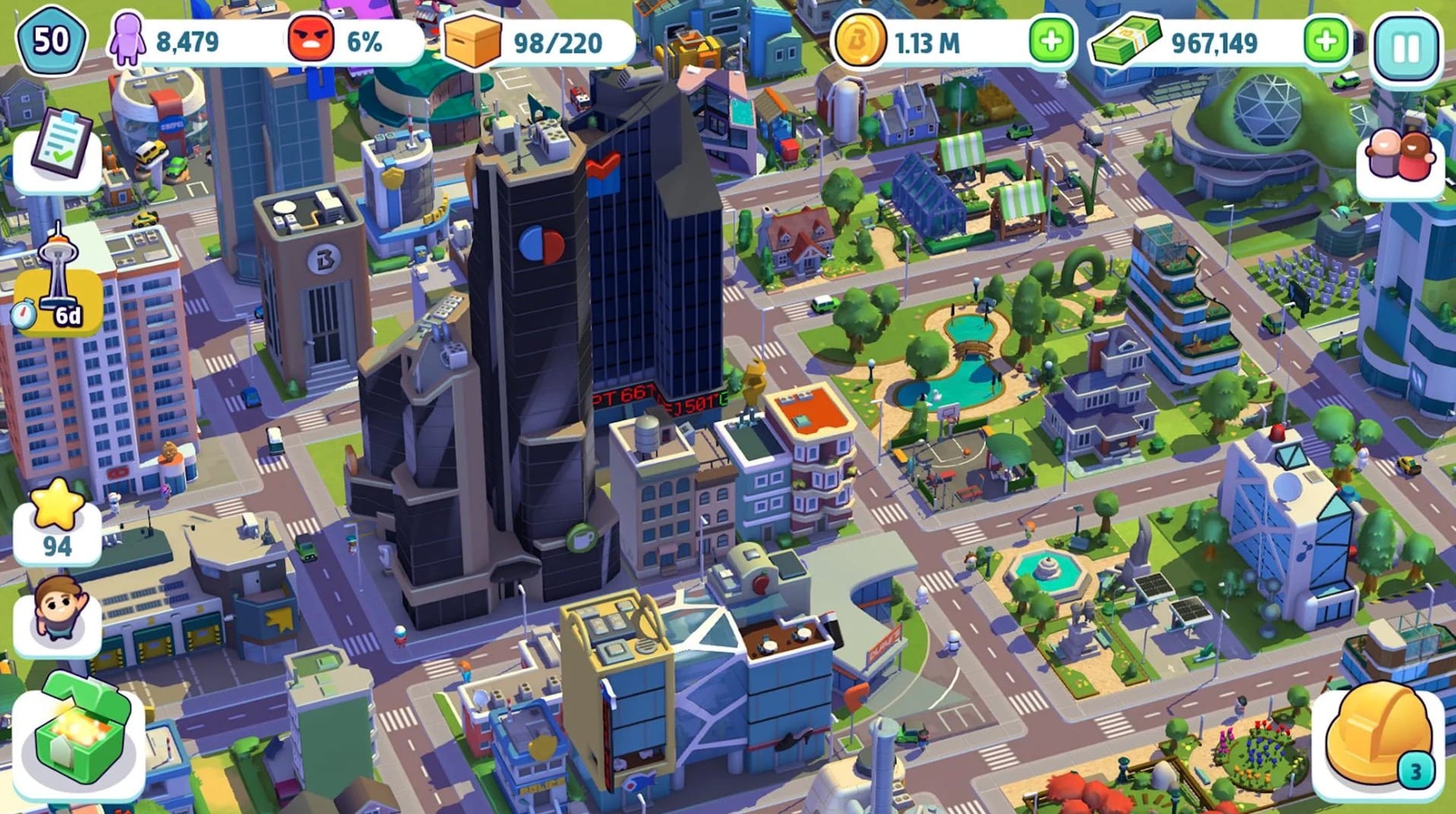 Of course, the user has some kind of start-up capital in his hands, with which he can start building up. The player is given complete freedom of action.
The application will surprise you with stunning graphics, the quality of which is comparable with the desktop versions of similar projects.
City Mania: Town Building Game is a fun strategy game with nice graphics. Thanks to more than 100 different types of buildings in this game, you can always continue to develop your city, constantly reaching new heights.
Expand the territory to build up even more houses, factories or power plants and lead your city to a bright future where every citizen will be satisfied with his income and will not raise a revolution against you.