Having a child is a great blessing. When we have a child, we want to capture all the moments of his or her growing up. That is why, in addition to the camera, you may also need different photo editors. Therefore, you can find in this selection the most convenient and exciting way to enhance your baby photos.
You might be interested in some fun editors, or maybe even super-advanced ones. This is where you will find everything. Moreover, we know that raising children is not an easy task, so we recommend the article Best Baby Care Apps. You will surely find something useful here. So let's get started.
1. Baby Pics
The first app on our list is a favorite of many parents. Baby Pics is an application that will be able to put all the baby pictures in order. After all, there is an opportunity to create colorful and creative collages, in which you can add illustrations to the event.
For example, there are stickers to add height, weight, drop out baby's teeth, and even announce your pregnancy beautifully. Also, for those who are expecting a baby, there are not only beautiful belly stickers here but also a timeline of when to expect the baby. You can even compare the baby to different fruits and vegetables.
For those who have already had babies, there are great illustrations for holidays, achievements, and more. In fact, all of the stickers are divided into different sections for easy navigation. Also, you will be able to arrange all the photos in a single style, creating a kind of laconic album.
The most convenient thing about this app is that there are handy ready-made presets. All you have to do is paste the photos into the template. Moreover, when you add text, you can use a lot of different fonts in different styles. The resulting masterpiece can be immediately shared on social networks directly from the application.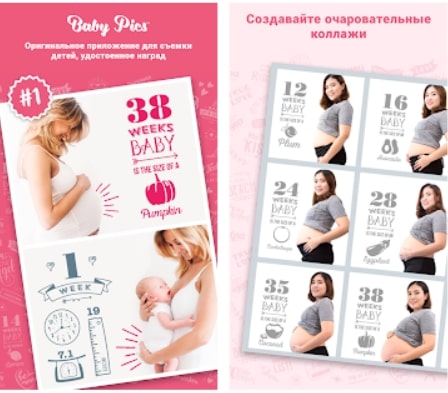 You may also like: 9 Best Apps to Find a Babysitter (Android & iOS)
2. Totsie – Baby Photo Editor
The Totsie is a super cute app that helps you create an incredibly colorful album for you and your baby. In general, this app is similar to Baby Pics. However, it has some great settings and ways to enhance your baby's photos. So, of course, you will be able to change the brightness, adjust the colors, crop and resize the image, apply photo effects, and much more.
You will be able to create colorful collages with the help of ready-made templates with the help of this application. In addition, there are more than 1,000 different stickers related to birth and growing up. Here you will find suitable stickers for newborns and toddlers as well as for moms with a belly. You will also be able to choose a fitting font for the text on the photo.
So you can add beautiful text on baby photos, choose a collage template for example for 1 month or 1-year-old baby. Well, it is worth noting that this application allows you to capture the brightest moments of childhood and compare how fast your baby grows and develops. Moreover, the design of this application is very bright and colorful.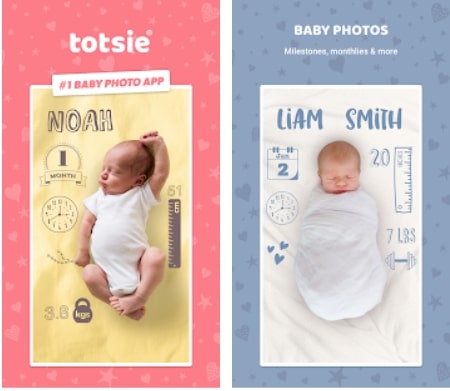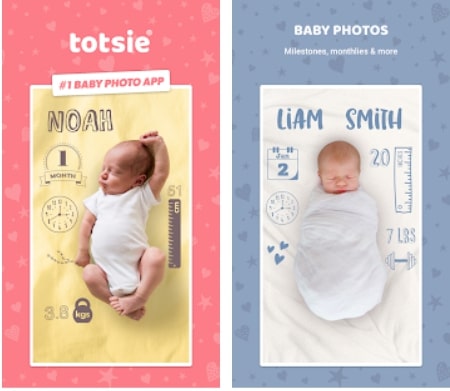 3. BackThen baby milestones album
This is a unique app that offers to edit and organize your children's photos. Here you will be able to create albums specifically for each of your children. In addition, you will be able, for example, to apply funny stickers and correct the quality of the pictures slightly. You will certainly be able to keep all your photos safe.
It is interesting that by downloading this application, your whole family will be able not only to view but also to give likes and leave comments. Moreover, besides being an editor, this is an app in which you can keep track of all the activities related to the baby and mom. In addition, it offers to take photos of each day, month, and year of the baby's growing up.
These photos can also be used to make a movie. Also, this app is useful for pregnant women. After all, you can take photos with your belly throughout your pregnancy. So you can make unusual collages or add a caption. All in all, this is a great app for a kind of a diary for tracking growing up and capturing beautiful moments.
Also, there is a timeline you can use to keep track of your baby's age. It is also worth mentioning that the app has great control and interface. Even your grandparents will be able to enjoy pictures of their grandchildren when they are not near them.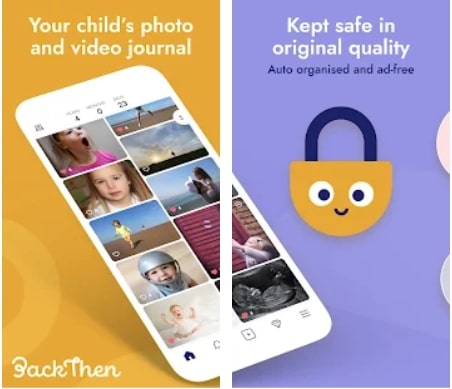 4. Camera+ 2
If you want to turn your smartphone into a professional camera when you take baby pictures, you might like to consider using the Camera+2 app. This is another baby photo editor with several customizable settings that will guarantee you a satisfying and high-quality baby photo.
It can be claimed that this app lacks a lot of themed stickers and templates, but it does have other interesting features. This way, you can control the lighting of your baby photos by adjusting the exposure in different parts of the photo. Also, it is possible to zoom in on your kids' photos with advanced digital processing.
After all, babies often move around, and the easiest way to capture them is from a distance. Also, to make the photo brighter, you can set the flash several times when photographing a child in a dark room. Also, restless children rarely like to be photographed, so you will like the possibility of improving the photo with the clarity function.
Besides the above-mentioned, you can select the photo mode and filters that are designed for babies. So with one editor, you can quickly and efficiently modify your baby photos.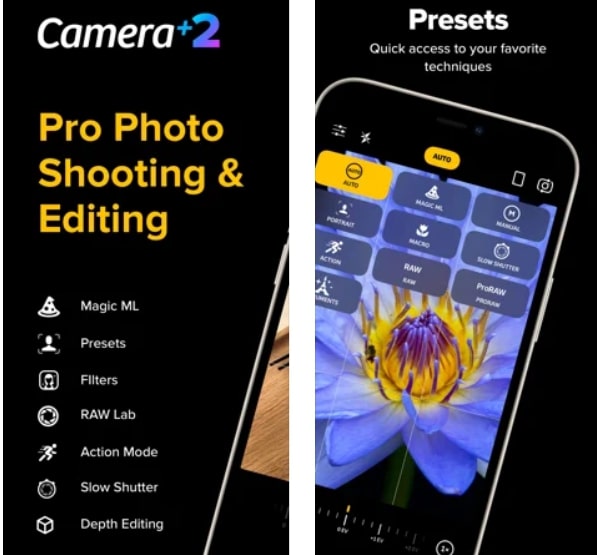 5. Cute – Baby Photo Editor
Want to take a cool picture in just a few seconds? Then you need a very simple application called Cute – Baby Photo Editor. Why is it so great? First of all, it is certainly incredibly easy to use. Secondly, there is an unrealistic number of ready-made templates for baby photos. In fact, there are more than 50.
Also, the application amazes with its stock of stickers on various subjects. There are stickers for events, holidays, pregnant women, dads, and many other beautiful and fun ones. Also, you can rotate and resize all the overlaid illustrations and stickers. You can also adjust the photos of your family and baby to the right size.
As well, you will be able to adjust the background and color of various elements on the edited photo. Moreover, you can save photos after processing without losing any quality at all. In addition, users often comment that even though the application is free, there are no annoying ads in it, so it is even more enjoyable to edit photos.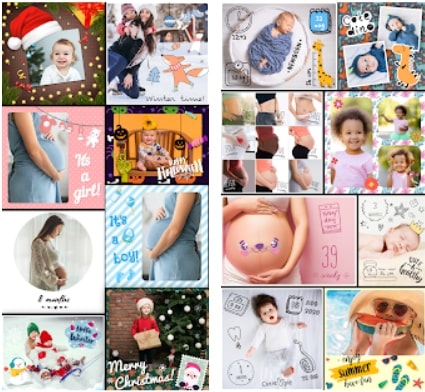 6. My Baby Pics
This app is suitable for pregnant women and young mothers who want to capture all the highlights of their new period in life. With this app, you can not only take a photo but also share it with your friends. In addition, there are different filters for photo processing. So, My Baby Pics is one of the most popular smartphone apps that will help you create colorful memories.
All in all, it is a very easy-to-use app that has a wide range of fonts, different illustrations, and stickers on the theme of growing up a baby. By the way, there are about 300 styles of font styles. And there are more than 50 filters. All of them are designed for different times of day, events, and moods of the picture.
It also has an easy-to-use editor, which is used for creating unique collages based on available templates. And most importantly, all the editing tools are conveniently organized, so you can easily figure out the way to use this app. This application has a narrow specialization, but it will allow you to edit your baby's photos from the first days of his or her birth.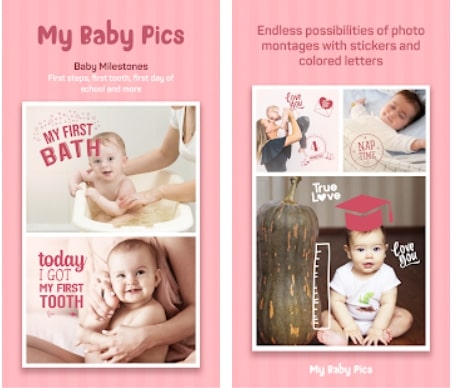 You may also like: 11 Best baby care apps for Android & iOS
7. Baby Story: Pregnancy Pictures
Baby Story is more than an app for editing baby photos. It allows you to record every baby moment, pregnancy photos, baby-related parameters, and memories, as well as many other things in a beautiful visual story. It allows you to easily place baby photos on a timeline with unique photo themes. This way you can always find out what your baby was doing a year ago.
Basically, you are creating a baby's diary this way. Also, this is where you can decorate photos of yourself and your baby with original artistic fonts, filters, and images. Obviously, it is possible to create interesting photos with the help of templates. This application is not only for editing photos but also for creating collages.
There are tools for highlighting and setting accents such as frames, filters, and stickers. In addition, all of your processed photos are saved without any watermarks. Also, there is a handy feature that allows you to share photos of your child on Instagram and other social networks right away.
As for the filters, there is a huge variety of them. With them, you can create photos in a really cool photo studio. Moreover, there are tools that allow you to remove the background and add a new one. This is where the most interesting templates for both baby boys and girls are available.
And these are not all the features of this application yet. To put it short, it is possible to note that the application has wide functionality, bright stickers, and fonts, meanwhile there is nothing superfluous about it.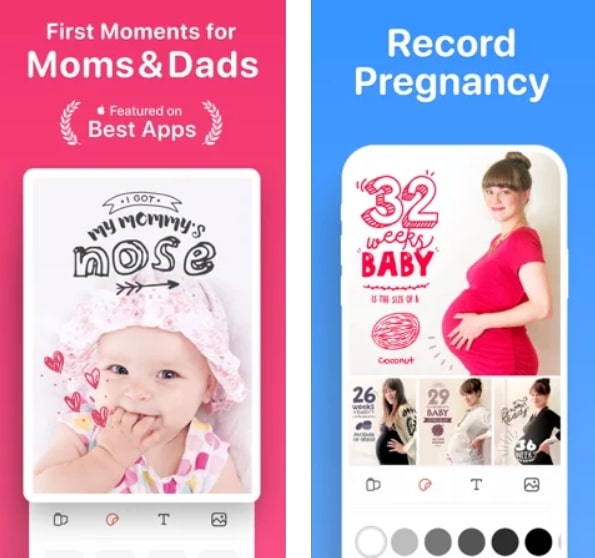 8. Baby Photo Editor Sticker Pics
This is another cool app for you. Baby Photo Editor is a tool with which you can create the cutest and most attractive photos of your little family members. So, first of all, it is worth mentioning that the application is rich in filters. Here you can adjust the photo to any mood you want. Also, all of the stickers are free. There is an incredible amount of them.
Moreover, you can not only rotate and resize them but also choose the color you want. Secondly, this application is great if you are pregnant and would like to announce it. After all, there are great stickers on this theme as well. There are also different fonts in unusual styles. By the way, after editing the images you can directly share them on social networks.
There is also a feature that will allow you to create a mini slideshow of processed photos. In addition, this application is regularly updated. So every month you can enjoy new stickers or filters. In order to create an original photo quickly and with taste, you just need to use ready-made templates and add something of your own offered by Baby Photo Editor Sticker Pics.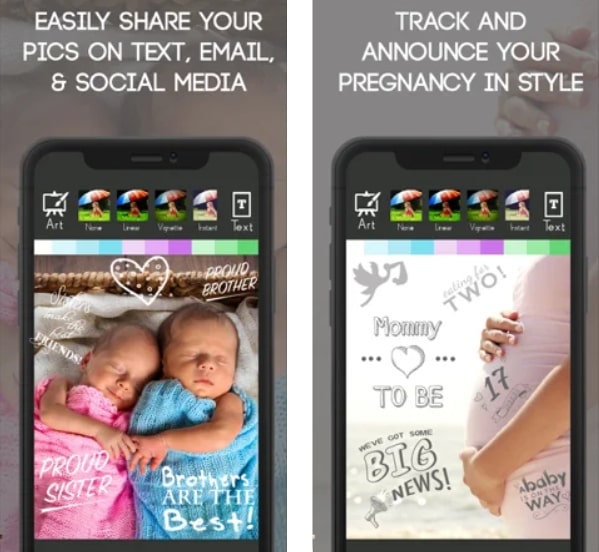 You may also like: 11 Best Apps for Twin Pregnancy for Android & iOS
9. Baby Photo – Newborn Baby Pics
Baby Photo is the last but not the least in the quality app. This app was created specifically for newborn babies. It seems like there are not many options for capturing them, but this app disproves that statement. It has a huge number of templates with ready-made text. There are also more than 1,000 different stickers with illustrations, numbers, and emojis.
It can be stated that this application will suit those who need inspiration for photo editing. After all, it even has the most popular names and their short meaning, which you can place on the photo. Moreover, all of the stickers are on different topics, such as first steps, first teeth, week, month, year of birth, and so on.
There are also templates designed for pregnant women, which you can use to create a whole nine-month album or collage. The app is also completely free, and all of the stickers and fonts are available to you. Moreover, it is worth noting that Baby Photo does not degrade when you download the ready image at all.