What makes a photo unique? Exactly the specific features of the image, such as quality, processing, filters, and clarity. Any photo is needed to be extraordinary to be remarkable for people and the audience you're sharing it with. However, suppose there is a date stamp on your image which spoils the overall effect and the influence of the image on people.
Would you like to keep the datestamp there or remove it in order not to disturb the audience's attention and personal interest in your product? Most likely, the answer is to remove. Moreover, if after you have removed the stamp from your pic and you want to edit it with nice details, you can check out the article about the Best Photo Frame Apps for Android & iOS.
1. Snapseed
This application is one of the most complete and professional photo editors that you have ever met.
It provides you with 29 various filters and tools, aiming to improve the level of the brightness and individuality of your taken image. There are Healing, Structure, Brush, and many other tools in this list helping you out with the editing.
You can quickly and easily open JPG and RAW files without any quality worsening: no pixels, additional lines, and photo blurring. Save it as it was initially. The process of exporting the images is simplified as much as possible. The details will be saved as well in the same quality and clarity as we were after taking the photo.
Do whatever you want with the photo. You can crop, rotate, use filters, and many other features to bring the image to the ideal state, personally suit your preferences and wills. Crop the photo to the standard size or choose the settings yourself as you want. Rotate the images by 90, 120, or any other degree to meet your expectations.
Add frames or any styles you find attractive for your particular photo. Frames are available in any size you want; it only needs to be adjusted. Use Grainy Film effect and style to get a feeling of an old movie with its small grain particles implemented on the photo. Turn your modern photo into a retro one.
Use double exposure effect, blending two different photos into one, creating an effect of the mystery hidden in it. Turn the brush on and remove the sharp lines and boundaries between these two photos and remove any date stamps if they exist.
Make your photos perfect and extraordinary with the help of this free unique app.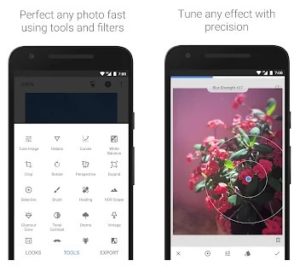 You may also like: 9 Best smoke effect apps for Android & iOS
2. Photoshop Express Photo Editor
This popular and highly rated application is full of attractive and useful tools that make your photos flawless and particularly exceptional among a wide variety of diverse pictures on the Internet. Test your creativity and try all the tools, filters, and other features offered by this app.
Enhance the coloring and diversify your image with various attractive and funny stickers from the provided list. Create your own unique stickers and spread them to your acquaintances or all the users of this application. Come up with extraordinary images and memes, which would raise somebody's spirit and help them cope with problems.
Assemble creative picture collages by collecting and unifying some of the photos and images to create either a sequence of pictures in chronological order (the time when they are taken) or in any order you prefer (from the less or more attractive to their other options, etc.).
Quickly reduce the blemishes and other spots on your picture. Remove any flaws from the photo, including the datestamps and random strangers caught in the frame. Erase them from your image and achieve the perfect result that suits your expectations.
You can easily upload any photo from any media on the Internet or from any device. Choose the most fittable size, format to download it, and eventually post it to anywhere you would like to. No matter would it is your Instagram page or just a message to a friend, memory for the personal photo album, or the e-mail to your distant relative.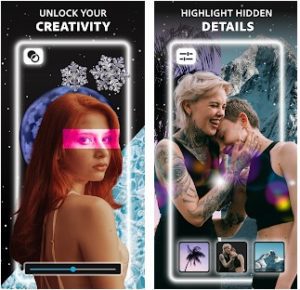 3. AirBrush
Do you have a goal of creating a perfect photo to share with your followers on the social network or to keep it for your close friends?
If the answer is yes, then this app will perfectly suit your desires and preferences. It introduces plenty of valuable tools for improving your taken image's quality and originality.
Boost your abilities by using one of the provided features called Blemish and Pimple remover. Using this particular tool, you will forget about any flaws on your or others' faces. Make the skin surface as smooth as a skin of a newborn child. Remove any unwanted spots and marks from your photo, including the date stamp.
Brighten any part which you consider to be more visually visible and eye-catchy. Whiten teeth of the smiling person make their emotions more explicit than they were before. Brighten the eye color and change it if necessary. Do you want to create an image of a vampire? Then turn the tint of your eyes into bloody red and receive this effect.
You can edit your photo at any time from any place.
This application offers its users the real-time editing technology implemented in this particular app completely free. Save the filters you've used the last time and apply them whenever you are eager to take a picture. This way, you'll save your time on editing and can immediately download it.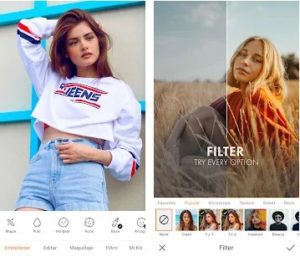 4. Pixelmator
This application comprises everything you need starting with the tools like brushes and finishing with various filters. Do photo editing, painting, and even graphic designing. Save your images in any preferred format and size regardless of their rarity; this app will definitely have them on the list.
There are lots of templates provided. Choose any you like the most or handle the whole editing process by yourself. Set the filters and the tools to improve the photo and its coloring. Wipe any imperfections away and eliminate any flaws you find unappropriate for this kind of image.
You can quickly lighten, darken, sharpen, and perform other actions with your images. Paint anything on your photos or use a blank list to start a new work. You can both use this app as an editing and painting app. Enhance both of your skills in only one application.
Use any brush from the provided list and create a unique picture with its own style and techniques used. Adjust the speed of your brush and the thickness of your strokes. Add any figures you want to from the list or draw them yourself. Crop, rotate, and do whatever you desire with both the figures and your paintings.
A wide variety of blenders consisting of 32 blending modes offers you an opportunity to turn your picture into your expected image as fast and straightforward as possible. Don't worry about your skills; two or three days of using this application, and you'll closely approach the level of the professionals. Just turn on the app and develop your skills.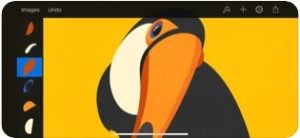 You may also like: 8 Best Polaroid frame apps for Android & iOS
5. Pixlr
Try yourself and boost your creativity with the help of this application. Create photo collages, easily import and export images without collapsing their quality, and without creating pixeled artworks.
Use over two million diverse filters, tools, and effects entirely for free. You don't need to pay even a penny for using this app.
Simply remove any blemishes, red eyes, datestamps and brighten some areas only with one short click. Try "Stylize," incorporating watercolor, pencil drawing, and many other unusual effects. Make your photo look like a paper drawing with the use of these exceptional features rarely presented and offered for free usage in apps.
Collect all your preferred tools, filters in one place called Favorites. Add any of the stuff you like the most and don't want to miss. It is highly accessible and simple to use. The only thing you need to do is to press the button "Favorites" and save your time on hour-long searches of these particular options.
Easily add any text you want to. Leave messages to your friends, relatives, or followers without referring to text writing apps. Perform all the actions in merely a straightforward app. Use any font from a variety of provided ones on the list. You will definitely find something suitable personally for you.
Adjust the tone of your background to the figure's tints of coloring. Use this function for overlays as well. Warm the photo's tone, cool it down or even add some unrealistic and surreal shades to your image to create a feeling of mystery and secret put in it.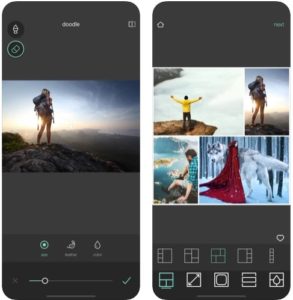 6. DateStamper
This application is mainly concentrated and used for applying or deleting datestamps on or from your photo.
Easily select any photos from the Cloud or photo list and implement it in any place you would like to see the datestamp. Choose the position thoughtfully in order not to damage the overall appearance of the photo and disturb the viewers' perception of it. Otherwise, delete an already existing one to clear the surface from any noise.
Use any font, filter, effect to create your own unique style of photos. Make them remarkable and unforgettable for your audiences or just for yourself if you have no intention to share them with anyone but end up keeping them in your personal album as a meaningful memory.
Add the location of the place where the picture was taken to capture the moment and the event and finally be able to recreate this case in memory, having enough data for this purpose. Choose any ready-made styles or templates presented in the application and blend them with both the datestamp and the location.
Suppose you need to edit some parts of your photo. What would you do if the application was only for the datestamp? But the fact is that simple from first sight, it incorporates diverse functions, meaning you don't need to shift between various applications to achieve the perfect image. Just turn on this particular app and enjoy.
DateStamper saves a lot of your time with a pretty straightforward interface and functions embedded in it. You can find a list with editing tools on the top of your photo, meaning there is no additional need to duplicate the image. With its intuitive and beautiful design working and spending time on this app will bring you only joy and pleasure.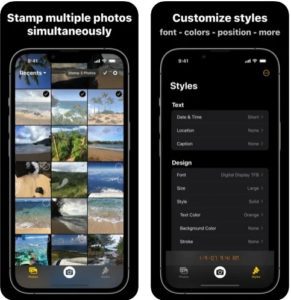 You may also like:  9 Best Red Eye Remover Apps in 2021 for Android & iOS
7. Inpaint
This is a mysterious application helping you to magically delete any objects, parts, and elements from your photo in a way that nobody would notice any editing. Remove any watermarks, unwanted strangers, and objects from your image and accomplish it easily with only several clicks.
Use digital face retouching to erase any flaws and skin irregularities from the picture, make it smooth. Delete the wrinkles and face blemishes achieving the perfect skin tone and facial appearance. Wipe the wires and power lines out from the picture, creating an effect of a remote area deprived of any humanity there.
Remove any additional and unnecessary texts from your photo in order not to disturb viewers' attention with inappropriate captions and inscriptions. Forget about others' logos and watermarks if you possess this application. It enables you to get rid of these elements in a few seconds without any effort.
The application, however, is not free but is pretty cheap regarding all its features and options provided, which you could not find in any other free app and with this large quantity. You don't need to pay for it every month; it is a single purchase application, meaning that after buying it, you will have access to all the tools it is composed of.